The Chrononaut Chronicles: Clash of the Champions XXIII
February 21, 2012 | Posted by
The Chrononaut Chronicles: Clash of the Champions XXIII

Thanks to the infinitely talented Kyle Morton for the logo. Check out his Etsy account, where he does custom artwork and commissions… you'll be glad you did!
The Chrononaut Chronicles
WCW Clash of the Champions XXIII – June 16, 1993
– After a sojourn to the WWF that lasted approximately 18 months, Ric Flair had returned to WCW as a babyface and he brought with him two additional World Title reigns to bring his career total to a whopping nine, marking the first time that WCW recognized the WWF Championship. Reunited with his long-time friend and ally, Arn Anderson, the Nature Boy revived the (Four) Horsemen and amidst much hoopla, he planned on announcing the third Horseman at Slamboree '93. The original plan included the return of founding Horseman Tully Blanchard, but when that deal fell through, the new member introduced was WWF cast-off Paul Roma, the same Paul Roma who spent most of his career in opening matches and midcard tag teams. Needless to say, this announcement turned out to be a massive disappointment and the 1993 incarnation of the group, which only included three members for its duration, is considered the weakest lineup in Horsemen history.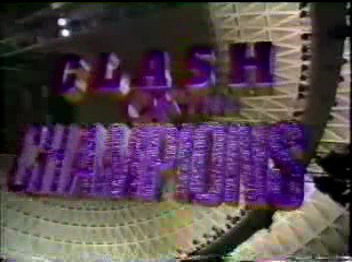 – LIVE from The Scope in Norfolk, Virginia! Tony Schiavone and Jesse "The Body" Ventura are YOUR commentary team and they hype tonight's main event, featuring the in-ring return of Ric Flair as the Nature Boy will team with Arn Anderson to challenge Steve Austin & Brian Pillman for the WCW World Tag Team Championship.
– "All American" Ron Simmons vs. "Dirty" Dick Slater (w/"Mr. Wonderful" Paul Orndorff)
Ron Simmons was originally scheduled to challenge Paul Orndorff for the WCW World Television Championship, but Mr. Wonderful suffered a legitimate groin injury and could not wrestle, so he accompanies Dick Slater to the ring. The crowd is into this match way more than I am, popping big for Big Ron and incessantly chanting "Paula" at Orndorff. The action goes back-and-forth until Slater blocks a sunset flip and slaps Simmons in the face, a clear violation of the warning offered in Ron's theme song, "Don't Step To Ron". The All American pounds on Dirty Dick and positions himself in the three-point stance, but Orndorff molests Simmons' foot to distract him and Slater levels him. Slater covers the former WCW World Champion after a swinging neckbreaker and scores a near-fall, but Orndorff thought it was a three-count and climbs up on the apron to celebrate. Explaining that the match isn't over quite yet, Slater is distracted and Simmons capitalizes as he takes charge and pins Slater after a powerslam in 3:56. * Nothing to see here, just sad how far Ron Simmons had fallen only six months after losing the WCW World Title.
– Valuable television time is wasted by Eric Bischoff and Larry Zbyszko, who recites a too-long and too-dull Polish proverb and tries to apply it to the NWA Title bout tonight. Eric brings out world-famous ring announcer Michael Buffer for his expert opinion on the tag team main event and he picks Ric Flair & Arn Anderson to win the match.
How many Polacks does it take to stop Larry Zbyszko from talking?
– Marcus Alexander Bagwell vs. Lord Steven Regal (w/Sir William)
Making his Clash debut, Lord Steven Regal is a stuffy British aristocrat and a master of the mat-based European style, and he is always accompanied by his faithful manservant Sir William, portrayed by Memphis legend Bill Dundee, an Australian native. Ventura enthusiastically endorses Lord Steven because he has clean fingernails and those are hard to find in Virginia, rubbing it in that Schiavone was born and raised in Virginia. Jesse also relates a backstory about Regal pretending to be a commoner when he first came to the Good Ol' USA and finding himself repulsed by Americans. Now primarily a tag team wrestler with Too Cold Scorpio as his partner, Marcus Alexander Bagwell engages in some fluid chain-wrestling with Regal and works the arm, but His Lordship clips Bagwell's knee and viciously zeroes in on the leg as he stomps away and snapmares his leg against the ropes in a unique maneuver. Regal withstands a comeback and goes back to work on the leg until Bagwell rallies back and notches a couple of near-falls. Bagwell catches Regal in a reverse cradle for two, but Regal reverses it and grabs the tights for a three-count in a messy-looking finish at 6:18. **¼ I was a big mark for Lord Steven's gimmick and his style, as he was incredibly proficient at mat-wrestling and made it look easy. It may not be everyone's cup of afternoon tea, but Regal was flawless at what he did.
– Eric Bischoff interviews Maxx Payne regarding his match tonight against his heated rival, Johnny B. Badd. You see, Maxx had stolen Johnny's confetti gun affectionately known as the Badd Blaster, and faster than you can say "My preciousss," a feud was born. Tonight, Maxx has the Badd Blaster and calls out Johnny so that he can give it to him. Not known for his ability to read between the lines, Johnny comes out and Maxx "gives it to him," blasting Badd in the face with the gun and damaging his prettiness. As a result, Maxx Payne is declared the winner of the match via forfeit and The Z-Man comes out wearing street clothes to defend Johnny B. Badd's honor. They tussle until Maxx locks Z-Man in the Payne Killer armbar submission and refuses to release the hold for several moments.
Wrestling is a violent sport, but shotgunning a man's head off? That's crossing a line.
– NWA Heavyweight Championship: 2 Cold Scorpio vs. "Lone Wolf" Barry Windham ©
Michael Buffer handles ring announcing duties in his own inimitible style, as the Big Gold Belt makes its first live appearance on a Clash of the Champions since Clash XV. Barry Windham defeated The Great Muta at SuperBrawl III to capture the NWA Heavyweight Title and adopted the "Lone Wolf" attitude after turning down an invitation to rejoin the Four Horsemen. 2 Cold Scorpio is fresh off of a successful tour of Japan and he holds his own against Windham, but the NWA Champion's experience edge comes into play when he outsmarts Scorpio by kicking him in the face after 2 Cold ducks a punch. Windham employs the heavy artillery as he decks Scorpio with a flying lariat off the top and drops a big Flair-like knee across the forehead. Suplex gets two as Windham remains in control and stifles Scorpio's comebacks, planting his challenger with a DDT for a near-fall. The Lone Wolf continues to have his way with 2 Cold and tosses him out to the floor, but Scorpio slingshots back in with a vertical bodyblock for two. Windham immediately goes back on the offensive with a Samoan drop for two and a back suplex for another near-fall. Taking his opponent lightly, Barry paintbrushes Scorpio to humiliate him and 2 Cold still can't string together any sustained offense. After countering a superplex attempt by dropping Windham face-first down to the canvas, Scorpio lands the floating splash off the top for a close near-fall and snaps off a Frankensteiner as the crowd gets behind the flashy young high-flyer. An awesome springboard into a full 360 flip splash earns Scorp another near-fall, and he follows up with a long dropkick off the top for yet another close count before Windham sends him out to the apron. Scorpio slingshots back in, but Windham socks him with a right hand in mid-air and drills him with the leaping DDT to retain the NWA Heavyweight Championship (never referred to as a World Title) in 12:53. ***¾ Barry Windham looked great on offense and played the role of veteran champion well, while Scorpio gave a great accounting of himself as the plucky young challenger. Really good match.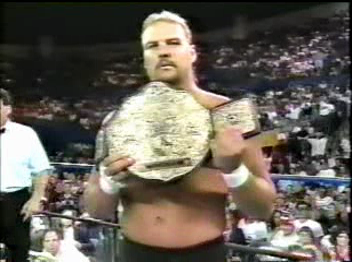 Five years ago, this would have been awesome. In 1993, not so much.
– "Ravishing" Rick Rude & Big Van Vader (w/Harley Race) & Sid Vicious (w/Col. Rob Parker) vs. "The Natural" Dustin Rhodes & The British Bulldog & Sting
Veteran wrestler/promoter Robert Fuller surfaced in WCW as Colonel Rob Parker, a wealthy Southern promoter loosely based on Elvis Presley's manager Col. Tom Parker, and after weeks of suspense, he brought Sid Vicious back to WCW as his featured client. Combining their managerial talents, the Colonel and Harley Race agreed to work together and Sid & Vader were forged together as The Masters of the Powerbomb. To balance out the babyface side, another instant main-eventer also arrived from the WWF in the form of Davey Boy Smith, as he allied himself with Sting and started feuding with WCW World Heavyweight Champion Big Van Vader right off the bat. In a completely unrelated development, the WWF had instituted steroid testing during the previous year when both Sid and British Bulldog departed for the more lenient WCW. Refusing to return the WCW United States Title belt because he never lost it in the ring, Rick Rude carries a Haliburton briefcase containing the gold strap. In the winter, Dustin Rhodes had won the tournament to declare a new US Champion after Rude was injured and stripped of the title, but the championship was held up again in May following a double-pinfall finish between Rhodes and Rude. In a pre-match interview, the babyfaces declare themselves the best superstar trio ever assembled. The longest-running rivalry in WCW rears its magnificent head again as Sting starts off with Rick Rude and presses him over his head before throwing him toward Vader & Vicious when they step in the ring. The Masters of the Powerbomb catch Rude and heave him back at Sting rather unpleasantly, but the Stinger moves and unleashes his fury on all three heels. Dustin Rhodes tags in and flips, flops, and flies all over Rude before covering him, leading to some heel miscommunication when Vader tries to break up the pin and inadvertently splashes his own partner when Dustin moves out of the way. Rude sells his damaged ribs like a pro, crawling out to the apron while Sid receives the pinball treatment in the babyface corner from all three. Vader tags in and makes a friend for life in Dusty Rhodes, as the WCW World Champion sells the hell out of a beatdown by Dustin. The Natural makes Vader his bitch until missing a flying elbowdrop off the top, and Dustin takes an extended thrashing from the heel squad. Rhodes catches Vader in a powerslam, but Rude tags in and Rhodes spikes him with a deadly-looking tombstone piledriver reversal. Dustin makes the tag to Sting, but referee Randy Anderson didn't see it and Sid drags Dustin back to their corner. The match breaks down as Sting hammers Vader at ringside and plows his own ribs into the guardrail when Vader avoids a Stinger Splash. Meanwhile in the ring, Sid chokes Bulldog in a corner while Rude and Rhodes grapple on the mat near the ropes. From ringside, Vader waffles Rhodes with the briefcase and Rude covers him for the pin at 10:59. The action continues after the match as the camera totally misses the Masters of the Powerbomb spike-powerbombing the Bulldog. Ravishing Rick prepares to nail Dustin with the briefcase again, but Sting grabs it out of his hands and chases the heels off. **** An all-action six-man that accomplished the goal of getting the heels over while keeping the faces strong as well.
There always was a bit of Goldust in Dustin Rhodes.
– More analysis from Eric Bischoff and Larry Zbyszko gives us this gem regarding the big tag team main event: "To be the men, you have to beat the men." Very clever, Larry.
– WCW Undisputed World Tag Team Championship – Two out of Three Falls: "The Enforcer" Arn Anderson & "Nature Boy" Ric Flair vs. The Hollywood Blonds (Flyin' Brian Pillman & "Stunning" Steve Austin) ©
Michael Buffer is the ring announcer for our main event of the evening and he does a great job of setting the table with his introductions, as Ventura acknowledges. The heated feud between the Hollywood Blonds and the Two Horsemen kicked off after a classic confrontation on the set of Ric Flair's talk-show segment, A Flair for the Gold. During the interview, Stunning Steve & Flyin' Brian oozed disrespect as they praised Flair for his antique collection (including the Arn Anderson "statue") and continued to rag on the Horsemen for being old, until the Nature Boy eventually lost his cool and the Blonds left. They continued their sacrilegious taunting over the following weeks and performed one of the first parody promos in wrestling, as Pillman was dressed like an aged Ric Flair, complete with robe and cane, and interviewed Austin on a segment called A Flare for the Old. The Horsemen took it all in stride as they embraced their link to tradition and requested a two-out-of-three falls match, just like the old days. Flyin' Brian starts off against Arn Anderson and mocks Slick Ric, doing a Flair Strut and then grabbing his back like an old man. Even Flair has to laugh, but Anderson is not amused when Pillman slaps him and he retaliates by spitting at Brian and slugging away. When Austin tags in, he motions to his belly to imply that Arn is fat and Jesse cracks up on commentary. A massive "We Want Flair" chant breaks out and the crowd pops huge when Arn makes the tag and Flair steps into the ring as an active wrestler for the first time since returning to WCW. The Nature Boy unloads on both Blonds and throws chops, as the Horsemen work on Stunning Steve's arm until Arn gets caught in the heel corner. After absorbing a finely-tuned assault from the Undisputed World Tag Team Champions, Anderson drills Austin with the DDT and makes the hot tag, although Pillman manages to clip Arn's knee as he's stepping out of the ring. While Arn sells his bad knee on the floor, Flair wails away on both Blonds and nails Pillman with a flying forearm off the ropes to win the first fall in 9:40. As we go to a commercial break between falls, Michael Buffer erroneously announces that we have NEW World Tag Team Champions! The ineptitude and disorganization within WCW throughout its history is truly farcical. When we come back, Schiavone mentions that a knee injury kept Arn out of action earlier this year, as Flair tries to carry the workload for his team and ends up in trouble after being knocked off the apron. Austin suplexes Flair on the floor and the Blonds abuse the nine-time Heavyweight Champion of the World outside and inside the ring. The Stunning One earns a near-fall after a big superplex and Ventura chastises Schiavone for not showing enough excitement when the Blonds are in control, which is a valid point because Tony sounds like he's calling a baseball game. The loss of Jim Ross on commentary is extremely noticeable and it would take quite a while for Schiavone to develop into an effective lead announcer. Anderson finally gets the hot tag and takes care of both Blonds, culminating in a spinebuster for a near-fall as Pillman makes the save. Flair also comes back in and amidst the confusion, Brian clips Arn's leg from behind. Known for their cunning intelligence and lack of morals, the Blonds take advantage of Arn's pre-existing bad knee and methodically torture his damaged limb for an extended period. The momentum shifts when Anderson gets his foot up to block an aerial attack from Flyin' Brian and he makes a hot tag to Flair. The Nature Boy unleashes chops and a back suplex on Austin before applying the figure-four, but Barry Windham runs in and attacks Flair for the disqualification to end the match at 11:05. The Horsemen win the bout 2-0, but the Hollywood Blonds retain the World Tag Team Championship since the second fall ended via DQ. Looking dapper in a suit and tie, Paul Roma sprints out to make the save and helps Anderson knock Windham off of Flair. In a quick on-the-spot interview at ringside, Windham says that he is the World Heavyweight Champion and that Flair doesn't deserve the belt. Barry keeps ranting until Slick Ric pounces on him and they tangle as we go off the air. ****¾ Although the match could have benefitted from added time, they packed a lot into those eleven minutes. Beginning with the disrespectful taunts from the Blonds, the stage was set for an epic showdown between top stars of the '80s and future stars of the '90s, and all four of these current and future Hall of Famers delivered a well-executed story within the timeframe they were allowed.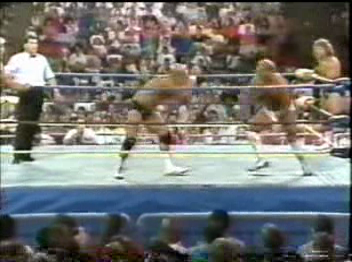 Lights, camera… DDT!
The 411: In the role of conquering hero and full-fledged babyface, Ric Flair was the shot in the arm that WCW desperately needed and his return had actually been in the works since the Bill Watts regime in late '92, when replays of his classic matches on TBS consistently drew higher ratings than their current programming. The build-up to the twenty-third Clash of the Champions was very well-done and Flair once again proved that he still had what it took to be a major top star, as the angle and match pitting the brash young Hollywood Blonds against the original Horsemen was the hottest thing WCW had going since the beginning of the Dangerous Alliance. The cheap finish was necessary to transition Flair into his 10th World Heavyweight Title reign, while Paul Roma took his place alongside Arn Anderson in the feud with Austin & Pillman. The rest of this Clash provided a fun six-man that brought together several issues into one big crazy match, and the NWA Title bout was a good old-school showdown. At the time, this was not my favorite era of WCW, but in retrospect there is some excellent stuff going on here.

 
Final Score:  8.0   [ Very Good ]  legend