The Wednesday Wrestling Week That Was 09.19.12: Issue #3
September 19, 2012 | Posted by
Welcome once again to The Wednesday Wrestling Week That Was. My name is Sam Smith and I am here once again to remind you to follow me on Twitter and read my blog about metal!
Anyway, enough of this shameless self-promotion. Here's Hulk Hogan and Fake Hulk Hogan with the news!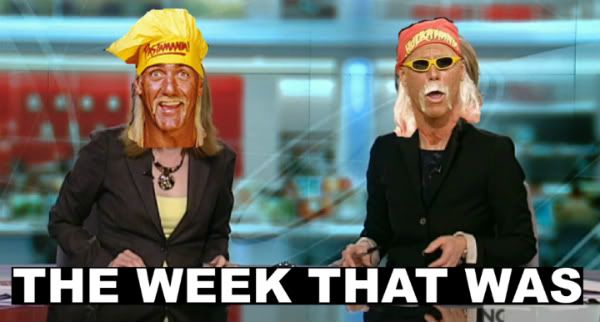 – The story of the week is that of Tammy Sytch, otherwise known as prototypical WWE Diva Sunny, and her impressive devotion to spending the majority of her life in rehab.
Sytch was released from her third stint in rehab just a few weeks ago, and appeared at an Evolve Wrestling event on the 8th, apparently totally sober according to Gabe Sapolsky. It didn't last, and Sytch managed to get herself arrested on the 11th for assaulting her boyfriend, indie wrestler Damian Darling. Yeah. She was released on the 12th and told not to go near the boyfriend again, which she immediately disregarded as she was arrested, again, later the same day. She was released once again on the 13th and, lo and behold, managed to get herself arrested for a third time later that day.
The court only agreed to release Sunny a third time after her sister assured them she would be heading straight to rehab, and that "a bed was waiting for her" at the facility.
It seems that the rehab stay will be on WWE's dime once again. The company issued the following statement to TMZ –
"As part of WWE's Former Talent Program, we sent Ms. Sytch to rehabilitation three times, with all costs covered by WWE. Unfortunately, Ms. Sytch continues to make poor personal choices. WWE will continue to provide assistance should she want to take advantage of it."
Taking advantage seems about right. WWE can't be happy with all the bad press Sytch has been receiving, especially considering Linda's ongoing Super-Campaign-Omega-3000, but it would make them look even worse if they didn't pay for her rehab, again. I wonder how they are feeling about inducting her into the Hall of Fame a couple years back.
Sunny herself posted on Facebook during the week, writing –
"Cheat on a good woman, you get choked out." Who said romance was dead? She also noted that she had been contacted by the Dr. Phil show and followed it up with "decisions, decisions." Way to take advantage of troubled people to entertain stupid bored housewives, Dr. Phil!
Sytch later took all that stuff down, asking everyone for privacy regarding the situation. Methinks it might be a bit late for that.
This whole thing is a shame. Sunny was an important part of wrestling history and helped create the mold for today's standard WWE Diva. She clearly has problems with alcohol and substance abuse, dating back quite a while considering her three previous stints in rehab and the rumor that her WWE release in 1998 was partially attributed to an addiction to painkillers. Rehabilitation only works when the person truly wants to be clean, and I'm not sure if that is the case here. But enough of my moralistic pontificating, what does CM Punk think?
Exactly.
– Night of Champions happened, and it was pretty darn good in my book. The Punk/Cena match was phenomenal, and although I get why people have a problem with the ending, I disagree. Punk is supposed to be a heel now, so having him retain through a heel-ish method makes sense. I'd have loved a clean win as much as the next Punk fan, but it wouldn't really contribute to where this story is going.
– Jerry Lawler is continuing to recover from his huge heart attack last week and is back home in Memphis. Fantastic news. The King looked death in the face and no-sold the fuck out of it. Good show, King. Get well soon.
– Replacing King on commentary for Night of Champions and Raw was JBL. Whilst he seemed slightly rusty at NoC, on the whole he did a good job. I've always enjoyed JBL in a commentary role, and it was nice seeing him and Cole together again. I'd love it if WWE kept him on as a full-time commentator in some capacity. King is clearly coming back to Raw, but why not stick JBL on Smackdown next to Josh Matthews? That could be pretty decent.
– WWE are removing some of their non-PG attitude-era footage from their digital platforms thanks to the Hyper-Linda-Campaign-a-thon. WWE are also promoting their new video game, WWE13, which is based on the attitude era. I'd make a joke but I don't think it's needed.
– Randy Orton was a bit of a naughty boy this Sunday at Night of Champions. Orton flipped off the crowd at one point and managed to get into some arguments with fans at ringside, forcing the sound to be cut off at one point. Take a look.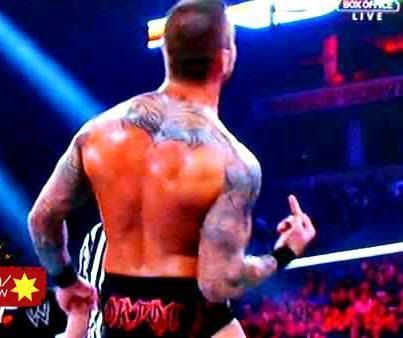 Oh Randy. Don't get angry because the crowd likes Dolph Ziggler more than you. You want to turn heel anyway, right?
– Eve Torres has gotten engaged to Rener Gracie. Lucky man.
– TNA are going to be screening Bound For Glory live in cinemas. This is a smart move – it makes the event seem like a big deal, and watching a PPV in a cinema full of other wrestling fans must be a fun time.
– Rosa Mendes did not appear with Primo and Epico on Saturday Morning Slam due to her act being viewed as too risqué for a kid's show. Fair enough, I guess. At this point, would it take less time to list what IS allowed on that show?
– WWE are currently avoiding hiring any TNA talent due to the ongoing lawsuit between the two companies. Somewhere, Ric Flair is shedding a single tear. And then blading.
– Cody Rhodes and Seth Rollins apparently tore the house down at the latest set of NXT tapings. Both got standing ovations and many fans in attendance called it the best match they had seen in a long time. As a big fan of both men, I hope I get the chance to see it soon. Sounds fantastic.
– John Cena hurt his ankle early in his match at Night of Champions but was back in fighting form in time for Raw the next night. News later broke that Cena also had an elbow injury –
WWE.com has learned John Cena had surgery to remove bone chips in his elbow today. Dr. Andrews removed several pieces of bone cartilage from Cena's elbow through a scope. Cena will go home today and immediately begin his rehab in Tampa, Fla.
Cena is expected to recover in two to three weeks. An update on his recovery time is expected Thursday when he is reevaluated.
As more information comes available, WWE.com will inform the WWE Universe.
Expect him to have recovered in a day or so. The dude is a legitimate superhuman, it's crazy.
– Cameron was back on Raw last night, so I guess she hasn't been fired. Expect AW to get really angry on Twitter about this in 3, 2, 1…..
– And last but by no means least, here is a video of Mr. Belding from Saved By The Bell doing a Stone Cold Stunner. Guest-starring the Big O. Can't make this stuff up, ladies and gentlemen –
The promo bit to set up the main event that opens every single bloody show
Heh, voice of the voice of the voiceless. Nice.
Rey Mysterio and Sin Cara vs. Primo and Epico
I'm actually quite looking forward to seeing this team implode, if the rumors about their Wrestlemania match are true. Still hoping on a heel Mysterio. Done right, that would get insane levels of heat.
A Diva's match
Brodus Clay vs. Heath Slater
SLATER LOSES! THIS IS UNHEARD OF
MizTV
Well, the actual talk show part of this segment was under whelming, but I did enjoy Ryback going apeshit on some furniture.
WHICH BRINGS US TO –
No.
Dolph Ziggler vs. Santino Marella
Holy crap, Ziggles was getting a ton of love from the crowd here. You listening, Vince? I love how JBL acknowledged the "let's go Ziggler chants", Cole tries to palm if off as "they appreciate the athleticism", and JBL comes back with "No, they appreciate Dolph Ziggler." My man.
Wade Barrett vs. Justin Gabriel
SUPER NEXUS REUNION DEATH MATCH
I continue to very much like Wade's new finisher.
Team Friendship vs. R-Truth and Kofi Kingston – Tag Team Championship match
Daniel Bryan is such a good wrestler that he can make Kane entertaining. Yeah.
So, are Kane and Mr. Hug-it-Out heels or faces at this point? I guess faces technically, the crowd clearly loves them. Kofi and Truth were getting lots of boos at NoC whenever they were in control.
Randy Orton vs. Tensai
Try not to punch any audience members in the face, Randy!
Damien Sandow vs. Zack Ryder
John Cena and Sheamus vs. CM Punk and Alberto Del Rio
Punk's new shtick of holding the belt above his head for about ten minutes is pretty awesome.
Cena wins via blatant cheating! Boo that man!
An average Raw this week. Nothing flat out awful, but nothing really that great either. A "nothing" episode, if you will.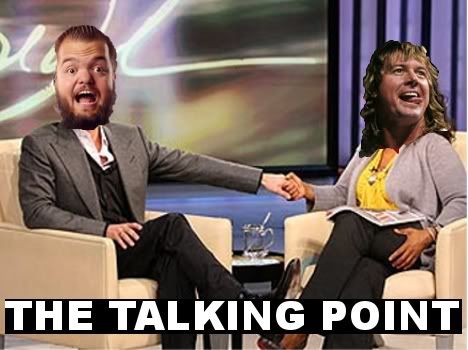 Last week I asked you all who your favorite current wrestler is after giving my own example in Daniel Bryan. Tons of you also picked D-Bry as your favorite currently competing wrestler, proving once and for all that internet fans have great taste. Dr Wiki puts it better than I ever could have –
I have to agree with you on Daniel Bryan. From even before he was signed by WWE people have been bashing him for not having the charisma and mic skills to ever be signed.
He gets signed and people start bashing him and saying he'll never break out of the midcard.
He becomes World champion and people keep saying he will have a lackluster reign(which is partly true) and sink back down to the midcard.
Now however Daniel has become the upper midcard rock. He can go down the card and make the midcarders look good without making himself look bad. He can then move to the Main Event and feel like he belongs unlike Cody Rhodes and Dolph Ziggler(my opinion).
Vince might not like guys who look like Bryan but even he's smart enough to realize that he has a guy who can wrestle, act, do comedy, get over with regular fans, hardcore over with smark fans, and lose without losing momentum.
Well said, and a sentiment shared by several other commenters. All hail Mr Small Package!
Kaiza –
I'd go with Dolph Ziggler as my current favorite, he just exudes the qualities of a future star and it's been awesome seeing him develop from that guy who shook hands with everyone, to the guy who used Maria(Lucky Bastard) to what he is today,
Yep, Dolph is fantastic. It's great seeing the crowd showing him more and more love despite him "being a heel" due to his outstanding charisma and athleticism. It would help if WWE stopped booking him to lose 90% of his matches, but I'm hoping for big things in Ziggler's future. DREAM SCENARIO – Orton turns heel like he wants to, Ziggler is turned face by the crowd without losing the aspects of his character that people like, awesome feud ensues – book dat shit.
Jason King –
I feel like going with Punk is too obvious/easy, so I'm gonna go with Cody Rhodes. Compared to when he started out as Bob Holly's whipping post-turned-tag-partner-turned-enemy, he's come leaps and bounds on both the mic and in the ring, and has always kept his character fresh. Shame the WWE is slumping him a bit now, but only good things can come and he'll far surpass anything his brother's career.
Another excellent choice! I see Cody and Ziggles in quite similar positions – both firmly established in the midcard and clearly primed to be a big deal once they break through to the top. The fact that Cody has become so good and he is only 27 means that there are hopefully many great years ahead.
Nick V has a potentially controversial choice –
I'm assuming by "current" you mean actively competing. For me, it would actually be The Miz. John Cena buried the man repeatedly, making him look like nothing in a WWE Championship match at WrestleMania, and yet there Miz is, still near the top of the card. The guy has a title, he's got enough of a story that, unlike the US Champion, Night of Champions has at least a probable list of competitors. And he honestly does some little things that make the match his own.
You can talk about what other wrestlers do, but Miz has continued to evolve in the WWE, and more to the point, he plays a heel well. He's also the kind of smarmy jackass on screen that makes it nearly impossible for anybody to want to make him a good guy. Unlike some other heel characters, Miz raises the ire of pretty much all WWE fans. The only time he gets cheered is when he makes a media appearance. It's why he's my favorite. He doesn't toe the line between face and heel – he's a bad guy, and he plays it up.
The Miz does seem to get a lot of hate from various members of the IWC, which I don't agree with, but at the same time I've never found him THAT interesting. He seems a bit too generic, a bit too standard WWE-style heel. Still, there is no denying The Miz has improved enormously, and I think with a bit of tweaking, a true breakthrough is yet to come.
For this week, let's talk about the new three-hour Raw. Now that some time has passed since it started, what are your opinions on Raw being three hours? I can see it both ways. There have been some pretty decent matches on recent Raws that definitely benefited from an extra ten minutes they simply would not have gotten previously. Also, three hours means time to build feuds and feature more wrestlers. Assuming the extra time is used this way, of course.
On the other hand, three hours is a long time! Taking three hours out of your day every now and then to watch a PPV is one thing, to do it every week is another. Also, more time apparently means more filler. Playing the same recap segment on the top of every hour is just lazy, and boring to boot.
So, what do you guys think? Leave a comment and let me know – now that some time has passed since it started, what are your opinions on Raw being three hours?
That brings us to the end of this week's Wednesday Wrestling Week That Was. I'm Sam Smith, and I'm a badass, so follow me on Twitter and read my blog about metal! As always, thanks for reading. See y'all next week.

NULL