Tremendous Tirades: ROH All Star Extravaganza VI
September 7, 2014 | Posted by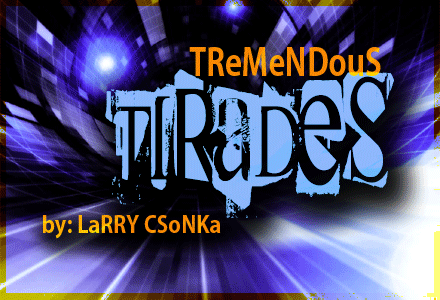 Introduction
As a reminder, this will not be another traditional recap, but instead it will be a mash up of the Rs, Instant Analysis and my usual Twitter ramblings I would do during the shows; completely uncensored and as the ideas flow unfiltered to the old keyboard. Remember, this is a review; and I am here to review the show. As always, I encourage discussion and even disagreement, just do so in a respectful manner. I will be doing the review for Raw and most PPVs and iPPVs going forward.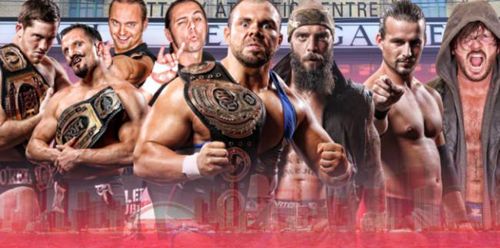 ROH All Star Extravaganza VI
OFFICIAL RESULTS
Mark Briscoe defeated Hanson @ 8:45 via pin [**]
R.D. Evans and Moose won the four-way survival (Ethan Gabriel Owens & Josh Alexander, Adam Page & BJ Whitmer and Caprice Coleman & Takaaki Watanabe were the other teams) @ 9:30 via pin [**½]
Christopher Daniels & Frankie Kazarian defeated Roderick Strong & Jimmy Jacobs @ 11:00 via pin [***]
AJ Styles defeated Adam Cole @ 23:00 via pin [****]
Jay Lethal © defeated Cedric Alexander @ 16:00 via pin to retain the ROH World TV Title [***½]
Jay Briscoe defeated Michael Elgin © @ 21:00 via pin to win the ROH World Title [***¼]
reDRagon © defeated The Young Bucks (2 falls to 1) @ 20:00 to retain the ROH World Tag Team Titles [****½]

---
Mark Briscoe defeated Hanson: Overall this was a fine, but soft opener. There was really nothing wrong with it, but the opener (as I have discussed many times) needs to be either a match with guys in a hot feud that the crowd is invested in or a match between competitors that will get the show off to a hot start. I wasn't feeling this, at all. It was a perfectly fine match, but just did not have the energy or buzz that I felt the opener needed. Mark hit the Froggy Bow for the win.
Tommaso Chiampa came out to the ring to apologize for his actions, which ended up getting him suspended. Nigel McGuinness appeared and had his mic cut to put an end to this, because this was not the place to deal with these sort of things.

R.D. Evans and Moose won the four-way survival: THE STREAK IS ALIVE! R.D. Evans and Moose won the tag team survival match, which was more energetic than the opener and I felt got the crowd back into things more than they were. This was a match some will either really enjoy or really hate, it was chaotic and spotty; but I felt it was fun and was a good upgrade following the soft opener. Evans snuck in late and covered Page to keep the greatest streak in all of sports alive.

Christopher Daniels & Frankie Kazarian defeated Roderick Strong & Jimmy Jacobs: Christopher Daniels & Frankie Kazarian scored the win in the next tag team bout. I think that I would have possibly shuffled the card a bit, putting a singles match here to break up the feel from the last tag match, but that's a small criticism. This was a rock solid, middle of the card style tag match. Four veterans working hard, putting on a match that wasn't designed to overshadow anything but was also an upgrade on the show's early action. In a way a bit disappointing because with the competitors involved I was waiting for the action to hit that next gear, but then the finish came a bit out of nowhere as Daniels and Kazarian hit scored the victory, pinning Strong. Another upgrade in quality, the show is going in the right direction.

AJ Styles defeated Adam Cole: While the open of the show was soft, I will say that ROH laid out things very well because each match just got better from that open. Styles vs. Cole was the match I was looking forward to the most on this show, and they did not disappoint. In my opinion, AJ Styles is the best in the word right now and has been delivering consistently great matches. Add another here, because he and Cole tried to steal the show. They got 23-minuts to work, and while they had one or two small hiccups, overall they worked very well together and did not disappoint. I felt that they set up a great match, some cool counters and exchanges highlighting both men's skills, some very good near falls and an overall enjoyable experience. AJ has been having great matches with everyone (go watch the G1 matches guys) and consistently works to the strengths and style of his opponents, he has evolved into such a good performer and is untouchable right now. Also, Adam Cole, good pro wrestler if you didn't know. I'd love to see these guys clash again, with this match under their belt; I anticipate that they can do even better. Simply put, a great match here, one you should track down if you're a fan of both men.

Jay Lethal © defeated Cedric Alexander: ACH was not on the show, apparently due to travel issues, so the scheduled TV Title match was in jeopardy. ROH reshuffled things, and Cedric Alexander (who was originally scheduled to face Silas Young, and then Michael Bennett when Young got hurt) was given the chance in the title match. I will say, I half expected the title change here. Many times in wrestling when you have to pull the late replacement card in a title match, they will do a title change to keep the fanbase happy, but they didn't do that here. The plan, I think, is for ACH to overcome and win the title, so they kept that course. I like Jay Lethal a lot, and feel he's been good (from what I have seen) during the heel run. I felt Alexander took advantage the opportunity here, worked hard, and when all was said and done, they had the second best match (at this time) on the show. Lethal won with the Lethal Injection to retain the title.

Jay Briscoe defeated Michael Elgin ©: In a move that is bound to stir up a lot of shit, Jay Briscoe is the NEW ROH World Champion. All week, as the show was hyped, I saw a lot of people hoping for Elgin to retain and for Briscoe to be moved away from the title scene. Those people will not be happy. I have no issue with that, enjoy what you will, just making a point of discussion. I haven't followed ROH as closely as I have in the past (lack of time) but apparently there have been rumblings that Elgin was going to lose the title soon. As for the match, it was good, but under whelming to me. I didn't know any of the possible drama or title change rumors going in, I was looking for a good back and forth title match. They got the time, they worked hard, but I felt the crowd lost interest during the stretch on the floor that seemingly lasted forever. The ending was good, Briscoe won clean (with the Jay-Driller) which I appreciated, but for a big title match and title change, I was left wanting.

The end of Elgin's run raises questions. First of all, many felt that Elgin winning and killing Cole's run early was a mistake. Something that many will likely say now that Elgin dropped the title so soon. Also, Elgin had the big story and chase, and has lost it a little over two months after his "epic win". I know plans change, but the overall planning comes off as very flawed. Is Elgin leaving to play baseball? Did ROH lose faith in him? Did he crack under the pressure? I don't know as of this writing, but a lot of questions were raised with the title change. Briscoe gets back the title that he never lost after being unpinned in two years (according to ROH guru Ari Berenstein). It will be interesting to see where they go from here.

reDRagon © defeated The Young Bucks: reDRagon vs. The Young Bucks was moved to the main event of the show, and it proved to be a great call as I felt that they had the best match of the night. This was an amazing athletic display, and the kind of match that both teams have been thriving in for a long while now. The Bucks are spectacular, they are heat magnets, and put on a display each and every time out. reDRagon have developed into such a good team, good work, Fish's personality is rubbing off on O'Reilly and they keep developing, which is a great sign. Whatever changed heading into this show, this was a great choice for the main event. So many times this year I have discussed main events not delivering and the show's ending cold due to that, but thankfully this was not the case tonight. I loved this, and felt that it was on par with their excellent ROH/NJPW War of the Worlds match. The finish was great, as the Bucks were executing More Bang For Your Buck, and O'Reilly countered into the triangle choke (Armageddon?) and scored the victory in the final fall. The Bucks also busted out The Meltzer Driver for the ROH crowd.
The Meltzer Driver From PWG BOLA
Post match, Tommaso Chiampa attacked the Bucks and laid them out along with ripping up the ring.
End scene.
Thanks for reading.

The Tirade


Overall I think this was an eventful show. You have the world title change, which judging by reaction on social media is controversial to say the least, and will likely lead to lots of interesting news over the next few days. Styles vs. Cole and reDRagon vs. Bucks were those next level matches you expect and hope for on PPV, and made the card worth it for me. In a way this felt like a NJPW card in structure, a solid undercard, with the final four matches carrying the load. While not a show of the year effort, I felt it was an upgrade from Best in the World, and overall a very good event.

What You Need to See: Styles vs. Cole, reDRagon vs. Bucks

Show Rating: 8.1

As a reminder, I will be going by the 411 scale…

0 – 0.9: Torture
1 – 1.9: Extremely Horrendous
2 – 2.9: Very Bad
3 – 3.9: Bad
4 – 4.9: Poor
5 – 5.9: Not So Good
6 – 6.9: Average
7 – 7.9: Good
8 – 8.9:Very Good
9 – 9.9: Amazing
10: Virtually Perfect

As a reminder, this is not a basic "how good was the show" number like a TV show, as I have always felt that a PPV is very different from a regular show. I have always judged PPV on how they built to a match, the match quality, crowd reactions to matches and angles, the overall booking, how the PPV leads into the future, PPV price and so on and so forth. I have added this in here for an explanation since so many have asked, and I have previously discussed it on podcasts. I understand that this may seem different, but that is how I grade. Obviously your criteria may be different.
Have you checked out the Csonka Podcasting Network? If you haven't, you should We run anywhere from 15-20 shows a month, discussing pro wrestling, the world of MMA, the NBA, general sports, popular TV series of the past, bad movies, battle rap, interviews, MMA & Wrestling conference calls and more! Around 10 different personalities take part in the various shows, which all have a different feel; so you'll likely find something you like. All of the broadcasts are free, so go ahead and give a show a try and share the link with your friends on the Twitter Machine and other social media outlets! Running since May of 2011, there are currently over 500 shows in the archive for you to listen to.

Larry Csonka is a Pisces and enjoys rolling at jiu jitsu class with Hotty McBrownbelt, cooking, long walks on the beach, Slingo and the occasional trip to Jack in the Box. He is married to a soulless ginger and has two beautiful daughters who are thankfully not soulless gingers; and is legally allowed to marry people in 35 states. He has been a wrestling fan since 1982 and has been writing for 411 since May 24th, 2004; contributing over 3,000 columns, TV reports and video reviews to the site.

Your heart is free. Have the courage to follow it…TO CSONKA'S TWITTER!

http://www.twitter.com/411wrestling
http://www.twitter.com/411moviestv
http://www.twitter.com/411music
http://www.twitter.com/411games
http://www.twitter.com/411mma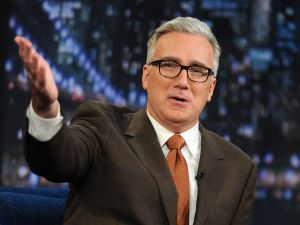 "Byyyyyyyyyyyyyyyyyyyyyye Felicia!"