Ozzy Osbourne – Ordinary Man Review
February 29, 2020 | Posted by
Ozzy Osbourne – Ordinary Man Review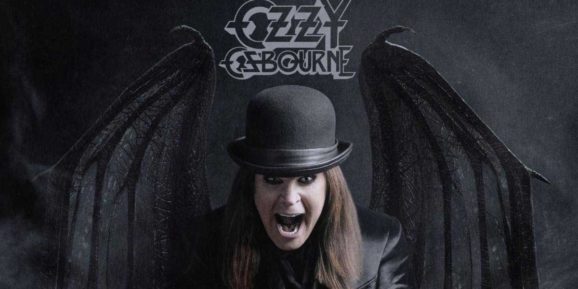 The run up to the release of Ordinary Man, Ozzy Osbourne's 12th studio album, has been traumatic to say the least. When the Prince Of Darkness announced the No More Tours 2 world tour, it was hard to avoid cracking a smile. Black Sabbath might have called it day, but fans knew better than to believe that good old Ozzy would actually pack in playing live. He'd be doggedly clinging to his mic stand, bobbing his head and spewing the crooked syllables of "Mr. Crowley" to his dying day. Ozzy tried retirement once in 1992 (hence the "2" in the title), it didn't suit him and his latest farewell felt as much like a promise to return as a parting gift.
After all, why would Ozzy call it quits when he'd just been introduced to a whole new generation of pop fans through Post-Malone and his fabulous collaborative single "Take What You Want" (which features here). The track flourished not only because of Post's zeitgeist capturing melodies and Travis Scott's effortless cool, but because Ozzy's high and knotted vocals slid perfectly into the ghostly, smoke filled, melancholic world of modern trap. Post-Malone dutifully returns the favor: Ozzy blessed his globe conquering LP, Hollywood's Bleeding, and the rap-crooner hops on board Ordinary Man for a blitzkrieg blast of Priest inspired mayhem ("It's A Raid").
So the table was set. Ozzy was about to get the biggest and most visible co-sign he could ever hope to receive and Judas Priest, fresh from unleashing the magnificent Firepower, had agreed to open as The Prince Of Darkness prepared to head out on the road. Then, out of the blue, the shows were postponed, postponed again and postponed a third time. Something didn't add up. Ozzy was (and is still is) adamant that the shows would go ahead and that they would not be cancelled. Fans were perplexed to say the least, but not necessarily worried. Ozzy might be 71, but he was just as likely to cancel on a wild whim as he would due to old age or illness.
Then the news broke. Ozzy Osbourne had been diagnosed with Parkinson's disease and been advised not to tour as he dealt with the official diagnosis. The exact same condition had forced Neil Diamond into sudden and premature retirement. For all the world it seemed Ozzy was facing a similar fate.
This shocking revelation only serves to compliment the repentant, but unwavering themes of Ordinary Man: Ozzy's first solo album in a decade. It's clear that Ozzy has had a lot of time to think and, far from serving up a slice of riotous escapist arena rock, The Prince Of Darkness has returned with a deliciously camp, but nevertheless profound reflection on a life lived as a rock and roll cliché. Ozzy's brilliance lies in his wilfully ridiculous nature. He is a showman and an arch contrarian who loves to puncture pretensions. It's fitting then, that his most mature and resonant solo work in eons, also happens to be brazen, preposterous and unashamedly silly – just like its creator.
Whether reflecting on the price of eternal fame or the cancer of addiction, Ozzy never stops firing off goading spoken word asides and using schlocky visual metaphors straight out of a Hammer horror film. Everything has changed, but all remains the same: Ozzy might open the album with a portentous looming choir, but his first words are, of course, a shrill: "alright now". Ozzy is bloody-minded in his determination to have it both ways: Ordinary Man will be a barmstorming onslaught of throwaway rock and it will be torturous reflection on living your life as caricature. Miraculously, Ozzy gets away with it, largely because the wild thrills of the former inform the tragedy and self-inflicted chaos of the latter.
The album's standout moment no doubt comes in the form of its title track, "Ordinary Man". In an age cast in the shadow of the deaths of the icons of rock's golden age (Bowie, Cohen, Prince, Petty, etc.), seeing Ozzy Osbourne and the soon to be retired Elton John come together for a reflection on the fleeting nature of their celebrity is both heart breaking and surprisingly jubilant.Combining Ozzy's sly flair for a weepy melodic ballad with Elton's stadium sized narrative theatricality proves a masterstroke.
In the wrong hands this ballad would appear pandering as Ozzy and Elton declare that they live for the reaction of the live crowd, but fear that they will be forgotten as soon as they relinquish the limelight ("Don't forget me as the colors fade, when the lights go down, it's just an empty stage"). Both men are notoriously ridiculous and prone to bouts of self-destruction and the track could be viewed as thinly veiled piece of self-justification, instead "Ordinary Man" thrives on a sense of frail vulnerability. Elton and Ozzy almost sound desperate next to the towering majesty of Slash's immortal solo – two adrenaline and adulation junkies hoping they will never come down from this high.
The wonderful and subtly medieval tones of "Under The Graveyard" provide a sublime follow up. Thunderous distorted heavy metal guitars and Chad Smith rollicking rhythms seesaw beneath an uncertain chorus that sees Ozzy rejecting his rebellious youth while tearing his psyche to shreds ("my misery owns me") before he faces his distinctly unglamorous demise ("Ain't living this lie no more, it's cold in the graveyard, we all die alone"). There's plenty of snarl, flippancy and knowing camp – Ozzy will never be compared to Johnny Cash in his final days – but that doesn't stop these moribund reflections from cutting dangerously close to the bone.
As great as Ozzy's vocals and lyrical themes may be, it's impossible to talk about Ordinary Man without discussing how gorgeous and gruesome these arrangements sound. Ozzy has assembled an all-star cast (Duff McKeegan and Slash, Chad Smith and Tom Morello) and an implausibly long list of top notch studio musicians and productions gurus grace the album (oh and Kelly Osbourne too). This could have been a recipe for disaster, blending the the nullifying effect of creation by committee with a series of thoroughly phoned-in A-list guest spots, but this couldn't be further from the truth. Everyone, from Post-Malone to violinist Lizzie Ball are locked in. The production is ultra-crisp and modern, while the tones are unashamedly vintage (a hybrid of 60s pop with brooding 70s and shiny 80s metal). No new ground is being broken, but the grooves truly slap and the guitar and piano parts are exemplary throughout.
He might be threatening to make his audience defecate and warning of "Scary Little Green Men" on fun throwaway rockers, but Ozzy also finds time to tackle more somber fair, notably America's horrific blight of school shooting. "They kill and we give them fame, so tell me who is to blame?" – Ozzy certainly isn't pulling any punches. On first listen, "Today Is The End" is somewhat undermined by a chorus that feels like an awkward attempt to merge a classic Ozzy hook with modern arena pop gimmickry (that clumsy "ooh-oooh" refrain), but on closer inspection if feels like a darker and more ghoulish subversion. Ozzy has sculpted a strangely buoyant and joyous arrangement that highlights the tragic indifference and sense of normalcy that now surrounds these massacres. When Ozzy sings, "The kids are running as fast as they can, could it be that today is the end?", he almost sounds unnervingly nonplussed. Unfortunately, this inversion of violence works a little too well and, despite Andrew Watt's best efforts, the track could use a little more edge. Perhaps his solo is a touch too precise and technical where it should have been horrifically out of control.
Whatever Ozzy may lack in modernity and edge in 2020, he compensates for it amply with the sweet sorrow of his insecurities. Death stalks every inch of this LP as Ozzy continually contemplates the end and cannot shake the fear that he will be forgotten. This might seem strange. After all, Black Sabbath pretty much invented (or at least codified) Heavy Metal. Ozzy was a wild rockstar, a legendary partier and maniac who went on to have some of the biggest hit singles in all of rock history. For heaven's sake, he had his own bloody music festival and conquered almost every corner of the globe. And yet, therein lies the rub. The reason Ozzy fears being forgotten lies in his youth exuberance and is revealed throughout Ordinary Man.
If he is to be consigned to the dustbin of history, what did he do it all for? Why did he alienate his loved ones by wreaking so much havoc and being such a colossal, drunken pain-in-the-arse if he is simply: "someone that they won't remember". This theme is brought home to roost beautifully on "Holy For Tonight": Ozzy's grand farewell, fittingly soundtracked by a guitar solo that blazes across the night sky. The Prince Of Darkness can't resist one last joke: a deathbed conversion. His last night on earth is going to be his longest and most torturous because he's decided to " be holy for tonight" (and presumably sober).
It's tempting to call Ordinary Man a haunting, heartfelt and genuine tender embrace of a rockstar's impending demise. The moment when a pop cultural immortal realises that, like Bowie and like Prince, he can and will die – and worse, he may very well be forgotten. The trouble is, while Ozzy might be sentimental, he's never moribund. For every sincere and solemn moment there's a dose of riotous rebellion, slasher movie camp or tongue-in-cheek pomposity. Ozzy is happy to bare his soul, but there's no way he's doing it with a straight face.
Fittingly, this thrilling and utterly energized all-star LP is defined not by Ozzy fading to black with a tear in his eye, but by the way he cracks these inane little jokes. On "Goodbye" he signs off, not with the harrowingly lines "all my friends are waiting for me…cryin' out for help", but with a giddy little aside: "Is it tea time yet? Do they serve tea in heaven?"
7.0
The final score: review Good
The 411
The Prince Of Darkness is contemplating the grave on this polished, energised and genuinely moving all-star LP. Fear not, Ordinary Man is not moribund or cheerless - Ozzy would never stand for that. Instead this profound little farewell is buoyed by both riotous rock arrangements and an utterly inane and deliciously camp sense of humor, which only adds, rather than subtracts from the album's more sorrowful undercurrents.
legend