411 Fact or Fiction 01.03.13: Barrett, Slaughter, Hogan's Food, More
January 3, 2013 | Posted by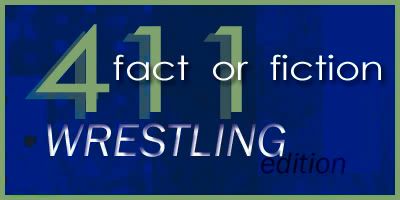 Hi, hello & welcome to 411 Fact or Fiction! I'm Steve Cook, and it's the first Fact or Fiction of 2013. The wrestling world's been a wee bit quiet over the last couple of weeks but there are still plenty of topics for folks to chat about. The New Year's Eve edition of Raw featured a new Intercontinental Champion and a new concept that some folks feel was kind of stolen from TNA but in a backwards way. Sgt. Slaughter made an appearance! Chris Benoit appeared in the WWE Encyclopedia, which caused some folks inside & outside WWE to wonder what the deal was. Jim Ross answered some questions from fans as he usually does. Hulk Hogan opened a restaurant. John Morrison is heading to Dragon Gate USA.
I've invited two of 411's finest to answer these questions. Introducing first, the author of the Tuesday Communique…Nick Marsico!
His opponent authors the TV List over in the Movies/TV Zone…Michael Ornelas!
Questions were sent out Monday.
Participants were told to expect wrestling-related questions.

1. 2013 will be a better year for pro wrestling than 2012 was.
Nick Marsico: FACT. It depends on the criteria. From purely a 'wrestling' standpoint, 2012 was quite stellar. US independents were tearing it up, some great stuff came out of Japan and North America's three biggest promotions also gave us a lot to love from inside the squared circle. Creatively things were good but disappointing all over the place, though. ROH looks to be set to improve in that manner, WWE has a bunch of new stars on the rise and TNA will be moving forward with the Aces and Eights storyline. I think we're going to be seeing some special stuff in 2013.
Michael Ornelas: FACT. And 2012 was a great year for wrestling if you ask me (well, at least for WWE, TNA, and a lot of Indy companies that weren't Ring of Honor). Sure, wrestling as an industry is on the decline, but that's nothing new. The stories that were told, the matches that were performed — all of that was very enjoyable in 2012. However, it's pretty easy to say that 2013 will be a better year given the hungry talent waiting in the wings. The Shield just made their debut — a stable of very capable guys (including Dean Ambrose who I believe will be a top star some day). Antonio Cesaro is tearing it up, and when they decide to let him meander beyond the boundaries of the midcard, he will continue to dominate. Kassius Ohno (the former Chris Hero) is one of the most natural guys inside of a wrestling ring and on a microphone, and he's still on NXT — he'll get the call up and rejuvenate WWE programming. And that's just a taste of the developmental guys. Already on the roster, there's Dolph Ziggler just waiting to break through to the next level, Cody Rhodes has a main event level mustache on his face, and Damien Sandow is one of the best characters in all of wrestling right now. BUT in addition to even those, the main event wrestlers in WWE are great as well. On the TNA side of things, we're seeing more thought put into story resolutions, and a focus on a beginning, middle, and END — a key piece of the puzzle seemingly absent from TNA in years past. Ring of Honor got rid of Jim Cornette, PWG is still PWG, and EVOLVE is getting a singles championship. All these things are good for the wrestling industry.
Score: 1 for 1
2. The Champion's Choice concept is an interesting one and should be brought back for future TV shows.
Nick Marsico: FACT. It really has the chance to be fun. The only thing I would do differently would be to announce it a few weeks in advance so the faces could do things to goad heel champions into choosing them. I think that would actually create a really cool dynamic for a couple weeks as the faces act somewhat heelish in order to piss off the champions. They could do a Champions Choice month where they do one title per show instead of on one episode also, which stretches it out and can add some guess work as to who could be chosen. Honestly, it's what TNA should be doing instead of having the awful segments with Hulk and Brooke choosing challengers for Championship Thursday.
Michael Ornelas: FACT. It's almost like the opposite of Pick Your Poison, but I like it, as it gives the heel champions a great chance to play cowardly and pick an "easy" opponent (meanwhile the opponent can shine as an underdog and almost beat the champions) while face champions can pick a rival or another face that they respect and tear the house down. It's a really simple concept that I think could be executed to great effect a couple times per year, and I think it's one that's here to stay. But then again, I thought the Championship Scramble matches from Unforgiven 2008 were awesome, so what do I know, right?
Score: 2 for 2
3. Wade Barrett's Intercontinental title reign will help him ascend to the next level.
Nick Marsico: FICTION. The precedent has been set. When Cody Rhodes won the belt it looked like it was going to help him move up to the next level. It didn't. His stock (as JR would say) has certainly risen, but winning that belt didn't make him a high level star. It seemed like the belt could help Kofi as well, but it was a complete dead end for him. All that happened to him was that he felt compelled to keep talking about being a wildcat without ever really acting on it. Barrett will move to the next level but I don't think it will happen in 2013 and it won't be because of the IC Title.
Michael Ornelas: FICTION. Or fact? I don't know. At this point, it's unclear what level he's on, and where he's headed. Years ago, he was pegged as a certainty to win a top level championship while now he's officially a 2-time Intercontinental Champion. That means he hasn't gained forward traction in the long term, but at least short term it's made him relevant again. I just want to see them do something with the guy because I feel like his wheels have been spinning for a long time now. I know his injury derailed him, but he came back with the beard and a tweak to his gimmick, and I was legitimately interested in the dude — something I wasn't before he left. It's amazing what difference a beard makes (this is just me longing, though, as I shaved mine last night).
Score: 3 for 3
4. You enjoy Sgt. Slaughter's occasional matches on WWE television.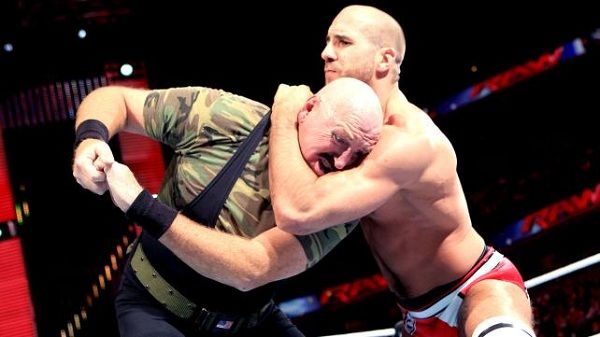 Nick Marsico: FACT. Every damn time. His most recent one with Cesaro on RAW was fun to watch and he took a helluva pair of bumps on the Neutralizers. Sarge doesn't come around often and when he does it's for a few minutes to pop the crowd and usually beat up a low-level comedy heel. A couple weeks ago when they used his theme song for a Tribute to the Troops thing (it had something to do with the military, at least) I was wondering when we would be seeing the Sarge again. I wish he would have had a chance to talk, though. You European MAGGOT!
Michael Ornelas: FICTION. He's a former WWE Champion, a bona fide legend, an '80s star, but I never bought his character. He was too one dimensional for me and therefore he's not my favorite Legend. That being said, I don't dislike the segments he gets whenever he shows up, it just doesn't do it for me or make me feel like I absolutely NEED to watch. I like other Legends a lot better and would rather see them, but it's harmless, usually short and inoffensive, and at worst buries Heath Slater — something I'm okay with. And at best, it gives dominant United States Champion, Antonio Cesaro a nice rub.
Score: 3 for 4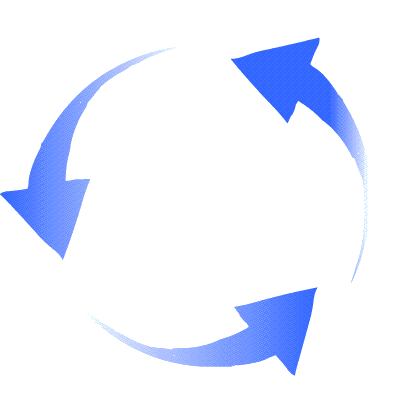 SWITCH!
5. Chris Benoit should have an entry in the WWE Encyclopedia.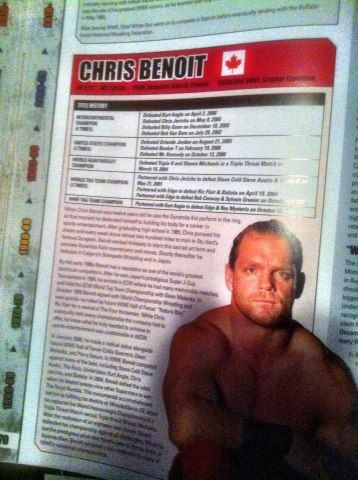 Michael Ornelas: FACT. This is obviously an opinion-based question, and the answer will always come from a place of how one interprets Benoit's final days. I choose to interpret them as extreme dementia, and that the guy wasn't really himself inside his own body. If you disagree with that and want to place more blame on him, I get it and you're entitled to feel that way. Now, in a publicly traded company such as WWE, it gets tricky…but I still feel that the man was great enough in the ring to deserve acknowledgement because, as I said before, I don't believe the man who killed his family was the same man that every wrestler called "the nicest guy" and wrestled circles around most guys in wrestling history. I think allowing Benoit the ability to be a very small part of the encyclopedia is a good start, but I don't particularly expect his matches to start popping up in DVD sets anytime soon — we're at least another 5 years away from that.
Nick Marsico: FACT. Absolutely. There's no question in my mind that he belongs there. It's not worth arguing about as far as I'm concerned. NFL Films still shows OJ Simpson highlights (he wasn't convicted, blah blah) and serial killers are glorified in this country based on their killings alone. Benoit was amazing for over a decade before doing an awful thing on one night. Let's not erase everything that happened beforehand.
Score: 4 for 5
6. You agree with Jim Ross's assertion that Bobby "The Brain" Heenan was the best all around performer in wrestling history.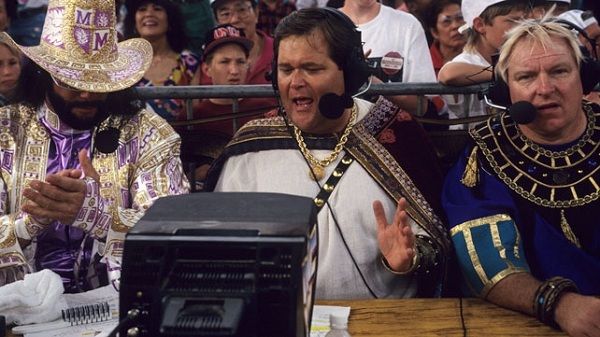 Michael Ornelas: FICTION. But he's still pretty damn good. I don't know what Heenan's up to these days, but I know I'd certainly love a Legends appearance by him on WWE programming as he's always enjoyable. However, he's not the best performer of all time in my opinion. That actually belongs to Stone Cold Steve Austin in this guy's mind. The dude was the full package, to the extent that I don't need to go into it at all — his name is all that's necessary. He was a guy that had the crowd in the palm of his hands at every step, and guys like those are few and far between (I'd argue Daniel Bryan is getting there in the current landscape), a trait shared with the late Eddie Guerrero and yes, even Bobby Heenan. But no one did it better than Austin when it came to being an all-around performer.
Nick Marsico: FICTION. I say fiction because I couldn't ever make a distinction like that. At the same time, I wouldn't be able to say best "all around" because Heenan wasn't as well known as a wrestler. JR's word choice is interesting, however, because he wrote that Heenan was the best performer he ever saw "do their thing". That means, possibly, that he believes Heenan was so good as a manager and commentator that he was better at doing that than Ric Flair (for example; place Rock, Austin, Hogan, whomever else in that spot if you prefer) was at being a wrestler/mic worker. That's high fucking praise and it could lead to some really great discussion/arguments going over who did what they did best. Was Flair a better wrestler than Heenan was a manager? That's a hell of a question. Honestly, just through writing this answer I'm almost convincing myself to consider changing my answer to fact; I won't because as I said at the beginning, I can't/won't give a pick for best ever. Favourite, sure. Best? Too many variables.
Score: 5 for 6
7. You would eat at Hulk Hogan's "Hogan's Beach" restaurant.
Michael Ornelas: FICTION. I would not eat food given to me by that orange monstrosity, or even on the menu of a restaurant that belongs to him. I just wouldn't trust that my burger wouldn't plow my lady on videotape and then deny all wrongdoing. You gross, juiced up, rotten piece of meat — take responsibility and maybe I'll respect you (Hogan, not the burger — it'd be weird for me to respect a sandwich).
Nick Marsico: FICTION. There are far too many good restaurants around here that I haven't been to. Maybe if the place is still around in 20 years (HAHAHAHAHAHAHA) I'll give it a shot. I don't care that it's pretty close to where I work. I won't be a patron. No interest at all. I have no problem with the dude having a restaurant. I'm sure he'll do okay business until he stops giving a shit about it.
Score: 6 for 7
8. John Morrison appearing in Dragon Gate USA makes you more interested in the promotion.
Michael Ornelas: FACT. And this is the definition of irony: I didn't like Morrison in WWE because I thought he was horrible at showcasing a personality (not the same as having no personality, mind you), but I like hearing that he's going to DGUSA because it'll give them a recognizable….wait for it….personality. I'm actually considering going to the DGUSA shows (although I'll probably just go to DDT4 and call it a month for Indy wrestling). But John Morrison vs. Akira Tozawa sounds like a pretty sweet match, and seeing John do his schtick is something I haven't gotten to see in awhile, so I welcome it.
Nick Marsico: FICTION. I am certainly interested in seeing his match against Akira Tozawa. It will likely be the most hard-hitting match in TAFKA Morrison's career, which will be cool, but I'm already a fan of DGUSA and he won't be sticking around. They're only bringing the dude in because he's got a little star power behind his name and the show is all the way out west, which is far from home for the promotion (and Morrison lives there, I believe). If I wasn't into DGUSA already, a Morrison appearance wouldn't be what gets me to give it a look. I'm a fan of his and I'm looking forward to him coming back to WWE in 2013 if that is indeed in store, but he's not a draw for me.
Final Score: 6 for 8
Michael & Nick agree on most things, but part ways when it comes to John Morrison's effect on DGUSA and…SGT. SLAUGHTER? I thought everybody loved the Sarge! Between that & Ornelas shaving his beard I'm not sure what's going on over there in California. Lots of weird stuff. Nevertheless, we thank him & Nick for joining us and invite you to chime in on these topics in the comment section. Until next time, Planet Earth!
Remember to go to TigerFlashGames.com and play addictive, free flash games when you're bored at work, school, or whenever!
NULL