411's WWE MITB 2018 Preview
June 17, 2018 | Posted by
~THE STAFF~
* 411 columnist, Mr.
Steve Cook
.
* 411 columnist, Mr.
Mike Chin
.
* 411 contributor, Mr.
Rob Stewart
.
* 411 columnist, Mr.
Justin Watry
.
* 411 reviewer, Mr.
Kevin Pantoja
.
* 411 contributor, Mr.
Ken Hill
.
* 411 contributor, Mr.
Jake Chambers
.
---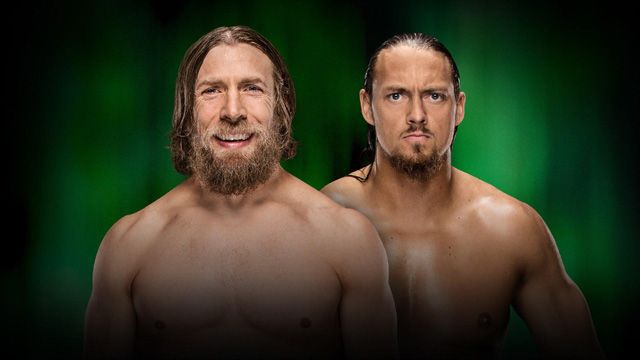 Big Cass vs. Daniel Bryan
Ken Hill
: I can't say I'm at all thrilled with this rematch (not that the first encounter exactly blew me away), as Cass and his promos have hit a slippery slope and the best way they've been able to build the feud is keeping Bryan away from Cass for the most part and building up his heel hook as a new submission finisher, one meant to be more debilitating for 7-footers like Cass. With that in mind, a win for Cass would adhere to WWE's "50-50" booking mindset and probably mean a rubber match, but for my money, I'd rather just see Bryan tap out Cass again and move on. Cass can still be a thorn in Bryan's side without a win, and he'd be better off chasing the US title anyways (and given the recent news about Hardy dealing with nerve damage, which begs the question of why they stuck the title on him in first place, I wouldn't be surprised if Cass or another contender won it sooner than later).
WINNER: Daniel Bryan
ROB STEWART: Boy, the 50/50 booking potential here has me frightened, as it's Cass' "turn" to win a match in this feud. If Bryan just beats him again here… what was the point of doing two big PPV matches? It just buries Cass. But if Cass wins… well, they aren't going to have Bryan lose his first multi-match feud out of the gate, so if Cass wins we're just going to get a rubber match down the line. And who wants more of this? So it doesn't make an abundance of sense for Bryan to win, but if Cass wins, that just means we have to sit through more of this feud when Bryan should be doing better things. Prospects are dim here. I guess I'll go with my head over my heart.
WINNER: Big Cass
Kevin Pantoja: These will mostly be quick and dirty, as I'm pressed for time due to school. Poor Daniel Bryan. He's just wasting so much time with Big Cass, who is incredibly dull and boring. Bryan for the win and hopefully to move onto a match with Nakamura at SummerSlam.
WINNER: Daniel Bryan
Steve Cook: I feel like this is leading to a Cass win. They keep giving him promo time on SD Live while Bryan's rebuttals are relegated to YouTube & Twitter. The question is when Cass's win is coming. It would make sense to have it earlier, as I don't think anybody would be too into Big Cass finally getting his big win over Daniel Bryan on a major show. Just do it now & get it over with.
WINNER: Big Cass
Mike Chin: Daniel Bryan won their first outing at Backlash, and I'm not thrilled that this feud had to continue. There's a threat of Big Cass getting his win back to better establish himself as an upper mid-card threat, not to mention to continue this program, but I'm hopeful that Bryan wins here to move on to a world title feud while Cass gets some more work in the mid-card to better prove himself in the months ahead.
WINNER: Daniel Bryan
JUSTIN WATRY: No explanation needed.
WINNER: Daniel Bryan in a two seconds
Jake Chambers: If you'd have told me three years ago that after two months I'd already be bored by the return of Daniel Bryan to active competition following his retirement (one of my Top 10 favorite wrestlers of all time, no less), then I'm pretty sure I would have said, "Oh, because he came back to the WWE, right?" Right.
WINNER: Big Cass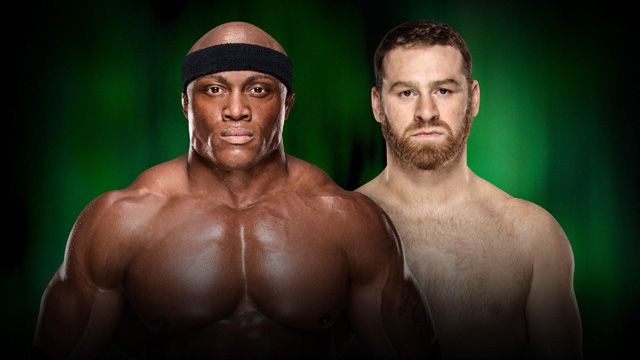 Sami Zayn vs. Bobby Lashley
Ken Hill
: Bless Sami and his "old man" hat and glasses, but even his zany (Yeah…just got it) heel stylings haven't been able to save what many of us are considering the absolute character assassination of Bobby Lashley. WWE has seemingly outdone themselves here. They took the man who had been reshaped and reforged over the last few years into an all-around solid, give-no-fucks, competitive ass-kicker and, within the span of a few weeks, has turned him into a lisping, sister-adoring, near non-entity on RAW within the first two months of his debut. It may very well be a "re-initiation" by Vince and company, but I'd rather just have gone with Lashley tearing it up from the get-go like he did on Impact. Hopefully we start to see shades of that this Sunday when he most likely bowls over Sami.
WINNER: Bobby Lashley
ROB STEWART: Haha, oh man. Worst feud of the year? I've been lucky to miss ALL the build up to this, so that means I haven't seen any of the sister or obstacle course skits, not even for a curiosity watch on YouTube. I have heard between my cohorts' Raw Reviews here and on from other fans on other platforms that they were ludicrous on a historical level. Sami means virtually nothing to the current product other than as a solid mid carder who takes L's, whereas Lashley… I mean, they have to at least PRETEND he still has some upward mobility, right?
WINNER: Bobby Lashley
Kevin Pantoja: This entire feud has been a shit show. But bless Sami Zayn for doing his best to make it work. Lashley will win for obvious reasons.
WINNER: Bobby Lashley
Steve Cook: There are an endless amount of things going on in 2018 that I just can't find the words to talk about. Just complete & utter nonsense that isn't even worth my time. The Cincinnati Reds' season. The NFL's AnthemGate. LeBron vs. MJ Part 56. Sami Zayn vs. Bobby Lashley. This feud, man. This feud.
WINNER: Bobby Lashley
Mike Chin: I was among those foolish enough to be excited about Bobby Lashley's return to WWE, and I'm a big fan of Sami Zayn, so this ought to be an exciting pairing. The feud between these two has been downright awful, though. Lashley physically dominated Zayn in tag team outings to remove any intrigue from the match up. From there, the segments pushing this feud have been creatively atrocious, and at times borderline offensive. While there's a piece of me that would like to see Zayn go over as the start of a fresh main event push, WWE already seems to have made up its mind on this feud. Lashley goes over, and hopefully it's a better match than we've been given reason to expect.
WINNER: Bobby Lashley
JUSTIN WATRY: Okay, the Big Cass vs. Daniel Bryan feud has done nothing for me on the blue brand. The red brand has their own bath turd. and that is this story line. Lashley not only needs to destroy Sami Zayn at Money in the Bank, he needs to do in dramatic fashion. I mean ten finishers and leaving him laying. No other outcome will suffice after all we, as viewers, had to put up with these past few weeks. Then Lashley can get back to wrestling and actually showing off his ability. Heel turn or in a more serious role.
WINNER: Lashley
Jake Chambers: To this day people shit on the Red Rooster or the Katie Vick angle, maybe how dumb the Kennel from Hell match was or the booking mistake of HHH beating Booker T at WrestleMania XIX. As bad as we think those creative choices were, they'll still be remembered forever. This rivalry and this match will be quickly forgotten, not even bad enough in the "Mediocrity Era" to be a footnote in the story of the lame second WWE run of the loser bound to win this match.
WINNER: Bobby Lashley
Roman Reigns vs. Jinder Mahal
Ken Hill
: How sad is it that there's been more build-up about where this match will end up on the card rather than the feud itself? That tells you right there how everyone feels about this snorefest; WWE's paltry attempt at garnering sympathy for Mahal backfired, and now both are trying to out-douche each other on the microphone when it's clear the crowd couldn't care less, and so do I. Never have I been more tempted to give a "Don't give a damn" answer like Chambers or Watry, but I'm going with Reigns, simply because it seems more of a foregone conclusion that he get the rebound win here.
WINNER: Roman Reigns
ROB STEWART: I love this booking 110%. It's like WWE found the only guy in the company against which Roman has a modicum of a chance of being cheered. They found two of their most disrespected talents and threw them together. Why not put Baron Corbin here and make it a Triple Threat match? You absolutely HAVE to respect what WWE is going for here, even if it's not going to work. The fans are going to root root root for the Jinder regardless of what WWE thinks is going to happen (or maybe WWE is counting on it, and they figure cheering for Jinder is punishment enough that they're doing this out of spite). There's only one ending here, though.
WINNER: Roman, obviously
Kevin Pantoja: I know some are dreading it, but it could be okay. The feud has been kind of just there, though. Big Dog for the win.
WINNER: Roman Reigns
Steve Cook: It's a battle of Greg DeMarco's two favorite wrestlers! All I'm saying is if it goes on last, I'm checking out early and the Report Card is going to be missing a match. I'm rooting for this, as it would allow me to go to bed earlier.
WINNER: Roman Reigns
Mike Chin: I get the logic here–if WWE wants to get the fans behind Roman Reigns, there's no possible better match up for him than Jinder Mahal. Unfortunately, the biggest intrigue factor here is whether WWE will demonstrate the sheer audacity to have this nightmare pairing main event the show. Backlash demonstrated that Reigns trumps the WWE Championship in importance, but with a Last Man Standing Match there, Ronda Rousey's first title shot, and two Money in the Bank Ladder Matches, hopefully WWE won't find any way to rationalize that choice. Mahal dropping the US title and losing the rematch to Jeff Hardy was hopefully his last gasp as a title contender, and if there's a silver lining to these guys getting in the ring, it may well be WWE milking one last upper card match out of Mahal before planting him in the middle of the pack.
WINNER: Roman Reigns
JUSTIN WATRY: Trust me-nobody wanted to see the match on RAW. Trust me, once will be enough on Sunday night in front of the always-lovable Chicago fans. My best guess is that these two actually do deliver the goods inside the squared circle and have a fun bout. However, my fear is the boos and hijacking will start the second the bell rings and unfairly, these two will never even get a chance. Similar to WrestleMania XX with Bill Goldberg and Brock Lesnar. It could have been a classic, but the New York City fans had already decided they didn't care. I am going to hold out 1% hope that Chicago shows some sort of decency here. In the end, Reigns will win and build himself back to the Universal Championship shot.
WINNER: Roman Reigns
Jake Chambers: Strangely, I have nothing bad to say about this sure-to-be main event. I have nothing good to say about it either; I'm pretty indifferent. But here's something you'd never thought someone would say, "Jinder Mahal's match can't be worse than Samoa Joe's from last month."
WINNER: Roman Reigns
Women's Money In the Bank Ladder Match: Ember Moon vs. Charlotte Flair vs. Naomi vs. Becky Lynch vs. Alexa Bliss vs. Natalya vs. Lana vs. Sasha Banks
Ken Hill
: This was one of the matches I mentioned I was cautiously optimistic about in my FoF against Chambers earlier in the week. I'm really hoping WWE will let them cut loose this time around, as the first one last year had begun to shift into high gear near the end of the match when the nonsense with Carmella and "Chin-cinatti's Own" Ellsworth went down. With my "Natalya out due to her injury" theory seemingly nixed, it really comes down to either the aforementioned "Queen of Black Harts", Sasha or Charlotte. Charlotte ranks up there simply because it would be yet another feather in her cap as a MITB winner (even though I agree with the consensus that she doesn't really NEED the briefcase, per say). The intrigue with Sasha winning stems from the future hope that Bayley somehow dethrones Nia Jax, with Sasha seemingly congratulating her weary friend on the victory, only to turn on her in the same breath, finally cementing the heel turn and kicking off their long, dragged-out feud. While it seems like everything's set up to have Nattie win and cash in on a worn-out Ronda later in the night (possibly in the main event, if rumors are true), I'm thinking the "knee injury" being played up will take the feud in a slightly different direction, which I'll explain in my Ronda-Nia prediction. In the meantime, I'm going with Sasha.
WINNER: Sasha Banks
ROB STEWART: I did a breakdown of this for Fact Or Fiction two weeks ago where I gave this to Ember Moon. Nothing since then has changed my mind; there really isn't an obvious choice here, but everyone aside from her is already established and doesn't need the briefcase… OR is too mid-card and wouldn't be useful as a threat. Except for Lana, and… she's Lana. So this almost HAS to be Ember here. I expect Nia to retain her title against Ronda, so Ember is the perfect time-killing feud for Nia and the Raw title while Rousey is built back up in preparation for WrestleMania next year.
WINNER: Ember Moon
Kevin Pantoja: These are some of the hardest Money in the Bank matches to predict. I could see Natalya win to set up something with her and Ronda Rousey, but Charlotte winning to set up a rematch with Asuka could happen, too. Alexa is always a safe bet, too. However, I'm gonna go way out on a limb and pick Becky Lynch. This is picking with my heart and not my head.
WINNER: Becky Lynch
Steve Cook: I wrote about this! Hopefully it'll be better than last year's 5-woman ladder match, which was short & had an awkward finish. I'd expect something better this year, and I'm expecting the winner to be a woman that's already achieved a lot in WWE but needs something special to get back into the title picture. Also somebody who excels at talking & would get to do that every week in this role.
WINNER: Alexa Bliss
Mike Chin: For all of the lackluster matches lined up for this show, it's tough for ladder matches like this to fall much shy of three stars. Ember Moon and Naomi should bring the athleticism here, and Charlotte Flair is the biggest star in the match. Alexa Bliss would be a natural enough fit for the Money in the Bank gimmick, and Becky Lynch is likely as not going to be the sentimental favorite with the Chicago crowd. Lana is probably the only performer no one really wants to see one, save for the outside possibility of her and Rusev reigning as Mr. and Mrs. Money in the Bank. In the end, though, I see this one coming down to Sasha Banks or Natalya. Based on Banks being undervalued and overlooked for the past year, and being open in her (ostensibly shoot) disdain for Ronda Rousey, she could be a natural stalking Rousey with the briefcase. However, there's a more natural story to be told here. Natalya has mostly been kept strong since move to Raw, face turn, and alignment with Rousey. WWE could milk a storyline of the Natalya and Rousey playing super friends for as long as they like before a swerve cash-in, or Natalya might cash-in as soon as that very night. In either case, while Banks is in many ways the more exciting choice, for better or worse I call WWE seeing through the more cohesive story in this case as Natalya has one true last run as a major player.
WINNER: Natalya
Justin Watry: As noted last week (in another column) and every year, I am terrible at predicting Money in the Bank ladder matches. That horribleness only doubles now with the women also getting the spotlight. Yes, I picked their bout wrong last year too. Big surprise, right? Anyways, I am fairly confident in one thing: Raw wins the Women's MITB Ladder match. My theory is the Smackdown LIVE men will take home a briefcase to avoid the Raw mess of Brock Lesnar. Due to the process of elimination, we are left with Ember Moon, Sasha Banks, Natalya, or Alexa Bliss. We just did the Bliss stuff for two years. No reason to go back down that road. Sasha is a wild card and can always be back in the title picture at the drop of a hat. Let's say Bayley costs her the victory on Sunday. That only leaves the 'injured' Nattie and newcomer Moon. All the foreshadowing seems to imply Nattie gets the briefcase and crashes the RAW Women's Title party later to cement her devious turn. Sure, it'd be cool. However, I am ready for a face cash in. Been way too long. Moon wins and sets up a hometown title bout later in the year. Videos, interviews with the family, baby pictures, etc. Go that extra mile for her. She is worth it.
WINNER: Ember Moon
Jake Chambers: How awesome would it be if Charlotte wins? I mean, she'd never get a title shot if she doesn't have that briefcase. And what a great moment it will be when she runs down to ringside and uses it to pin the unbeatable Carmella. Storytelling.
WINNER: Charlotte Flair
WWE MITB Men's Money In the Bank Ladder Match: Braun Strowman vs. Finn Bálor vs. The Miz vs. Rusev vs. Kevin Owens vs. Bobby Roode vs. New Day Member vs. Samoa Joe
Ken Hill
: If my drawn-out, intricate theory of a storyline that I mapped out in "Fact or Fiction" (look up Question #5
here
) wasn't enough of an indicator, I'll broaden it out for you. As long as Brock and Roman are stuck in their little "I'm Vince's favorite son" holding pattern with the Universal Title basically being held hostage, it would make very little sense for any of the RAW wrestlers to win it, with the possible exception of Strowman. On the Smackdown side, you have the mystery New Day member. Even if it DOES end up being Big E, he of the latest "big singles push" rumor, I'd expect it to be more of a strong showing than any actual chance of winning. WWE's content to just let Rusev (Happy Rusev Day, y'all!) languish in the mid-card. Joe seems like a remote possibility, given he's really been on fire with his promos as of late and has properly built himself up as a solid threat to perennial main eventers like Rollins and Reigns. In the end, though, I've got to stick with Miz, simply because the potential epic storyline emanating between him and Bryan is just too good to resist.
WINNER: The Miz
ROB STEWART: And I discussed this on ForF, too. From least likely winner to most, I had: Braun, Owens/Rusev/Roode, Balor, Big E, Joe/Miz. Pressed to make a choice, I picked Miz. Since then, I have noticed EVERYONE is forecasting Miz, so while this might be a good time to hipster it up a bit and back off my pick… I will just say I see Miz and Joe as equally likely. I'm HOPING they surprise us and go Balor… maybe even do a sllloooooww heel turn wit him and the contract, but… I doubt it. Miz is great and elevates any prop or title he is given to work with, while the idea of a sadistic, violent Joe stalking a champion at his weakest is just delicious. It will probably be Miz, and I reiterate: I hope he cashes in at the Rumble and Bryan wins the title shot the same night.
WINNER: The Miz
Kevin Pantoja: Again, there are a few good options. Braun is a safe choice, Finn Balor could win and possibly turn heel, The Miz has been the best in the company for a long time and deserves it. But, I'm gonna go with Samoa Joe. He's definitely a great choice to win a World Title.
WINNER: Samoa Joe
Steve Cook: If you look at the WWE record books, you'll see that there's only been one two-time winner of the Money in the Bank Ladder Match. It's a man that's very popular in Chicago, the city where this event is taking place. A man that isn't popular with WWE management, and who they would love for us to forget. If Brock Lesnar's never-ending title reign is a halfassed attempt at "breaking CM Punk's modern-day title length record", wouldn't it be easy to make sure somebody ties Punk's MITB Ladder Match win total? There's one guy in this match that can do that, and he's not a bad choice. Some might say he's an awesome choice. I wouldn't, I hate doing things like that.
WINNER: The Miz
Mike Chin: It's remarkable how much more entertaining the build for this match has been from the SmackDown rather than the Raw side, with some stellar qualifier matches, and the ongoing intrigue of who will enter the match from the New Day. You can compare that to the red brand's blah rotating random matchups between guys in the match. Moreover, anyone from SmackDown could make a pretty great Mr. Money in the Bank, with The Miz and Samoa Joe classic fits for the briefcase, Rusev threatening to realize his monster potential whenever WWE gives him the chance, and The New Day offering all sorts of fun possibilities. From Raw, Bobby Roode is in desperate need of a heel turn, and a big cash-in could be one of the most efficient vehicles for getting him there. However, he's also quite arguably the least over guy in the match after being booked so poorly as a face for his freshman year on the main roster. Braun Strowman winning so he can book himself into another match with Brock Lesnar has potential, but of anyone in the match, he needs this win the least. Despite not winning Money in the Bank before, Kevin Owens feels an awful lot like has after his 2016-2017 world title reign was gifted to him. That leaves Finn Balor, whom WWE doesn't seem to know how to use (though a heel turn could be intriguing in this case, too). One of the more fun aspects of this one is that there's not a clear favorite, and multiple good options. In the end, I'm going to go with the early rumors that suggested Big E was heading in line for a big push, and calling for him to not only enter the match, but win it and finally realize his main event potential.
WINNER: Big E
@JustinWatry: Okay, my theory is Smackdown LIVE takes this one. More options there. As much as I would love Kevin Owens, Finn Balor, Bobby Roode, or even Braun Strowman to get a future championship main event run, it can come without a briefcase. A New Day Member…um, is there a fourth member? Is that the big twist? We keep speculating on the usual suspects, and then they toss out Mr. Pancake or something. Those three probably would laugh at that nonsense. Rusev Day is not on Sundays, so he is out. I have thought The Miz or Samoa Joe all along, and I am going with Samoa Joe. Either outcome works for me. I just think the WWE Championship Last Man Standing gimmick presents a golden opportunity for Joe to get involved with both down. Not like the AJ Styles-Shinsuke Nakamura feud is doing much for television ratings. Freshen it up and have Daniel Bryan mix it up as well. Makes for one heck of a main event scene. The Miz, Jeff Hardy, and others too. Long story short, if you are a betting man, do not pick Joe or Moon at MITB. My track record is typically VERY good. Not with these wacky ladder matches sadly…
WINNER: Samoa Joe
Jake Chambers: I just want us all to remember when Kevin Owens head-butted Vince McMahon last fall and all the headlines for about a week proclaiming this a "huge moment" and how it instantly turned Owens into the biggest heel in the business! Good times. I figure we're about 14 months away from like Baron Corbin hitting Vince with a chair next! Man, that'll be crazy. I'm still sticking with my idea that the evil Constable will put himself in this match and win it to make up for being screwed out of his briefcase last year. Why else would the WWE appoint a new constable to this lawless landscape if not to right the wrongs of the past?
WINNER: Constable Baron Corbin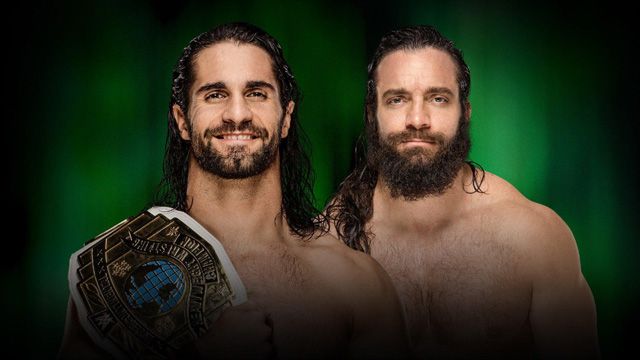 WWE Intercontinental Championship Match: Elias vs. Seth Rollins
Ken Hill
: This is actually one of the harder ones to call on the card. Rollins has been "BURNING IT DOWN!" in 2018 with his Gauntlet Match run, IC Title victory at WM 34 and a show-stealer with Miz at Backlash, and has truly look his best since arriving on the main roster 6 years ago. Elias, a virtual jobber in NXT, has built himself up into one of WWE's underrated talents and rare commodities, able to both get a crowd behind him and rile it up in the same breath, much in the same vein as Miz. He has already garnered himself an impressive following both on-screen and in social media, and has claimed solid victories over WWE mainstays like Dean Ambrose, Finn Balor and even Seth Rollins himself this past Monday. I'm sure it'll be one of the PPV highlights, as we've come to expect from Rollins and his opposition in 2018. I think Rollins will eke out a close victory here, close enough that the feud with Elias can "walk" on for another month or so.
WINNER: Seth Rollins
ROB STEWART: I have a personal history of taking way too long to see what so many others in the IWC do in some guys. It took me a long time to see that Cesaro was more than a brilliant worker who should get a main event run. Rusev took a long time to grow on me, and I never got really behind him until not long before Rusev Day became a thing. And I feel like the same thing is happening with Elias. Everyone seems to dig him, but I just don't see it. If Elias vanished from WWE tomorrow, it would take me months to realize he was even gone. He's funny and entertaining enough, but I can't recall an Elias match to save my life. I'm sure he's just another guy I have thus far missed the bus on, but for me… he's just adequate. Hopefully Rollins wins here because he has kept up the momentum on the IC title that Miz grew. Unless the plan becomes to put Seth over Brock at SummerSlam, they might as well keep this title on him and let it be the relevant Raw championship.
WINNER: Seth Rollins
Kevin Pantoja: Other than the ladder matches, this is what I'm most excited for. Elias has been surprisingly great since getting called up from NXT, while Seth Rollins has spent 2018 reminding everyone why he's one of the best in the world. I could see Elias winning and even being a good champion, but I think Seth retains. He's got to keep the title as an important part of Raw heading into the summer.
WINNER: Seth Rollins
Steve Cook: Seth Rollins is pretty over these days. Mostly because he gets to wrestle kickass matches most weeks & doesn't have to talk as much. Hopefully they keep him in this spot, I can see them putting him back in the main event scene & giving him a ton of promo time so people can remember why they didn't like him. Elias is kinda doing things but I'm not sure he's the guy for the job, brother.
WINNER: Seth Rollins
Mike Chin: Call me out of touch, but for as over as Elias has gotten, I just don't get it. He's just OK in the ring, working a played gimmick. He makes perfectly reasonable sense as a one off challenger to Seth Rollins, but I can't see any justification for him to take the title off of The King Slayer at this stage.
Mike Chin: Seth Rollins
JUSTIN WATRY: For NXT Takeover, I am looking forward to Dream/Ricochet the most. For MITB, I am all in on Seth Rollins vs. Elias. Two internet darlings in SmarkTown USA gunning for the IC Title should be loads of fun. Lots of knee injuries being played up on WWE television these days. My prediction is Rollins will overcome his banged up body and retain the championship. Elias can sing a song the next night on Raw and be okay. The belt stays put after a highly entertaining battle.
WINNER: Seth Rollins
Jake Chambers: You know, in just one month out of his awesome 2018, Zack Sabre Jr. defeated Tetsuya Naito, Kota Ibushi, SANADA and Hiroshi Tanahashi, all in pretty epic and innovative New Japan Cup tournament matches, before losing a few weeks later to Kazuchika Okada himself in awesome main event for the IWGP Title. While Seth Rollins, on the other hand, had one pretty good match with The Miz at Backlash, one of the worst PPVs in years. Just saying.
WINNER: Seth Rollins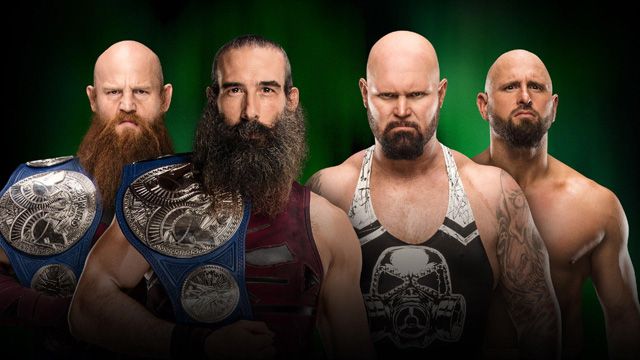 Smackdown Tag Team Championship Match: The Bludgeon Brothers vs. Luke Gallows and Karl Anderson
Ken Hill
: The same goes for the Good Bros as it does for the B-Team; they are getting the right kind of booking by beating an already-established tag team on SD Live in the form of the Usos and Anderson getting a surprising singles win over Harper, but it all amounts to little more than a Bludgeoning on the pre-show and keeping Harper and Rowan fresh for SAnitY's (hopefully soon) arrival.
WINNER: The Bludgeon Brothers
ROB STEWART: …
WINNER: The Bludgeon Brothers
Kevin Pantoja: Who cares about this? I say this as a fan of Harper and Anderson. Bludgeon Brothers to retain.
WINNER: The Bludgeon Brothers
Steve Cook: SmackDown apparently still has a tag team division. This will be on the preshow because there's no reason for it to be on the main show. I like Gallows & Anderson a lot, but they need to do things on TV in order for us to take them seriously. I assume Harper & Rowan are still unbeatable monsters so they should be the pick here.
WINNER: Bludgeon Brothers
Mike Chin: While there's always a danger of booking anyone too dominantly, for fear of figuring out how anyone could topple them (see: Lesnar, Brock), The Bludgeon Brothers have nonetheless been a lot of fun since their re-branding and I expect they've still got a good bit of mileage as champs. Gallows and Anderson are fresh challengers, and this match has a good bit more potential than the other tag title bout, but the winner shouldn't be in doubt.
WINNER: The Bludgeon Brothers
@JustinWatry: While everybody is wondering why the Sanity promos stopped airing, I actually think it was just WWE realizing their debut would work better as a surprise. Thus, they will strike Sunday in Chicago. Maybe even during the bout. Get the Kickoff Show started big with them showing up and causing chaos. Would set the stage for the rest of the evening with some buzz early. If there is a pick to be made, it is that the tag champs will retain. Both tag scenes are blah right now.
WINNER: Bludgeon Brothers
Jake Chambers: There was a time in wrestling history when Kenta Kobashi and Mitsuhara Misawa were having matches against Toshiaki Kawada and Akira Taue, while WWF was putting on the Bodydonnas vs. The Godwinns. WWE in 2018 is like that, but only if they had Kobashi and Misawa under contract and couldn't fit them on the card because they needed THESE guys to win THIS match.
WINNER: The Bludgeon Brothers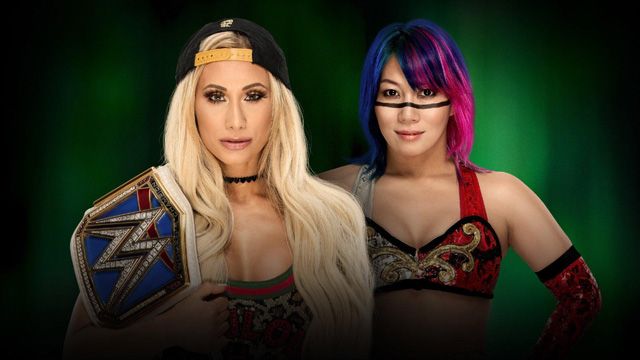 Smackdown Women's Championship Match: Asuka vs. Carmella
Ken Hill
: This is another hard one to call booking-wise. On the one hand, if you're WWE, you don't want to saddle Asuka with back-to-back PPV losses after her prominent start on the main roster. At the same time, WWE management seems high on Carmella as a talent, her attitude and confidence have picked up in 2018 along with a moderate improvement in her promos, but the crowds have been less than receptive to her since she cashed in on Charlotte and followed up with a rather under whelming, baffling encounter against "The Queen" at Backlash. With those two factors in mind, I think this is where we'll see the IIconics' alliance with Carmella come into fruition, the duo attacking Asuka for the disqualification, which keeps Carmella champion and keeps Asuka strong as a title contender while having to fend off Royce and Kay for the next month or so (and an excuse for the Smackdown writers to plague us with even MORE multi-woman tag matches 😛 ).
WINNER: Asuka, via DQ
ROB STEWART: I'm still not over Asuka losing to Charlotte at WrestleMania. The whole mystique is gone, and now I don't know that WWE has any real agenda for her. And what's more, I just care significantly less. I was hugely invested in Asuka, but now she just feels like another warm body. This feud seems incredibly sudden, too. Not that Asuka isn't deserving, honestly, but why not build her back up by having her run roughshod over the Smackdown division for a few months before getting back to the championship picture? Firmly put that WrestleMania L in the rear view mirror by reminding us she can be an unstoppable terror. But we prognosticate with what we have. I think Carmella will win, but what I'd do is have Asuka win and go unbeaten until 'Mania next year. Then I'd play up some kind of "Is WrestleMania her weakness? Does she wilt on the world's biggest stage?" angle for her and really put the title defense in question. But they'll probably just have Carmella win and whatever.
WINNER: Carmella
Kevin Pantoja: Wow. As much as I've absolutely loved Carmella as champion, Charlotte ending Asuka's streak remains a terrible idea. Asuka should win here, but with the recent rumors of a certain return, I feel like she gets screwed out of another title shot.
WINNER: Asuka
Steve Cook: Logic says that Asuka should kick Carmella's head into the third row. But the Mella is Money bandwagon has a pretty good chance of going on. The rumors of James Ellsworth rearing his chinless head might mean something. Or they're merely a diversion for somebody else to help out. Or Corey Graves is right when he says that Carmella is twice as good as Asuka since Asuka lost to Charlotte & Charlotte lost to Carmella. MMAth!
WINNER: Carmella
Mike Chin: There's little doubt that Asuka should be able to annihilate Carmella here, but there are real questions about whether WWE is done with Carmella experiment, or if WWE sees more than one match in Asuka's chase. I could see things going either way, but with the rumor killer about James Ellsworth returning at this show, and the knowledge that Asuka's in jeopardy of really losing her mojo if she doesn't pick up a title soon, I'm picking her to win.
WINNER: Asuka
JUSTIN WATRY: A lot of folks like to hype up the IS or US Title as the company's "work horse" championship. I disagree. I always imagined the Women's Title doing that. You don't even need a feud really. Just put Becky Lynch and Charlotte out there for 20 minutes and fight for the gold. Heck, give us Asuka and Naomi. Give me Becky, Charlotte, and Asuka in a triple threat. How about a WM34 rematch? There are plenty of different combinations. Instead, we have Carmella with the title, with The IIconics and Lana hanging around. Not even to mention a few other new girls that are still learning. I give it…but I don't have to like it. What SHOULD happen: Asuka kicks the head off of Carmella, and we have a new champion. What WILL happen: Carmella sneaks her way to win again. Somehow.
WINNER: Carmella
Jake Chambers: We all laughed at how WCW seemed so stupid for ending Goldberg's win streak the way they did, and then effectively doing nothing with his career after building up all that goodwill and creative energy. Oh, we'd never see anything that stupid at the mainstream level again, right?
WINNER: Carmella
Raw Women's Championship Match: Nia Jax vs. Ronda Rousey
Ken Hill
: Oy, where do we start with this one? For one thing, Ronda may have the star power that WWE can certainly capitalize on, especially in light of her UFC Hall of Fame induction and to avoid keeping her off for two straight PPVs, but from a wrestling perspective she's still a greenhorn, especially in terms of her on-screen mannerisms and how she handles herself on the mic. WWE putting the championship on her would be akin to them putting the WWE Title on Mahal in 2017: Saddling a championship title on an unseasoned talent runs the risk of exposing their flaws to the finicky audiences and demoralizing any hopes of properly elevating them to a big-time status. Her eating a clean pin after having a prolific win at Mania would have a similar effect, so that's not happening either. Jax, meanwhile, has gone from having a solid "bully hunter" storyline with Alexa Bliss culminating with her winning the RAW Women's Title to becoming little more than a walking, talking billboard for WWE's "B.A. Star" farce of an anti-bullying campaign. WWE's writers can't seem to make up their minds either, one week booking Jax as a cocky heelish champion laughing off Ronda's intimidation tactics, then having her show legit concern for supposedly injuring Ronda's pal Natalya during their match the following week, with absolutely no indication that it was any sort of mind game on Nia's behalf. As much as I hate having more than one non-finish at a PPV, I'm going to go with my original theory of Natalya backing Ronda during the match, then "accidentally" costing Ronda the championship, attacking Nia for injuring her and keeping her from a proper chance at winning the Women's MITB, causing a DQ. This keeps the title on Nia, and it allows Ronda to get some more on-screen seasoning by feuding with a veteran performer in Natalya
WINNER: Nia Jax, via DQ
ROB STEWART: Nia's weird, brief interlude as a babyface just to defeat Alexa Bliss seemingly over, now we go straight into a Ronda Rousey title feud. Like with Asuka, this just seems so quickly cobbled together for her. I don't have a problem with it because I am fine with the idea that Ronda is gettin a shot based on her reputation and career; I just would again have thought a slower build might be nice. I have no idea who "wins" this match or how, but I expect Nia to retain. Putting the title on Rousey already doesn't make tons of sense; you could have just done that at 'Mania and left Nia a heel for her next feud. So no, I think Nia holds on here and Rousey goes into some regrouping feuds.
WINNER: Nia Jax
Kevin Pantoja: I'm not interested in this. Nia Jax going from sympathetic, bullied babyface to heel for no reason other than convenience has sucked and made it hard to care about any of this. I'm gonna say Ronda wins and this main events, though a frustrated Natalya could attack her friend for a DQ finish.
WINNER: Ronda Rousey
Steve Cook: It's tough to see Rousey losing her first singles match. Jax's title run hasn't exactly set the world on fire, and the fact that she can't decide whether she's anti-bullying or a bully makes it tough to get behind her. Rousey has all the buzz & it's only a matter of time before her husband figures out she's ripe for the picking. WWE might as well push her while she can compete.
WINNER: Ronda Rousey
Mike Chin: Not so dissimilar to the SmackDown Women's Championship match, we've got a pairing out of which the challenger clearly ought to dominate, but there are questions as to whether and how far WWE wants to extend that storyline. In the end, I'm applying a similar logic here, that the most obvious answer is the most likely to be right. Rousey is the star and this is her coronation. As a bonus, I'll go so far as to predict this match to main event the show.
WINNER: Ronda Rousey
Justin Watry: Very intriguing battle. Even without a lot of top stars, this card is freakin' stacked. Now you see why WWE is back to co-branded pay-per-view events. A huge lineup here. I don't blame them for wanting more time on Sunday. They will need it. Seriously, Ronda Rousey is going for the RAW Women's Championship, and it may not even get the main event slot. It would in my world, especially if she is winning. Unfortunately, I have gone back and forth on the outcome…and I don't see her leaving with the belt. Too many clues and hints from Nattie poking her spikes into the scene. Just feels like the puurrrrfect set up for her long discussed heel turn and Summerslam showdown with protégé/friend Ronda Rousey. I am cool with that. I trust Rousey and Jax to put together a good match for five to ten minutes before we get some controversial BS DQ ending. The only real question is if the MITB briefcase is also added? Time will tell.
WINNER: Ronda Rousey
Jake Chambers: Have you ever started a new job, and then a couple of weeks later go back to the original job posting to try and find where it said, "Take out the garbage, asshole!" Because you're pretty sure if the job was gonna be this shitty then you wouldn't have taken it in the first place. If Rousey isn't doing that yet, she will be after this match.
WINNER: Nia Jax
WWE Championship Last Man Standing Match: AJ Styles vs. Shinsuke Nakamura
ROB STEWART
: I have no earthly idea what you do with Nakamura if he loses here. Does he go right after the United States belt even though he would be winless in his last several big shows? Does he just maybe move into a feud with someone else (like Daniel Bryan… hmmm) over some backstage slight or something? Nah, Nakamura has to win here; his heel character has been a treat, and I think every match these two have had has been better than the one before it. I'm not generally a fan of Last Man Standing matches (a Bottom Five stipulation match, IMO, with so much standing around and waiting and counting), but I expect their best effort to date.
WINNER: Shinsuke Nakamura
Kevin Pantoja: A series of good, but disappointing matches. Can we just face it already? Outside of the Zayn match, Nakamura has been wildly mediocre in WWE. I say he wins the title and ends the rivalry here.
WINNER: Shinsuke Nakamura
Steve Cook: Remember when Styles vs. Nakamura was a dream match that everybody wanted to see? WWE's given it to us repeatedly over the past few months, to the point where people don't seem to want it anymore. As hilarious as a double kick to the groin might be, it's not what people thought this feud could be many, many months ago. A Styles victory could end it, while Nakamura claiming the WWE Championship would extend it. When in doubt, go with whatever drags things out longer.
WINNER: Shinsuke Nakamura
Mike Chin: It's wild to think that a mere two and half months ago, this felt like a dream match, and such a treat for WWE to put together. In the intervening weeks, we've seen these two deliver an utterly forgettable WrestleMania match, and weakly booked follow ups at the Greatest Royal Rumble and Backlash, before arriving at the best of their outings in a SmackDown match with no title at stake, but the right to pick the stipulation for what will hopefully be their blow off. This program feels longer than it's actually been, and is largely heatless at this point, if only for the sheer repetition of Nakamura delivering low blows. There's still a sliver of hope that this might be the time these two deliver in a WWE ring, and live up to what they proved themselves capable of together in New Japan. Similarly, there's that glimmer of Nakamura giving a lights out performance and spring boarding into the title reign he arguably should have started back at WrestleMania. The more likely scenario? WWE at last cuts its losses with Nakamura as a blue brand main eventer, while Styles moves on to Samoa Joe, the Money in the Bank winner, and maybe The Miz or Daniel Bryan, depending on just how long this title reign goes.
WINNER: AJ Styles
JUSTIN WATRY: If AJ Styles is STILL not wearing a cup, he officially beats Sting as being the dumbest wrestler alive in. While my guard is up for yet another non-finish (double count out), I am going to assume WWE knows this story line is over. Ratings for Smackdown LIVE keep dropping and are barely hanging onto to two million viewers as we speak. This is where the annual big summer twist happens. Throws a monkey wrench into plans and gives the product a spark before Summerslam. Whether it is a Samoa Joe MITB cash in or something else, there is no denying that this feud has reached the climax. AJ Styles retains and moves on. Nakamura can feud with Daniel Bryan, Jeff Hardy, Randy Orton or whoever. The only way we get a new WWE Champion is if AJ Styles is legitimately hurt more than we realize and needs time off. Based on his light travel schedule as of late, that may actually be a possibility. Since my birthday is on Friday and I will be in the Dells this weekend, I will stay spoiler free on MITB and NXT Takeover, likely until Monday or Tuesday when I get around to watching. Enjoy the wrestling ladies and gentlemen!
WINNER: AJ Styles
Ken Hill: I made my thoughts clear on this one in "Fact or Fiction." Shinsuke indeed HAS to win the championship here, otherwise the shock of his heel turn, the mind games and the "Naka-cocky" attitude played up to this point mean absolutely nothing in the long run. Styles has had a very healthy run with the championship since late 2017, but it's time for some new blood in the WWE Title picture, and that starts here with Shinsuke getting the ultimate win in what SHOULD be a climactic final encounter as the Last Man Standing.
WINNER: Shinsuke Nakamura
Jake Chambers: Last year when I questioned why there was this oddly powerful push in the online WWE fandom for an AJ Style vs. Shinsuke Nakamura match specifically at WrestleMania, some wondered by I was being a "troll". Yet, the logic for my bewilderment was sound given the average state of performance from both men in 2017, lack of any real history between them outside of one good NJPW match, and the WWE's tradition of putting on weak and/or disappointing matches at WrestleMania. I was DYING to be proven wrong, but at this point both men have failed to live up to those lofty fan expectations, not just at WrestleMania but multiple times since. This rivalry is a microcosm for not just the problems of the WWE but with the manipulation of the fans by the WWE. A company with this many resources and methods of presentation should be able to construct characters and stories that are compelling and provide time for interesting, innovative and epic matches to occur that utilize the skills of omega-level performers. This match will NOT be that. And the unnecessary stipulation being employed is destined to make the loser of this match come out looking even more dopey, clueless and ineffective than they have throughout this whole rivalry.
WINNER: AJ Styles
JOIN 411 TONIGHT AT 6PMET FOR OUT LIVE COVERAGE OF THE SHOW.