Brandon's Blast from the Past: The Shield vs. Ryback & Team Hell No
October 13, 2017 | Posted by
Episode 001
"Sierra, Hotel, India, Echo, Lima, Delta. SHIELD!"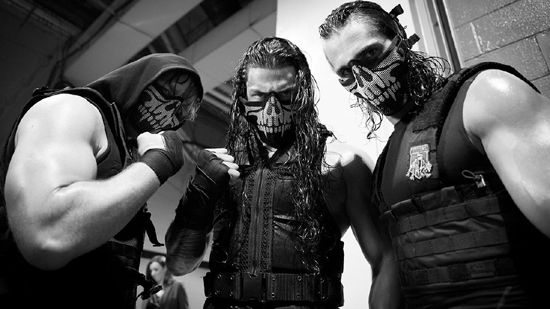 Welcome to the first edition of "Brandon's Blast from the Past" exclusively on 411Mania.com. I've been brainstorming and thinking of ways to create fresh content for the website. Due to my busy personal life outside of 411Mania, I don't have a lot of free time to sit down and watch every episode of RAW or SmackDown Live, much less Impact Wrestling, Ring of Honor or any other form of mainstream or independent wrestling that I would normally follow religiously. Therefore, one of the things I've been doing recently is going back and watching videos of past wrestling matches that I thoroughly enjoyed. These matches can range from the "Glory Days" of wrestling in the 80's into the early 90's. The "Attitude Era" and the "Monday Night Wars" between WWF(E) and WCW. Even to the early and mid 2000's with WWE, TNA, Ring of Honor, NJPW, and so on. You get the picture.
I have been a hardcore fan of professional wrestling for well over twenty five years and counting. I may not be able to watch every single episode of WWE or Impact Wrestling nowadays, but I do keep up with each promotion through news stories provided here on the website, social media, and YouTube respectively. I chose my first episode to be centered around (arguably) one of the best factions in modern day WWE history — The Shield!
The resurgence of The Shield has been one of the most talked about subjects in wrestling and/or "Sports Entertainment" recently, generating a very good buzz all over social media for both Shield fans and the haters alike too. For me personally, the group holds a special meaning to my heart that goes beyond the squared circle. I will proudly say that I met my wife almost three years ago through Twitter and one of the things we had in common was our love for wrestling. She is a proud and die hard fan of The Shield and they were one of the many reasons she got back into watching wrestling from 2012 onward after taking a hiatus. To make a long story short, and to get straight to the point, had it not been for The Shield reigniting her love for wrestling, chances are we never would've met. As of today, we are married and have two beautiful children together. These reasons alone, along with her love for The Shield and our passion for wrestling was the basis of my choice for this inaugural episode.
Now, with all the mushy stuff aside. Let's get right to it!
The basic concept for my article will start with me choosing a match from any given past or present wrestling promotion. Providing the build-up information leading up to the match topic, then allowing the readers to watch the matchup through YouTube or other video outlets, then give readers my thoughts on the match.
BACKGROUND
I've decided to go back five years ago by choosing the first match-up that we, the WWE Universe, witnessed Dean Ambrose, Seth Rollins and Roman Reigns compete in. The trio would compete against Ryback and Team Hell No! (Daniel Bryan & Kane) in a "Tables, Ladders & Chairs" match. The match took place at WWE TLC: Tables, Ladders & Chairs in 2012 from the Barclay Center in Brooklyn, NY. The Shield made their debut a month prior at Survivor Series by attacking Ryback and costing him a WWE Championship victory against then champion CM Punk and John Cena. CM Punk retained the WWE Championship on this night and the feud between The Shield and Ryback would begin. The group would viciously assault and attack many WWE Superstars over the course of the next few weeks, including Ryback and also the team of Daniel Bryan and Kane (Team Hell No!). The purpose of the attacks were against wrestlers whom performed acts of "injustice" within' WWE and it was Ambrose, Rollins and Reigns' mission to use their "Shield of Justice", so to speak, to prove their point each week on RAW and SmackDown.
The original plan leading into TLC 2012 was for Ryback to challenge CM Punk in a rematch for the WWE Championship title. However, due to a legit knee injury, CM Punk was unable to defend his championship. WWE called an audible and decided to place Ryback with Daniel Bryan and Kane to face The Shield in a Tables, Ladders and Chairs match as a way for the men to settle their differences. However, unlike past TLC matches, this match carried a special stipulation. Since their was no championship up for grabs, the match would be decided via pinfall or submission. Kane and Daniel Bryan, who despite being a tag team, were at odds with each and agreed to put their own personal differences aside to join forces with Ryback in an effort to destroy The Shield's momentum.
THE MATCH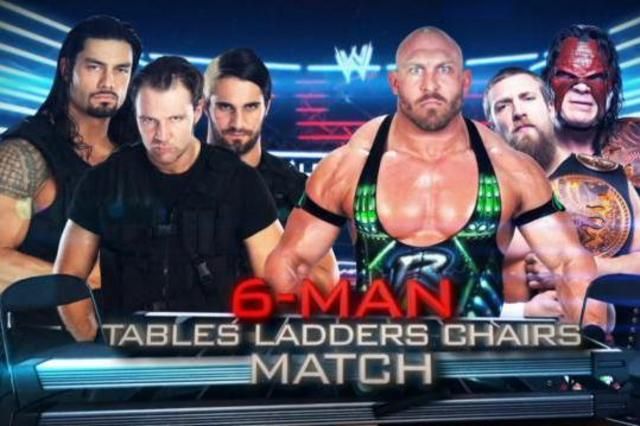 THE OUTCOME
*Spoilers Alerts* This was a match that had plenty of action and excitement no matter which team you were rooting for. The crowd was solidly behind Daniel Bryan, as he received the loudest pops during the course of the match. Needless to say, his character was white hot at the time and only continued to grow in popularity until the end of his in-ring career. Ryback was getting a serious main event push and it was easy to see why. You may love or hate "The Big Guy" but he was an impressive brute that used his raw power and agility to take down his opponents and generated an impressive following that can be largely debated on whether or not he deserved a push to begin with. Kane was nearing the tail end of his career. While he may not have been the same "Big Red Machine" that we know and love, he could still put on a good match with the right set of guys to support his skill set. The Shield came into the match with a point to prove and did just that. They came in with a fire in their eyes and a burning desire to put themselves over as a serious threat to all that stood against them in the WWE.
We saw some very impressive spots. The match was action packed, full of excitement and energy. Fast paced. Daniel Bryan was double superplex from a table, wedged using the top ropes, by Dean Ambrose and Seth Rollins. Bryan took the brunt of the beating throughout the contest, even going so far as to receive a brutal Curb Stomp by Seth Rollins on a folded steel chair. Despite being portrayed as the antagonists, The Shield were well received by the Brooklyn crowd and got a good mixed fan reaction. The group was more like cool heels that fans easily gravitated to and would cheer versus hating them with a passion, which can be debated as a good thing or bad thing varying on your own perspective as a wrestling fan. I am a fan that can have an open mind and respect heels being "cheered", but I am more in favor of the old school mentality that bad guys should be boo'd and hated, good guys should be cheered on and loved by the fans, etc.
The closing moments of the match saw Seth Rollins take a dive off the "big" ladder by Ryback through a table near the stage entrance. This was (obviously) the biggest spot of the entire match that drew the biggest reaction from the crowd. Not long after this, Roman Reigns and Dean Ambrose delivered a Double Powerbomb to Daniel Bryan through a table inside the ring, followed by a pin-fall to pick up the victory and The Shield's first win as a team on the WWE main roster.
In closing, the match lasted around twenty five minutes and had a very good pace to it without much of a break or slow down in between. The Shield was put over, as one can expect when you debut your newest acquisitions to the main roster on their first official match. The spots were very good. I liked the energy and excitement from the crowd. New York is and will always be one of the best crowds for any company to wrestle in front of, no matter the capacity or the event. This victory set the tone for The Shield and was an important benchmark in their growth as a team built on a mission to serve justice to all those who opposed them.
Thank you all for reading. Join me next time for Episode 002 where we take a look back at one of my favorite rivalries of all time: Sting vs Ric Flair from NWA Clash of the Champions.