Saying Goodbye to Dusty Rhodes
June 17, 2015 | Posted by
Shocked! Stunned! Jaw dropping! These are the thoughts that popped in my mind on Thursday, June 11th when I received a notification on my cell phone that stated that Dusty Rhodes had passed away. Over the years, I've heard the news of wrestler after wrestler dying young. From Louie Spicolli to Rick Rude to Curt Henning to Hawk to Test to Gino Hernandez to Eddie Guerrero to insert name here. For a while, it seemed like seeing a wrestler's obituary was as common place as seeing Hulk Hogan delivering a leg drop to end his latest match.
DUSTY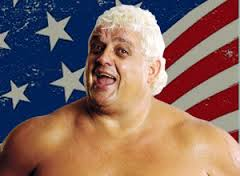 As each wrestler died young, as a fan, I have become more desensitized when I would hear that another wrestler passed away. Since 1999, only a handful of wrestling deaths have really gotten to me. There was Owen Hart in May of 1999. Then, there was Chris Candido in 2005. Nancy and Chris Benoit was next in 2007. One of my all-time favorite wrestlers, Randy Savage, passed away in 2011 (has it really been four years already?). Finally, the Ultimate Warrior died last year. These are the wrestling deaths that have shocked me the most over the past few years. I don't know if they shocked me because of the nature of each person's death, or in the case of Savage and the Ultimate Warrior, wrestlers' deaths have not been as frequent as they were in the nineties and early 2000s, thankfully.
However, last Thursday, Dusty Rhodes was added to the list of wrestlers' deaths that shocked me. According to a report from TMZ, Emergency Medical Technicians arrived at Dusty's home at 5:56am on June 10th after receiving a call that Rhodes had taken a fall in his home. In a post by Dave Meltzer, Dusty's kidneys started to shut down, and he was getting dehydrated. By the next day, the legend was gone.
After finding out that Dusty passed, I went on the Internet to try to get as much information as I could. I was surprised at how many different non-wrestling websites picked up on the story. The Washington Post, ESPN, ABC News, CNN, FOX News, and TMZ all had stories on his passing. On a sad day, it was nice to see all of these non-wrestling outlets honoring a legend, instead of looking down on the business like these sites usually do.
REMEMBERING THE DREAM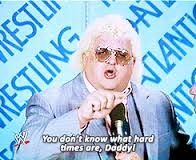 When I first started watching wrestling, I was a big fan of the World Wrestling Federation. Living in New Jersey, they were my home team. I didn't ignore the National Wrestling Alliance. I watched them every Saturday at 6:05pm on the SuperStation WTBS. While I wasn't a fan of the NWA, I watched as a scouting tool. This way, when Vince McMahon signed away a wrestler from Jim Crockett, I would know whether the guy was a good performer or not.
Even though I blindly supported Titan Sports, and the WWF, I could still give credit where credit was due. Jim Crockett did have a roster full of great talent. There was the Midnight Express, Tully Blanchard/Arn Anderson, Ric Flair, Barry Windham, Lex Luger, Nikita Koloff, Magnum TA, and of course the "American Dream" Dusty Rhodes. As a fan of rulebreaking wrestlers, I was not a Dusty Rhodes fan. Some of my favorite NWA moments was when Rhodes would get attacked by other wrestlers, and not when he would get his revenge. Some of my favorite Dusty memories included the time when Ric Flair fought Nikita Koloff in a steel cage at the Great American Bash. Ivan Koloff and Krusher Krushev attacked Ric Flair. Dusty ran to the ring to save the day. After he cleans house, Flair's fellow horsemen attack Dusty Rhodes. I loved it. Here you thought that Ric Flair was about to turn face and join his rival, but instead, he attacked Rhodes. Another moment I loved was the first Great American Bash on pay per view in 1988. Dusty Rhodes was facing Barry Windham for the United States title. Towards the end of the match, Dusty's friend, Ronnie Garvin ran into the ring. Everyone expected Garvin to back up the "American Dream," but instead he knocked Dusty out. My favorite moment though was when Dusty was teaming with his six-man tag team championship partners The Road Warriors. The Road Warriors were arguably the most popular tag team of the eighties/early nineties. During the match, the Road Warriors turned on Dusty, and took a spike from their shoulders pads, and bloodied Rhodes' eye from the attack.
While all of my memories revolved around Dusty getting beat up, and cheering for the heel, looking back, I realize something today. Rhodes was a pretty damn good babyface. I may have been a sadistic bastard rooting for Rhodes to get destroyed. However, I was definitely in the minority. Most fans ate up the underdog Dusty angle. He was an extremely sympathetic babyface. Obviously, I didn't feel that way at the time. I had the WWF bias that your top star had to look like a superhero, and not like an overweight slob. Plus, I knew that he was booking the territory, so I felt that he was shoving himself down the fans throats. I felt about Dusty the way a lot of people feel about the WWE's pushing of John Cena. Boy, was I wrong.
It wasn't until Dusty Rhodes came to the WWF that I started to appreciate the "American Dream." I still rooted for the heels. After all, one of his major feuds was against Randy Savage. However, with Dusty now on my (WWF) team, I started to look at him a little differently. Were the polka dots a horrible rib played on him to try to make him look dumb? Probably. However, the vignettes that he cut as the "son of a plumber" working class man were pretty great. That's when I started to realize that there is more to this Dusty character than just flab.
Thanks to the power of video tape, and the Internet, I was able to look back over the years at Dusty Rhodes without my rose colored WWF/E glasses on, and appreciate him for the great performer that he was. Hell, even a few months ago when he was standing nose to nose with Stephanie McMahon, he stole the show. According to the reports, Dusty went off script, and delivered one of the best promos of the year. It showed that you don't need a Hollywood writer scripting RAW. If a wrestler knows how to speak on the mic, he'll hit it out of the park. That's what Dusty did that night. Unfortunately, the WWE didn't learn a thing from it.
A few years ago, the WWE released a career documentary on Dusty Rhodes. The DVD is littered with matches throughout his career, along with some of his promos. It's definitely a must see for any wrestling fan. If you don't want to get the DVD, go on Youtube, and down load his "Hard Times" promo. It's probably the best promo of career, and ranks right up there with Mick Foley's "Cane Dewey" promo as one of the best of all time.
At 69 years old, Dusty Rhodes left this world too soon. He was a tremendous performer, and a great teacher in NXT. When the WWE paid tribute to Dusty at the Money in the Bank show last Sunday, I couldn't help but look at all of the former NXT talent on the roster that he helped mold into WWE Superstars. From wrestler to booker to a trainer, Dusty Rhodes has done it all. He leaves a mark on this business that will be hard to replace. To his family, friends, and trainees, my condolences go out to you. Rest in Peace Dusty. You will never be forgotten.
WHAT THE WORLD IS SAYING

TRIPLE H : Saddened to hear the passing of Dusty Rhodes. Legend, teacher, mentor, friend…Love you Dream #BookinAintEasyKid
Stephanie McMahon: #RIPDustyRhodes We never got to shoot our angle together! Thank you for everything, I Love You. #HallofFamer #Legend
Howard Finkel: Extremely saddened to hear of the passing of my friend Dusty Rhodes today. There will never,ever be another one like The Dream!! RIP…
Mean Gene Okerlund: I am absolutely devastated to hear about the passing of my long time friend Dusty Rhodes. One of the best ever.
Seth Rollins: I was ever so fortunate to be a friend to this man, to learn from him as a performer and as a human being. #RIPDusty
Joey Styles: I am so so very sorry to have to report this. http://www.wwe.com/inside/dusty-rhodes-passes-away … My sincerest condolences to @Goldust and @StardustWWE #RIPDustyRhodes
WWE Murphy: So saddened by the passing of the #AmericanDream @WWEDustyRhodes – He was an amazing person with an amazing mind! He made #NXT so great!
Baron Corbin: I'm speechless hearing about the passing of @WWEDustyRhodes he has been an amazing mentor to me, and was an unbelievable person to be around
Enzo Amore: @WWEDustyRhodes Im going to miss u so much. My mentor & my biggest advocate… Words can't express how I feel. Just Thank you.
Scott Dawson : I'm speechless. RIP to a mentor, legend, & hero. There will never be another like you. #AmericanDream #DustyRhodes
Steve Corino: Heartbroken to read that the man that made me, Dusty Rhodes, has passed away. I didn't say it enough, but thank you Dream.
Chris DJ DeJoseph : So saddened to hear about the passing of Dusty Rhodes. He was a childhood hero, friend, and one of the nicest people I have ever worked with
Court Bauer: My heart just sank and tears have overwhelmed my eyes. RIP, Dream. You will be sorely missed.
Matt Hardy: Terribly saddened to hear about the passing of @WWEDustyRhodes..He changed the biz in so many ways. My thoughts & prayers are w/ his family.
John Layfield: Sad to hear about Dusty Rhodes, there's only one American Dream. Love you Dusty, thanks for all the laughs and stories. #lifewellLived #RIP
Solomon Crowe: Beyond heart broken hearing the passing of "The American Dream" Dusty Rhodes. A true mentor and legend. Thank You Dream. You will be missed.
Adam Pearce: My heart is so heavy. Thank you Dream for all you gave me that you never had to. I'll never let you down, my friend.
Jimmy Hart: I was so honored to write Dusty Rhodes' theme song "common man" – the American Dream and Dusty will live on forever – love ya Dream
Adam Rose: So sad to hear about the passing of the "American Dream" @WWEDustyRhodes! He was one in a million! Truly the most special human being! #WWE
Samoa Joe: The Dream will live FOREVER in my heart. Thank you for the wisdom and for always making me smile. The stratosphere is reserved for you.
Simon Gotch: "Don't waste your time when the red light is on" "Never let the truth get in the way of a good story" good bye, Dream
Vickie Guerrero: It's hard to say "GOOD BYE". I love you Dusty!
King Barrett: 'Dream' helped me find my voice in wrestling and it's been my biggest asset ever since. My thoughts go out to his family. #RIPDustyRhodes
Ric Flair: My mentor @WWEDustyRhodes. Much love to your family and more respect than can ever be measured. Love you Dream.Today I lost one of my greatest opponents and greatest friends. He was the definition of heart and soul and I'm honored to have shared the ring with him countless times. He became the American Dream because wrestling needed a hero they could respect, and he was the man for the job. Dusty Rhodes, I will miss you my mentor and friend.
Jim Ross: He was arguably the most charismatic performer of all time. His amazing unique verbal styling will never be duplicated or exceeded. He was exactly what he portrayed on TV: A blue-collar, common man, who rose from being son of farmer to being a part of American pop culture, whose memory will live forever. Therefore, for many he was truly the American dream. Hopefully today's performers will understand how committed he was to his craft, how much he was in love with wrestling business and how much he was a natural extension of himself. If they are paying attention that is what they'll do … No matter what you do — wrestlers or anybody else — you have to commit yourself to always be yourself. Dusty was always himself.
Kevin Owens: "These past few weeks, I kept telling myself that I had to find time to stop by the Performance Center and talk to Dusty. I wanted to thank him for all of his help in the last year and make sure he knew how grateful I was for the chance I got to work with him. But I've been very busy and just couldn't find the time.
Well, today, I learned that Dusty Rhodes has passed away.
There are no words to express the sadness I feel, not only because I won't get to see him or talk to him or laugh with him again, but because I didn't get to tell him how special he was to me.
So today, I invite you all to make time to tell the people in your lives how much they mean to you…You never know what tomorrow will bring.
I can only hope that even though I didn't get to tell him directly, Dusty knew how much I appreciated and valued his help, wisdom, support and friendship. He was unlike anybody I've ever met in this industry and to say that I will always remember him and be thankful for the honor of having known him is an understatement.
In the meantime, the entire NXT crew is on its way to Pittsburgh where we will do what we do best. And you can bet every single second of tonight and every other NXT show this week are dedicated to the memory of the legendary, one-and-only Dusty Rhodes.
My thoughts are with his family and friends at this time…especially his children. Your father was an incredible coach and an even better man. He will be greatly missed.
Dusty used to call us "his NXT kids"… Well, I think I speak for all of us at when I say that tonight and every other night from here on out, we will give it our all for you, Dusty.
We'll make you proud, Dream."
Thank you for the memories…thank you for everything.