The 8-Ball: Chikara's King of Trios 2015
September 4, 2015 | Posted by
The 8-Ball: Chikara's King of Trios 2015
We're mixing it up this week with the 8-Ball. Don't worry, a list of eight things (with pictures!) will follow this preamble, but the Magic 8-Ball, in its infinite quest to gaze into the future, is tackling this weekend's Chikara King of Trios tournament. If you happen to be in Easton, PA this weekend, you can see it live. Really what else are you going to do in Easton? I can throw that barb because one branch of my family hails from Mahanoy City, PA, which makes Easton look like Manhattan.
For those who won't be there (aka most of us), it will be available via the CHIKARAtopia streaming service in a few weeks or in drips and drabs on the YouTube. 411's Kevin Ford surely will review the whole thing at some point, and if you're not reading every single column Kevin writes, shame on you. Main thing is King of Trios counts as a big event on the indie circuit and it deserves some recognition. Chikara has been carrying the trios wrestling torch in the U.S. for the better part of the past decade thanks to this event. Daniel Bryan (as Brian Danielson), Sami Zayn (as El Generico) and Cesaro (as Very Mysterious Ice Cream) are among the luminaries who have competed at KOT. Some heavy hitters have been brought in for this year's installment as well (more on them later, but … AJ Styles will be in the house).
Chikara can be a bit silly for some, but some serious wrestling is going to take place at KOT. So the 8-Ball is going to break down the first round matches (taking place Friday, September 4) and handicap who might be winning this year's installment.
8. United Nations (Juan Francisco de Coronado, Proletariat Boar of Moldova, Mr. Azerbaijan) vs. Team Attack (Mark Andrews, Morgan Webster, Pete Dunne)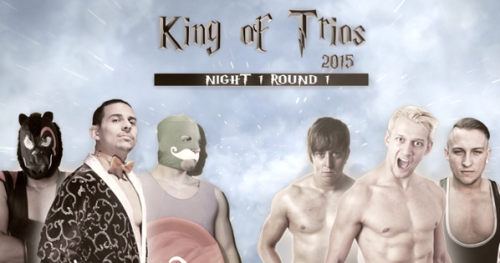 You may know Mark Andrews better as Mandrews from TNA. He's a gangly Brit who flails around like a ragdoll when he takes a high impact move. Sometimes when he's on the receiving end, you think to yourself, "Not sure if that dude's still alive." Juan Francisco de Coronado, a diminutive Ecuadorian aristocrat with a penchant for German suplexes, surely will be tossing around Mandrews during a heat segment. Beware of Mr. Azerbaijan. That guy will untie your shoes when you're not looking. I have seen him do it. He's also pulling double duty at this tournament, as he's better known without his mask as 2009 KOT winner Chuck Taylor. One of his teams surely is going out on the first night. I'm guessing it's not this one. Mandrews' British invasion team seems a safe bet for a quick exit. Look for the Proletariat Boar of Moldova, who is a brawny lad, to spear one of the Brits in half.
7. BDK (Jakob Hammermeier, Soldier Ant, Nøkken) vs. Team Fight Club: PRO (Daniel Moloney, Trent Seven, Tyler Bate)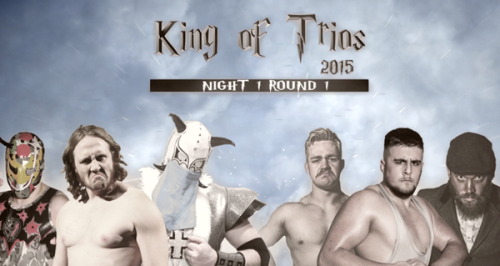 We get a second Brit team with the Fight Club: PRO entrants. Seven and Bate work as a tag team known as Moustache Mountain, which is just about the best tag team name in the business. Alas, being this close to the Delaware River doesn't bode well for Chikara's English guests. They're running into one of the tournament favorites in the BDK, short for Bruderschaft des Kreuzes. Though if that qualifies them as Hessians, it could cancel out the Delaware River effect. Hammermeier serves as the BDK's evil mastermind (and his in-ring work has improved tremendously this year). Soldier Ant is a pure badass (and former KOT winner in 2011). Should be noted that no one has won KOT more than once, which could become a theme at this year's event. Very good chance somebody becomes a two-time KOT champion. Nøkken is enormous (and really funny with his mock Schwarzenegger accent). Plus, the BDK almost surely will have Pinkie Sanchez running riot outside the ring.
6. Crown & Court (Princess KimberLee, El Hijo del Ice Cream, Ice Cream Jr.) vs. Arcane Horde (Oleg the Usurper, Obariyon, Kodama)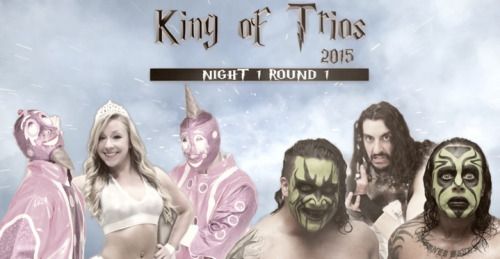 Don't let the girly persona of Princess KimberLee fool you. She is fierce. That woman can throw a forearm shiver like no one's business. Got to see her at a Chikara event in July and she is legit in the ring. The Ice Creams famously lose all the time, which has caused some frustration for 4th member of Crown & Court, Jervis Cottonbelly. The purveyor of Gentlemania (he is unfailingly polite) has begun to doubt whether the Ice Creams have the attention span necessary to win a match. KimberLee, however, believes in the frozen treats and promises they will surprise us … though maybe not at KOT. The Arcane Horde has a bigger storyline (and Chikara knows how to do story) in Oleg. Fans are serenading the one-time rudo with "Oleg! Oleg! Oleg!" (to the tune of "Ole! Ole! Ole!") and he seems ready to break free from the corrupting influence of his manager Sidney Bakabella. He almost ripped up his contract when I saw Chikara in July and KOT should be Oleg's tipping point. Important information for those not up-to-date on Chikara's current story arc: a draft back at the beginning of the year has mixed up the tecnicos and rudos on the roster, so Oleg is fighting alongside fan favorites, the Batiri. The popular UltraMantis Black technically leads the Arcane Horde, so expect him to exert some influence on the proceedings. The pieces are in place, all it should take is Oleg running into Bakabella's Devastation Corporation team and Oleg's face turn will be complete.
5. Devastation Corporation (Max Smashmaster, Blaster McMassive, Flex Rumblecrunch) vs. Team bWo (Da Blue Guy, Stevie Richards, Hollywood Nova)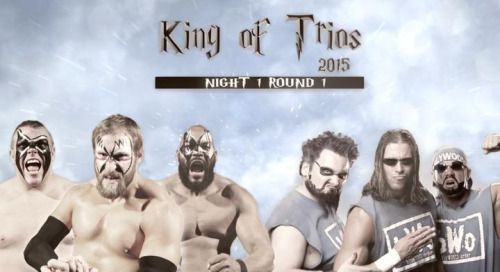 Speaking of Devastation Corporation, they won KOT in 2014 and have dominated Chikara for the past year-plus. They are three big dudes with some notable ring skills. Smashmaster (6'4",350) does a top rope senton. McMassive (6'7", 260) has a suicida in his bag of tricks. Rumblecrunch (6'3", 255) likes to walk the ropes. They have WWE size and skills. They're also super nice. Talked to them at the recent event and Smashmaster let my son pose with his Campeonatos de Parejas (aka tag team) belt. Coming into KOT 2015, this team is the big bad. DC seems invincible. As much fun as it is to see the bWo back together again, hard to imagine it has a chance. Expect excellent hijinks from Da Blue Guy/Blue Meanie, Stevie and Nova during this match, but they are running into overwhelming opposition. Beating DC is not something Chikara will give away lightly (and I'm relatively sure a Night Two contest vs. Oleg is going to happen). A second KOT win in a row is a distinct possibility, as it sets up DC as perhaps the most formidable faction in Chikara history.
4. Battleborn (Kevin Condron, Lucas Calhoun, Missile Assault Ant) vs. Dasher's Dugout (Dasher Hatfield, Icarus, "Mr. Touchdown" Mark Angelosetti)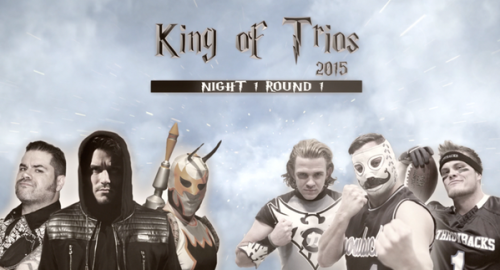 Last year Dasher and Touchdown held the Campeonatos de Parejas titles during KOT, while Icarus was the Chikara Grand Champion. They called themselves the Golden Trio and lost in the KOT final to Devastation Corporation. They're back this year and looking for redemption. They've all lost their belts and, one could argue, their mojo. I really hope some day that Dasher will form a KOT team with his former gimmicks – MosCow and Ultimo Breakfast. In Chikara, that could totally happen. It would seem normal. Obviously he's got other plans this year. The other team in this match is led by Kevin Condron, who is on a mission to unmask Chikara wrestlers, thus setting them free in his mind. He turned Volgar into the rockabilly-influenced Lucas Calhoun. He convinced Missile Assault Ant to unmask in July (bald guy, bushy beard). So who knows what gimmick that guy will have when he comes to the ring. Part of the intrigue here will be outside the ring. Condron keeps the Lithuanian Snow Troll (still under a mask) on a leash as his personal lackey. Dasher's team is also affiliated with 2014 Young Lion's Cup winner Heidi Lovelace. Expect them to play a role here. On top of that, Icarus still technically has possession of one of Chikara's ultimate weapons, the Hammer of Peace, which originally belonged to the destroyed and (we think) reborn Estonian Thunderfrog. Might be an ideal time for Thunderfrog to reappear, wield the hammer and free the Snow Troll. Anyway, Dasher's team ranks as one of the leading favorites for KOT 2015, and Icarus would become a two-winner if they prevail.
3. Battle Hive (Amasis, Fire Ant, Worker Ant) vs. The Bullet Club (AJ Styles, Matt Jackson, Nick Jackson)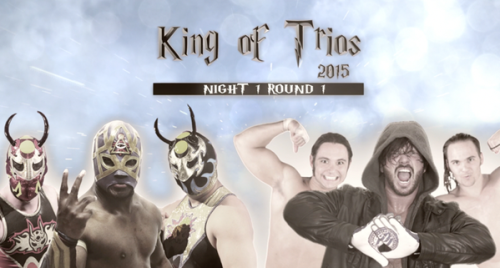 AJ and the Young Bucks may be the best trio on the planet. No threesome is better synchronized or better suited to adapting to the mayhem inherent in a trios match. The Bullet Club are ringers of the highest order. This is like holding a 3-on-3 basketball tournament and Lebron James, Steph Curry and Anthony Davis show up. On paper, it's the Bullet Club's tournament to lose, and somewhere along the way, I expect that will happen. Yet it won't be on the first night. Amasis is having a fine year, recently winning a shot at Hallowicked's Chikara Grand Championship. Ants are always a formidable foe as well. Fire Ant won KOT alongside Soldier Ant and Green (now Silver) Ant in 2011. Much as the new Worker Ant has done his best to fit into the Colony, he suffers from Cousin Oliver Syndrome. Seems like a decent guy, but he's not up to par with his predecessors. He'll put in a solid shift in this match, but he's about to one of the guests of honor at a Superkick Party and I'm nominating him "Wrestler Most Likely to Eat a Styles Clash" at KOT. At some point this match will go from silly to serious and the Bullet Club's quality will prevail. The bigger question is whether the match order indicates the actual brackets. If so, Bullet Club vs. Dasher's Dugout on Night Two stacks up as one of the matches of the tournament: some of Chikara's finest going up against some of the best in the world.
2. Nightmare Warriors (Hallowicked, Frightmare, Silver Ant) vs. Snake Pit (Eddie Kingston, Ophidian, Shynron)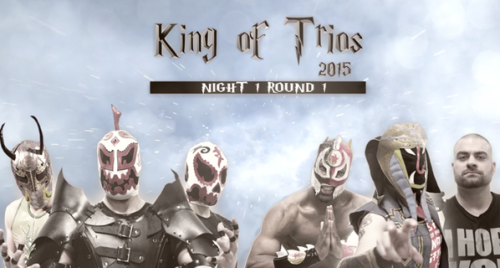 The most evenly stacked match of Night One. You've got the current Chikara Grand Champion, Hallowicked, against the original CGC, Eddie Kingston. All three of the Nightmare Warriors have won KOT (Hallowicked and Frightmare in 2012 as part of the Spectral Envoy with UltraMantis Black and Silver Ant as part of the Colony in 2011). Ophidian is a former Campeonatos de Parejas champ (as part of the Osirian Portal with Amasis) and Rey de Voladores winner (the singles tournament that takes place on nights 2 ad 3 of KOT). Shynron won the Rey de Voladores last year and he's a spectacular aerialist. Recently saw him climb a metal support beam and then execute a backflip splash from it – totally dope. It's anyone's fight. Kingston is the most notable name in Chikara who hasn't won KOT and Shynron is rapidly becoming a standout performer, so maybe that gives the Snake Pit the edge. Also, Silver Ant hasn't exactly meshed with his evil stablemates this year. Tension in the ranks likely derails the Nightmare Warriors at some juncture. Also might set up Hallowicked vs. Silver Ant later this year.
1. The Gentleman's Club (Chuck Taylor, Drew Gulak, Swamp Monster) vs. Team AAA (Drago, Aero Star, Fenix)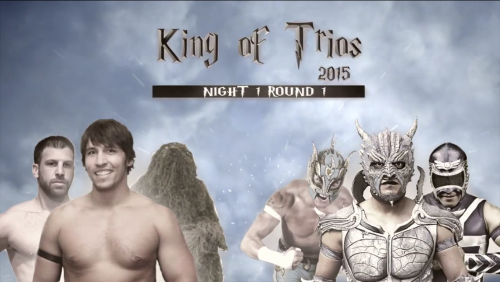 Fans of Lucha Underground will be excited by the final match of Night One. Team AAA features three of the best high flyers in AAA/Lucha Underground. It will be like going to an air show without the imminent threat of anything bursting into flames. Scratch that, maybe Drago turns into an actual dragon or Aero Star blasts off or Fenix burst into flames only to rise from his own ashes. These are three of the most pyrotechnic gimmicks in the business. In the other corner, former KOT winner Taylor is on what he's calling his farewell tour. Not really sure what that means, other than maybe he'll only be working for GFW at some point. Gulak works as a hard man in other promotions, but in Chikara he's kind happy-go-lucky and he loves himself some Swamp Monster. Chuck hates the Swamp Monster, who looks a bit like an especially gnarly hermit. Comedy ensues. As much fun as the Gentleman's Club can be, it's hard imagine Chikara paid the freight for the AAA guys only to have them lose on the first night of the tournament. Like with the Bullet Club, if you have tickets for Night Two, you might be severely bummed if the AAA contingent isn't there. People want to see crazy dives to the outside and top rope wizardry. Chikara prides itself on giving the people what they want. So this may be Chuck Taylor's farewell to KOT … except for when he's getting in touch with his inner Azerbaijani.
Prediction Time!
The 8-Ball keeps coming down to a BDK-Dasher's Dugout final, with the good guys winning it all this time around. The rudos have been in the ascendancy for most of this season in Chikara and it's about time somebody struck a blow for baseball, flying too close to the sun, properly inflated footballs and the American way. Yet the great thing about King of Trios is that a dozen different crazy scenarios could play out over the weekend. It's fun to be along for the ride with Chikara because the ride always goes somewhere unexpected.
I take requests.. The purpose of this column is to look forward. What could be? What should be? What is and what should never be? What would make more sense? 411 has plenty of columns that count down and rank things that happened in the past. This is not one of those columns. The Magic 8-Ball is here to gaze into the future. If there's someone or something you think should be given the 8-Ball treatment, mention it in the comments section. I might pick it up for future weeks.