The Chrononaut Chronicles: Clash of the Champions XXI
February 9, 2012 | Posted by
The Chrononaut Chronicles: Clash of the Champions XXI

Thanks to the infinitely talented Kyle Morton for the logo. Check out his Etsy account, where he does custom artwork and commissions… you'll be glad you did!
The Chrononaut Chronicles
WCW Clash of the Champions XXI – November 18, 1992
– On a personal note, this was the first Clash I had ever seen because TBS wasn't offered up here until November of 1992. As a 13-year-old kid who had only read about the Clashes in Pro Wrestling Illustrated and WCW Magazine, I was pumped up for this show. For me, it felt special because it would be the first time that wrestling escaped the domain of Saturday morning cartoons and arrived on a prime time weeknight timeslot just like any other TV show or professional sporting event. On top of that, the fact that it was broadcast live unlike the obviously taped weekend shows made it that much more exciting to watch.
– A Unified World Tag Team Title defense by Barry Windham & Dustin Rhodes against former friends Ricky Steamboat & Shane Douglas! The semi-finals of the King of Cable tournament pitting Sting against Rick Rude! Pro wrestling's version of the Battle of the Sexes between Paul E. Dangerously and Madusa! Three rounds of boxing as Johnny B. Badd squares off against Scotty Flamingo! All this and more on the twenty-first Clash of the Champions!
– LIVE from the Macon Coliseum in Macon, Georgia! Jim Ross and Jesse "The Body" Ventura are on commentary, and they show footage of Madusa pouncing on Paul E. Dangerously during their official weigh-in after Paul E. pushes her too far with his verbal jabs.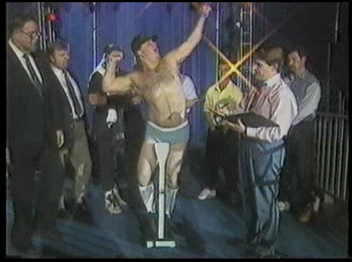 What has been seen cannot be unseen.
– In the locker room, Tony Schiavone interviews Bill Watts and they talk about a new era of high-impact wrestling beginning in WCW. Sound familiar? WCW (and now TNA) always spent so much time talking about new eras and being the alternative to the WWF instead of just, you know, being the alternative and letting the product speak for itself. In another locker room, Teddy Long interviews Michael Hayes and he claims that he has a plan to collect the bounty on Erik Watts. People think everybody hates Erik because of his father, but PS gets in a good line: "Erik, I'd hate you if your last name was Hayes."
– Flyin' Brian Pillman vs. Brad Armstrong
Before the match, Brian Pillman is on crutches at ringside and claims an injury as he cuts another great mockingly sincere promo, explaining that now he understands how Brad Armstrong felt at the last Clash when he couldn't wrestle due to a knee injury. Flyin' Brian offers to let Brad slap him in the face if it will make him feel better, but Armstrong turns away and Pillman repeatedly bashes him in the leg with his crutch, proving that the 'injury' was just a hoax. Referee Randy Anderson tries to call for a disqualification, but Brian successfully argues that he can't be disqualified since the match hasn't officially started. Damn, he should have been a lawyer! Armstrong hobbles into the ring and valiantly tries to stage a rally, but the actual match only lasts 25 seconds as Pillman pins Armstrong after clipping his knee. Pillman's post-match celebration is reminiscent of Owen Hart in later years, looking so proud of his dirty work.
– The storyline leading up to tonight's unsanctioned "Clash of the Sexes" is recapped, beginning at Halloween Havoc '92 when Paul E. Dangerously fired Madusa from the Dangerous Alliance and shoved her, only to receive a kick in the head. From there, the match was signed and the two combatants started training: Madusa polished up her kickboxing skills with a true sparring partner in an empty arena, while Paul E., surrounded by Dangerous Alliance members Steve Austin, Arn Anderson, Bobby Eaton, and Michael Hayes, performed a public workout against TV jobber Mike Thor on WCW Saturday Night. Paul punched his 'opponent' and when he turned around to celebrate, Stunning Steve decked Thor so it looked like Paul knocked him out. Dangerously scored the easy pin after an elbowdrop, but the following week he alienated his remaining allies during a face-to-face interview with Madusa when he went too far with his misogynistic epithets and Austin, Eaton, Hayes, and Anderson all walked off. Back LIVE in the locker room, Michael Hayes interviews Dangerously and doesn't seem to have much of a problem with him as Paul E. talks about all the sacrifices men have made to change the world and says that the only sacrifice women make is when they're 16 years old in the back seat of their boyfriend's car. OOOOOHHH. When Mike Thor shows up looking for his money for the public workout, Paul calls him a loser and refers him to Arn & Bobby off-camera.
Paul Heyman owing money to a wrestler? Perish the thought.
– "The Enforcer" Arn Anderson & "Beautiful" Bobby Eaton (w/Michael "PS" Hayes) vs. Erik Watts & Kensuki Sasaki
The son of Bill Watts, young Erik Watts had only been wrestling for three months when WCW signed him and immediately pushed him into an upper-card feud with the Dangerous Alliance, despite his lack of experience and ability. Even the markiest fans saw through this charade and Erik receives the John Cena treatment, being booed vociferously by a large segment of fans while being pushed as a top undefeated babyface. The storyline here is that Paul E. Dangerously had put a cash bounty on the head of Erik Watts as added inspiration for Arn Anderson, Bobby Eaton, and Michael Hayes to put him out of action. Erik displays good athleticism and shows potential, but he was way too green and pushing him beyond his skill set destroyed any chance of Erik making it on his own talent. Kensuke (spelled "Kensuki" because AMURKANS IS DUMB!) Sasaki is on a tour of WCW and got swept up into this angle because apparently the best idea Bill Watts could come up with was for Sasaki to 'play Ricky Morton' in a tag team with his son. Bobby & Arn work Kensuki over until he catches Bobby in a powerslam and makes the hate tag, meaning that the crowd hates the guy who got tagged in. After some shenanigans, Watts is the big hero as he applies an STF and Eaton submits at 6:06. *½ Terrible booking and an excruciating waste of one of the top tag teams in the business.
– Boxing Match: Johnny B. Badd (w/Teddy Long) vs. Scotty Flamingo (w/Diamond Dallas Page & Vinnie Vegas)
Since they are both faces now, Teddy Long is reunited with Johnny B. Badd as his second for this boxing three-rounder that was signed after Scotty Flamingo knocked Johnny out with a roll of coins on WCW Saturday Night. Wearing pink t-shirts promoting Scotty "One Punch Bingo" Flamingo, the Vegas Connection of Vinnie Vegas & Dallas Page are pretty funny as his cornermen. In a pre-match interview, a silent Don King lookalike is shown with his back to the camera while Vinnie goes over-the-top in describing Scotty's boxing skills ("He's got the jaw of Chuvalo and the heart of LaMotta!") although there are some awkward moments when Nash can't think of more than one Las Vegas casino. Vinnie claims the odds are 75:1 against his man, and the first round is all Johnny B. Badd until Vegas distracts referee Nick Patrick, allowing Flamingo to rake Badd's eyes and clothesline him down. When Johnny gets up, Scotty double-axhandles him in the back of the head — in plain view of the ref — and slugs away, but Johnny comes back and decks him just as the round is ending. The Vegas Connection drags Scotty back to the corner and they fill his glove with water, enacting a fiendish plot that leads to Flamingo flattening Badd with one punch and winning via TKO at 1:01 of the second round. **½ Judging it as a pro wrestling version of a boxing match, this fight was entertaining and it worked because of the characters involved. Before the Flamingo became a Raven, Scott Levy portrayed a self-absorbed primadonna from Palm Beach and he had great chemistry with DDP & Kevin Nash since they were good friends off-camera. Johnny B. Badd's legitimate pugilistic talent gave the fight some credibility as he completely outclassed his opponent and only lost due to nefarious means. Definitely better than any of the WWF's forays into worked boxing.
When good promos go bad.
– After a look back to the first-ever Lethal Lottery and Battle Bowl at Starrcade '91, Jesse Ventura and Missy Hyatt draw out the first four names for this year's event at Starrcade '92: Cactus Jack & Johnny B. Badd will team up against Dan Spivey & Van Hammer. No wonder they couldn't wait until Starrcade to announce that match! Just hearing about it resulted in me automatically calling my local cable company to order the show, but it quickly became awkward for both of us when they insisted it was 2011.
– Ghetto Odds Match: Cactus Jack & The Barbarian & Tony Atlas vs. Ron Simmons & Too Cold Scorpio
Although Ron Simmons was still the WCW World Heavyweight Champion, the color of his skin was still black and that meant he had to be programmed like a midcarder in things like a "Ghetto Odds" match, which is usually called a handicap match when it involves a white protagonist. Big Ron's original partner, a young African-American rookie named Robbie Walker, had been fired due to general uselessness (that's my theory, anyway) so WCW replaced him with another young black wrestler who had been wowing audiences in Europe and Japan using the name Flyin' Scorpio. He is literally introduced as "The As Yet Unidentified Partner Of…" and the commentators don't even know his name. Welcome to WCW! After he and Simmons drive the heel contingent out of the ring, TAYUPO performs a sensational dive over the top rope onto all three men. TAYUPO maintains the advantage and Cactus Jack sells a moonsault that misses by a mile, but Ventura saves the day by explaining that TAYUPO's foot hit Jack's head. Simmons gets caught in the heel corner and worked over by Cactus and his band of mercenaries until he can make the hot tag. TAYUPO — oh hell, his name is Scorpio, damn it! — uncorks dropkicks on the three stooges and all hell breaks loose as Atlas grabs Simmons in a full nelson while Barbarian loads up his boot by stomping the mat. However, Simmons ducks the big boot and Barbarian accidentally nails Atlas. The All American clears Cactus & Barbarian out of the ring and the still-nameless Scorpio unleashes his jaw-dropping 450 splash off the top onto Atlas for the pin in 5:52. In a post-match interview, Ron Simmons reveals that his partner's name is Too Cold Scorpio. ** Not a great match in concept or execution, but Scorpio pulled off some hot moves and won the crowd over right off the bat.
– The hot new tag team of Z-Man & Johnny Gunn (Tom Brandi, later known in the WWF as the faux-Italian Salvatore Sincere) appears in a typical pretty-boy babyface music video, the gist of which is that they went shopping for clothes and ended up banging the attendants in the change rooms. Shockingly, this didn't get them over with a predominantly male audience used to unsuccessful encounters with women.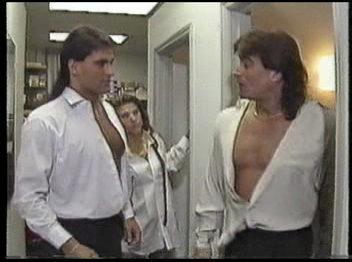 "You want to tag me in NOW?!"
– Must be intermission time in the arena, as we get a locker-room interview with Rick Rude, followed by a video recap of the Jesse Ventura Invitational Strongest Arm Tournament taking place on WCW Worldwide. Back in the locker room, Michael Hayes interviews Paul E. Dangerously one final time as he promises to beat Madusa because he's a man and she's a woman.
– Clash of the Sexes: Paul E. Dangerously (w/Michael "PS" Hayes) vs. Madusa
This is billed as an unsanctioned match with a five-minute time limit, and although Paul was supposed to fight with one hand tied behind his back, that stipulation is pretty much ignored. The pre-match Tale of the Tape, an effective tool that they never even used for their major title bouts, adds to the tongue-in-cheek atmosphere. Paul E. Dangerously is outfitted in black Yankees pinstripes and boxing headgear, while a bulky Madusa races out in a full gi and headgear and gets clobbered by Paul's phone immediately. Michael Hayes declares him the winner, but when Paul E. reaches down to pick 'her' up for a kiss, he discovers Mike Thor was crossdressing as Madusa in some bizarre revenge fantasy scheme. The idea that anyone believed he was Madusa is not flattering to her. The real Madusa runs in and kicks the hell out of Dangerously, even chasing him up the aisle and carrying him back to the ring, but Hayes trips her up and Paul stomps her. After posing over Madusa and spitting on her, Paul E. actually hits a double-axhandle off the top turnbuckle. Madusa pops up and roughs him up a bit before pulling off his shorts as the 5:00 time limit elapses. Oh my god, he's wearing longjohns underneath! Paul E. was a master strategist until the end. * Given the buildup and heat behind the feud, WCW's Clash of the Sexes was anticlimactic and unsatisfying. Why would Madusa merely want to pants Paul after everything he had said to her? The 'match' did give Jesse Ventura an opportunity to crack some classic lines, observing that Paul and Madusa both had 38″ chests and that Madusa was quite proficient at removing Paul's pants. Sadly, this was the final WCW TV appearance of Paul E. Dangerously as he disappeared from television and was fired in the new year when the company accused him of faking expense reports.
The eyeshadow and lipstick really weren't necessary, Mike.
– A video package explains and recaps the King of Cable tournament on TBS. The top 15 wrestlers were put into a lottery and eight names were drawn randomly to assign match-ups. Results from the opening round include Rick Rude pinning Barry Windham with a handful of tights, Sting defeating Brian Pillman, Big Van Vader crushing Tony Atlas, and Dustin Rhodes beating Barbarian after withstanding a locker-room assault by Cactus Jack. Tony Schiavone then interviews Vader with Harley Race as he plans on hurting everyone in his way to become the King of Cable.
– King of Cable – Semi-final: "Ravishing" Rick Rude vs. Sting
A man without a manager or a mustache, Rick Rude is still your WCW United States Heavyweight Champion and he is determined to be the next King of Cable. There are three judges seated at ringside to decide a winner in case of a time-limit draw, and they are a most unsavory lot: Larry Zbyszko, Hiro Matsuda, and Ole Anderson. The Ravishing One starts off hammering away at the back of Sting's head and neck and performs his trademark hip-swivel, but Sting fights back and does his own hip-swivel. The Stinger focuses his attack on Rude's midsection and drives his ribs into the mat with two front-layout suplexes before applying a camel clutch and an abdominal stretch. Rude rakes the eyes to take the advantage and goes after Sting's lower back, but Sting counters a suplex by dropping Rude's gut across the top rope twice. The tide shifts again as the match spills out to the floor and Sting collides with the guardrail when Rude avoids a Stinger Splash. Ravishing Rick punishes Sting's back with forearm smashes and camel clutches, followed by a delayed vertical suplex and another camel clutch as the judges scribble furiously at ringside. Sting escapes and scoops Rude up, but his back gives out and the US Champion lands on top of him for a near-fall. Rude remains in control and squeezes Sting in a lengthy bearhug as the timer appears on the screen indicating there are only a few minutes remaining in the time limit. With less than two minutes to go, Sting exploits the weakness from earlier as he tosses Rude ribs-first off the top turnbuckle. Flying bodypress off the top gets a close near-fall for Sting, but Rude slugs him in the gut when he leaps off the turnbuckles again. Sting powers out of the Rude Awakening and hits the Stinger Splash, but the 20:00 time limit expires just as he is hooking the Scorpion Deathlock on Rude. By a score of 2-1 with Zbyszko casting a vote for Rude, Sting is declared the winner and advances to the final against the winner of Vader vs. Dustin Rhodes, this Saturday night at 6:05 Eastern on the Superstation! ****½ The story was fantastic with both guys working on different body parts to earn points and wear down the opponent. Some more creative offense from Rude in addition to his camel clutches and bearhugs would have been appreciated, but they fit this style of match and the finish was obvious yet dramatic.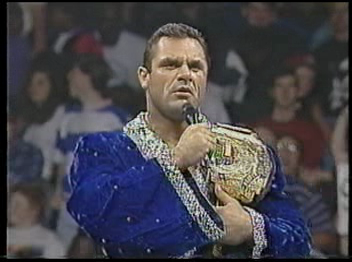 R.I.P. Rick Rude's Mustache, 1983?-1992.
– WCW/NWA Unified World Tag Team Championship: Ricky "The Dragon" Steamboat & Shane Douglas vs. Barry Windham & "The Natural" Dustin Rhodes ©
The titles were unified when WCW World Tag Team Champions Steve Williams & Terry Gordy won the NWA World Tag Team Title tournament at the 1992 Great American Bash and the belts were defended together from that point. Dustin Rhodes & Barry Windham toppled Gordy & Williams on WCW Saturday Night in early October to capture the titles. Ventura expects a scientific match-up since this is face vs. face, although he is excited about the probability of someone cheating because all the gold is on the line. Shane Douglas engages in some good clean wrestling with Dustin Rhodes and they swap early near-falls as Ross recalls that Dustin won his first major title with Ricky Steamboat at a previous Clash; it was actually one year ago less a day at Clash XVII. The action heats up when the veteran members of each team tag in, as Windham and Steamboat end up shoving each other at ringside until their younger partners pull them apart. Ventura is great on commentary encouraging them to mix it up and become more aggressive, as Steamboat & Douglas work on Windham's arm using the classic strategy of quick tags and double-teams. The momentum shifts when Barry ducks a crossbody and Shane hits the ropes, and the Two Tall Texans take the reigns and display masterful teamwork of their own as they cut the ring in half and double-team Shane, occasionally targeting his arm. At one point when Rhodes has Douglas in a chinlock, Steamboat leaves his corner so that he can look his partner in the face and cheer him on. Douglas sneaks in a couple of near-falls during his comeback attempts, and finally he avoids a dropkick from Dustin and makes the hot tag. Realizing how important this match is, the Dragon blitzes the Natural with basic shoulderblocks and cross-bodyblocks for a series of two-counts, urgently trying to wear Dustin out and earn the pin. Dustin comes back with some two-counts of his own and they start running the ropes, but the turning point comes when Steamboat attempts a leapfrog and Rhodes unintentionally lowblows him with his head. From the apron, Windham hollers at Rhodes to pin him, but Dustin feels remorse for his former partner so Barry tags in and drops an elbow on the Dragon for a near-fall. Windham sadistically drills Steamboat with a pair of inverted atomic drops and nails him with the lariat, but Rhodes has seen enough as he comes in and pulls his own partner off of his opponent. While the Two Tall Texans begin trading slaps and punches, Steamboat tags out and Douglas takes advantage of the turmoil as he slams Windham with the Magnum TA-style belly-to-belly suplex to capture the Unified World Tag Team Championship in 15:52. Despite his disappointment at losing the titles, Dustin is still concerned about Steamboat and checks on him before leaving the ring. Windham calls Rhodes back to the squared circle and turns on him, laying Dustin out with a vicious jumping DDT and a superplex. During a post-match interview with the brand-new Unified World Tag Team Champions in the locker room, a rampaging Windham waffles both Steamboat & Douglas with nasty chairshots and smashes them against the lockers. ****½ This main event was another prime example of a classic story that didn't require a ton of highspots or flashy maneuvers to pull off. Starting off as somewhat of a friendly rivalry, the match was fought cleanly until the point where Barry and Dustin's personal philosophies clashed. There had been some tension between Windham & Rhodes prior to the match since Barry wanted his younger partner to be more aggressive, and this was the proverbial straw that broke the camel's back for Windham. Dustin's body language and facial expressions denoting his mixed feelings after losing were excellent, and Windham's heel turn was monumental as he ended up destroying everybody.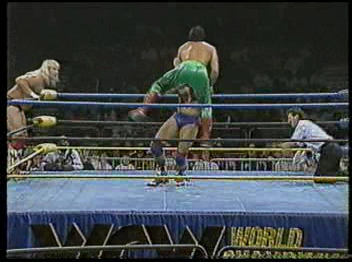 The Dragon had been waiting for the perfect moment to unveil his newest maneuver: the flying teabag.
The 411: Although the heavily-hyped Clash of the Sexes was a major disappointment and the superman push for Erik Watts was in full swing, the rest of the card was solid and the last two matches stole the show. By paring the lineup down to less than eight matches, more time was spent getting each segment over properly and the most important matches got the most time. The dramatic faceoff between Sting and Rick Rude and the classic World Tag Team Title bout helped elevate Clash of the Champions XXI into the upper echelon of Clashes and proved to be a fitting end to the outstanding year of 1992. By this time one year later, WCW would be completely overhauled, and not necessarily for the better. As usual in WCW, big changes were in store for the new year, both in front of the camera and behind the scenes.

 
Final Score:  8.0   [ Very Good ]  legend