Tremendous Tirades 12.06.13: TNA One Night Only – World Cup
December 6, 2013 | Posted by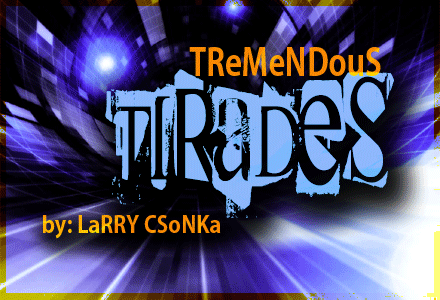 Introduction
As a reminder, this will not be another traditional recap, but instead it will be a mash up of the Rs, Instant Analysis and my usual Twitter ramblings I would do during the shows; completely uncensored and as the ideas flow unfiltered to the old keyboard. Remember, this is a review; and I am here to review the show. As always, I encourage discussion and even disagreement, just do so in a respectful manner. I will be doing the review for Raw and most PPVs going forward.
TNA One Night Only – World Cup
COMPETING TONIGHT ARE:
~ Team USA: James Storm, Christopher Daniels, Kazarian, Mickie James and Kenny King
~ Team UK: Magnus, Hannah Blossom, Rockstar Spud, Doug Williams and Rob Terry
~ Team Aces and Eights: D.O.C., Knux, Mr. Anderson, Wes Brisco and Ivelisse
~ Team International: Petey Williams, Sonjay Dutt, Lei'D Tapa, Funaki and Mesias
The reason that they did "Team International" was because the company waited too long to contact Mexican and Japanese talents, and the work VISA situation prevented them from getting those talents. I would have done Team Canada. They brought in Petey; they have Bobby Roode, Eric Young and Gail Kim under contract. I am sure they could have found ONE more Canadian with a valid work VISA to fill out the team. Johnny Devine? Tyson Dux? Teddy Hart? Jack Evans? Hell even Scott D'Amore as the fifth guy makes a better team overall than "Team International". Anyway, on with the show!
Jeremy Borash announces the teams that will compete. The two teams with the most points compete in a 5 on 5 finals match. The teams have a knockout, an X-Division star, a heavyweight competitor and a tag team.
We get a video package for Team UK, and then a promo by Magnus.

Team UK's Magnus vs. Aces & Eights' Mr. Anderson: The first match hit the ring at 8:14PM ET. TNA once again has the ventilation issue, and due to the early pyro, the building is cloudy looking. Anderson worked the arm early, and the crowd seemed lively, which is always good. Anderson dominated more than 90% of the match, mainly working the arm. Anderson tried to use the ropes, but was caught by the ref. Magnus hit the Michinoku driver to score the win @ 12:00. This was a solid and entertaining opening bout.
Match Rating: **½
Team UK scores 1 point for the victory.
We get a video package for Team US.

Team U.S.' Kenny King vs. Team International's Sonjay Dutt: Sonjay Dutt is that one dude who never won the X-Division title, and they make sure to mention it every time. Kenny King hasn't been seen in ages on TNA TV. Both guys could have been used so much better in 2013 to bolster the anemic X-Division. Even though King is on Team US and the face with the crowd, he worked a heel style, which was fine because that is what he last worked on TV and Dutt is a much better face. King controlled early, working the ribs of Dutt (who had a giant red mark on his abdomen) but Dutt got the crowd going with his comeback. These guys ended up working really well together, and while not a traditional high energy X-Division style match, I really enjoyed it. King won @ 11:00 after Dutt missed the moonsault stomp, and King hit he charging double knees in the corner.
Match Rating: ***
Team UK – 1, Team US – 1.
Borash talks with the rest of Team International. Funkai admires JB's mic work, and Petey cut a fun little promo putting over his team.

Team International's Lei'D Tapa vs. Team UK's Hannah Blossom: They played the monster vs. resilient babyface formula, as you'd expect. The main issue here was that Tapa is still really rough as a performer, and Blossom hasn't had enough exposure with the TNA audience to draw the proper sympathy for the style of match. It likely would have worked better as a very fast squash. Thankfully the crowd wasn't dead for this despite the disadvantage that Blossom had. Tapa won with her sit out stunner @ 4:00. It wasn't horrible.
Match Rating: *½
Team UK – 1, Team US – 1, Team International – 1.
I want to note that thus far, the pacing on this show is much better than almost every One Night Only show. Less filler and more action, which is appreciated.
Team Aces and 8s cut a promo, and introduce Ivelisse as their Knockouts performer.
We get a video package for Team Aces and 8s.

Aces & Eights' D.O.C. and Knux vs. Team International's Sho Funaki & Petey Williams: FUNAKI! Much like the previous match, this is the monsters vs. the little guys formula. I would have separated these matches as to not have similar style matches back to back, but that is me. This had a much better crowd, because the TNA fans hated the Aces and 8s, and loved Petey and Funaki. Aces and 8s dominated Funkai for several minutes. He still works well enough to get sympathy, and got the hot tag to Petey. Petey had a good sequence off the hot tag, and the big men (especially Knux) sold well for him. Funaki had a good near fall off a high cross, but then Knux used the hammer shot to score the win @ 9:00. This was a fun little tag match, nothing great, but enjoyable.
Match Rating: **½
Team UK – 1, Team US – 1, Team International – 1, Team Aces and 8s – 1.
We get a video package for Rockstar Spud.

Team Aces & Eights' Wes Brisco vs. Team UK's Rockstar Spud: Rockstar Spud won the British Bootcamp show, and recently got a full time gig with TNA as Dixie Carter's assistant. Wes Brisco sucked and was fired from TNA, because despite the Brisco name, he never improved. I haven't seen a lot of Spud; he's small, sells well and seems to have a lot of charisma. Obviously with Brisco you're not getting the usual X-Division style match. Spud tried to get the crowd into things with a dive, which worked, but Brisco almost missed catching him. Spud ran into a powerslam for the anticlimactic victory @ 7:00. Not that good.
Match Rating: *½
Team UK – 1, Team US – 1, Team International – 1, Team Aces and 8s – 2.
Bad Influence grace us with a promo. They are truly great men.

Team U.S.' Bad Influence (Daniels and Kazarian) vs. Team UK's British Invasion (Douglas Williams and Rob Terry): Bad Influence are awesome, and I always appreciate a Douglas Williams appearance. Williams and Terry have tagged before, so this could be some quality stuff. Daniels and Kazarian wanted no part in facing off with Terry. The British Invasion controlled early, Terry with the power game, Williams with the technical wrestling. Bad Influence sold very well for Terry's offense. Bad Influence eventually took control and isolated Williams, and we got some very good and simple tag team wrestling. Terry eventually got the hot tag, and ran wild with power moves. His work was much cleaner than usual, and again, Bad Influence sold very well for him. Bad Influence countered the Chaos Theory by Williams and hit a high low for the win @ 11:00. This was just good, clean and simple tag team wrestling. Also, you watch this and wonder why Williams was released, because they guy can go and works well with so many people.
Match Rating: ***¼
Team UK – 1, Team US – 2, Team International – 1, Team Aces and 8s – 2.
We get a Mickie James promo.

Aces & Eights' Ivelisse Velez vs. Team U.S.' Mickie James: I am actually really looking forward to this match. James had a good 2013, and I enjoy Ivelisse's work and feel TNA should have signed her. As I had hoped, this was a really good back and forth match between these two. They gave Ivelisse a lot, and made it look like she could hang with James, which they needed to do. This was good and clean work by both ladies, they crowd was pretty into it and while not a fan of screwy finishes all the time, it does fit the Aces and 8s formula. Ivelisse won @10:00 via pin after shenanigans by Aces and 8s.
Match Rating: **¾
Team UK – 1, Team US – 2, Team International – 1, Team Aces and 8s – 3.
They take us to Victory Road 2008 for a great moment in TNA World Cup history. This was Naruki Doi vs. Volador Jr. vs. Daivari vs. Kazarian. They showed the whole 11:00 match, which was a good, but not great Ultimate X match. They worked hard and the ending leg drop spot was great, but it just didn't click as I had worried (due to the lack of experience with three of the performers in the match). Not bad at all, but with the history of Ultimate X (even at that time) they had a lot to live up to. Volador Jr won to give Team Mexico the victory. (***)

Team U.S.' James Storm vs. Team International's Judas Mesias: Storm's work in 2013 has been hit or miss, likely due to lack of motivation. Mesias is also very hit or miss with me. Overall a solid, TV style match here. The crowd was into Storm, which is amazing considering his booking for the last year or so. The main issue is that the crowd never really bought that Mesias could win, which hurt the overall heat. Storm won with a superkick out of nowhere @ 10:00. James Storm's win secures Team US' birth in the finals against Team Aces and 8s.
Match Rating: **¼
Team UK – 1, Team US – 3, Team International – 1, Team Aces and 8s – 3.
We get a recap of the victories by Team US and the Aces and 8s.

WOLD CUP FINALS: Team USA (James Storm, Christopher Daniels, Kazarian, Mickie James and Kenny King) vs. Team Aces and 8s (D.O.C., Knux, Mr. Anderson, Wes Brisco and Ivelisse): This is elimination rules. Team US ran wild early and cleared the ring delight of the crowd. You may have expected this, but Bad Influence were the stars of the match. They did three eliminations back to back to back within 30-seconds (Ivelisse, Mickie James, Wes Brisco) to get it down to three on three. Storm argued with Bad Influence, who the bailed on him. This left Storm to battle Anderson and DOC. Storm overcame the odds, and rolled up Anderson and then superkicked DOC for the win @ 18:00. Bad Influence returned to celebrate with Storm, who then laid them out and celebrated with the cup and a beer with Mickie James. This was a solid match, predictable but fun booking, but it was not exactly a great PPV main event. Order of elimination: Kenny King, Ivelisse, Mickie James, Wes Brisco, Knux, (Bad Influence left), Anderson and DOC.
Match Rating: ***
Team US wins the 2013 TNA World Cup, for 'MERICA!
The PPV ended at 10:44 PM ET.


The Tirade


Let me get this out of the way to begin. It is so ridiculous that Aces and 8s are a team for this when they are disbanded, and their leader for this event is the man that was responsible for ending them. Add in that DOC and Brisco are no longer with the company and Ivelisse was never a part of the group, and you see the issues with taping thee shows so far ahead. I know the shows aren't exactly supposed to be canon with current angles, but this would be so confusing to a casual fan deciding to spend money on TNA after watching the recent TV shows.

Overall, if you can get past that, the show was solid. It was easy to watch and had much better pacing than the previous shows. Sure they had to add in a "classic match" to fill the time, but I would rather have a quality match added that endless videos and a full wedding segment like on the Knockouts PPV. There aren't any great matches, but it is an easy show to watch. If you like a lot of the performers on the show or are a diehard TNA fan, I think you'll enjoy the show. Not bad for $15, but not exactly a must see show.

Show Rating: 6.0

As a reminder, I will be going by the 411 scale…

0 – 0.9: Torture
1 – 1.9: Extremely Horrendous
2 – 2.9: Very Bad
3 – 3.9: Bad
4 – 4.9: Poor
5 – 5.9: Not So Good
6 – 6.9: Average
7 – 7.9: Good
8 – 8.9:Very Good
9 – 9.9: Amazing
10: Virtually Perfect

As a reminder, this is not a basic "how good was the show" number like a TV show, as I have always felt that a PPV is very different from a regular show. I have always judged PPV on how they built to a match, the match quality, crowd reactions to matches and angles, the overall booking, how the PPV leads into the future, PPV price and so on and so forth. I have added this in here for an explanation since so many have asked, and I have previously discussed it on podcasts. I understand that this may seem different, but that is how I grade. Obviously your criteria may be different.
---
Have you checked out the Csonka Podcasting Network? If you haven't, you should We run anywhere from 15-20 shows a month, discussing pro wrestling, the world of MMA, the NBA, general sports, popular TV series of the past, bad movies, battle rap, interviews, MMA & Wrestling conference calls and more! Around 10 different personalities take part in the various shows, which all have a different feel; so you'll likely find something you like. All of the broadcasts are free, so go ahead and give a show a try and share the link with your friends on the Twitter Machine and other social media outlets! Running since May of 2011, there are currently over 400 shows in the archive for you to listen to.

Larry Csonka is a Pisces and enjoys rolling at jiu jitsu class with Hotty McBrownbelt, cooking, long walks on the beach, Slingo and the occasional trip to Jack in the Box. He is married to a soulless ginger and has two beautiful daughters who are thankfully not soulless gingers; and is legally allowed to marry people in 35 states. He has been a wrestling fan since 1982 and has been writing for 411 since May 24th, 2004; contributing over 3,000 columns, TV reports and video reviews to the site.

Your heart is free. Have the courage to follow it…TO CSONKA'S TWITTER!

http://www.twitter.com/411wrestling
http://www.twitter.com/411moviestv
http://www.twitter.com/411music
http://www.twitter.com/411games
http://www.twitter.com/411mma