Tremendous Tirades: WWE NXT Takeover 2014
May 29, 2014 | Posted by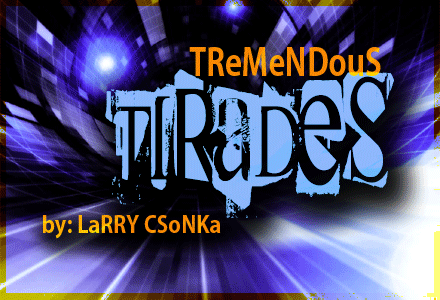 Introduction
As a reminder, this will not be another traditional recap, but instead it will be a mash up of the Rs, Instant Analysis and my usual Twitter ramblings I would do during the shows; completely uncensored and as the ideas flow unfiltered to the old keyboard. Remember, this is a review; and I am here to review the show. As always, I encourage discussion and even disagreement, just do so in a respectful manner. I will be doing the review for Raw and most PPVs and iPPVs going forward.
WWE NXT Takeover 2014
Adam Rose defeated Camacho (5:00): I wasn't sure about this as the opening match. The crowd is obviously behind the Rose gimmick, which helped, but I was thinking that they would go with Zayn vs. Breeze. Anyway, I liked that Rose and the party crew made their entrance from outside of the NXT arena, which made their entrance a bigger party than usual. This was, I suppose, the big blow off to the feud that they have been having on NXT TV. It was just a match. It wasn't bad and the crowd loves Rose, but it was lacking in intensity, especially from Camacho. The dude has a great look, but every time I see him I feel that he is missing something. The highlight of the match was the entrance of Rose, I was hoping for more form this.
Match/Segment Rating: **
We get an awesome Sami Zayn video package.

WWE NXT Tag Team Title Match: The Ascension © defeated Kalisto and El Local (6:00): Ok, the first thing I want to know here is who the hell laid out this match? Yes, lets have the guy with the awesome and crowd-pleasing offense sell 90% of the time and then tag in the guy who is pretending to be a luchadore. Listen, I know that people love Ricardo Rodriguez; he's perfectly fine in the ring, but looked slow and sloppy in this match. Kalisto is the potential star of the team, got his ass beat and hit maybe four moves during the entire match. This was basically a really long squash match, with the right guy taking the pin at least. I know a lot of people aren't fans of The Ascension, they aren't pretty of flashy, but they are a solid bruiser type team. There is a place for them. They need a little more work with other teams with more experience (perhaps send the Rhodes boys down to work with them) and they could certainly be worth a try on the main roster.
Match/Segment Rating: *½
We get a Tyler Breeze video package.

#1 Contender's Match: Tyler Breeze defeated Sami Zayn (18:00): I think that this is a very important match. Sami Zayn is awesome and getting a ton of praise, and if you listen to Triple H and interviews with others WWE knows exactly what they have with him. Tyler Breeze is playing his gimmick well, and seems to have some people excited. But I haven't seen a ton of his in ring work. Breeze is a completely unproven commodity and has to have a good performance here. But if he has a bad match with a guy like Zayn, that would be a disaster for him. Well this was a big test passed for Breeze. This was a great match, good pacing and some great near falls down the line. Zayn plays the underdog very well, and knows how to work a match and work to his opponent's strengths. Breeze showed a lot here, and overall this ended up way better than I imagined, and that was because I just didn't know what to expect from Breeze. There was one rocky spot towards the end, but they worked through it and recovered very well when others would have panicked. The finish was good, as it protects Zayn (you can tease that it was an intentional low blow he way they did it) but it was clean enough that Breeze comes away looking stronger because it wasn't a fluke. Breeze needed the win, but more importantly needed this performance. This was fantastic.
Match/Segment Rating: ****
Bret talks with Natalya and Tyson Kidd backstage.
Lana looked sexy, Rusev killed Mojo, and everything was right in the world.
Paige and her jeans cut a promo about the NXT Title being a way to get to the WWE Divas Title. She also thanked the NXT fans.

Vacated NXT Women's Title Match: Charlotte w/Ric Flair defeated Natalya w/Bret Hart (17:00): Much like Zayn vs. Breeze, this is an important match for Charlotte. She has the pedigree, and the athletic background; but could she put it together on a bigger stage with a veteran? Also, I have rallied in support of women's wrestling for years. I am an advocate for it and feel that it can be a great part of a company. Emma and Paige at Arrival was very good, it was booked well, they had hype and they made it feel important. It was a breath of fresh air in the "WWE Universe" as they call it. Well, this was even better. This, this was designed to feel important and to be a star making performance for Charlotte, and I think that they did that here. They had a hot crowd, Charlotte worked hard, they created drama, I loved the mat work/grappling they did and this felt like the most important WWE Women's match since… shit I don't know since when that's how long it's been. I loved this, just damn fine work from both, they took you on a journey and at the end went a long way to make Charlotte appear to be the next big women's star. They put it over the top when they had Natalya give Charlotte the endorsement, along with Bret and Ric showing respect for each other as well as the raw emotion of Ric as he saw his daughter have her first breakthrough moment in wrestling. I have said time and time again, it's not that WWE can't do women's wrestling right, it's that they chose NOT TO do women's wrestling right. This was great, this felt so awesome watching it, and now they need to transition this to the main roster. And do NOT tell me with SEVEN HOURS OF PROGRAMMING (Raw – 3, Smackdown – 2, Main Event – 1, Superstars – 1) that they cannot do it. I said the same thing with Paige vs. Emma, and this just supports that thought process even more. Charlotte stepped up big time, Natalya did what she was supposed to do and it worked. This was also fantastic.
Match/Segment Rating: ****
Hype video for Neville vs. Kidd.

WWE NXT Title Match: Adrian Neville © defeated Tyson Kidd (20:00): In a theme for the night, these matches (beyond storylines) is huge for the NXT stars. Like Charlotte vs. Natalya, Neville is looking to prove that he can hang with a respected member of the main roster. He has a lot of fans, but the company (from what I have heard) are concerned with his size and lack of promo ability. But the thing is, if you can go, you'll get a chance. During last week's review, I noted that, "They also did a staredown between Neville and Kidd, which I felt worked well enough to set Kidd to be the heel next week." That's exactly what they did here, and it worked. Kidd is the guy that had everything Neville is working for and wants it back. Neville is in his way, it's simple and effective. Speaking of simple, that was the story of the match. They showed that they were about equal, mirror images of each other, and then Kidd slipped into heel mode. It felt a bit slow, but just when I thought it was getting slow in that bad way, they really picked things up and were heading down the stretch. The RANA off the top and red arrow finish was strong, and I liked the match overall. Unfortunately this was good, but not great. The fans weren't into it as much as the other two really good matches, possibly fatigue, but also I felt that it was missing something that those matches provided. This ended up being a good main event to a very strong show.
Match/Segment Rating: ***½
Unlike Natalya, Kidd offered no sign of respect for Neville. He declined the handshake and shoulder bumped him on the way out. Dick.
End scene.
Thanks for reading.

The Tirade


First of all, I want to give respect to the NXT announce team. They once again did a great job, and prove that you cal "tell stories" while putting over the performers in the ring and explaining what moves are, and what they do (Regal is especially great). This is once again an amazing contrast to the main WWE product.

The show started a bit slow for me, Rose is fun but the match was just a match. The tag title match was an extended squash with a poor layout in the fact that Kalisto got no shine. But then Zayn vs. Breeze and Charlotte vs. Natalya happened and rocked faces, and everything was right in the world. Zayn vs. Breeze and Charlotte vs. Natalya are the things you'll take away from this show as being the most impressed with. Not only were they great wrestling matches, but they also did a ton to get Breeze and Charlotte to a new level. That is something vital for the NXT brand to accomplish. NXT specials have officially filled a void that the old Clash of the Champions shows once occupied for me as a fan, these have been great events.

Again, Zayn vs. Breeze and Charlotte vs. Natalya are must see, but the show overall is worth the watch. I liked it "a little more" than Arrival, but the company has to be pleased with both events.

Show Rating: 8.1

As a reminder, I will be going by the 411 scale…

0 – 0.9: Torture
1 – 1.9: Extremely Horrendous
2 – 2.9: Very Bad
3 – 3.9: Bad
4 – 4.9: Poor
5 – 5.9: Not So Good
6 – 6.9: Average
7 – 7.9: Good
8 – 8.9:Very Good
9 – 9.9: Amazing
10: Virtually Perfect

As a reminder, this is not a basic "how good was the show" number like a TV show, as I have always felt that a PPV is very different from a regular show. I have always judged PPV on how they built to a match, the match quality, crowd reactions to matches and angles, the overall booking, how the PPV leads into the future, PPV price and so on and so forth. I have added this in here for an explanation since so many have asked, and I have previously discussed it on podcasts. I understand that this may seem different, but that is how I grade. Obviously your criteria may be different.
Have you checked out the Csonka Podcasting Network? If you haven't, you should We run anywhere from 15-20 shows a month, discussing pro wrestling, the world of MMA, the NBA, general sports, popular TV series of the past, bad movies, battle rap, interviews, MMA & Wrestling conference calls and more! Around 10 different personalities take part in the various shows, which all have a different feel; so you'll likely find something you like. All of the broadcasts are free, so go ahead and give a show a try and share the link with your friends on the Twitter Machine and other social media outlets! Running since May of 2011, there are currently over 500 shows in the archive for you to listen to.

Larry Csonka is a Pisces and enjoys rolling at jiu jitsu class with Hotty McBrownbelt, cooking, long walks on the beach, Slingo and the occasional trip to Jack in the Box. He is married to a soulless ginger and has two beautiful daughters who are thankfully not soulless gingers; and is legally allowed to marry people in 35 states. He has been a wrestling fan since 1982 and has been writing for 411 since May 24th, 2004; contributing over 3,000 columns, TV reports and video reviews to the site.

Your heart is free. Have the courage to follow it…TO CSONKA'S TWITTER!

http://www.twitter.com/411wrestling
http://www.twitter.com/411moviestv
http://www.twitter.com/411music
http://www.twitter.com/411games
http://www.twitter.com/411mma