411's WWE No Mercy Preview
September 24, 2017 | Posted by
~THE STAFF~
* 411 columnist, Mr.
Justin Watry
.
* 411 contributor, Mr.
Brandon Ewing
.
* 411 contributor, Mr.
Mitch Nickelson
.
* 411 columnist, Mr.
Jake Chambers
.
* 411 contributor, Mr.
Paul Leazar
.
* 411 contributor, Mr.
Ken Hill
.
* 411 columnist, Mr.
Steve Cook
.
* 411 contributor, Mr.
Andrew Swift
.
* 411's resident NXT reporter, Mr.
Kevin Pantoja
.
---
Finn Balor vs. Bray Wyatt
Jake Chambers
: Remember how great the Bray Wyatt / Chris Jericho feud was going to be? Oh, and then the Wyatt / Ambrose feud, that was really going to let both guys shine. Wyatt vs. The Undertaker was supposed to be the perfect passing of the torch from one supernatural superstar to the next. And then there was that mysterious time Wyatt had his sights set on an unnamed victim for a whole month… only for it to be revealed as Ryback! Ooh, and Wyatt vs. Orton for the WWE Title at WrestleMania was going to "steal the show" because that's what they said in the media, great idea taking their word for it there! And yet, after all this, fans were still bizarrely asking for a feud between Wyatt and Balor. I guess the excitement was because… um, well, Balor paints himself up like a monster (he says begrudgingly since no one else seems to care that this make-up is clearly racist), and Wyatt… um, well, he can magically control video projections of worms on the ring canvas? Thank goodness we finally got these two together! And the feud so far turned out just like any rational fan familiar with Wyatt's shit career and Balor's inability to do anything different in the ring when painted as "The Demon" (yeah, let's associate clear blackface symbolism with evil again, that's… nope, I'm just gonna let it go). Rambling promos, poor matches, weekly filler, dumb distractions, and no story, point or motivation for either guy to do anything interesting. Bore-fest!
WINNER: Bray Wyatt
Steve Cook: Why is a Finn Balor feud still going on after the Demon appeared? Makes no sense whatsoever. When things don't make sense, I figure Bray is probably winning.
WINNER: Bray Wyatt
JUSTIN WATRY: No explanation needed? Seriously, let's just move on from this. Finn Balor wins and finds himself back in the main event mix. If not Roman Reigns come WrestleMania season, why not have Brock Lesnar defend his Universal Title against The Demon? Makes sense on multiple levels if you ask me.
WINNER: Finn Balor
Brandon Ewing: Bray Wyatt needs to be revamped as a character. I felt like this feud should've been over and done at SummerSlam. Be that as it may, I'm going for Finn Balor. Hate to see Balor being (somewhat) lost in the shuffle on RAW as I feel that he should be pushed back into the Universal Championship title picture sooner rather than later.
Winner: Finn Balor
Mitch Nickelson: I haven't cared a lot about this rivalry. Either there's not much chemistry between these two or this feud simply hasn't been given much from creative. Both of these guys are super talented and have been in entertaining programs in the past, but in this moment, that don't impress me much. I guess I could hold out hope that because I don't have high expectations here then it'll be easier for me to enjoy this.
WINNER: Finn Balor
Ken Hill:
Demons' rubber match,
but the real evil twist here,
turns out that it's man.
WINNER: Finn Balor
Paul Leazar: I just don't care. I really don't. WWE doesn't seem to either. Finn wins, we put this to bed, and hopefully, WWE can figure out what to do with these two that doesn't bore the pants off of everybody in the building.
WINNER: Finn Balor
Andrew Swift: Honestly forgot this was even a feud. Can it … not be a feud? And then … can Bray Wyatt not be a thing?
Winner: Finn Balor
Kevin Pantoja: I really like Finn Balor, but this feud is the shits. Everything Bray Wyatt does just feels so pointless and hollow. The one interesting angle he had recently (Orton in the Wyatt Family) was ruined by a horrible ending. Finn should be doing more. Why can't we have Finn feuding with Miz for the Intercontinental Title? Anyway, I say Finn wins because if he loses when not being the demon, he looks like a big goof who can only win after painting himself.
WINNER: Finn Balor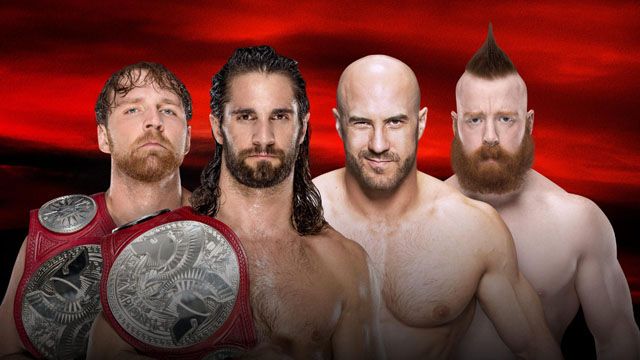 WWE Cruiserweight Championship Match: Enzo Amore vs. Neville
Jake Chambers
: In this period of homogenized, corporate wrestling, something about the new Enzo "character" is starting to catch on with me. Where career rebels like Kevin Owens and Dean Ambrose are now apparently just good company men, Enzo has emerged as a backstage counter-culture cult hero. And this is quite the shift, because after floating by for a couple years on the most cheesy of wrestling-biz bits, the chant-along promo, and then being able to speak so rhythmically and fluently in ad spot, Enzo had become a WWE marketing team dream. But now we are being led to believe that everyone backstage hates the guy because he has an "attitude". Whether or not this is true, it does play so perfectly against the modern WWE smark fan. The ones who buy into all the gossip and, even further, buy into the corporate business success of the WWE (mystifyingly, at the sake of regular great wrestling programming). This smark-baiting, career tight-rope-walking persona for Enzo, along with his clear popularity with mainstream "mark" fans such as kids and moms, has made him the new CM Punk, and no doubt, his success salvaging 205 Live out of obscurity is the kind of against-the-odds achievement Punk kept delivering when we were supposed to believe he was also hated backstage. In many ways, this is the better blurred-lines "reality-era" storyline than the Reigns/Cena feud since this one is not being marketed as such, which is what paradoxically makes it interesting, and means most likely, that despite Neville's great year as a heel Cruiserweight champion, Enzo is the one with the weight of the division on his shoulders, and thus champion he must be.
WINNER: Enzo
Steve Cook: Good luck Neville is all I really have to say here. If he gets something good out of Enzo he should be Wrestler of the Year.
WINNER: Neville
Justin Watry: Well, I said the Akira Tozawa Cruiserweight Title win would just last six days, and it did! I said Enzo Amore would do nothing of note on his own and move to 205 Live, and he did! Two for two in the ever thriving cruiserweight division. Outside of Neville, there is next to no buzz for these guys. It is a shame too. I know it is tiresome to look back at last summer…but wow, the Cruiserweight Classic was so awesome. I just went back and re-watched some of those bouts on the WWE Network. So great. It was never going to be able to match that atmosphere in large arena on a weekly basis – still, what a contrast from 2016 to 2017. Ouch. Neville retains.
WINNER: Neville
Brandon Ewing: Love him or hate him, Enzo has been a breath of fresh air for the division. I think this is going to be an interesting match-up to say the least. Neville, in my view, is without a doubt the best performer in the Cruiserweight division, with or without the title. Having said that, this is going to be a close call, but I'm gonna go with Neville.
Winner: Neville
Mitch Nickelson: I know he's got more than his fair share of detractors, but as far as I can see Enzo Amore on 205 Live is an experiment that is working. His outlandish personality and star power stands out among a roster that's more known for their in-ring work. I have confidence that Neville could bring out the best singles match of Amore's career if he's motivated to do so. As far as the outcome is concerned, Neville should not be losing here. That would be silly if he did. You're still the king of the cruiserweights, Neville; you're still the one that needs to be leading that division.
WINNER: Neville
Ken Hill:
Their 205 Live bit had some intrigue,
but there's been little else to show.
Lana can rest easy and hold Enzo's beer,
while his nuclear heat continues to grow.
WINNER: Neville
Paul Leazar: What a fall from grace for Enzo. Not only can he not buy a win on TV, to which has come to the point that crowd just doesn't believe in him, but they've stuck him on a show where his great weakness sticks out like a sore thumb. I understand he has the personality that WWE is looking for to brighten up 205 Live, but I just haven't been a fan of the move at all. Neville, on the other hand, continues to be the wonderful King that he is. I've greatly enjoyed his runs with the title so far, and I'm eager to see that continue here.
WINNER: Neville
Andrew Swift: Can Neville get Enzo Amore to tap out faster than Naomi tapped out Lana? Find out Sunday! (And let's hope!)
Winner: Neville
Kevin Pantoja: Enzo feels like the anti-205 Live star. His in-ring work isn't good, but he has the personality that most guys there are severely lacking. This should be a one sided victory for the King of the Cruiserweights. He should still be in the midst of a nine-month reign (losing the title for six days was stupid) and Enzo should just be a roach for him to stomp out while remaining the man. Have his title reign last until WrestleMania or something. Make it mean something.
WINNER: Neville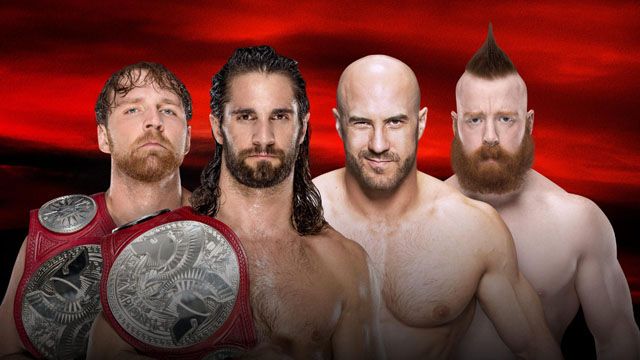 RAW Tag Team Championship Match: Cesaro and Sheamus vs. Dean Ambrose and Seth Rollins
Jake Chambers
: Time for my bi-monthly, Roundtable, Sheamus jerk-off session! The other three guys here I like fine, but it's up and down. With Sheamus, I just love the guy unconditionally; good or bad, singles or tag team, curtain-jerker or main event-er. He looks cool, never has a bad match, can be funny and bad ass, and is easily the best part of this feud, if that's what we're calling the current state of anything WWE tag team related, which is just flipping champions every title match. Which is fine with me, because it means Sheamus will win once again! Find a wrestler you love people, and love them to the max!
WINNER: Cesaro & Sheamus
Steve Cook: The end game here seems like Shesaro getting the titles back after Ambrose turns on Rollins. Is it too soon for it to have the biggest effect? I think so. Hell, they haven't even teamed with Reigns yet. I'd let Amborse & Rollins keep doing what they're doing,
WINNER: Ambrose & Rollins
@JustinWatry: The only reason I give Cesaro and Sheamus much of a chance is because Roman Reigns will surely join up with Dean Ambrose and Seth Rollins at some point. The trio has their first match as The Shield at TLC five years ago. Maybe they all reunite there? Heck, Survivor Series featured a tease of them last year. Why not do it again in 2017? Reigns did this 'filler' feud with Braun Strowman (a very good feud mind you) to keep him away from Brock Lesnar. Now he needs to stall another few months before WM34 build begins. That means doing something with The Shield. I am picking Ambrose and Rollins but am not THAT confident.
WINNER: Dean Ambrose and Seth Rollins
Brandon Ewing: This should be a great match-up. Not much to say as I find this to be a predictable contest, but should be a show stealer. I'm gonna go with Seth & Dean retaining the titles. No way they're going to drop the belts this soon.
Winner: Dean Ambrose & Seth Rollins
Mitch Nickelson: Both of these tag teams are the stories of former rivals who've learned to put their differences aside to accomplish great things together. Each duo has a back story, a bond that keeps them together. Any one of these four can say that any man of mine that's been through what he and I have been through deserves to carry championship gold. I originally didn't pick a single title change on this card, so I think the one obligatory switch in my predictions will be right here.
WINNER: Cesaro & Sheamus
Ken Hill:
The former champs netted a non-title win,
to keep them in the championship loop.
Yet the focus is on Dean's eventual turn,
though I doubt it'll all be in one swoop.
WINNER: Ambrose and Rollins
Paul Leazar: There isn't nearly as much sizzle going into the match as there was going into their last encounter on PPV. They've sort of settled into a holding pattern here with these guys, and it's lost some steam for both teams. However, we know what they can do in the ring, and that's where the excitement comes in for me. We know that Dean and Seth are retaining here, as I don't see a large purpose in moving the titles back to The Bar.
WINNER: Dean Ambrose and Seth Rollins
Andrew Swift: There doesn't seem to be any reason to take the titles off Ambrose and Rollins. The match will likely be very good—Raw's tag team division has been pretty clearly the second-best part of the show the last few months.
Winner: Ambrose & Rollins
Kevin Pantoja: I loved their match at SummerSlam, giving it ****. This should be another high quality match. All four men are just that good. I don't see them ending the Shield reunion just yet. Dean and Seth should retain and be involved in some kind of multi-team clusterfuck at Survivor Series. Hopefully, the Revival will be back by then and then they can take the titles off them. Expect a great match and a title retention.
WINNER: Dean Ambrose and Seth Rollins
RAW Women's Championship Fatal 5 Way Match: Bayley vs. Sasha Banks vs. Nia Jax vs. Emma vs. Alexa Bliss
Jake Chambers
: To go from the Mae Young Classic, which provided great singles matches with real stakes and clear wrestling strategy being employed, to yet another bullshit, multi-woman main roster women's match is so typically WWE. These constant multi-person matches are such a boringly wheel-spinning crutch for the WWE to pretend they're committing to the women's division. And if you're thinking Asuka is going to somehow save this from happening every week, well then try to remember back to what you thought was gonna happen when Sasha, Becky or Charlotte debuted on the main roster, or when Bayley walked out for her first RAW promo and got a "You Deserve It" chant before she even said a word. It really doesn't matter at all who wins this match, so predicting an outcome seems even more ridiculous. I'd say the best long-shot odds, if you were placing a fun bet, would be Emma, only because WWE sometimes likes to throw in a shock win for the last person you'd expect in these random multi-person matches. And honestly, if she was champion, what difference would it make?
WINNER: Emma
Steve Cook: I already covered this. I could be "that guy" and predict something else here to cover my bases, but I should probably post it somewhere else if I'm going to pull that move.
WINNER: Emma
justin watry: When dealing with multi-person matches, I always use a process of elimination. Make it easy. Sasha Banks? No thanks. Been there, done that. Clearly, WWE does not see her as being a long-term RAW Women's Champion at this stage of the game. Also, why hasn't she turned heel yet? Come on already. Not like her face run is doing much. Bayley just returned, so it is not her match to win. Make the lovable underdgo work her way up again. Nia Jax? I don't know. I have probably been a bit harsh on her in-ring/promo skills since being called up to the main roster. She has improved but like Sasha, it seems the company is hesitant on making her a long-term champ. Had many chances to crown her and have not done so. Give it time. Jax will get there. That leaves Emma and Alexa Bliss. Honestly, I am leaning towards Emma. A lot of folks suspect she is just in there to take the pinfall. Considering Roman Reigns was in the fatal four way Summerslam main event and shockingly took the loss, never say never folks! There is more to Emma being involved than just to lose. In the end, it is tough to predict Bliss loses her title AGAIN in such short order (no laughing please). If only we could get that No Mercy cheer going…
WINNER: Alexa Bliss
Alexa Bliss: This is going to be a big clusterfuck of a contest, quite honestly. I don't mean that in a bad way, but we will see what happens. I think the seeds will be firmly planted to setup a Bayley/Sasha feud. EMMA and Nia Jax will be showcased and put over strong in this match. However, when the dust has settled, I think Alexa Bliss is going to squeak by and retain the title.
Winner: Alexa Bliss
Mitch Nickelson: The more competitors there are in a match simply means that the odds are even greater in favor of the champ retaining, right? I wish WWE would get Emma right because ever since that goofy Emmalina attempt, they've been squandering her potential. My pick is still that Alexa retains but man, I feel like a woman who's progressed as much as Nia Jax should be expecting a title run in the near future. In the end, Bliss probably makes the most sense to be the one holding onto that strap when Asuka arrives.
WINNER: Alexa Bliss
Ken Hill:
These additions only serve to subtract,
plenty of twists,
but little substance to match.
I suppose it's Bayley's time once more,
so Sasha's heel plot can finally hatch.
WINNER: Bayley
Paul Leazar: What a cluster this has been. What originally has been slated to be rematch has been thrown into chaos in an attempt to make it look like everybody in the division can compete so when Asuka comes, it's not just here rolling nobodies. As much as I enjoy Emma's work, we know she doesn't have a prayer here, and I think the same could be said for Sasha, who WWE seems to have penciled as a bridesmaid for life with the her seeming inability to hold onto the championship. I question whether Bayley should have been tossed into the picture against so soon after her return. I dare say maybe another month away would have been better to let people try to forget what she had been doing beforehand. That leaves Nia, who I wonder if the WWE wants her to win here to have the strongest opposition in the way of Asuka when she gets here, or if they leave the division in the safe hands of Alexa, so people will get the joy of watching the resident jerk get what's hers. I'm gonna lead towards Alexa retaining here, and sneaking in to get the victory some how.
WINNER: Alexa Bliss
Andrew Swift: Who knows anymore? Nothing seems to matter in Raw's Women's Division, and there surely isn't any purposeful direction. Things happen, then other things happen. It really comes down to whether Asuka is debuting Monday, or not for another few weeks. If she's slated for the No Mercy fallout show, there's a chance Emma shocks the world and walks out with the title. But if not, the very safe bet is that Raw will keep the Women's Championship on Bliss.
Winner: Alexa Bliss
Kevin Pantoja: Speaking of clusterfucks, we've arrived at the horrible Raw Women's Title scene. What the hell are they doing with this division? Going back over a year, they did the stupid trading of the title between Sasha and Charlotte to the point where everyone was sick of it. Then, they had Bayley win the title on a random Raw. She ended Charlotte's ridiculous PPV winning streak in lackluster fashion, before retaining the title in a mediocre match at WrestleMania. Alexa Bliss got swapped out for Charlotte and has now made Bayley look like a joke and ended another Sasha reign after just a few days. At least they're trying stuff with Nia and Emma, though it isn't good. I'll say Alexa retains due to the multi-person nature of the match.
WINNER: Alexa Bliss
WWE Intercontinental Championship Match: Jason Jordan vs. The Miz
Jake Chambers
: The Miz continues to be the best wrestler in the WWE, shaming Reigns, Cena, Brock, Styles, Owens and Nakamura every week by doing everything a main event level star should and can do… and yet he's continually booked in these mid-card feuds. More backwards, dopey logic by the WWE. But okay, they want Miz to work his magic and make Jason Jordan look like a star, something he's already done more in a few weeks than all the NXT power-chanting hype smarks did for American Alpha. I'm assuming this is all leading to either a Miz/Angle match, or Jordan joining with Miz to eventually challenge his "father" Kurt to a match that he'll "refuse" for weeks. Fine, whatever, but sadly none of this is ending with what really should be happening: The Miz as WWE / Universal champion.
WINNER: The Miz
Steve Cook: Jordan is nowhere near ready for this and the push isn't really taking so far, but I see it as a way to bump Miz's title reign number up and increase Miz's anger towards Kurt Angle.
WINNER: Jason Jordan
JUSTIN WATRY: Hey, Jason Jordan went from losing on the Summerslam Kickoff Show to earning an IC Title shot. Not a bad addition to the already stacked No Mercy card. I am fine with it. Jordan has proven to be extremely talented in the squared circle. Not only with his American Alpha pairing but also as a single's act on Raw. The match with John Cena was very good, as was his clash with Roman Reigns a week later. The dude can GO in the ring. The problem is and continues to be his dull personality. Connecting him with Kurt Angle was a smart move to give him a boost, but now it needs to be capitalized on. Whether it is a heel turn or showing a mean streak, we can always get there in due time. I think The Miz keeps the IC Championship. However, would anybody really be shocked if the opposite result occurred on Sunday? Perhaps Charlie Haas can help him win.
WINNER: The Miz
Brandon Ewing: If there ever was a time to put someone over as a solid mid-card champion, it would be this match with Jason Jordan and The Miz. WWE has been very diligent about this angle (no pun intended) with Jason Jordan and I feel like what better way to push his character to the next level then by defeating arguably the best [modern day] WWE Intercontinental Champion WWE has on their roster. I pick Jason Jordan to win the match and become the new Intercontinental Champion.
Winner: Jason Jordan
Mitch Nickelson: I love The Miz, but he needs something more substantial. That brief moment of mouthing off to John Cena and Roman Reigns a few weeks back reminded me again why he should be given at least 20 minutes of screen time (minimum) every Monday Night. From this moment on, that should be an official rule. I'll make a Change.org petition in a minute to demand that from WWE. If there's plenty of in-ring time, this contest will probably be another good showing for Kurt Angle's son even if he doesn't win (and I don't think he will). Keep giving that man lots of bell to bell time and people will come around on him.
WINNER: The Miz
Ken Hill:
Jordan's bumped up a few notches,
after a couple of decent bouts.
But a screwy finish should lead to tempers flaring,
perhaps a "father and son" on the outs.
It's not quite Jordan's time here and now,
his growing temper will be Kurt's trouble.
Miz will continue to break IC records,
and congrats to the expecting couple.
WINNER: The Miz
Paul Leazar: Here's something that has some interest. The Jordan is Angle's Son thing hasn't been a huge success, but you can't say it hasn't made Jason interesting. The comparisons are being drawn on screen, and that means it's story time. Kurt came into the WWE, and found instant success. What if Jason thinks he's destined for the same. We know he's tired of people talking about it, and watching him fail to capture the Intercontinental Title could be really fun. That frustration, plus all the locker room talk getting to him would make for a great story for him to break under the pressure, and just start murdering folks. Mostly though, I'm just happy The Miz's spotlight has gotten somewhat brighter. The war for respect will always continue for him, and it's a story I'm super interested to follow.
WINNER: The Miz
Andrew Swift: This Jason Jordan experiment is not working, to say the least. He's shown impressive displays in singles matches lately, but that's kind of hard not to do when you're wrestling Roman Reigns and John Cena. The origin story of being Kurt Angle's illegitimate son has failed to connect in any meaningful way, and that doesn't seem likely to change any time soon. Meanwhile let's all imagine the alternative universe where The Miz stayed on SmackDown Live and has been WWE Champion for the last four months, making the show Actually Good with dynamite segments week-in, week-out. It's a nice thought experiment. But WWE doesn't look to be slowing down the Jordan push anytime soon, so they'll likely stick the Intercontinental Championship on him.
Winner: Jason Jordan
Kevin Pantoja: Why? Jason Jordan is fine in the ring, but the fans haven't bought the long lost son angle, pun intended, and he consistently comes out to the Charlie Haas pop. He's not ready for this. The Miz, on the other hand, deserves so much more. With Brock Lesnar not always around, they need to understand that they have the Intercontinental Title on the PERFECT heel. Miz and that title should headline shows that Brock misses. Make him and the title mean something. Remember when Miz did the unthinkable and made Dolph Ziggler interesting last year? Miz should be able to do that for Jordan in this match, and get the crowd behind him. I could see them hotshotting the title to Jordan, because they do dumb shit like that, but I've got to go with Miz.
WINNER: The Miz
Roman Reigns vs. John Cena
Jake Chambers
: I love Cena. He's my favorite wrestler and I consider him in the top 5 greatest wrestlers of all time, and believe he's second only to Hogan in terms of being the biggest WWE superstar ever. So yeah, I really liked this feud. Liked. Because even with all of Cena's A-level promos skills, and helping to lift Reigns to some of his best work on the mic, the WWE still has no idea how to craft an actual story out of the legit personality and style clash between these two "chosen ones". They come up with a premise of having them "shoot" on one another, do a great job introducing executing it twice, and then two weeks later everything just feels repetitive and dumb. And that's right BEFORE the actual match is to happen! Huh? Why? When they've got 3-hour TV shows every week, and the monthly 3-hour PPVs are now worth like $3, why continue to wait to pay off "storylines" that they don't know how to construct properly anyways? I don't see the business sense or creative purpose to "building" towards a PPV match without actually building anything. Reigns and Cena should have fought in the second week of this feud, when the anger between them was at it's peak. Something then could have happened to propel the story into the next match between them, and so on. The wrestling should dictate the drama: strategies in the matches, calling them out before and after, putting new modified strategies to work. Just going out there and wrestling the same jobber while the other watches is old school PPV logic, that even then was barely a storyline. WWE could take some cues from Evolve or Lucha Underground on how to pull the trigger quicker on matches in order to build the story with the ring work instead of just forcing repetitive promos that provide diminishing dramatic returns in the build up to only one match down the road. Do I think this will be a good match. Yeah, but that won't make up for basically killing what was a pretty hot premise the night they first battled on the mic. But if you're looking for a winner, well, never bet against Cena.
WINNER: John Cena
Steve Cook: This reminds me of when John Cena fought the Rock the first time. Everybody thought Cena was going over because Rock was part-time. But Rock winning was the right move because it gave Cena something to stew over and made his eventual victory in the rematch mean more. Reigns needs to come up short here, and use that as motivation to up his game. That way, when it's time, it'll work.
WINNER: John Cena
Justin Watry: If you want to know why this dream match is happening at No Mercy, just read my past few columns. Here and elsewhere (on another website), I explain the situation in full detail. The promos and hype have been stellar and will no doubt give this show the attention it deserves. Had this not been on the card, it would have been a throwaway September event without any drama. With this (and the main event), it becomes MUST SEE! I love that. We'll all be glued to our television screens once the bell rings. Quality of said bout is to be determined. As for an outcome, you have to go with Roman Reigns. Clean and fair or via The DeadMan, John Cena is still technically part-time and won't be around for much of the rest of 2017. Roman Reigns is not going anywhere and should finally get a win on a live WWE Network special. It has been over five months ladies and gentlemen! He should win the physical clash on Sunday and then get the final word on Monday to close their verbal clash. Believe that!
WINNER: Roman Reigns
Brandon Ewing: This match is the one we've all been dying to see take place. While I truly feel this is one of those contests that should've taken place at a bigger, high profile PPV like a Royal Rumble or WrestleMania, etc. For the hype this match has been given and all the trash talking on both sides, I feel like Roman Reigns has much more to gain than to lose here. Cena can lose and not be hurt by it, where as if Roman loses this match then he's everything that Cena has said about him. So, I'm gonna go with Roman Reigns.
Winner: Roman Reigns
Mitch Nickelson: This has been mostly a battle of words, so much so that it's easy to forget that I do want these guys at some point to hit each other in the mouth. The promos have been great, but it feels more like a battle rap series than the build for a pay-per-view match. Regardless, both Cena and Reigns are awesome in the ring. This should be good. Even though he's more of a part-timer these days, I find it hard to bet against the forever and for always real life superhero of the WWE. Even though it feels weird to not pick John, Roman will win here. The plan is still for him to face Brock in the Mania main event, as far as I know. The Big Dog needs to build that big match momentum again and it can start with Alex Riley's best buddy.
WINNER: Roman Reigns
Ken Hill:
Cena's spoken words scorch the earth,
often make it hard for Reigns to follow up.
It may well be another Samoa(n) Joe that stops
Cena from going "Bob Barker" on the Big Pup.
WINNER: Roman Reigns
Paul Leazar: Here it is guys. A big money match on a not so big PPV, but hey, it's been fun. Roman's been shown up the whole time he's been in the ring with Cena, and Cena has just been himself. This only ends one way, and whether that's the end of it or not, who knows? Roman wins, nobody is surprised, but I wager this could be a pretty good match in all respects.
WINNER: Roman Reigns
Andrew Swift: It really doesn't feel like this match is that big of a deal, does it? Cena's obviously working a part-time schedule and the maneuvering to get him on Raw for this match was totally ham-handed. ("Hey guys, SmackDown's top draw is now on Raw because we said he's a free agent!") Combined with WWE's refusal to actually present Reigns as their top star and stringing his "coronation" along for several years instead of just committing to him, it means this bout feels like it belongs on a No Mercy card, and very much not, despite WWE's protests, in the main event of WrestleMania.
Winner: Roman Reigns
Kevin Pantoja: This is the toughest match to call. If this is a one-off, then I go with Roman Reigns. I feel like the ultimate endgame is for John Cena to put Reigns over and say that he respects him and such. If this is their only match, that will happen this time. If this is part of a larger story that will span 2-3 matches, then I'll go with Cena winning the first one. Reigns will then have to reach down and build up to his redemption. The best idea, if that is indeed the endgame, is for this to be a larger story. That being said, the WWE tends to blow their load and not think long-term. Plus, Reigns only has two PPV wins this year. I'll go with him, but like I said, it could go either way.
WINNER: BIG DOG GOTTA EAT
WWE Universal Championship Match: Braun Strowman vs. Brock Lesnar
Jake Chambers
: Brock Lesnar is the Universal Champion, and is more famous and dangerous than Roman Reigns and therefore potentially a bigger threat to Strowman. And yet, when Strowman was feuding with Reigns he basically tried to murder the guy using all of his super strength and relentless attacks, but with Brock, all Strowman did was no-sell a German suplex and then growl a lot. I mean, wouldn't this guy want to go out of his way to try and destroy Brock even worse than he tried with Reigns? Why would he put less effort into intimidating Brock? Of course, Reigns was always going to be able to get a much more satisfying match out of Strowman than 2017 Brock will be able to, so maybe having Braun throw Lesnar into a threshing machine or something would make things look even more ridiculous when he's eventually defeated after a few suplexes and an F-5 or two. Again, like the Reigns/Cena match, it all comes back to lack of storytelling for me. We're getting the same Heyman promos, the same minimal effort from Brock, and basically a 4-week re-hash of the one-dimensional Samoa Joe feud from earlier this year. Despite the Universal Title being on the line (so funny that this is supposed to be the main WWE title… just look at that lineage… ugh!), I hate to say it but Strowman, the relative rookie here, deserves better than being another 2017 big dude for the WWE to slam into Lesnar to make you forget they're building to Roman/Brock at WrestleMania no matter what.
WINNER: Brock Lesnar
Steve Cook: I've lost track of whether or not Brock is leaving or not. The best move nowadays is to assume that he's not. I do worry that Braun could end up like Ryback post-losing to CM Punk and that wouldn't be good, but Brock seems like the good bet here.
WINNER: Brock Lesnar
@JustinWatry: Admittedly, Roman Reigns/John Cena is MY main event of the evening. However, that does not take away from the epic confrontation we are going to see between Brock Lesnar and Braun Strowman. This Universal Championship bout was the big 'night after WM tease' back in April. We are finally getting that payoff. While there are arguments to be had for Strowman winning the title and being a made man for defeating The Beast…I am going with Brock Lesnar. Hard to bet against him. Ever. It may suck to go the rest of the year without the top champ on RAW, but we don't know what his upcoming schedule is beyond the usual rumors saying he will be off TV for awhile. All it takes is a phone call (and a nice check) to change that. Brock Lesnar somehow, someway gets past No Mercy with the belt. How does he beat The Monster Among Men? The heck if I know…
WINNER: Brock Lesnar
Brandon Ewing: In my heart I would love for Braun Strowman to become the new champion. I feel like it's his time. I don't know if WWE is ready to pull the trigger and give him a title run. I'm torn, as I feel from a booking standpoint WWE wants to draw this WWE Universal Championship run with Lesnar out for as long as they can. However, Strowman is prime and ready for this. I'm gonna go with Braun to win the title and take a risk here. He deserves it! He may have a short run but it's a run that he has earned over the last several months of solid storyline telling and character building.
Winner: Braun Strowman
Mitch Nickelson: When Braun no sold one of Brock's deadly German suplexes, he had a look that said "I'm gonna getcha good." In turn, Lesnar looked dumbfounded. Strowman will have his biggest opportunity yet to get Brock good at No Mercy when he vies for his Universal Championship. The Monster Among Men has been booked a little too strong going into this to say he has a chance to win. I love Braun and hope the next time he flips a multi-ton vehicle with Roman Reigns inside, he does it with a major title around his waist. However, I don't think he's winning here. Brock will hold the belt until Roman takes it from him again.
WINNER: Brock Lesnar
Ken Hill:
A long-awaited clash of titans,
Monster Among Men versus Beast.
Strowman's mowed down all in his path,
causing Show's career to have ceased.
Brock stands and jumps around,
while Heyman hard sells and raves.
But Suplex City has only been a detour,
Braun bowling over Brock like crashing waves.
Lesnar's struggling, fighting from underneath,
a rare sight in his career, indeed it's true.
Perhaps a new four-word creed will arise:
NOT. FINISHED. WITH. YOU.
WINNER: Braun Strowman
Paul Leazar: They NEED to move the title here. Early reports from this year had Brock and Roman penciled in to headline WrestleMania in 2018, but they've spent so much time telling a great story between Roman and Braun, that maybe switching spots would be very worthwhile. Braun is the only dude that Roman hasn't been able to beat (and you could say the same for Brock too), but you know that Braun is going to stick around, and the future for Brock and the WWE has gotten murky once again with Brock wanting another fight in the MMA world. Braun has a ton momentum, and he's the hot hand right now. Just give him the strap already!
WINNER: Braun Strowman
Andrew Swift: Big Lads being Big Lads. It would be thrilling to see Strowman win the strap in LA, and would be a big show of faith in a breakout star and at least temporarily make the WWE Universe believe that something might actually matter between now and WrestleMania. If only.
Winner: Brock Lesnar
Kevin Pantoja: What would the right move be here? Put the title on Braun Strowman. He's special. He's caught on quicker than we thought, has been genuinely awesome and interesting, while having better matches than most of us expected. Brock is fine, but you know you typically don't get his best effort. Braun should wreck his world here and win his first major title. However, I fully expect Brock to withstand Braun and overcome him to retain the title. Joe and Braun have both been allowed to look just as good, if not better, than Brock in the build and I think it's all so Roman will look even better by comparison when he finally takes the title off Brock.
WINNER: Brock Lesnar
JOIN 411 TONIGHT AT 7PM ET FOR OUR LIVE WWE NO MERCY COVERAGE!