Botched!: Bayley's Missed Elbow Drop, Chad Hawkins?, Kendrick's Dirty Nose, More
March 11, 2017 | Posted by
We all love professional wrestling. We know it's "fake". We suspend our disbelief every time we watch WWE, Impact Wrestling, New Japan or whatever we're into because it's more fun to watch things that way. But sometimes we get taken out of the moment. Wrestling shows don't always run smoothly. As great athletically as pro wrestlers might be, they can't hit every single move every single time. As great as some angles might sound on paper, they don't always look good in execution.
Botched! will be our weekly look at some of the faux pas that took place on our television during the week that made it a little bit tougher to suspend disbelief. As great as every professional wrestler is, they aren't perfect. In fact, the botches stand out simply because of how good this stuff is otherwise. If they didn't stand out, I would have tuned out long ago and wouldn't have watched pro wrestling for twenty-seven glorious years.
Here's this week's miscues…
1. If You're Gonna Elbow Drop The Queen, You Best Not Miss
Bayley's an excitable girl. Her dream in life was to be a WWE Superstar, and she's accomplished that. She's even become the Raw Women's Champion, which is a variation of one of her lifelong goals.
Sometimes her excitability shows through in her wrestling. Sunday's match with Charlotte was a prime example of it. The match was humming along fine while Charlotte was on offense & Bayley was taking the punishment & getting the sympathy, but once she made her comeback, things got a bit hairy.
Sometimes you set up a move and it ends up that you can't do it. It happens. You gotta let it go or come up with something else.You need to improvise sometimes. Bayley tries these things anyway, even though it seems like she knows they probably won't work.
2. Looking Like Some NFL Refereeing Here
Referees have one of the toughest jobs in wrestling. They have to keep the wrestlers under control, relay messages from the back, and make sure the match runs on time. They also have to look like legitimate officials and appear to know what they're doing. As the old saying goes, a good referee can make a good match great, and a bad referee can make a good match horrible.
Bayley followed up her FastLane title defense against Charlotte with a match against Sasha Banks on Raw, where if Sasha won she would get to be in the Raw Women's Championship Match at WrestleMania with Bayley & Charlotte. Sasha ended up winning eventually, but maybe not quite as soon as the referee of the match would have liked.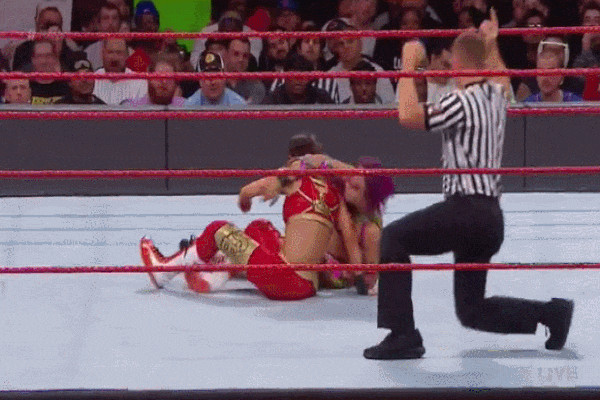 It's one thing if you're out of position and can't see whether or not the shoulders are down or not. It's bad, but at least you have an excuse. When you're looking right at the shoulder being off the mat and you're just counting along anyway because it's part of a chain of pinfall attempts, you're not helping the match. WWE has cracked down on this the last several years and I'm sure the ref got a good talking to backstage.
3. Chad Hawkins?
Curt Hawkins doesn't appear on SmackDown Live very often. When he does, he's usually in the role of losing to Mojo Rawley or taking a beating from Dean Ambrose. SmackDown might be the Land of Opportunity, but Hawkins hasn't had very many since his return to WWE. Sometimes you almost forget he's there, even though he's very active on the house shows and often appears in dark matches. He's slightly more visible than Jack Swagger most of the time.
SmackDown commentator Mauro Ranallo has as hard a time remembering Hawkins as we do. While Hawkins was getting run over by Dean Ambrose on the Lunatic Fringe's way to the ring to call out Baron Corbin instead of wrestle Hawkins, Mauro referred to "Chad Hawkins" getting taken out by Ambrose. Apparently this isn't the first time this happened, as while trying to find video of this I found some other instances of Mauro calling him "Chad". I can only assume this is a running joke, but then again Mauro can be forgetful. It took him a few seconds to remember Austin Aries' name on 205 Live, and Aries was sitting next to him at the announce position for months prior to this week.
Good thing Mauro wasn't around back in the early-2000s when they had multiple Chrises & Steves. Poor Jim Ross never could keep track of it all.
4. I Mean…Who's Trapped Somebody Under A Forklift Before?
Dean Ambrose eventually found Baron Corbin backstage, and it didn't end up too well for him. After laying Ambrose out, Corbin thought it would be a pretty cool idea to trap the Intercontinental Champion under the forks of a forklift so he couldn't get up. Classic wrestling assholery, right?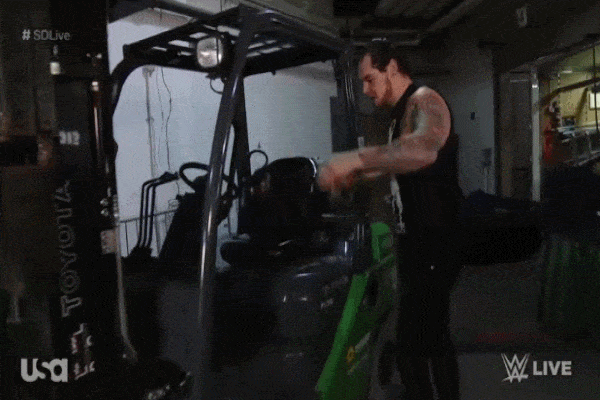 It was a nice try, but this just went to show why Mankind made sure there was something in the forks when he used a forklift to win the WWF Championship from The Rock at Halftime Heat.
Much more effective. Foley thinks the moment was ruined by the camera looking straight into Rock's eyes, but I thought Rock's reaction made it more entertaining. The skid full of 55 gallon barrels made for a better visual effect and you couldn't see that the skid wasn't actually crushing Rock. Baron Corbin looks like a motorcycle riding kind of guy, there's no reason he shouldn't have some big drums of oil on hand at all times.
5. A Bryan Kendrick's Got a Dirty Nose!
I caught 205 Live this week and the highlight for me was seeing one of indy wrestling's great unsigned talents, Arik Cannon. The Anarchist/Kool Aid Man has been tooling around the indies for well over a decade now, and it was nice to see him get a part on this show in the role of "A Bryan Kendrick". He looks to be in better shape than the last time I saw him and he's even ditched the trash bags he used to wear, which should help him out a lot.
Kendrick did a pretty good job for the most part, except at the end of the match…Tozawa hits the bridging German suplex for the win, and the Anarchist is less concerned with that than he is with wiping his nose and getting those boogers cleared up. You can get away with that in the indies because the camera angles aren't as good, but here you're up close in front of God & everybody. You have to wait until that three count before you take care of your personal hygiene. You got dropped on your head, man. That supersedes boogers.
I will give him credit for being polite about it. A lot of indy guys just blow their nose & snot all over the place and it's pretty disgusting. The timing was bad, though.
Dishonorable Mention: Sasha Banks Beats Nia Jax Cleanly. Was She Supposed To?
We're going back to FastLane for this one, simply because I'm not 100% sure this was actually a botch or not. The reasoning does make sense though. Sasha Banks & Nia Jax faced off in a rematch of Nia's complete & utter destruction of Sasha at the Royal Rumble. Sasha got more of the same treatment early on, but eventually came back and even scored the victory.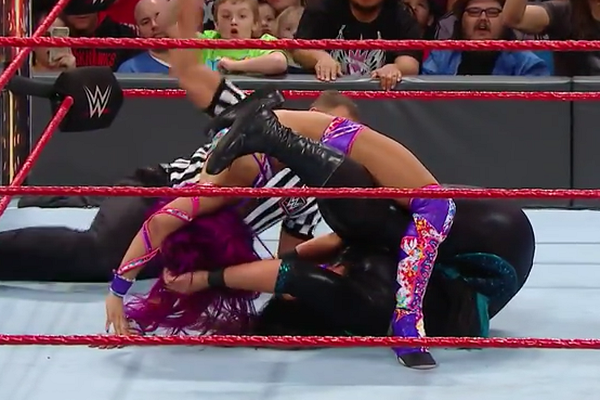 I didn't really think anything of it at the time, other than I was happy that Sasha was moving on from Nia. Apparently not! According to Bryan Alvarez from the Wrestling Observer, the original finish was supposed to be Nia going over. Then Sasha was chosen as the winner, but she was going to hold the ropes on the finish to further the slow burning heel turn she's doing. That didn't end up happening, as Sasha & Nia ended up out of position.
Do we think this was the plan? Does it pass the smell test? Well, it does make sense. The Raw Women's Championship 4-way for WrestleMania had been rumored for quite some time, and Nia would have a legitimate gripe to get in the match if she had beaten Sasha at FastLane, or if Sasha had cheated to win. Now if she's in it, it'll have to be because she threatened Mick Foley's daughter or something. Cause girl done lost to Sasha & Bayley now.
See anything during your wrestling viewing that doesn't look quite right? Let me know via e-mail at [email protected], or on Twitter @stevecook84! Thanks for taking this trip back through the week of pro wrestling…Botched style! See you next time!