Csonka's Impact Bound for Glory 2018 Takeaways
October 18, 2018 | Posted by
WELCOME back to column time with Larry! Today, I am going to discuss the Impact Bound for Glory 2018 event [Review here], the latest PPV from Impact Wrestling and the follow up from the great Slammiversary PPV. While not as good as Slammiversary, I thought that Bound for Glory was an overall good show with some very good to great wrestling. I have some takeaways from the show I'd like to discuss today. Feel free to share yours in the comment section. Thanks for reading! It's wrestling, we love it and will disagree. The only rules are to "have a take, be respectful, and don't be a dick." Thanks for reading.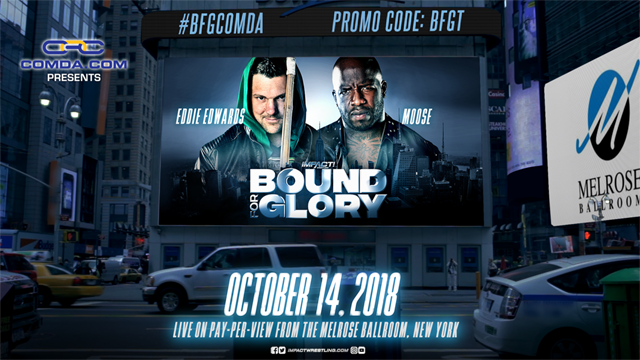 Bait & Switch: Trust me, I am fully aware of the whole card subject to change gimmick, but I absolutely hated that they opted out of the Eddie vs. Moose match, and I hate it because of how it came off. They never intended to deliver the advertised singles match, which is bullshit. This match had a good background and build, and could have easily been one of the best on the show. I was really looking forward to it, but instead, we got a weak walk and brawl and Tommy Dreamer on PPV again. No offense to Tommy, hell you almost have to admire him for finding his way onto non-Saudi funded PPVs in 2017 and 2018 with ROH & Impact. But if they wanted to drop the singles match and hold it off, simply book the tag match and go from there. The new regime has been trying to win back fans and get their loyalty back, and they've done a lot of positive in that regard. But a move like this doesn't help. But on top of the old bait and switch, adding another brawling style tag match with relaxed rules when you already have two set for later in the show came off as lazy and overly reliant on that format. Eddie vs. Moose had a chance to be a standout match and also set the stage for a new top contender. Instead, we got an average tag match where the result really didn't matter since the heels immediately got their heat back post match.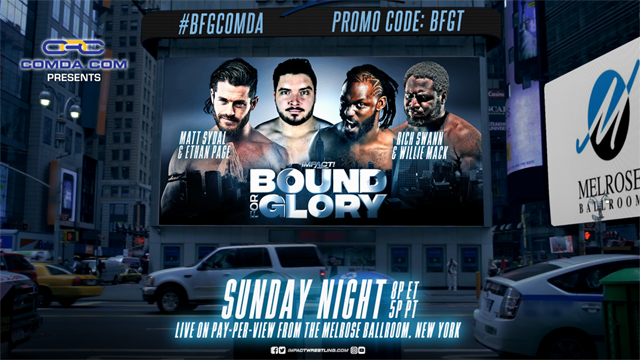 Page & Mack Impress: Willie Mack & Rich Swann defeated Matt Sydal & Ethan Page in a very good opening match to kick off the PPV, and while Swann & Sydal are the regulars, it was Page & Mack who seized the opportunity and in my eyes, really impressed in the match. I like Ethan Page and felt he did some really good work in EVOLVE, and really love that they dropped the short-lived "Chandler Park" character. Page was a great base here, carries himself well, and fit right in with no issues. Willie Mack is an absolutely great performer with a boatload of charisma that hasn't been seen by and many people as he should. He's worked all over the indies, with Lucha Underground, and even with Dragon Gate and has delivered everywhere. They stepped in here at Bound for Glory and delivered, and worked like they had been there for months, fitting in effortlessly. Page & Mack were really great here, and I hope that they are permanent additions to the roster going forward (which appears to be the case). Mack & Swann are already a tremendously fun and charismatic tag team after one night and could be an important addition to the tag ranks, which could really use them.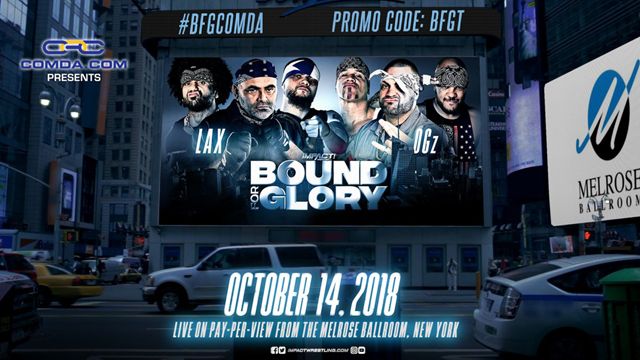 Good In Theory, But Not In Execution: I have been a really big fan of the LAX vs. OGz angle and overall storyline. They had a kick ass match at Slammiversary and I feel that the vignettes have been a lot of fun and Konnan and especially King were cutting some great promos. All of these fights, brawls, videos, promos, and attempted child deaths led to what appears to be the big final battle at Bound for Glory in what was billed as a CONCRETE JUNGLE DEATH MATCH. In theory and on paper, this sounded like a really cool and different idea to work an anything goes style match to differentiate it from the oVe Rules match. Unfortunately, in execution, it didn't work out nearly as well as whoever planned it hoped. I will say that taking out Konnan was the right and smart call, and limiting him for a late run in and pop to finish things off was for the best due to his current condition. He was in no condition to work a match that went nearly 10-minutes, and his inclusion for the whole thing would have made it much worse. The real problem here was the gimmick itself. In the match, there were no buckle pads and no ring canvas/padding, just exposed wood. What seemed like a creative idea turned into an almost extremely dangerous match. They attempted to strap the boards down, but it was a complete failure as they were popping up and sliding around the entire time, and really limited the overall action. This couldn't come close to the Slammiversary match, they worked really hard and tried, but this was a perfect example of a stipulation taking away from a match. I truly appreciate the company daring to be different and trying to come up with something fresh/rarely used in 2018 (EVOLVE did a similar match, but it worked better since it was a singles match and without the extra traffic, they didn't have the major issues with the boards), which is not easy. They either have to re-tool the gimmick or not do it again, I have no desire to see someone concussed or worse, snap a leg during one of these matches. Hopefully LAX can move onto something new and fresh now.
Finally: Johnny Impact made his debut with Impact Wrestling in August of 2017, and was immediately a player in the world title picture. But while many expected him to win the championship in quick fashion, Impact came up short at last year's Bound for Glory, then in January on Impact, and again at Crossroads to Aries. After taking time off to film Survivor, Impact returned at Slammiversary, defeating Fenix, Taiji Ishimori and Petey Williams in a great four-way match en route to this title match. On one hand I have to show appreciation for the company not rushing the championship onto the latest "WWE reject," something they'd done in the past. But when you look at Impact's path in the company, the title loses, and fact that he was fighting for his wife's honor, he absolutely had to win the title here or he would have been a Lex Luger-like character, always coming close, but failing like Luger had issues with at different times in his career. Aries was a great champion and stabilizing force when the tile needed it. He had some really great matches and did what was needed and what was asked of him. But it was time for a change, Impact needed this win, and a change to a babyface champion will add some freshness to the product. Also, with him as champion, hopefully when he does media for Survivor, the company can get some press that it desperately needs. This was a great main event match that did a good job of playing off of the recent angle that made things personal, I only wish they had made that part of it sooner. They worked a different match than you'd expect normally, filled with snug and tight work and a ton of aggression. They did a great job of making this not feel like a regular Aries or Impact match, and the change in tone was appreciated. My hope is that Impact plays a Bret Hart style champion, taking on any and all comers and giving his title run some fun and variety.
– End Scene.
– Thanks for reading.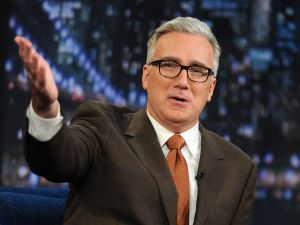 "Byyyyyyyyyyyyyyyyyyyyyye Felicia!"