Csonka's NXT Takeover: New Orleans Review
April 8, 2018 | Posted by
Csonka's NXT Takeover: New Orleans Review
Csonka's ROH Supercard of Honor Review
OFFICIAL RESULTS
– NXT North American Title Ladder Match: Adam Cole won @ 31:20 [****¾]
– NXT Women's Title Match: Shayna Baszler defeated Champion Ember Moon @ 13:00 via referee stoppage [****]
– Dusty Tag Classic Final For NXT Tag Team Titles: Champions Undisputed Era defeated & The Authors of Pain & Pete Dunne and Roderick Strong @ 11:35 via pin [***½]
– NXT Title Match: Aleister Black defeated Champion Andrade "Cien" Almas @ 18:20 via pin [****¼]
– Unsanctioned Match: Johnny Gargano defeated Tommaso Ciampa @ 37:00 via pin [*****]
---
– You can check out reviews of ROH Supercard of Honor here, SHIMMER 100 here, Matt Riddle's Bloodsport here, EVOLVE 102 here, EVOLVE 103 here, Mercury Rising 2018 here. Joey Janela's Spring Break 2 here and Impact vs. Lucha Underground here.
– The nice thing about reviewing NXT late is that I get to sit back and not have to worry about any play by play recapping, since we already have that on the site, so I can really enjoy it and focus on the storytelling and overall look of the matches and I am trying something different..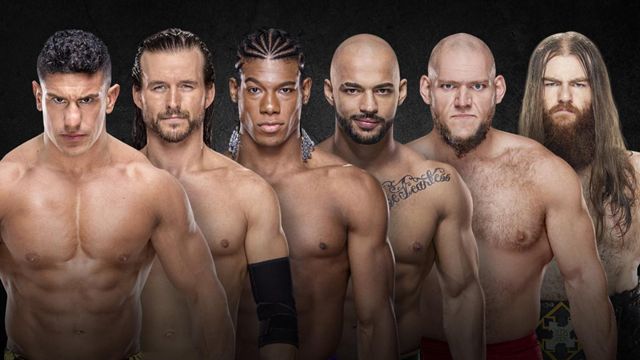 NXT North American Title Ladder Match: EC3 vs. Adam Cole vs. Velveteen Dream vs. Lars Sullivan vs. Killian Dane vs. Ricochet: While there is only one winner here, the best part about a ladder match like this is that no one person takes a loss. While your winner obviously gets elevated, and in this case wins a championship, if you properly book and lay out the match, you can make everyone look good and get stars over big time. This diverse lineup, in front of a traditionally hot Takeover crowd, was the perfect place to do that. The match not only gave us the first NXT North American champion, but was also the first step in a new division for the NXT brand. You had monsters (Dain & Lars), a gifted highflier (Ricochet), an up and comer (Dream), a returning star (EC3), and a guy NXT sees a lot in (Cole). I had to review ROH first tonight so that we had live coverage of both shows, and had just watched a pretty awesome ladder match. I loved the ROH ladder match, it was excellent and insane, but the booking of that match (interference bullshit) really held it back. I absolutely loved this match, the monsters did monster things, Ricochet got to do Ricochet things in WWE (which still feels wild), Cole continues to thrive in gimmick matches, Dream got to shine once again as he continues to grow as a performer, and EC3 felt right at home in his WWE return. I thought that they played to the stipulation extremely well, save us some spectacular and memorable spots and delivered one of the best matches of the Mania weekend and 2018 as a whole. Once they realized that they kept cutting each other off, they essentially went murder death kill in order to try and win. We have a new champion, everyone looked great and is now more over after that match and it was simply awesome stuff; mission accomplished. The match was everything I wanted, and way much more. When all is said and done, this may end up as one of the best PPV openers in WWE history. Adam Cole won @ 31:20 [****¾]
NXT Women's Title Match: Champion Ember Moon vs. Shayna Baszler: Shayna Baszler has received a lot of shit from WWE fans, simply labeled as "Ronda's friend," she's never given any credit during her run. I think she plays her character very well, and comes across as a legit bad ass, that still has a lot of top shelf potential match wise, judging from what I've seen from her outside of WWE. The match actually went longer than I had hoped, I was really hoping for Baszler to steam roll Moon, looking like an absolute beast ahead of winning the title. But what they did here was very, very good. Moon's run has been disappointing, her character isn't as strong as it should be, and she has failed to take off in the post Asuka era. Moon barely escaped her first meeting and ran wild with shock and awe early on, trying to end things as quickly as possibly to avoid the submission work of Baszler. Moon showed great fire, but Baszler survived the initial onslaught, and was able to take control with her striking game. They easily improved on their previous match, telling a good story with nice callbacks to their previous encounters, and Moon showing a vicious side, as she attacked the arm of Baszler by playing Baszler's game. Baszler pulling a Martin Riggs and "popping her shoulder back in" was great. In the end, Baszler countered the ellipse, not falling for it this time, and locked in the choke with one good arm, forcing the ref to stop the match as Moon passed out; we have a new champion, and Moon's likely off to the main roster. This ended up being a great match, setting up Baszler well for her run, and she has great babyfaces in Sane, LeRae, and Kai to challenge her coming up next. Shayna Baszler defeated Champion Ember Moon @ 13:00 via referee stoppage [****]
Dusty Tag Classic Final For NXT Tag Team Titles: The Undisputed Era's Adam Cole & Kyle O'Reilly vs. The Authors of Pain vs. Pete Dunne and Roderick Strong: On paper, the Authors of Pain looked to be the favorites heading into the match. They were bigger, stronger, and healthy. The Undisputed Era's Fish was out injured, and Cole was working for the second time on the night, while Dunne and Strong were on a great run, but weren't a regular team. The Authors of Pain ran wild early on, targeting the injured Cole and then tossing bodies to the floor. O'Reilly & Strong showed great fire throughout. Dunne and Strong started to run wild near the end, Dunne would hit Bitter End, but Strong broke up the pin, and hit the end of heartache, (the looks of shock from Cole & O'Reilly were awesome) as Strong allowed for his old ROH pals to retain, and then joined them. I really enjoyed the match and thought that this was very good, as every one looked good, and the Undisputed Era has new life with Strong on board. Also, if this leads to Moustache Mountain uniting in NXT to face Undisputed Era in trios matches, it will be completely worth it. Strong has been coming up short, and the heel turn likely means that he took the opportunity to finally succeed and become a champion in NXT after so many failures. Also, Cole seemingly outsmarted NXT dad William Regal, as Undisputed Era is now holding more gold, even with Fish hurt. I wouldn't be surprised to see the Authors of Pain called up to the main roster, as it feels that they have done it all in NXT. Champions Undisputed Era defeated & The Authors of Pain & Pete Dunne and Roderick Strong @ 11:35 via pin [***½]
NXT Title Match: Champion Andrade "Cien" Almas vs. Aleister Black: Almas has had a great run as NXT champion, and his paring with Vega has been money. Almas was solid, but floundering until the pairing, but once they hooked up, we got the man many had been waiting for as he's had some excellent performances. Black is the guy on the rise, running wild on the roster, winning all of his Takeover matches, and has been one of the more protected guys on the roster. He's been made to look important, has delivered, and the title shot made complete sense and was coming at the right time. These two delivered once again on a Takeover, continuing their streaks of great matches. They worked a great match with really great pacing, laying out the peaks and valleys really well while mixing in great athleticism and drama. Interference spots are way over done in wrestling still to this day, but there is s proper way to do it without taking away from a match and making the fans feel rewarded as the heels get punished for their shenanigans. I loved the story/psychology of having Vega constantly try to help Almas, but ultimately being the reason he lost after successfully helping him so many times during their run. That's how you do interference spots and pay it off properly. In all aspects, Vega has been the reason for Almas' success, so it's only right that she was eventually his downfall. Also, Black coming full circle, facing and beating the man he beat this time last year to accomplish the NXT title win. He has been great over the past year, and while Almas has been great as champion, it felt like the right time to change the title especially with rumors of an Almas call up. I really hope Vince doesn't sign Del Rio, because he already has a better Del Rio under contract in Andrade "Cien" Almas, and there is no reason (yes I know, shitty creative) that his pairing with Vega shouldn't thrive on the main roster; they are an absolutely amazing act. Aleister Black defeated Champion Andrade "Cien" Almas @ 18:20 via pin [****¼]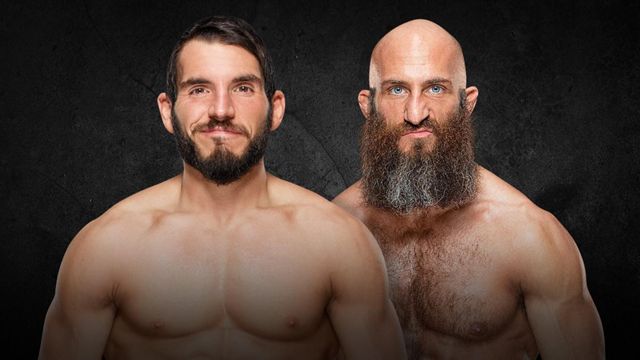 Unsanctioned Match: Tommaso Ciampa vs. Johnny Gargano: I think that it's absolutely possible to have excellent matches based purely on skill and ring work as long as you can make the crowd hot for the action, but I think to achieve pure greatness, you need to have a great story and emotional hook. So far the best matches (in my opinion) this year are Gargano vs. Almas & Golden Lovers vs. The Bucks. They were both amazing pieces of in ring work, truly excellent; but they both had back-stories and took you on a pure emotional journey during that excellent in ring work. Ciampa & Gargano had that back-story, a friend betraying a friend, ruining his life at every turn and trying to take his career from him in the process. Ciampa was a pure bastard, the heel with no redeeming qualities, while Gargano is not only the hero, he's the chosen man of the people. Ciampa coming out to no music and simply basking in the heel heat was a tremendous call. Both guys are in great shape, maybe the best of their careers; Ciampa looks like he hasn't even looked at a carb in 12 months. They had a great stare down and immediately went crazy fists. They didn't fuck around as Gargano ran wild and was a man possessed. They immediately set the right tone for the match, which is vital when working a stipulation like this for such a heated feud, so many matches like this lack that. I have said it numerous times, but Gargano is such an amazing babyface, and his work to start off was so great, not only looking for revenge, but to also win and get back into NXT. Ciampa's ruthlessness played perfectly against Gargano, as he was purely looking to hurt Gargano and make his life even more miserable than he's already made it. The work here was absolutely tremendous, completely filled with hate from both men. They captured the tone perfectly, a credit to both men as they fed off of the crowd, who was awesome here, and completely into the action and story. The sick look from Ciampa as he stole crutches from a fan was amazing, and his attempt to use them was a great call back to his previous attacks on Gargano. It's those little things that add so much. The crowd willing Gargano to fight and chanting "you deserve it" when Gargano powerbombed Ciampa to the floor was amazing, they not only wanted Gargano to overcome and win, they wanted that bastard Ciampa to pay for his sins. Gargano getting payback with the crutch shots and the reaction to that was further proof. Ciampa calling back to the DIY finish was tremendous, he's just a pure asshole, and there is nothing likeable about the man from a character standpoint. The spot with the wrist tape, both men holding on as they traded strikes, signifying their link together, was a tremendous visual. The near fall on the super project Ciampa was amazing. The home stretch was just amazing, with great near falls and drama; the crowd was locked in and reacting to every thing like it mattered so mush, it's amazing that when you tell great stories and let great wrestler do their thing that this happens. And yet after all of this, after all Ciampa had done, and with Ciampa prone to attack, Gargano had the crutch but pulled up, giving his former friend one last chance to repent and make things right. Gargano even sat by him like in the CWC, but Ciampa was a bastard and Gargano used the knee brace and locked in an STF, getting revenge and winning his way back into NXT. This was amazing, it was everything I thought it could and hoped it would be. And was easily worth staying up to 5 AM to watch, and it never felt long to me. I love my fucking job. Johnny Gargano defeated Tommaso Ciampa @ 37:00 via pin [*****]
– Johnny & Candice celebrated because love wins.
– End Scene.
– Thanks for reading.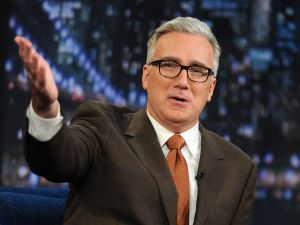 "Byyyyyyyyyyyyyyyyyyyyyye Felicia!"
9.5
The final score: review Amazing
The 411
I've watched a ton of wrestling this weekend, some solid, some good and some great; NXT Takeover: New Orleans just smoked the lot of them with an all-time great show. This is a must-see show; I love the wrestling!
legend