Csonka's WWE Raw Review 10.02.17
October 2, 2017 | Posted by
Csonka's WWE Raw Review 10.02.17
Csonka's WWE Raw Review 10.02.17
OFFICIAL RESULTS
– Braun Strowman defeated Seth Rollins @ 10:27 via pin [***]
– Elias defeated Titus O'Neil @ 2:59 via pin [NR]
– Mickie James defeated Nia Jax @ 9:45 via DQ [*]
– The Good Brothers defeated Matt Hardy & Jason Jordan @ 11:02 via pin [**½]
– IC Title Match: Roman Reigns defeated Champion The Miz @ 11:05 via DQ [***¼]
– Sasha Banks & Bayley defeated Emma & Alicia Fox @ 12:58 via pin [*½]
---
– Follow all of my reviews at this link.
– The show starts with the roster on stage for a moment of silence for the tragedy in Las Vegas.
– We get highlights from last week's show, where the Miztourage laid out Roman Reigns and fisted him. NO ONE FISTS ROMAN REIGNS!
Braun Strowman vs. Seth Rollins: Holy shit, Raw is starting with a match. What a pleasant surprise. Strowman killed Ambrose last week, setting up this match tonight. Rollins attacks right away, but Strowman quickly cuts him off and looks for a powerslam, but Rollins escapes and slaps him. Rollins runs, picks up the pace but get flapjacked by Strowman. Strowman takes control, beating down Rollins and then tying him up in the ropes. Rollins stuns Strowman off the ropes, heads up top but Strowman press slams him back to the mat. Strowman looks to ground the action, but Rollins hits a jawbreaker and low bridges Strowman to the floor. Strowman cuts off the suicide dive by punching Rollins right in the face. Post break, Rollins fights back, and leaps off the ropes and Strowman catches him and hits the sack of shit slam. Rollins rolls to the floor, Strowman follows and posts Rollins. Rollins manages to post Strowman, hits a suicide dive and then another, finally taking Strowman down. Back in and Rollins hits a springboard clothesline, but Strowman is still up, Rollins hits another, and then the block buster connects and Strowman kicks out at 1. Rollins hits a superkick, another and tries for the ripcord knee strike but Strowman kills him with a clothesline and powerslam for the win. Braun Strowman defeated Seth Rollins @ 10:27 via pin [***] This was good, they played the size dynamic well. I am still not a fan of the tag champions being destroyed like this unless it's a set up for Miz recruiting Strowman & Joe and THEY face The reunited Shield.
– Post match, Strowman hits another powerslam. Ambrose arrives and attacks, and crotches Strowman and then eats a chokeslam and another! Strowman then powerslams Ambrose and stands tall.
– Cesaro and Sheamus arrive and they beat down the champions.
– Maybe Miz recruits Strowman & Joe and THEY face The reunited Shield.
– We get highlights of the Mickie James/Alexa Bliss segment from last week. Mickie James walks and Alica Fox is there laughing. Emma is there and makes fun of her age as well and says James has a secret admirer. The gift left for her was a box of adult diapers. James is pissed and goes looking for Bliss. But Nia Jax is there, protecting Bliss, I guess they are friends again. Great continuity there. James will face Jax tonight.
– Bray Wyatt is in a smoke-filled room, rocking in his chair. He rants incoherently about sister Abigail, saying she'd never lie to him.
– Elias walks.
– Elias is here to sing us a song. He buries Denver and then sings us his song, burying Denver even more.
Elias vs. Titus O'Neil: This was setup last week when Elias beat Apollo Crews and attacked Tutus. Crews is out with Titus. Titus overpowers Elias to begin. Elias attacks with chops and then works a side headlock. Titus escapes with a belly to back suplex, and then works him over in the corner. Titus hits a slam, and corner splash. Elias bails to the floor, and shoves Crews. The ref argues with Crews, Elias stuns Titus off the ropes and hits drift away for the win. Elias defeated Titus O'Neil @ 2:59 via pin [NR] Not good at all.
Mickie James vs. Nia Jax: Alexa Bliss arrives and heads to ringside. Jax attacks at the bell as James was distracted. Jax tosses her around and controls early. Jax then chokes out James in the ropes, and then works a bear hug. Jax follows with a slam, and then grounds the action. James fights to her feet, works elbow strikes but Jax tosses James to the floor. We take a break. Post break, James is trying to fight back but runs into a lariat. Bliss mocks James as Jax continues to dominate her. James fires up with strikes, and follows with kicks. Jax hits what looked like a slow motion and sloppy spear for 2. Jax again grounds the action, James slowly elbows out and Jax back to the bear hug to cut her off. James elbows out, fights out of a powerbomb and follows with kicks. James chops her down with kicks, but Jax slams her to the corner. Jax sets her up top, James fights back with kicks and hits a sorta DDT (sloppy). Bliss runs in for the DQ. Mickie James defeated Nia Jax @ 9:45 via DQ [*] This was not good. It was slow, repetitive and sloppy at times. It was also poorly structured, and did nothing to dispute the claims that James was old and past her prime. She was dominated way too much, plus, Bliss and Jax being friends again, with no real explanation, it dumb.
– Post match, James lays out Bliss and stands tall.
– We get highlights of the 205 roster trying to kill Enzo last week.
– Renee interviews Enzo. Enzo is asked for his reaction to last week, and he just stands there and looks sad, saying nothing.
What is @real1's reaction to the entire #Cruiserweight division protesting his status as champion? #RAW #205Live pic.twitter.com/W1BR84SeCP

— WWE (@WWE) October 3, 2017
– James is interviewed about her win. She wants to be the new Raw women's champion, Kurt Angle appears out of nowhere, and gives her a title match at TLC.
Matt Hardy & Jason Jordan vs. The Good Brothers: Jordan has dropped the singlet for the box tights, so no more dropping the straps. Matt and Anderson start things off, Matt started to take control but Anderson takes him to his corner and that allows Gallows to tag in. Jordan tags in, works over Gallows but gets cut off. Gallows works him over with strikes, but Jordan hits a springboard clothesline and it breaks down as Matt and Jordan clear the ring. Post break, Matt and Anderson are in and Anderson cuts him off. Gallows tags in as they work the heat on Matt, isolating him in their half of the ring. Anderson back in, misses a charge and Jordan gets the hot tag and suplexes Anderson across the ring. Gallows blind tags in and cuts off Jordan. Elbow drops follow, and Gallows covers for 2. gallows follows with a big boot and leg drop (brother) covering for 2. Anderson tags back in, and grounds Jordan by working the arm. Anderson cuts off the tag attempt, but Jordan hits a Saito suplex and makes the tag as we get wholesale changes to Matt and Gallows. Matt runs wild, hitting corner clotheslines and a bulldog clothesline combo on the good brothers, which gets 2. Gallows finally cuts off Matt, but matt hits a tornado DDT and follows with the second rope elbow drop. Anderson makes the save, Jordan takes him to the floor and follows. He gets tossed into he barricade, allowing the good brothers to hit the magic killer for the win. The Good Brothers defeated Matt Hardy & Jason Jordan @ 11:02 via pin [**½] This was a perfectly fine match, nothing wrong with the work technically, but it largely stayed atone level and really did nothing to excite me or make me care.
– Reigns gets interviewed about Rollins & Ambrose getting their asses kicked earlier tonight. He's not worried about them and knows they are planning payback. He plans to destroy the Miz and win the IC Title tonight.
– Dana Warrior is here for a Susan G. Comen presentation, featuring breast cancer survivors. Dana, Bayley, Banks, Jax. Fox, Emma, & Bliss are also in the ring. The cancer survivors are given pink WWE Championships.
These women exemplify the spirit of WARRIORS! #UnleashYourWarrior #WWEHero @DanaWarriorWWE @SusanGKomen pic.twitter.com/Oj3VeEyEDG

— WWE (@WWE) October 3, 2017
– Miz, Axel, & Dallas enter through the crowd like the Shield used to do. Miz is such a dick, in the best way possible.
– Reigns takes out Axel & Dallas during the introductions, hitting superman punches and chasing them into the crowd and beating Axel down with a chair. Dallas makes the save, but he eats a superman punch and chair shots. Miz looks fucking terrified in the ring. That was really well done and it's nice to see a babyface not be an idiot. Also, no talking and all ass kicking Roman is the best Roman.
IC Title Match: Champion The Miz vs. Roman Reigns: And here we go as Reigns takes Miz to the floor and starts slamming him to the barricade. Reigns lays the boots to Miz, rolls him back in but Miz bails back to the floor. That allows Miz to cut off Reigns and slam him to the steps. They tease a countout on Reigns, but he makes it back in, but Miz hits a DDT right away and covers for 2. Miz follows with the running boot, covering for 2. Miz grounds the action, working a chinlock. They work to the feet, Miz hits a kick to the face, covering for 2 again as we take a break. Post break, and Miz is still in control working the "it kicks." Reigns cuts off the big last kick and hits a sitout powerbomb for a good near fall. Reigns backs off and sets, but Miz counters the superman punch into the skull-crushing finale for a great near fall. Miz can't believe Reigns kicked out. Miz now runs into a superman punch, but kicks out at 2 for another really good near fall. Reigns fires up, but Sheamus & Cesaro pull him to the floor for the DQ. Roman Reigns defeated Champion The Miz @ 11:05 via DQ [***¼] They were working their way to a very good match until the DQ, I think they were on their way to a very good, and possibly great match when that happened. But thankfully the post match angle was very well done. Could they be building to the Shield vs. Miz & Bar with the IC & Tag Titles on the line?
– All three beat down Reigns, and hitting the neutralizer and brogue kick. The crowd chants for the Shield as Miz hits a skull-crushing finale. They then tease leaving, but return to hit the triple powerbomb on Reigns.
BELIEVE IN THE MIZ #RAW pic.twitter.com/gkTcYCPN2k

— Italo Santana (@BulletClubItal) October 3, 2017
– Finn Balor arrives.
Finn Balor Talks: he doesn't like to talk, he likes to fight. Wyatt likes to play mind games, and he doesn't buy into the God crap. Wyatt is a coward. Balor says Wyatt lost to the demon and the man, and he can make all of the excuses he wants, but Balor thinks he is afraid. Balor calls out Wyatt. Wyatt is still rocking in his chair rambling about sister Abigail. Wyatt says Balor lied to him, saying that the demon fuels the man. He wants to see Balor's true face, bring the demon and I will show you my true face. Abigail is dying to meet you. We get some creepy effects, making Wyatt look like the chick from the ring as we hear a woman laugh. I have no idea why they're still feuding other than to fill time, but they've done a great job of making me not interested in Balor.
What has @FinnBalor awoken inside of @WWEBrayWyatt? #RAW #SisterAbigail pic.twitter.com/szEd0QSwhv

— WWE (@WWE) October 3, 2017
– We get an Asuka video package.
Sasha Banks & Bayley vs. Emma & Alicia Fox: Banks & Bayley beat Emma & Jax last week. Banks and Emma to begin. They work some solid back and forth, Bayley tags in and works the arm of Emma. Bayley takes her down and spins around on her. Emma then cuts her off, lays in clubbing shots to the back but Bayley fires up and slams Emma to the buckles. Fox distracts Bayley, tags in and takes out Banks and she and Emma toss Bayley to the floor. Post break, Emma tags in Fox and she works over Banks. They go crazy fists, Banks hits a knee strike and dropkick. The running meteora follows for 2. Emma distracts Banks, allowing Fox to cover for 2. Emma tags in, continuing the heat on Banks. The butterfly suplex follows for 2. Fox back in, hits the tilt a whirl backbreaker, covering for 2. Fox grounds the action, Banks fights to her feet but Fox slams her down by the hair. Emma tags in, they continue to isolate Banks in the most boring way possible as this match has slowed to a crawl. Banks fights back, and looks for a tag, but Fox cuts her off. Banks slams Fox into Emma and finally tags in Bayley. She's the old house of fire, running wild on Fox. Corner attacks follow, but Fox hits a jawbreaker but as she goes for the tag, Emma gives her the old alligator arms. Bayley to belly on Fox finishes it as Emma walks off. Sasha Banks & Bayley defeated Emma & Alicia Fox @ 12:58 via pin [*½] This was a flat and boring match, with no real drama, that went too long. It's one thing to get time, it's another to use it properly. The heat on Banks felt like it lasted 2-hours.
Enzo Talks: Enzo does his usual shtick on his way to the ring. He says he's doing great, and says that the entire cruiserweight division can go to hell. And anyone that agrees with them can go to hell too. He put 205 Live on the map and made it relevant, because it's the main event of Raw 2 weeks in a row. He runs down the cruiserweights, claiming that it took the whole division to beat him down to chants of you deserve it. he says he does deserve the title, and if having success is wrong he doesn't want to be right. He knows he's money and making bank. He earned that money and everyone else is jealous. He's a star and ratings draw, and has charisma and athleticism. His back is sore from carrying the division. He didn't have to wait in line for the title, and the rest can fall in line. Last week they put their hands on him and broke the clause he had. And now they can't challenge for the title. He has a new clause, and if anyone touches him tonight, they will be fired. So now he has no opponents, and beat Neville down on 205 Live. Neville now arrives with the rest of the roster as Enzo mocks them all. They surround Enzo as he threatens to have them fired. They trap him in the ring, and he shows off his new clause as he continues to run them down one by one, and even takes a shot at Corey Graves. Kurt Angle arrives now. Angle says that none of the guys out there can challenge Enzo for the title. But Angle has signed a new cruiserweight… Kalisto. Kalisto attacks and lays out Enzo with Salida del sol. Well I will give them credit, you can't claim they aren't going all in and trying with the angle. They gave him the main event segment two-weeks in a row and gave him a ton of time to talk. I just wish that they gad attempted to get behind TJP post CWC or even Neville with this much effort. Anyway, it was a good closing segment and I liked bringing in a new guy that wasn't involved with the beat down last week, but the complete apathy when it was Kalisto revealed was sad. I think that when Angle said he signed someone, that the crowd was hoping for a big NXT debut, someone like Itami. But Kalisto needed something to do, should have been on 205 Live anyway, and will be a fine sacrificial lamb for Enzo to defend the title against. The question is, will this be enough to save 205 Live's sinking numbers?
– In the locker room, Reigns is hurting from his ass kicking. Ambrose arrives and so does Rollins. They stare each other down, and nod at each other and the show ends.
– Next week, Sheamus & Cesaro will be on Miz TV.
– End scene.
– Thanks for reading.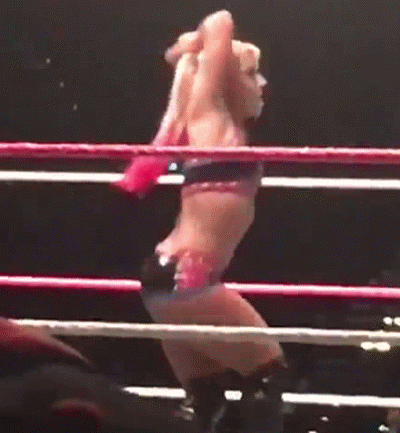 ~GLORIOUS~
5.4
The final score: review Not So Good
The 411
The stuff with Strowman vs. Rollins & The Bar attack, as well as the Reigns vs. Miz match and post-match angle, were all really good TV, easily the best stuff on the show. Much like the Rollins/Ambrose reunion, they are doing a great job in building to the full Shield reunion. The main event angle with Enzo and the 205 Live guys was also good, with the rest of the show largely existing, and sometimes being very, very bad.
legend