Csonka's WWE Raw Review 9.17.18
September 17, 2018 | Posted by
Csonka's WWE Raw Review 9.17.18
Csonka's WWE Raw Review 09.17.18
OFFICIAL RESULTS
– Drew McIntyre defeated Dean Ambrose @ 11:20 via pin [***]
– Chad Gable defeated Viktor @ 4:10 via pin [**]
– Bayley defeated Dana Brooke @ 2:45 via pin [NR]
– AOP defeated Juan & Javier Botas y mallas @ 1:05 via pin [NR]
– IC Title Match: Champion Seth Rollins defeated Dolph Ziggler @ 9:40 via pin [**¾]
– Lashley vs. Elias went to a no contest @ 2:55 [NR]
– Ember Moon & Nia Jax defeated Mickie James & Alexa Fox @ 5:55 via pin [*]
– Universal Title Match: Champion Roman Reigns vs. Constable Corbin @ 16:50 via pin [*½]
---
– Follow all of my reviews at this link.
– I did a column, "Where Are They Now, The Cruiserweight Classic Finals Performers" which you can check out at this link.
– You can check out my top 51 matches of AUGUST list at this link.
– Check out my WWE Hell in a Cell review at this link.
"IT'S… THE BIG DOG" – Michael Cole: Reigns says that HIAC was rough, brutal, and didn't go to plan. But he's still the universal champion. He didn't think Brock would arrive and attack like he did, and says if he wants his rematch to come out here now. Braun arrives instead. Braun says Reigns should thank brick because he's the reason that Reigns is still champion. Braun says he gets Brock first and will then come for Reigns. Corbin arrives and says this isn't happening right now. Last night was his first PPV as acting GM and no one is more upset about the main event than he is. On November 2nd in Saudi Arabia (on the WWE Network), Reigns will defend against Braun & Brock in a triple threat. Braun thinks this all sucks and so does everyone in the arena. Heyman now arrives and has guys carrying the cell door out and says he's here to educate us. Brock laid to rest a monster and big dog while conquering Hell in a Cell. He talks about Brock's power and worth to WWE & UFC. Noting as more power than the Universal title. During Brock's reign, billion dollar TV deals and record setting stock prices happened. Brock will return and reclaim his championship to become the crown jewel of WWE. Braun chases Heyman away. Corbin says Reigns is banged up, and calls him a hurting puppy. He books him in a match tonight against… himself. This was a solid opening segment to set the return to Saudi Arabia and Brock's next match. Although I have no clue who could care about Reigns vs. Corbin.
Dean Ambrose vs. Drew McIntyre: they lock up and Drew lays in strikes and chops. Ambrose fires back and cut off Drew, attacking the knee. Ambrose posts Drew's knee a few times and takes him to the floor and continues the attack. Drew fights him off and tosses him into the barricade. Back in and Drew covers for 2. Post break, and Drew has things grounded. Ambrose counters out and gets a cradle for 2. Ambrose dumps drew, but back in and Drew attacks with strikes. Ambrose cuts him off with clotheslines and goes back to the leg but Drew fights him off with a head butt. Drew takes him up top and follows, Ambrose knocks him into the tree of WHOA, but Drew hits a spider overhead toss. Drew sets and misses the claymore and Ambrose gets the sunset flip for 2. The cloverleaf follows and Drew fights and makes the ropes. Ambrose knocks him to the floor and hits a suicide dive. Back in and Drew powders. Ambrose heads up top and flies to the floor, but Drew sidesteps him. Ambrose beats the count and eats a claymore and that's that. Drew McIntyre defeated Dean Ambrose @ 11:20 via pin [***] This was a good back and forth opener, and McIntyre needed the singles win here.
– McIntyre meets with Ziggler and Corbin arrives and says the Shield isn't looking good. Corbin says he'll beat reigns tonight. He asks Ziggler about challenging Rollins tonight and Ziggler says no. Corbin says if Rollins can't go, Ziggler will win the title via forfeit. Ziggler agrees.
– Natalya & The Bellas talk as Rousey arrives and we get hugs for all. Rousey asks how this whole open challenge thing works and Natalya doesn't think it's a good idea, but says to just go out and do it. "ACTING!"
Chad Gable vs. Viktor: So after two wins against the Ascension, we now get a one on one match this week, sure. They work into some solid back and forth; Gable hits arm drags and a butterfly suplex for 2. Viktor cuts off Gable and covers for 2. Viktor lays in chops and uppercuts and then grounds the action. Gable fights to his feet, but Viktor maintains control and lays in more chops. Gable now gets the hanging Suzuki arm bar and then runs wild with suplexes. He dumps Viktor and follows with a cannonball to the floor. Gable up top and the missile dropkick connects. The chaos theory finches it as Roode takes out Konnor. Chad Gable defeated Viktor @ 4:10 via pin [**] his was a fine little outing with Gable again looking good and picking up another win.
– Post match, Konnor lays out Roode & Gable.
– An injured Seth Rollins arrives and is asked about his rematch with Ziggler tonight. Rollins says Corbin needs to remember that this is Monday Night Rollins.
Dead Man Talkin: Undertaker monologues about broken souls and says he's never seen anyone with a more broken soul than Triple H. Triple H claims taker lost all of his self respect, but delusion will be his downfall. There was a time when Triple H was a warrior, but now he plays the corporate game in the boardroom. His life is filled with so many lies he can't deceiver truth and can't see the fear in his friend's eye or his own demise. When he faces Triple H for the final time, it will end like before, he'll bury him 6-feet under, game over. Triple H will do everything he can, moving heaven and earth while risking HBK's life. Triple H can have his best friend HBK, because HBK isn't going to go to watch the fight in the crowd, he'll be in Triple H's corner. Taker is fine with that because Kane will be in his corner. Taker took HBK's career, and will take Triple H's as well. He'll also take his soul and put him down. This was a solid promo segment, designed to continue the built to Triple H vs. taker at Super Show-Down, and the rumored Triple H & Michaels vs. Brothers of Destruction match at WWE: Sweet Saudi Money.
Bayley vs. Dana Brooke: JIP with Dana in control, hitting the back handspring elbow and backslide for 2. Dana follows with knee strikes and covers for 2. Bayley fights back, hits the stunner in the ropes, and the hits a running knee strike and Bayley to belly for the win. Bayley defeated Dana Brooke @ 2:45 via pin [NR] Not bad, but also nothing special. I love that they broke up Titus Worldwide so that Dana could prove herself. The good news is that she's on TV, the bad is that she's still losing sub-three minute matches. To her credit, Dana looked good here, way better than usual.
AOP vs. Juan & Javier Botas y mallas: the AOP murdered these jabronies with the super collider and that's that. AOP defeated Juan & Javier Botas y mallas @ 1:05 via pin [NR] I dig AOP killing fools, but we need to get them into a program soon, or at the very least, have them start killing low level main roster guys like Mojo & Kanellis.
IC Champion Seth Rollins vs. Dolph Ziggler: I wish they would have kept these two off the show to sell the bump from Hell in a Cell. It feels even more useless now. Dolph attacks at the bell, but Rollins takes control and starts whipping Dolph to the buckles, and then to the floor. To their credit, both are trying to sell the injuries from the cell fall. Dolph sends Rollins to the barricade from the apron. Post break, and Dolph is in control until Rollins battles back with strikes. Rollins fires up and hits the blockbuster and both are down. Dolph now locks on the sleeper, grounding Rollins. Rollins escapes, fights off zigzag, and hits the ripcord knee for 2. Rollins heads up top and Dolph crotches him, and follows with rights, and then follows him up. Rollins slips out and crotches Dolph. Dolph fights him off but Rollins pops up and hits the superplex but Dolph cuts off the deal into a roll up for 2. Rollins hits the blackout and retains. Champion Seth Rollins defeated Dolph Ziggler @ 9:40 via pin [**¾] This was pretty good all things considered. They obviously didn't go all out, but I appreciated that since they were selling the cell bump.
– Ronda Rousey arrives to issue an open challenge. She giggles and smiles a lot and then congratulates Alexa Bliss for their Hell in a Cell match. She thanks her for pushing her to her limits. She wants to be a great champion like Bret Hart, Steve Austin, and Ric Flair. She issues an open challenge. Natalya's music hits but the Riott Squad drags the beaten carcass of Natalya out to the ramp. Ruby says this is all Rousey's fault and she will accept the challenge. The Riott Squad attacks, but Rousey fights them off until Ruby spears her in the bad ribs and but the Bellas arrive to make the save. Rousey and the Bellas clear the ring and stand tall. This was fine set up for the Super Show-Down six woman tag match.
– Braun meets with Corbin and says he hopes he wins tonight, because Corbin sucks and he knows he can kill him.
– Elias arrives and plays a tune. He makes fun of the Dallas Cowboys and the crowd. Lio Rush interrupts and says Elias is a rock star, but he only sings the same sad diss track each and every week. Elias asks whose kid ran onto the ramp. Rush introduces himself and Elias says he doesn't care and will have Rush taken to lost and found to locate his parents. Rush introduces his man, Lashley.
Lashley vs. Elias: JIP as Elias is in control; Rush is on commentary. Lashley escapes, and takes control with clotheslines. Lashley follows with a powerslam and covers for 2. Lashley now heads up top and flies off into a high knee strike from Elias. Kevin Owens arrives and chases Rush to the ring. The ref throws this out as Lashley saves Rush and then throws Rush to the floor onto Owens & Elias. Lashley vs. Elias went to a no contest @ 2:55 [NR] Not much of a match, but it solidified the Lashley/Rush relationship and was part of the build to Lashley & Cena vs. Elias & Owens at WWE Super Show-Down.
.@fightbobby + @itsLioRush = DOMINATION?! #RAW pic.twitter.com/Zicdd69KJw

— WWE Universe (@WWEUniverse) September 18, 2018
– Bliss, Fox, & James cut a promo and set up a tag match with Moon & a mystery opponent.
Ember Moon & Nia Jax vs. Mickie James & Alexa Fox: Bliss is at ringside. The heels freak out at the reveal of Jax as the mystery opponent. Moon and Fox to begin. Fox takes control with a tackle, but Moon quickly fires back and looks for a tag, but gets cut off and James tags in. James takes control, lays in knee strikes but Moon cuts her off with a dropkick and follows with a suicide dive. Back in and Fox knocks Moon off the ropes and James covers for 2. Fox tags in and grounds things. That doesn't last as James tags in and she grounds things. Moon battles back, but gets cut off and Fox tags in. The big boot gets 2. Moon finally rolls into the tag and Jax steamrolls Fox and knocks James to the floor. Jax rag dolls Fox, hits a head butt and then runs her over and that gets 2 as James makes the save. Moon flies in with the eclipse and takes out James. Samoan drop on Fox by Jax and that's that. Ember Moon & Nia Jax defeated Mickie James & Alexa Fox @ 5:55 via pin [*] Woof that was bad, disjointed, and rather sloppy. It's amazing that after TWELVE YEARS IN THE WWE SYSTEM that Alicia Fox is so bad. But hey, Nia Jax is back…
– Corbin instructs the referee to "call his match down the middle."
Champion Roman Reigns vs. Constable Corbin: If you were upset at the finish to Hell in a Cell, we have Champion Roman Reigns vs. Constable Corbin on Raw; Merry Christmas, hope you like crap. Corbin attacks right away and goes for several pin attempts, but Reigns keeps kicking out. Reigns dumps Corbin and follows with the drive by. Back in, and Corbin sidesteps Reigns, who posts himself. Corbin follows with the in and out Bossman lariat for 2. Post break, and Corbin is grounding things. Reigns fights back, but Corbin hits the chokebreaker for 2. Corbin again grounds things, working his go to shitty half nelson deal. Time has stopped here. Reigns starts to fire up, lays in rights and clotheslines. Corbin powders, and lays in rights from the floor, Back in and he runs into a Samoan drop for 2. Corbin again powders to the floor, Reigns follows and hits a superman punch. Back in and Corbin powders. He then throws a chair at Reigns and we get a DQ. BUT WAIT, Fuck face restarts this as a No DQ match. Back in and Corbin has the chair. Superman punch and Reigns gets 2. Reigns grabs the chair, and Braun arrives. He distracts Reigns and Corbin attacks. Braun in the ring and works over Reigns but Reigns sidesteps him and Braun posts himself. Deep six follows and Corbin covers for 2. Dolph & Drew arrive and check on Braun. Seth & Dean arrive and we get the big brawl. Seth & dean hit suicide dives. Reigns now gets cut off by Corbin, but then hits a spear for the win. Champion Roman Reigns vs. Constable Corbin @ 16:50 via pin [*½] This was a completely uninspired main event that they tried to dress up with the smoke and mirrors at the end like at Hell in a Cell. At least it served at set up for Super Show-Down and possibly Survivor Series.
– End scene.
– Thanks for reading.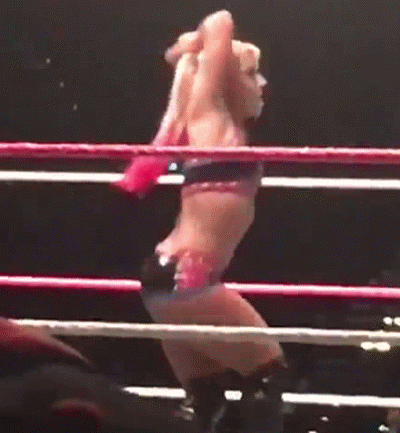 ~GLORIOUS~
5.0
The final score: review Not So Good
The 411
This week's episode of WWE Raw was another bland and skippable edition of the show. The wrestling was largely forgettable, and the only real takeaway/accomplishment was the build to Super Show-Down.
legend