The 8-Ball 08.09.12: Top 8 Olympians in Wrestling
August 9, 2012 | Posted by
Welcome, ladies and gentlemen, to the 8-Ball. I am Ryan Byers, and I am ALL OVER 411 Wrestling this week, thanks to a fill-in on the Raw Instant Analysis early this week and a fill-in on Ask 411 within the past 24 hours (which I can't link to yet, because it's not on the site at the time I write this).
However, I'm not going to let any amount of filling in get in the way of my usual 8-Balling, so let's take a look at eight more entries on this countdown that I call life.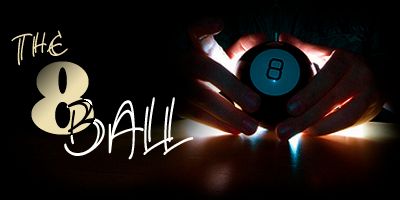 Top 8 Olympians in Wrestling
This summer the world has been swept by Olympic fever. The 2012 games have drawn the highest television ratings of any Olympics in many, many years, and the internet is a-tizzy with stories out of London that range from the inspirational, such as Gabby Douglas, to the absurd, such as the rower who showed off a bit too much of his manhood.
Thus, it only makes sense that this website should jump onto the bandwagon. That's why, this week, we are counting down the top eight professional wrestlers who have competed in the summer Olympic games. As far as criteria are concerned, the wrestlers can have competed in any event (not necessarily just amateur wrestling), and rankings are being determined by their combined success in both Olympic competition and professional wrestling.
There is a ton of Olympic history out there and a ton of pro wrestling history to cull through, so this should make for an interesting list.
8. Bad News Allen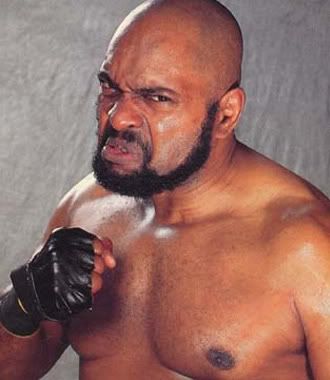 In the 1979 games in Montreal, Allen Coage, who had already won two gold medals at the Pan American games, represented the United States as a heavyweight on its judo team. A loss in a split decision to a German named Gunther Neureuther – which many people thought that Coage actually won – took him out of contention for a gold medal, though his run to that point was still impressive enough to earn him a bronze. Like many high profile, legitimate fighters in the 1970s, Coage was called upon by Antonio Inoki to train to become a professional wrestler, an offer that he accepted. Coage was a part of Inoki's promotions for several years in Japan before returning to the North America, where Stampede Wrestling fans remember him as Bad News Allen and World Wrestling Federation fans remember him as Bad New Brown. Coage has one of the more impressive feats on the list in terms of medaling, but the fact that he was never a national headliner in wrestling takes him down a few pegs in the rankings.
7. Riki Choshu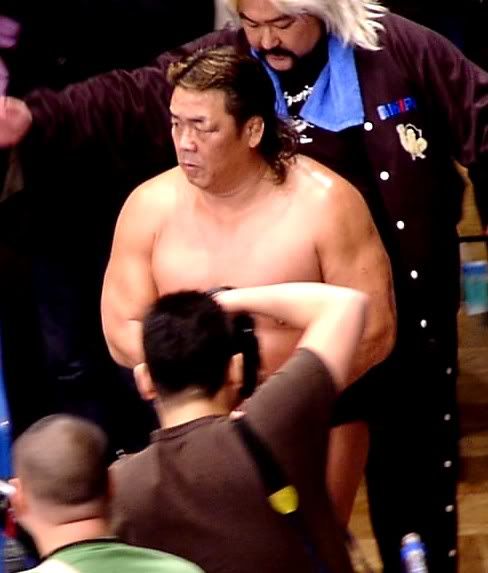 Much like puroresu founder Rikidozan, Riki Choshu is a Korean-born athlete who went on to become a massive star in Japan. Choshu (real name Kwak Gwang-ung, which I really think he should have kept) was one of South Korea's hopefuls in the 1972 Olympics in Munich in the sport of freestyle wrestling. Unfortunately for Choshu, he didn't do too well in the tournament, failing to place. However, an Olympian who fails to place is still better than 99.9% of the athletes on the face of the earth, and Choshu's athleticism propelled him to the heights of the professional wrestling industry when he turned to eastern Asia. Choshu became a multi-time IWGP Heavyweight Champion, making him one of the biggest stars ever in New Japan Pro Wrestling, and at one point he defected to All Japan Pro Wrestling, where he was also one of the most popular wrestlers in the company. In fact, Choshu is still active in the ring to this day, popping up from time-to-time for a "legends" match in the big leagues and also periodically promoting his own shows under the banner of Riki Pro.
6. Ken Patera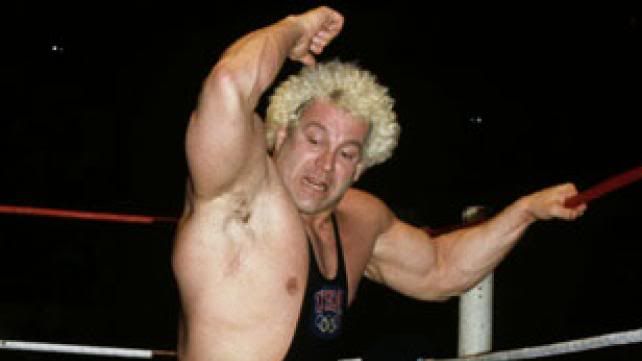 Patera's Olympic background shouldn't come as much of a surprise to anybody reading this list, as it was a big part of his gimmick in virtually every territory that he ever competed in, particularly the World Wrestling Federation, where he was one of the biggest heels in the early days of the Wrestlemania era, feuding with both Hulk Hogan and Andre the Giant as a result of being part of the Heenan Family. Where did Patera come from? Well, before he was one of the earliest Intercontinental Champions, he was a weightlifter for the United States, but, despite being heavily hyped, he didn't manage to medal when he qualified for the 1972 Olympics in Munich. Like Coage, he did medal in the Pan American games, taking home a gold medal in 1971 in Colombia. Like Choshu, the lack of an Olympic medal didn't really impede his professional wrestling career, as he still milked his trip to Germany for all it was worth, as I don't think that I have ever seen a piece of Patera gear that didn't have the Olympic rings on it somewhere.
5. Hiroshi Hase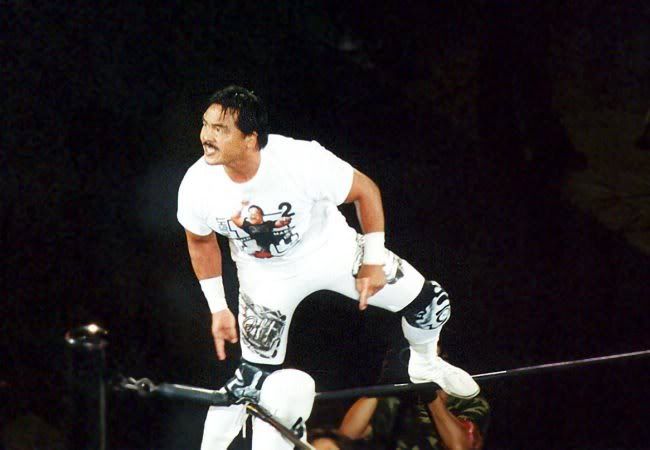 Hiroshi Hase is our first Japanese Olympic competitor to make the list, as he represented the Land of the Rising Sun at the 1984 games in Los Angeles, California. He was a Greco-Roman wrestler (contrasted with Choshu's freestyle wrestling), and, though he did not medal, he did finish in the top ten of his weight class. Like Allen Coage, he spent early parts of his professional wrestling career in Calgary with the Hart family, where he was part of the super-politically correct "Viet Kong Express" tag team. Fortunately, his career progressed beyond that low poing, and he became perhaps the most prolific junior heavyweight wrestler that Japan has seen, putting on classic matches with the likes of Owen Hart and Jushin Liger, in addition to growing one of the most distinctive pencil thin mustaches in the history of the sport.
4. Dick Hutton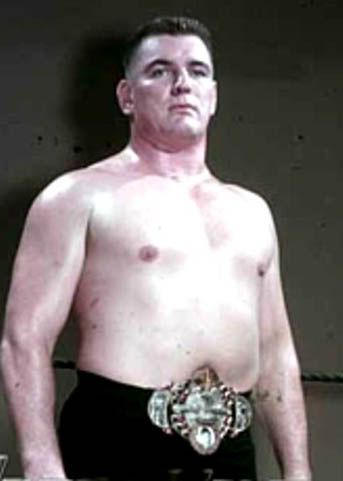 I imagine that I'm going to get some hateful comments for this one, but hear me out. Dick Hutton might be an obscure name by 21st century standards, but, in his era, he boasted a more impressive resume than just about any amateur wrestler who transitioned into the pros. In addition to being a three-time NCAA champion in the U.S., Hutton represented his country in the first Olympics to occur after the close of World War II: 1948 in London. Hutton was a freestyle wrestler, and, though he did not medal, he still managed to finish fifth in his weight class. (Interestingly, Verne Gagne also attended these games as a Greco-Roman wrestler, but he misses out on this list because his team was pulled from competition at the last second.) Four years later, Hutton debuted as a professional wrestler in an era where, the more legit amateur credentials you had; the more likely you were to be a superstar in pro circles. Five years later, Hutton managed to defeat Lou Thesz for Thesz's version of the World Heavyweight Title, which is quite the accomplishment if you read up on how protective Thesz was of who he would drop the belt to. Hutton went on to hold the championship for roughly fourteen months, cementing his place in the history books.
3. Jumbo Tsuruta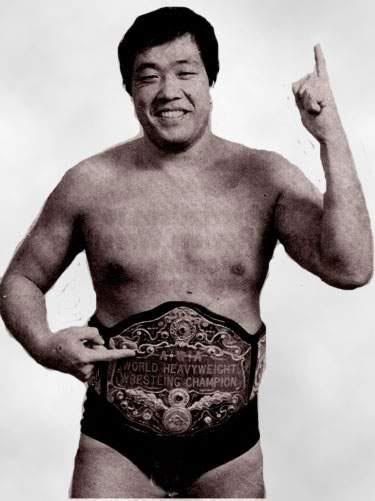 Tomomi Tsuruta (or "Tommy" for short) was a national champion in Japan in Greco-Roman wrestling and took those skills to the 1972 Olympics in Munich, the same games where both Patera and Choshu were competing. Tsuruta placed seventh in his weight class, and the pro ranks were calling almost as soon as he set foot back down on Japanese soil. More than anybody else on this list (even the guys who rank number one and number two), Tsuruta became a professional wrestling megastar. When he was breaking into pro wrestling, the Japanese scene was looking for a new top guy to take the spot that Giant Baba had been occupying. Tsuruta fit the bill, and he became a three-time AJPW Triple Crown Champion in addition to holding numerous other championships in the company. In fact, he even managed to get back onto the American wrestling radar after becoming a Japanese star, capturing the American Wrestling Association Heavyweight Title, transitioning the championship between Nick Bockwinkel and Rick Martel. Only Tsuruta's unfortunate diagnosis with Hepatitis B would derail his career, making him a persona non grata by the early 1990's.
2. Danny Hodge
We've had one bronze medalist on the list thusfar and several folks who failed to medal, and this is where we really start to ramp up the Olympic accomplishments. Danny Hodge is one of the most revered amateur wrestlers in the history of the sport, winning three NCAA championships and never being taken down from his feet in collegiate competition. Hodge transitioned to Olympic competition in freestyle wrestling and participated in two sets of games, 1952 in Helsinki, Finland and 1956 in Melbourne, Australia. In Helsinki, he finished fifth in his weight class, but, in Helsinki, he took things to the next level and captured the silver medal. From there, he embarked on a long professional wrestling career and, though his size kept him from competing with some of the bigger men of the day, he was still THE man when it came to the NWA World Junior Heavyweight Title, holding the championship on eight different occasions, a record that still stands . . . and the championship is still active. For both his amateur and pro accomplishments (as well as a career that he had in pro boxing), Hodge is considered an Oklahoma sports legend, and, at almost eight years of age, he is still one of the toughest guys you could hope to meet, as the video above demonstrates.
1. Kurt Angle
When I first thought of this list, my gut told me that Kurt Angle should be number one. Shortly after that, my brain started to tell me that Kurt at number one almost seemed too easy and that, surely, once I had done some research, I would find somebody who I decided should be further up on the list. However, I completed the research and it actually confirmed my gut feeling. Simply put, there is nobody has been more successful in both professional wrestling and at the Olympics. I don't need to tell anybody who is reading this what Angle's accomplishments are: multi-time WWE Champion, IGF Champion in Japan, and, most importantly, winner of the first ever gold medal in freestyle wrestling for the United States in the 1996 Olympic Games. Kurt's ranking on this list is one that I don't see being toppled anytime soon.
My apologies to Andy Critchell for not including Mark Henry, son.
That's it for this week's 8-Ball. If you can't get enough of Ryan, follow him on Twitter here.

NULL