The Contentious Ten 12.31.12: Top 10 Royal Rumble Competitors
December 31, 2012 | Posted by
Once upon a time, Mark Twain may or may not have said, "There are three types of lies. Lies, damned lies, and statistics." With that knowledge, take this list with a grain of salt. Rather than rely on pure speculation and opinion to come up with this week's list of the very best Royal Rumble performers, I tried to infuse a little bit of math to settle the argument. See, it's one thing to simply win a Royal Rumble – Jim Duggan and John Studd managed that. It's another thing to be a great Royal Rumble participant. I don't know many that would argue that Duggan or Studd have performed better in Royal Rumbles than has CM Punk, despite the fact that Punk has yet to win one of the January extravaganzas.
In order to whittle things down, I decided to award numeric values to certain accomplishments. They're not entirely arbitrary, as they were revised multiple times before the column was put together. Here's how it breaks down:
Point values and statistics used to determine The Greatest Royal Rumble Performers Ever
-Total Royal Rumble time divided by 2, plus
-Total Royal Rumble eliminations multiplied by two, plus
-Points for place of finish as follows:
Eliminated 1-10 (or 1-20 in 2012): 1 point
Eliminated 11-20 (or 21-30 in 2012): 3 points
Eliminated 21-26 (or 31-36 in 2012): 5 points
Eliminated 27-29 (or 37-39 in 2012): 10 points
Win: 20 points
I tinkered with more complicated versions of this, including breaking the eliminations down into smaller groups, such as negative points for being eliminated 1-5, no points for being eliminated 6-10, and so on. There's a large jump between the first 26 (or 36) eliminations, and then a larger jump between the three members of the "final four" that are eliminated and the eventual winner. This was intentional, so as to reward winners and those that survive the longest appropriately.
Eliminations are more valuable than just hanging around, which is why time spent is halved while eliminations are worth double. The rankings will reflect that each piece of the puzzle is important. You can rank highly on the list without having a ton of eliminations through the years, like Rey Mysterio. You can win multiple Royal Rumbles and not crack the top 10 because of a lack of eliminations or relatively short runs in the match, like Hulk Hogan. You can even find yourself on the list without ever winning a Royal Rumble, like Kane. I'm happy with the balance the criteria created.
All in all, it's a pretty simple formula. I'm sure that a lot of people will gripe about the formula used or skip this part entirely and have no idea what's going on. Then they'll start commenting about how stupid it was that Wrestler A was ahead of Wrestler B when Wrestler B did this and this and this. I can't cure stupidity, though. I'm just here to have some fun and try doing this particular oft-visited Top 10 subject in a slightly different way. Here goes nothin'.
Items that just missed the cut:The British Bulldog (119.00 points), Bret Hart (120.81 points), The Rock (122.01 points), The Big Show (122.30 points), Hulk Hogan (130.875 points)

Chris Benoit (135.95 points)size=6>
I wonder how many people will quit reading right now.
-157:19 total time
-13 eliminations
-1 win

May as well get things out of the way quick, huh? I wonder how many people will quit reading right now. Regardless of whether or not Chris Benoit's existence on this planet is a point of contention for you or not, the guy was a significant part of wrestling history, particularly in the 2000's. Benoit excelled in the Royal Rumble, making the most of his four appearances. He won a Rumble, eliminating the Big Show in 2004 after drawing the number one spot and surviving until the end. That performance is the second longest individual time in Rumble history, checking in at 61 minutes and 30 seconds. Benoit's other appearances would see him eliminated 17th, 19th, and 25th.

Edge (143.65 points)size=6>
WWE's King of Gimmick Matches
-129:22 total time
-17 eliminations
-1 win
You could make a case for Edge as being the WWE's King of Gimmick Matches. When you look back at his career, you'll find wins in the Royal Rumble, TLC matches, the King of the Ring tournament, Money In The Bank matches, and the Elimination Chamber. The only two significant gimmick matches that Edge never won was a "traditional" Survivor Series match and Hell In A Cell. Not too shabby. When it came to the Royal Rumble, Edge competed six times. He won the match in his final appearance in 2010. It was a nice progression, as he had survived until the final four in his two previous appearances following three lackluster runs. As he matured as a wrestler and singles star, became a force to be reckoned with in the Royal Rumble. He eliminated the most men (5) in the 2004 Rumble, and survived the longest (44:02) in the 2007 Rumble. His non-winning years, he was eliminated 8th, 14th, 10th, 28th, and 28th.
John Cena (144.45 points)size=6>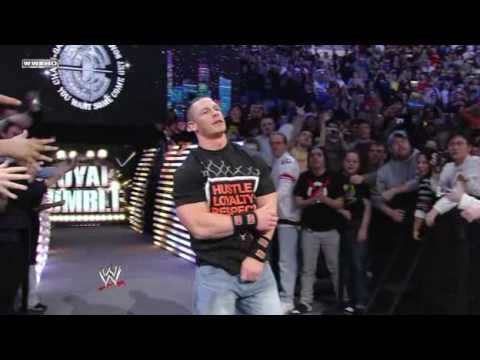 Part of a pattern.
-106:40 total time
-18 eliminations
-1 win

If there's one thing that you can accuse the Royal Rumble of, it's a small dose of predictability. John Cena became part of a pattern in 2008. There have been no fewer than three major returns from injury at the Royal Rumble, and all three men went on to win said match. Triple H was the first, Cena was the second, and Edge became the third. If you can think of any main event players that have been out for a significant amount of time with an injury and they show up to the Rumble, I'd put money down on them if at all possible. And before you ask, yes, there are betting sites that take wagers on professional wrestling. Cena has the shortest time in the ring of any Royal Rumble winner, needing only 8:38 to take home the 2008 Royal Rumble. Cena's other appearances have seen him eliminated 24th, 22nd, 29th, 29th, and 36th.
Rey Mysterio (148.10 points)size=6>
The second man to win from the #2 position.
-170:02 total time
-12 eliminations
-1 win

Following Vince McMahon in 1999, Rey Mysterio became the second man to win from the #2 position in 2006. Not only is Mysterio the smallest competitor to ever win a Royal Rumble, but he also holds the record for the longest time spent in an individual Royal Rumble match at 62:12. Remarkably, Mysterio also eliminated six men in that Rumble alone, tossing Super Crazy, Rob Van Dam, Psicosis, Simon Dean, Triple H, and Randy Orton out either alone or with assistance. In watching the 2006 Rumble, it became more and more clear as time went on that Rey was going to pull off the win. While it wouldn't have been my choice, it made for a nice moment for one of the greatest cruiserweights of all time. In Mysterio's non-winning Rumble appearances, he has been eliminated 3rd, 27th, 19th, and 35th.
Randy Orton (154.55 points)size=6>
The best chance to eventually take the number one spot.
-135:34 total time
-15 eliminations
-1 win

I'm not a Randy Orton fan. That's been pretty well established if you've ever read any of my other columns. However, barring a career ending injury or wellness violation, Randy Orton has the best chance to eventually take the number one spot on this list of any active WWE Superstar. He's the beneficiary of a never ending push, he's been a go-to guy for WWE in the past both as a face and a heel, and he's only 32 years old. It's not inconceivable that he could eventually not only win multiple Royal Rumbles, but also take over the lead for msot career eliminations as well as most time spent in the ring. Orton won the Rumble in 2009 after near misses in 2006 and 2007. With a long rumored heel turn to be coming for Orton, it wouldn't be outside the realm of possibility to see him win the 2013 Rumble as well. In his other Rumble appearances, Orton has been eliminated 17th, 29th, 27th, and 38th.

The Undertaker (222.25 points)size=6>
The John Elway of Royal Rumbles.
-142:36 total time
-35 eliminations
-1 win

I tried and tried to come up with a reasonable comparison outside of the wrestling world for The Undertaker in terms of the Royal Rumble. After much debate, I decided that The Undertaker is the John Elway of Royal Rumbles. Hear me out. By the time the Undertaker finally won the Rumble in 2007, he had been in WWE for nearly 17 years. He had competed in 7 Royal Rumbles prior to the 2007 edition. When Elway finally broke through and won a Superbowl, he had been with the Broncos for 15 seasons. He had lost three Superbowls and been to the playoffs numerous times without a championship to show for it. Striking similarities for two men that were the cornerstones of their respective franchises. See? The comparison isn't so far fetched. As far as I know though, Elway was never an active participant in the attempted murder of his manager/coach. Also, The Undertaker doesn't have abnormally large teeth. In his non-winning Rumble appearances, Undertaker was eliminated 9th, 17th, 15th, 27th, 25th, 10th, 29th, 11th, and 26th.

Triple H (226.60 points)size=6>
Nobody plays the game better.
-221:12 total time
-26 eliminations
-1 win

More than ability, more than charisma, more than box office power, wrestling is a business of politics. Those who play the game well can succeed, and nobody plays the game better than Triple H. Puns very much intended. Triple H has used his backstage clout to great success, and nobody should fault him for it. It's a part of the industry. The benefit that Triple H has is that on his best days he also happens to be an excellent professional wrestler that is every bit deserving of his main event pushes and title runs. His return to WWE in 2002 after a serious injury took place at the Royal Rumble in Phillips Arena in Atlanta, Georgia. He would enter the ring at #22 and go on to win the match, last eliminating Kurt Angle. Triple H has had a great deal of success in Royal Rumbles, even when he hasn't won, lasting over 40 minutes on three separate occasions and over an hour in one of those. In non-winning Rumble appearances, Triple H was eliminated 19th, 12th, 25th, 28th, 29th, 29th, and 17th.

Kane (228.65 points)size=6>
Validation of my numeric system.
-175:20 total time
-35 eliminations
-0 wins

I see Kane's placement at the number three spot as validation of my numeric system. Take any sabermetric in baseball or wonky stat that John Hollinger comes up with for tracking the NBA, and you'll find some anomalies. Things like Paul Millsap being "technically" the best rebounder in the league when numbers are extrapolated over the course of 48 minutes. Kane has never won a Royal Rumble, yet he's been remarkably consistent through the years and eliminates a ton of guys. Because of that accumulation of numbers, he finds himself in the top 3 Rumble participants ever by this particular criteria. He's made the final four on five separate occasions, and was the last man eliminated in 2001. He hasn't quite broken through yet, and I'm not sure that he ever will. Still, for a guy with no wins on his Royal Rumble resume, this is a pretty impressive accomplishment. In his Rumble appearances, Kane has been eliminated 25th, 28th, 16th, 27th, 29th, 24th, 28th, 6th, 22nd, 8th, 11th, 27th, 24th, 11th, and 34th.
Steve Austin (239.50 points)size=6>
Probably the best, regardless of numbers.
-165:16 total time
-36 eliminations
-3 wins

Rarely has a character been better suited to the environment of the Royal Rumble than "Stone Cold" Steve Austin. The entire character's credibility is predicated on being an equal opportunity ass kicker. The Royal Rumble (at least in Austin's day) provided 29 potential victims for Stone Cold Stunners. The recipe was simple if you were on the team planning the match: let a few bodies accumulate, glass shatters, kick-wham-stunner x10, send the crowd home happy. When Austin was motivated and healthy, few have ever been better in this business. As Royal Rumble participants go Austin is probably the best, regardless of numbers. I hated the year that McMahon won the Rumble to further the Austin/McMahon feud when it happened, and I still hate it. However, even if Austin had that fourth win on his resume, he still wouldn't have enough points to overtake number one on our list. In the years that he didn't win the Rumble, Austin was eliminated 23rd, 29th, and 27th.

Shawn Michaels (255.75 points)size=6>
Just another feather in the cap.
-213:30 total time
-38 eliminations
-2 wins

This shouldn't surprise anyone. This is just another feather in the cap of one of the greatest wrestlers of all time. Shawn's career is one of the most impressive bodies of work in professional wrestling you'll ever find. The sheer time frame of it is somewhat mind boggling. Consider this: the first of Shawn's 38 Royal Rumble eliminations was Ron Bass. In his second Royal Rumble, he was eliminated by The Ultimate Warrior. He eliminated Aldo Montoya before he was Justin Credible, the 1-2-3 Kid before he was X Pac, and Isaac Yankem before he was Kane. He has the second most time spent in the Royal Rumble in history despite never lasting 40 minutes in any individual Rumble. He was the first person to go wire to wire in Rumble history in 1995. He's one of only three men to win the Royal Rumble more than once (Hulk Hogan, Steve Austin). While I may personally prefer Steve Austin in Rumble matches, it's hard to argue with Shawn Michaels being the best at anything in WWE history. In his non-winning Rumble appearances, HBK was eliminated 9th, 23rd, 9th, 27th, 1st, 15th, 25th, 29th, and 12th.
There you go. Those are my all-time Royal Rumble "power rankings" for lack of a better term. Let me know what you thought, how you would have figured things differently, tell me how outraged you are because you didn't read the criteria, and discuss the above list in the comment section below. You can find me on Twitter @GavinNapier411 and check out my new podcast on iTunes by searching for The Casual Heroes, or go to www.thecasualheroes.com and I'll be back here in 7..6..5..