The Tuesday Communique 01.01.13: Odd, I See
January 1, 2013 | Posted by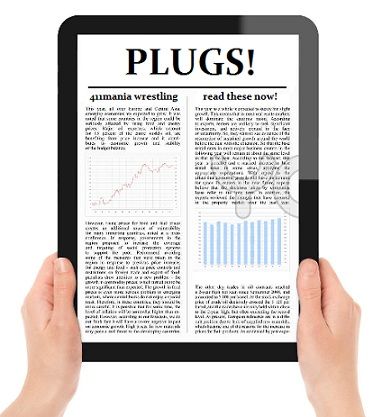 The Wrestling News Experience with Stephen Randle
The Contentious Ten Royal Rumble Competitors with Gavin Napier
The Wrestling 5&1: AJ & The Vs Rumble with Tony Acero & Greg De Marco
My Take On: Looking at ROH on iPPV in 2012 with Larry Csonka
The 8 Ball: Top 8 RAW Moments of 2012 with Ryan Byers
Shining A Spotlight: Lessons of 2012 with Michael Weyer

I used someone's list
I might make my own one day
Until then we dance

A Wrestling Odyssey, Part 2
Sunday December 30, 2012
It was really quite short-sighted of me to name this series using a year in the title. It may have been a feasible title for this experiment if I started writing this last January, but I was ten months into the year and that put me way behind in the game. That means the title has been changed to what you see above. I just wanted a clever (?) movie reference, darn it. Based on your continued reading of this paragraph it is clear that you were interested in what I had to say. Hopefully you still are.
Checking In
The first installment of this series was written two and a half months ago, just as Vince McMahon was panicking about WWE's low ratings, Jim Cornette was being phased out of ROH's creative development and TNA was coming off their biggest show of the year with a new World Champion and the first big reveal of the Aces & Eights story arc. Since then, WWE's ratings have not changed, ROH's new creative direction is just beginning with no major changes but a fresh start coming with a new year and TNA has rolled along with an underwhelming second reveal for Aces and Eights.
Vince Just Doesn't Rate
Ever since Vinnie Mac decided that his creative team wasn't doing it right, absolutely nothing has happened. Seriously. The news was that he did everything but fire Brian Gewirtz, who was the RAW head writer for almost a decade, reducing him to the bullshit title of "creative consultant". There has been no noticeable change in the TV product nor the ratings. It's more of the same, which isn't really good or bad, since before Vince "took" "action" and decided to "do something" about the ratings slump, the product wasn't really good or bad. There are some bright lights shining their way toward 2013, however.
Shield Me From The Light
Three talented young men emerged from the underground at the 2012 Survivor Series event and created chaos based upon perceived injustices. They've been doing the same week-in and week-out since late November and with WWE's most important storytelling months upon us it can be more or less ascertained that we will learn about more of the specific motivations behind the machine that is The Shield. On top of that, a new trio formed as Dolph Ziggler now walks with AJ Lee and Big E Langston in tow. Rumblings of a Ziggler face turn seem squashed at this point, but the fact remains that DZ hasn't had this type of momentum in a long time and defeating the right opponent at the right time gives him the opportunity to skyrocket into the position of being listed right behind CM Punk as top heel in the company. While The Miz' face turn has been a doozy of a flop, Alberto Del Rio's originally senseless turn has the potential to be hugely entertaining and could end up leaving us with him chasing Dolph Ziggler for the World Title in 2013. How's that for something different? Del Rio's impetus for turning is to defend his best friend Ricardo Rodriguez. Maybe we will see ADR upset Big Show for the title at the Rumble only to see Big E Langston take out Ricardo and let Ziggler slip in to cash in his contract. There are many new things to see in 2013.
Speaking of Prospects…
Ring of Honor will be running their second Top Prospect tournament beginning with their January 5 TV taping. 2011 saw Mike Bennett take the top prize and while he hasn't gone on to win any titles, his profile is very high and he has been a prominent face seen on ROH TV and iPPV for well over a year. ROH has plenty of talent waiting to prove they can hang, and when is a better time to start than at the head of a clean slate in the beginning of a new year? Who, also, is the top prospect to challenge Kevin Steen for the World Title? Everyone has seemingly had their shot. Will somebody new jump up and get in the picture or will a former challenger get one more chance? 2012 was definitely a jumble of good and bad for ROH and it was certainly pretty messy. The closest thing we are going to see to a completely fresh start in pro wrestling in 2013 is Ring of Honor. They have the opportunity to really do some big things this year. The kinks are worked out of the iPPV system, TV should be scheduled to run smoothly, the booking team will have a different dynamic and lots of young wrestlers have something to prove.
Revealing The Nomads
Devon said on Impact Wrestling a few weeks ago that in 2013 we would see the Aces and Eights revealed. In my mind, that means that between now and LockDown in March we will be getting reveals of members under the mask as well as FINALLY the motivations behind their banding together to take on the TNA roster. Another FINALLY rests at the feet of the X Division. Kenny King looks poised to be the next X Division Champion. The title died when Austin Aries abandoned it in the summer of 2012 and it has been attracting flies and maggots since RVD won the strap. King taking the belt will polish the turd and putting together a roster of challengers will raise the title up like Lazarus in all of his slushy orange goodness. Let's not even talk about the tag team division. That needs such a big shakeup that I'd hurt myself trying to figure out where to start. TNA has all of the talent with all of the ability in the world and they are putting together good TV shows and PPVs, but there has been a black hole where there should be a spark of interest.
Next Time It's Time To Travel Back in Time
Now that I have done a small bit of setting the stage in my own way for the three major North American wrestling companies in 2013, I can step back for a while and prepare for the next part of the journey. Part 1 talked about the present. Part 2 speculated about the future. Part 3 will dredge up the past. In a good way. How has wrestling changed since I became a weekly viewer? How have my tastes changed as I have aged? Here's a question for you… how has wrestling changed since you started watching? How has your taste changed?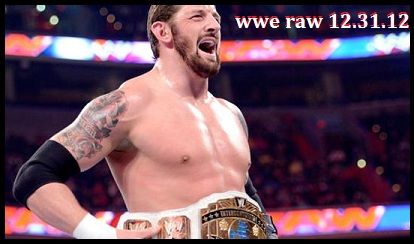 WWE Monday Night RAW from Washington, DC || TV Review
– It's New Year's Eve! Let's start with MizTV starring John Cena. I have to be honest… I barely have any clue who Robert Griffin III is. He plays for the Redskins, I heard on TV this morning that he's a rookie, and he's quite good. Anyway, Cena challenges TRS to a match and instead of waiting for a response he and Miz storm down to the ring. The bad guys actually follow along willingly and it's on!
Team Rhodes Scholars v. John Cena & The Miz
Cody's mustache starts with Cena before Miz comes in with a double ax handle from the top. I wonder if the crowd is actually chanting "Miz is Awesome!" or if it's piped in. It seems to happen at far too random times. It's still odd to see Miz as a face but if he stopped pandering so much I could really get behind it. He seems to really enjoy being on the good side and he's playing a good 'face in peril' in this match. Cena finally gets the hot tag but gets tagged by the Disaster Kick after hitting the 5 Knuckle Shuffle. Miz hits a really nice looking Skull Crushing Finale on Rhodes before Cena gets the AA to pin Sandow. Fun match. Cena & Miz def. Sandow & Rhodes, Attitude Adjustment – 12 min, **3/4
– The Rock is going to be on the January 7 RAW in Tampa. My son is upset that I can't bring him. I wish I could.
– PUNK calls us all pencil-neck geeks! HUGE! It's Ryback versus The Shield tonight.
United States Title: Antonio Cesaro v. Sergeant Slaughter
It's a championship defending night, by the way, where the champs choose their challengers. Cesaro wants the Sarge. Awesome. Dude looks fantastic and almost gets the Cobra Clutch but instead falls prey to the Neutralizer. Wow! Old man took that bump well! WAR Sarge! Cesaro hits it again for good measure after the match, much to DC's dismay. Cesaro def. Slaughter, Neutralizer – 2 min, *
– Kane and Daniel Bryan are upset because they can't challenge The Shield, but since 3MB are being loud and annoying they just choose them.
– Back at the party, Big Show reveals that he will be facing Ricardo Rodriguez tonight. Kaitlyn brought Mae Young to the party, and shockingly Eve chooses her to challenge for the Divas Title. Hilariously, Mae Young's old lady response is a very casual "okay, honey". That was awesome.
Tag Team Titles: Team Hell No v. 3MB (Slater & McIntyre)
Jinder's new facial hair makes him look WAY more like the fun-loving one. Bryan gets the Mexican Surfboard and tags in Kane for a low dropkick. Teamwork! Bryan and Kane dominate until Mahal hits D-Bryan with a running knee on the outside. Slater hits his nice jumping neckbreaker after whipping Bryan into the corner and tags out to McIntyre. Kane immediately gets tagged in as well as King is shy about saying that Kane is 'on fire'. Mahal tries to interfere but gets a receipt from Bryan in the form of a running knee from the apron. Kane blocks the Future Shock DDT and hits the chokeslam. Remember when Drew was "The Chosen One" and beating Kane for the IC Title on PPV? Me neither. Bryan hits the flying headbutt from the top and that's the ballgame. Nothing special but it was a good match. Kane & Bryan def. Slater & Mahal, Flying headbutt – 6 min, **
– CM Punk and Paul Heyman are here with CM Punk's doctor. The doctor won't let him wrestle next week, and Punk is aghast! Vince McMahon isn't buying it, though. LOOK AT THAT SUIT! If Punk doesn't defend his title against Ryback in TLC Paul Heyman will take his place next week.
Dolph Ziggler v. Sheamus
Sheamus almost kills Ziggler with a back body drop. He hits a STIFF knee lift that leads to the forearms to the chest in the ropes, but Big E Langston breaks that up. Back from commercial, DZ gets the SWEET jumping DDT and his elbow drops. He's going full Ric Flair with his poofy hair tonight, by the way. All he needs is a gushing blade job and it's uncanny. Sheamus comes back with a powerslam and gets a near fall from a great-looking fallaway slam from the second rope. Sheamus goes back up and Ziggler leaps to cut him off but gets walloped for his troubles. Great bump from that by Ziggler. White Noise looks to lead to the Brogue Kick, but Big E grabs Sheamus' leg. Ziggler attacks from behind but gets tossed over the top and Big E catches him. He almost missed but sheer mutant strength allowed him to muscle DZ up. The Shield blindside Sheamus for the DQ and they lay him out with the three-man powerbomb. Sheamus def. Ziggler, DQ – 13 min, ***
– Backstage, Brad Maddox asks Paul Heyman for a job. Heyman pretty much tells him to fuck off and die.
– At the party, Mae Young appears to finally be croaking, but a doctor (who I expected to be a stripper) says she can't wrestle because "THIS WOMAN IS PREGNANT!" *cue dramatic soap opera music* That really happened. I hope they continue this every week. It could be like Tim White trying to commit suicide! Shit, I'm just setting myself up for disappointment, arent I?
– Eve comes out to gloat but gets beat up by Kaitlyn.
– Alberto Del Rio apologizes to Ricardo Rodriguez for treating him shitty and gives him his car keys to take to the ring.
World Title: Big Show v. Ricardo Rodriguez
The bowtie is off and IT. IS. ON! Ricardo goes for a single leg takedown and that goes about as well as you might expect. I wonder if El Local will come to his rescue. ADR distracts Show and allows RR to get a boot and a running enzugiri in the corner! He catches a boot from Show and gets a kneebreaker and the crowd is going wild! Off the top rope… he meets a huge chop to the chest. Big Show sets up for the kill but ADR ain't having that and runs interference to cause the DQ. I was marking huge for RR's comeback. That was great. Big Show def. Ricardo, DQ – 2 min, *
Intercontinental Title: Kofi Kingston v. Wade Barrett
Kofi jumps everywhere and ends up with a dropkick. Barrett grounds him for a bit until they fly over the top on a hiptoss spot. Nice place to put a commercial, I'd say! Barrett is in control when we return. Kofi comes back with a springboard crossbody outside of the ring but only gets two inside. Kofi blocks the Bossman slam with a roll up but Barrett catches him and almost gets the quick win. SOS gets Kofi a close near fall, but he eats a big powerbomb out of the corner when he goes up for the 10-punches. That looked like it was it. Wasteland gets another close near fall. Kofi misses the high crossbody from the top but Wade doesn't miss the Bull Hammer. Cole did a great job selling that Wade was setting up the elbow and it really made the title win come off as more important. Really good match, but too short. Barrett def. Kingston, Bull Hammer – 11 min, ***1/4
– Recap of the main angle from the XMas Eve RAW. Gotta be honest, the show was pretty great. That storyline was fantastically over the top and the Miracle on 34th Street Fight was really freakin' fun.
– Mae Young is about to give birth. Daniel Bryan isn't happy about it but everybody disagrees. Comedic sound effects lead to the birth of "Finster Baby" Hornswoggle, Baby New Year. I knew I was setting myself up for disappointment. Don't get me wrong – I enjoyed this silliness but I was hoping for segments every week that would chronicle her pregnancy. Oh well.
– The Shield are here, but there's no match. They jump Ryback and beat him down for a bit before Sheamus and Randy Orton come out to help clean house. Ambrose takes the RKO. Great segment. Notice how this is the first time The Shield didn't come out on top of a situation, and it took three top stars to do it. Meanwhile in TNA, Aces and Eights have been bested a million times, often when there are more of them than the people they're going after.
Main Event: New Year's Celebration
Dolph Ziggler runs down all of Cena's embarrassments from 2012. He points out that Cena hasn't made any changes in over half a decade and he and AJ toast The Show Off as Big E Langston stands guard outside the ring. Cena, recently uninvited from the festivities, decides that he needs to interject. He says that Ziggler is right. Cena had a shitty year and he will admit to it. Cena shows a bunch of photoshop jobs to make fun of DZ and AJ. Rightly, Ziggler calls him a manchild. To be fair, the litany of guys in the baby picture was great and I believe Cena snuck a Rodney Dangerfield reference in there. Once he cut the shit, though, Cena cut a really fucking sweet promo. There was some silly crap in there but wow, when he wants to do something special Cena is still one of the best. He ends the year by dropping shit all over DZ and AJ, and it isn't even the first time that's ever happened to poor Dolph!
Overall RAW Thoughts
This was a great way for WWE to close out the year. The wrestling was pretty good, we got a title change in a very strong match, there were some good promos, decent comedy and a good atmosphere. I'm happy and didn't feel like I spent 3 hours poorly. It didn't even feel like 3 hours! Big thumbs up for this one.

WWE.com's Top 50 Moments of 2012
The Dot Com staff made a top 50 moments list for 2012. Let's run 'em down and talk about them! I'll have something of my own below as well, but first I'm really interested in seeing what they believe to be the 50 best things that happened over the past calendar year. I'm not sure if it's in order from 50-to-1 or just a jumble of 50 things, but there are no numbers, so I'll assume it's a jumble.
50. Ric Flair makes a surprise return on Slammy night
Just because it happened recently doesn't mean it can't be awesome. My kneejerk reaction was "Come on! That JUST happened!" But hey, it happened in 2012 and it was indeed pretty sweet. I approve!
49. The emergence of 3MB
Again, WWE.com surprises me with a choice that I approve one-hundred percent. Yeah, two moments and two instances of me saying that I approve. I'm in no position to do so, so I'm self-aware that it might come across douchey. That notwithstanding, I'm loving the 3MB gimmick thus far. I'd like to see them get some more air time and a real feud with a lower-card team, though. They're a comedy trio, I get that, but they can be funny idiots while also kicking a little bit of ass.
48. The Brogue Kick is banned
We're two-for-three! I can definitely get behind the story of a guy having his move banned and this one actually started off with a somewhat legitimate reason. Sheamus caused an injury to a non-wrestler and after some deliberation the babyface General Manager begrudgingly made the decision to ban the move. Then, out of nowhere, with no reasoning behind it, he comes out right before a match starts and gets rid of the ban. Okay then.
47. be a STAR celebrates its first birthday
Eh, I guess. They're trying. I thought this was going to be a list of stuff that happened on TV! Boo.
46. Big Show and Sheamus brawl it out
Not as good as the time that Bobby Lashley tried to kill Finlay by dropping a car on him.
45. Pay-per-view live-streamed Pre-Shows debut
It's the sixth "moment" on the list and the second "Hey, look at the good job we did!" backpat they've placed. I hope this doesn't become a trend. As far as the PPV pre-shows, it's a great concept but the execution has gotten worse with every passing show.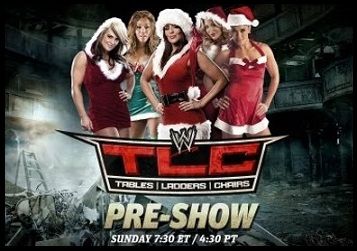 Not so important.
44. Brock Lesnar returns to WWE
I left the website overnight and when I returned, this was in the presumed #50 spot and some others were in a different order as well. I guess that answers my question as to whether this is a descending list or not. Brock's return was exciting but very underwhelming.
43. John Cena becomes the first Superstar to cash in his Money in the Bank contract and lose
This is certainly an important moment, and the fact that this distinction goes to John Cena helps to ensure that the next person to cash in unsuccessfully won't have that spectre hanging over him for his whole career.
42. Charlie Sheen joins WWE as Celebrity Social Media Ambassador
If Sheen had made an appearance at SummerSlam I would have been cool with this addition. He didn't, though, which makes it something of a wasteful part of the list. Out of all of the SMAs, though, he was easily the most active, so there's that.
41. WWE Saturday Morning Slam debuts on Vortexx on The CW
Oh come on already! I enjoy the show, but this shouldn't be on a "moments" list! BAH HUMBUG!
40. Chris Jericho returns
Out of all the Jericho returns, this one was both the most interesting and underwhelming. I don't really have a positive or negative opinion on the teasers that led to his return… they got people talking, certainly, but once we realized it as Jericho it became a "who's that girl?" thing. Since there was never a girl involved it was a bit of a disappointment, but his silent (well, on the microphone proper, at least) was something very different. It didn't quite receive the negative reaction that it was meant to elicit and the eventual "end of the world" stuff led to nothing and meant nothing, but it's Jericho, so in my opinion it's all completely excusable. I'm a Jericho mark and he can do very little wrong in my eyes.
39. Rogue referee Brad Maddox costs Ryback the WWE Championship
Definitely a good moment but the complete lack of follow-up has been disappointing. Too bad there was never any endgame planned for the dude.
38. D-Generation X reforms
Absolutely. Humongous mark out from this guy.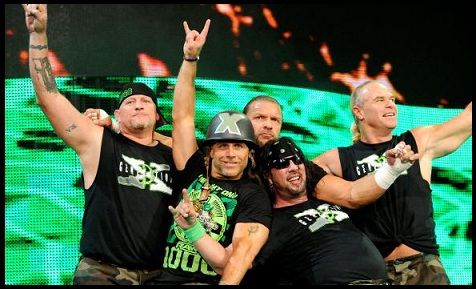 Like the good old days, kinda.
37. Edge gets inducted into the WWE Hall of Fame
He deserved it. It was cool to see a guy get in right after his career came to an abrupt end the way his did and it's nice to know that he's living well after wrestling. His returns were fun and I look forward to anything he does with WWE in the future.
36. Mr. McMahon names AJ Lee the General Manager of Raw
I certainly didn't see it coming, I guess.
35. The WWE App debuts
WE ARE ON YOUR WEBSITE. WE KNOW THERE'S AN APP.
34. John Laurinaitis defeats John Cena at WWE Over the Limit 2012
This was Big Show's heel turn. It did lead to the really fun cage match that I brought my son to see at No Way Out, so that's a good thing.
33. Booker T is named SmackDown General Manager
He has been Teddy Long with hair. That's not a bad thing. He makes matches and doles out punishment while staying the fuck out of the way. That is exactly how it needs to be.
32. CM Punk hits GTS on The Rock
I was dubious about attacking Rocky being Punk's official heel turn but I guess it was indeed. That happened freakin' forever ago and in a few weeks we're FINALLY getting the match!
31. Ryback signs the contract for his first WWE Title Match
Only thing I remember here is Cena's ridiculous pandering for Ryback. Awful.
30. Mr. McMahon and Superstars visit troops overseas
I guess it's wrong to speak out against this being on the list and by now I realize that this isn't a typical lineup of storyine moments, so yay! Is this the one that produced the Truth and Vince laughing picture or was that last year?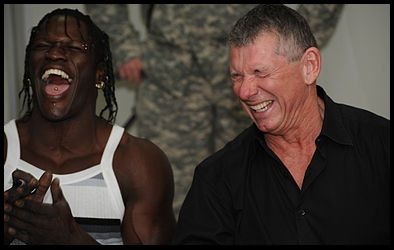 One of the greatest pictures of all time.
29. The Rolling Stones team with WWE to say farewell
Oh, fuck you.
28. AJ Lee forms a love quadrangle with Bryan, Punk and Kane
Yeah, this was all kinds of awesome. Can't really complain about this one. Not only did Kane's involvement actually add to the story AND the matches (who saw that coming?) but it ended up leading to Bryan and Kane teaming up. Huge thumbs up here.
27. John Cena rises above cancer with Susan G. Komen for the Cure
Moving on.
26. SuperSmackDown LIVE is born
There's been some good stuff and some shit. Haven't there been live SmackDown shows on Tuesday in the past, though?
25. John Laurinaitis is fired as Raw General Manager
This was the result of the cage match I referred to above. He's actually been gone since the summer, hasn't he?
24. Brock Lesnar breaks Triple H's arm
I would call this a moment worthy of a year-end list. The feud was lackluster and the match was okay, but it was a really good moment.
23. Sheamus wins the 2012 Royal Rumble Match
Golly, this seems like forever ago. This led to Daniel Bryan becoming one of the absolute most over guys in the pro wrestling world today.
22. Mr. McMahon battles CM Punk one-on-one
Oh my sweet heavens this was beyond awesome. It would easily make my top 5 moments of the year if I had such a list. Maybe I'll have one. I don't know yet!
21. WWE Live Tour visits Abu Dhabi and Egypt
It is indeed a big deal. Like Alberto Del Rio.
20. Health Slater gets rocked by Lita, Vader and other WWE Legends
Yeah, the whole lead up to the RAW 1000 episode with Slater getting his ass kicked by legends was great and this was the perfect payoff.
19. AJ Lee turns on John Cena at WWE TLC
I was annoyed when it happened, but I'm over it now. The trio of DZ, AJ and Big E is very strong and hopefully will lead to Ziggler winning the World Title in early 2013.
18. Team Hell No commences a hellacious WWE Tag Team Championship reign
FUCK YEAH
17. WWE debuts on Tout
FUCK NO
16. CM Punk undergoes knee surgery
Come on now. Really?
15. Sheamus defeats Daniel Bryan in 18 seconds at WrestleMania XXVIII
Man, remember how pissed we all were when this happened? It turned out to possibly be the best thing that could have happened. These two went on to have a great 2/3 falls match at Extreme Rules, Bryan got mega over and had his feud with Punk and eventually teamed with Kane; Sheamus was champ for a few months and after toiling in a feud with Del Rio eventually had an awesome match with Big Show in which he lost the title. Since everything worked out well for both men this retrospectively makes for a really good WrestleMania moment.
14. The Shield attacks at Survivor Series 2012
Nobody saw this coming. It was one of the more memorable debuts in a while and thus far the team has been kept very strong. Hopefully 2013 will see them win the tag belts and have them define a stronger reason for existing. At least have them explain why they make every attack.
13. John Cena defeats Brock Lesnar at Extreme Rules 2012
This match was pretty freakin' awesome. It seemed like when it happened everybody decided it was the match of the year, and a bunch of people appear to have held to that choice.
12. WWE announces that WrestleMania 29 will come home to the NY/NJ area
Ah, another one of these moments.
11. The World Heavyweight Championship turns 10
Did they even bring this up on TV?
10. WWE Main Event debuts on ION Television on Oct. 3, 2012
The show is damn good even if it's beginning to hint at becoming a slightly more watched version of Superstars.
9. Ryback Shell Shocks CM Punk atop Hell in a Cell
The disappointing end of a match I was super excited for. I was expecting so, so much more after all of the hype on the internet regarding what the finish could be. I still don't know why they couldn't have extended the match for another 5-7 minutes. It was getting pretty good before the ref whacked Ryback in his balls.
8. John Cena grants his 300th wish for Make-A-Wish
How am I supposed to shit on this being on the list? Regardless of whatever happens in his personal life or how you feel about his character, dude spends so much time making other people happy, including hundreds of dying children and their families. 300 is a huge milestone and you can't do anything but admire Cena for stepping up so many times and continuing to do so.
7. Tribute to the Troops celebrates its 10th anniversary
9th, but who's counting?
6. Jerry Lawler makes a full recovery after suffering a heart attack during Raw
They should have put the heart attack itself on the list instead. I'd pop for that.
5. John Cena and AJ Lee kiss
I guess.
4. Raw celebrates 1,000 episodes on July 23, 2012
The start of the three hour RAWs! Nooooooooooo! This show was a shit ton of fun but it went steadily down from there. Longest running weekly episodic television show!
3. The Rock defeats John Cena at WrestleMania XXVIII
You don't really get much more big time than this. It might not have been the best feud ever and it may not have been an amazing match, but damn did it feel important. In case anybody was curious, I'm over my little shitfit that I kept throwing all the time when talking about The Rock over the past year and a half, so don't worry about me bitching about him leading up to the Royal Rumble. I'm back to loving him again. Don't ask why. It just happened.
2. CM Punk becomes the longest reigning WWE Champion of the last 25 years
Not much to say that hasn't already been said. I just hope that his reign doesn't end at the hands of The Rock. Why not use it to elevate somebody? Alternatively, he could just be champion forever.
1. The End of an Era: The Undertaker defeats Triple H inside Hell in a Cell at WrestleMania XXVIII
Can't do too much arguing about this one. If I do a 2012 match of the year write-up it won't be for a few months because I've just not had the time to watch a comprehensive stretch of the so-called best matches of the year. Regarding this match specifically, I was incredibly not excited for this leading up to it. Their match at WrestleMania 27 was, in my opinion, boring as all get out and so unbelievably overhyped that it almost physically hurt. The Hell in a Cell match, however, was a totally different story. It was so much freakin' awesomeness that it almost hurt. I really was hoping that "end of an era" meant that both men would be done, but obviously that isn't the case.

Inter Species Wrestling
AR Fox v. Leon St. Giovanni v. Eric Corvis || ISW Armageddocalypse – October 13, 2012
From TJ Hawke:
"This match was a lot of fun. All three guys are prone to some wackiness, and I was concerned there would be too much of that. However, that fear was not realized, and the crowd took to everything they did. AR Fox should be on every Beyond show and every ISDub show."
For more, please visit FreeProWrestling.com

– Nicholas A. Marsico