Tremendous Tirades 4.26.13: FIP: Ascension iPPV
April 26, 2013 | Posted by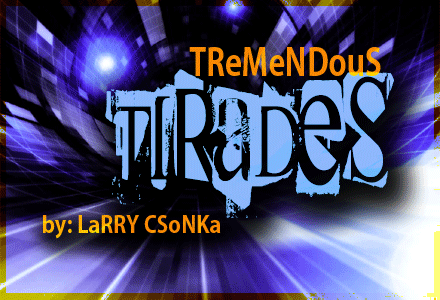 Introduction
The road to WrestleMania is over, but I am back. I will be doing the review for Raw and PPVs going forward. As a reminder, this will not be another traditional recap, but instead it will be a mash up of the Rs, Instant Analysis and my usual Twitter ramblings I would do during the shows; completely uncensored and as the ideas flow unfiltered to the old keyboard. Remember, this is a review; and I am here to review the show. Don't throw that "just have fun and be a fan" junk up in here. That's for you to do.
---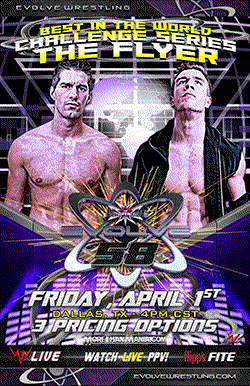 Tonight's FIP iPPV comes to you LIVE from The Orpheum in Ybor City, FL
Here we go with my first shot with FIP on iPPV, hopefully all goes well.

Jonny Vandal w/Larry Dallas, Trina Michaels & Buggy Nova vs. Derek Ryze : I am unfamiliar with Jonny Vandal and Derek Ryze as performers. Unfortunately I am all too familiar with Larry Dallas. Vandal was in control for the first 4-minutes, working the leg. Ryze then completely ignored that and came back with a series of flying kicks and a top rope missile dropkick. Vandal won in about 7-minutes with a superkick for the pin. Not exactly the exciting match you'd want to open the show, as the small crowd wasn't all that vocal.

Match Rating: *½
Larry Dallas now gets promo time, he gave Scott Reed the month off and then says they have revitalized the Scene. He says that Dos Ben Dejos stole the tag team titles, and invited them to the ring to make them an offer. Dos Ben Dejos made their way to the ring as Dallas joked that they didn't understand English. Dallas promised them citizenship if they gave back the titles. The Bravado Brothers did a run in and attacked Dos Ben Dejos, and Mia Yim and Leva Bates made the save. Bates stated that Yim will face Dallas later tonight.

The Bravado Brothers (Young Harlem and Young Lancelot) w/Larry Dallas vs. The British Lion Tommy Taylor & Kenneth Cameron: Big fan of the Bravado Brothers, but not that excited that they have been set up with Larry Dallas. The Bravado brothers won in about 6-minutes with the Gentlemen's Agreement. Taylor and Cameron are rough in there, and while the Bravado Brothers are pretty polished, this wasn't anything special and the crowd still seems to not be into the card. Not the best use of the Bravado Brothers here.

Match Rating: **
Taylor and Cameron basically cry about their loss in a post match promo. That transitions into Taylor being promised a shot at Uhaa Nation's Florida Heritage Title. No one cared.

Maxwell Chicago vs. Mikey Webb: I am not familiar with either guy, so I am interested to see what they bring to the table. Webb, who is in great shape, reportedly impressed WWNLive officials at the DGUSA open seminar-tryout at WrestleCon. Maxwell Chicago has a tux inspired body suit, which is pretty funny. They did a comedy spot where they were doing a criss-cross, and over unders, and Chicago "blew up" during it, and ate an atomic drop. Webb has a good look and is charismatic, but his debut did little to excite me. Maybe having him debt against a comedy guy wasn't the best of ideas. Chicago won after Webb missed a cross body, and he used a roll up and the ropes to score the pin at about 10-minutes. Webb looked good in the ring overall, and the crowd was into this more than anything else on the show, but it wasn't like they were on fire. I'd like to see Webb get a shot on an EVOLVE show in a Fray style match.

Match Rating: **
Chicago sang for his post match interview. He is fine I suppose, but comes off as a C-Level Archibald Peck.
So far this is a show.

Chasyn Rance w/MSL vs. Lince Dorado: I like Lince Dorado, and wish I got to see him wrestle more that I do. Nice mix of styles in this match, as Dorado worked the very fan friendly and fast paced lucha styles, while Rance works a more methodical ground based/submission game. This was easily the best thing, to this point, in the ring and the crowd finally reacted like they really cared. Dorado had things won after a shooting star press, but MSL distracted the ref, which led to the Chasyn driver (onto a chair slid in by MSL) for the win at about 12-minutes. It never quite hit that next gear, and I will admit that I was not a big fan of the finish because this was the first match I was into.

Match Rating: ***
They sold the finish well by having officials check on Dorado and helping him to the back.
Someone brought a baby to this show, or a VERY, VERY young child, because I keep hearing crying. That is very annoying.

FIP World Tag Team Championship Match: Dos Ben Dejos of Jay Rios & Eddie Cruz defend vs. The K.O.A. (Sugar Dunkerton & Aaron Epic): I believe that Dos Ben Dejos were trained at the Team 3D Academy. Also, it is fascinating to see "'non-CHIKARA" Sugar Dunkerton, talking shit to the champions about his black mamba. If you've only seen Dunkerton in CHIKARA, it is very odd to watch him be such a different character, but I will say that he is really good at playing an over the top dick heel. Dos Ben Dejos are a really fun baby face team to watch, with a lot of potential. They come off as unpolished in some aspects (general flow, selling) but working in places like FIP is good for them at this stage. This was also my first time watching Epic and Dunkerton as a heel duo, and they were really impressive and easy to hate. Dos Ben Dejos retained the titles at about 16-minutes with the sliced bread-lionsault combo in what was the best match of the night at this time.

Match Rating: ***½
The Bravado Brothers hit the ring post match and beat down the champions (Dos Ben Dejos), while Dunkerton and Epic walked out with the titles.

Non-Title Match: EVOLVE Champion AR Fox vs. Trent Baretta: Trent Baretta has been making a good amount of Independent appearances since his WWE release. He filled in at the Dragon Gate USA Open The Ultimate Gate 2013 iPPV on WrestleMania weekend in a match with Jon Davis, which was just ok, but mainly because it was about Davis' angle. Fox has been impressive for a long time, so if Trent will shine, it could be tonight. Scary moment about 9-minutes in as Fox hit his trio of dives, and when he hit the third Trent's knee was bent underneath him in a way legs are not supposed to bend. He continued and survived a senton from Fox, and came back with a DVD on the ring apron for a near fall. They worked really hard down the stretch; unfortunately they got little to no reaction for some really good near falls. The crowd liked chanting for Fox, but not much else at times. Trent countered Lo Mien Pain into a belly to back suplex, which was cool, but got almost no reaction. More random chanting for Fox though, so there's that. Trent countered the 450 splash with the knees, and hit the charging dropkick for a close 2. Seriously, this is one of those matches that if you typed out the full play by play, it may read as a MOTY candidate, but the crowd's general lack of enthusiasm on near falls kills the energy level of the match. This was a great effort by both guys, and I was really impressed with Trent keeping up with Fox. Trent countered a small package into one of his own to score the surprise victory at 18-minutes. I'd have no issue with seeing them rematch in May on one the EVOVLE shows, with the title on the line. Book it Gabe.

Match Rating: ****

Larry Dallas w/Trina Michaels & Buggy Nova vs. Mia Yim w/Leva Bates: Larry Dallas is sporting a Big Show style singlet, which is really for the better. But for real, someone tell Big Show he's missing some gear. Mia Yim has been scoring a lot of attention and praise in the last year for her work in SHIMMER, SHINE and CZW. Yim controlled early, but of course Michaels & Buggy got involved to turn the tide, allowing Dallas to use the skull fucker on Yim. Michaels & Buggy getting involved and Bates trying to keep the field even would be a theme, and Bates would eventually get them away from ringside. Yim wins at about 8-minutes with a powerbomb out of the corner. It was in the cool down spot before the main event, but was pretty solidly worked as Yim shined and Dallas worked as an opportunistic manager. I may have to invest in some SHINE to see more of Yim.

Match Rating: **

FIP World Heavyweight Championship Match: Jon Davis w/MSL defends vs. Homicide: I am hot and cold on Jon Davis, and haven't seen Homicide in a while, so this could be interesting. This was a very different style match than anything else on the card, which I feel is a good thing. They ran a spot early as they brawled on the floor where Homicide missed a lariat and hit a post, which then allowed Davis to center his attack on the injury. Davis scored a near fall about 7-minutes in wit a dead lift stalling superplex, which was pretty sweet. I also appreciated the commentary telling the story that Homicide was an FIP Champion, and is looking to regain his former glory. Homicide had a great near fall off of a second rope ace crusher, followed by a lariat. Same problem though, lack of crowd reaction. MSL would get involved to distract the ref, Rance then low blowed Homicide, allowing Davis to connect with three seconds around the world for the victory at about 15-minutes. This was a solid main event and Homicide looked fine; but I feel that the finish would have meant more if they didn't do the screw finish with MSL and Rance earlier in the show. Less is more.

Match Rating: ***
Homicide would get a chair and clear the ring of Davis and MSL, and then hit the Kop Killa on Rance. Homicide then held the FIP Title high and dared Davis to return to the ring and get it.

The Tirade


The show got off to a really cold start for me, and for a time I was starting to question the purchase of the show. But thankfully things turned around, and between Dorado vs. Rance, Dos Ben Dejos vs. KOA and then Fox vs. Trent, the show turned around in a big way for me and closed out with a solid main event. While not the most impressive event on paper, it ended up being a solid show for $15, unfortunately they had a bad crowd in my opinion. If you have the chance, check out AR Fox vs. Trent Baretta.

PS: No iPPV issues at all.

Show Rating: 6.5

As a reminder, I will be going by the 411 scale…

0 – 0.9: Torture
1 – 1.9: Extremely Horrendous
2 – 2.9: Very Bad
3 – 3.9: Bad
4 – 4.9: Poor
5 – 5.9: Not So Good
6 – 6.9: Average
7 – 7.9: Good
8 – 8.9:Very Good
9 – 9.9: Amazing
10: Virtually Perfect
---
BONUS COVERAGE
Have you checked out the Csonka Podcasting Network? If you haven't, you should We run anywhere from 15-20 shows a month, discussing pro wrestling, the world of MMA, the NBA, general sports, popular TV series of the past, bad movies, battle rap, interviews, MMA & Wrestling conference calls and more! Around 10 different personalities take part in the various shows, which all have a different feel; so you'll likely find something you like. All of the broadcasts are free, so go ahead and give a show a try and share the link with your friends on the Twitter Machine and other social media outlets! Running since May of 2011, there are currently over 300 shows in the archive for you to listen to.
Your heart is free. Have the courage to follow it…TO CSONKA'S TWITTER!
http://www.twitter.com/411wrestling
http://www.twitter.com/411moviestv
http://www.twitter.com/411music
http://www.twitter.com/411games
http://www.twitter.com/411mma
Larry Csonka is a Pisces and enjoys rolling at jiu jitsu class with Hotty McBrownbelt, cooking, long walks on the beach, Slingo and the occasional trip to Jack in the Box. He is married to a soulless ginger and has two beautiful daughters who are thankfully not soulless gingers; and is legally allowed to marry people in 35 states. He has been a wrestling fan since 1982 and has been writing for 411 since May 24th, 2004; contributing over 3,000 columns, TV reports and video reviews to the site.
NULL