411 Fact or Fiction 4.17.08: Angle vs. Joe as a MOTYC, HBK vs. Big Dave, Lockdown's Quality and More!
April 17, 2008 | Posted by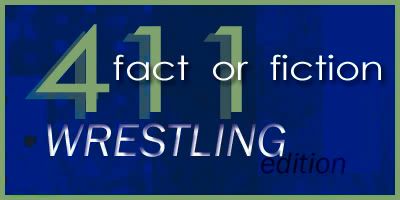 Welcome back to another week of 411 Fact or Fiction: Wrestling Edition! This week, two 411 writers go to battle as Jake Chambers enters the 411 Arena to do battle with WS Thomason!
And remember to go to TigerFlashGames.com and play addictive, free flash games when you're bored at work, school, or whenever! Ashish made this place because he loves you.

1. Lockdown was the best TNA PPV of 2008.

WS Thomason : FACT. The show actually featured a properly built one-one main event for the TNA title between two evenly matched competitors. In other words, a title change was likely. The Joe-retirement stipulation added the extra kick that a big-time rematch needs. An advantage to TNA's wacky booking is that there was part of you that thought they might have Joe lose. A little part, yes, but enough to make you nervous. Lethal Lockdown was intense and displayed the risks that TNA workers are willing to take on pay-per-view. TNA regularly succeeds with this multi-person gimmick match, so expectations were high. The early matches were mercifully short, but it did raise the question whether or not they should have been included – Cuffed in the Cage and The Please, Please, Please Let This Be As Brief As Possible Grudge Match between the James Gang. There was also no Bob Armstrong, Pacman Jones, three quarters of the Chicago White Sox, or any NASCAR personalities, so big points there. Overall, a solid way to usher in the Samoa Joe era.

Jake Chambers : FICTION. Although I almost want to say FACT based on Frank Trigg's commentary in the main event alone. Wait, I almost want to say FACT just because TNA went back to the chain link fence instead of the pipe cleaners or plastic tubing they were using last year. But no, this was not the best TNA PPV this year in my opinion. Lockdown was a good show. The way everything seemed to unwrap into the gift of the main event was an effective way to present a PPV, and hopefully a format they will continue. Anything unrelated to the main event was okay but not amazing. Personally I dislike the Lethal Lockdown matches, which are TNA's version of the Money in the Bank ladder match, a gimmick heavy, formulaically trustworthy crowd pleaser, which on television almost has no way of distinguishing itself one year from the next. In my opinion, Destination X was a more satisfying show from beginning to end.

Score: 0 for 1

2. You are not looking forward to the WWE Title Match at Backlash.

WS Thomason : FACT. I think it is great that they gave Orton credibility by having him achieve the rare distinction of being a heel champion who retains at Wrestlemania. The multi-person progeny of the Wrestlemania main event is getting rather predictable. I am not sure what else they would do, and it will be an entertaining match, but it certainly does not make me want to shell out the cash for the PPV.

Jake Chambers : FICTON. At this point I have to say that I look forward to any PPV match involving John Cena, just because of his development over the past few years into a fantastic main eventer who always creates an unmistakably unique pro-wrestling atmosphere. Although I am not a massive Triple H fan these days, I think during this phase of his career his in-ring timing is at its finest in multi-man matches. I really like both JBL and Randy Orton, so I'm always happy to see them wrestle, yet Orton's current storyline and presence as champion in the match seems to scream predictable victory. In retrospect, last year's Backlash Fatal Four Way was an awesome match, with an acutely perfect ending sequence, and two of those guys are involved here as well. Therefore, I would have to say that I am unmistakably looking forward to this match.

Score: 0 for 2

3. The Main Event of Lockdown is an early Match of the Year Candidate.

WS Thomason : FACT. Early, yes. A shoe-in? No. The match will be hurt by the inevitable comparisons to their first three matches. Unfair, but that is how it goes.

Jake Chambers : FACT. I'm dying to say FICTION here, since I doubt that Joe vs. Angle will end up as my Match of the Year, but I really have no other alternatives. With John Cena kind of out of the main event picture so far this year, the WWE has provided few List-caliber matches, with those being Flair vs. HBK, Edge vs. 'taker, Hardy vs. HBK from RAW, and the Smackdown Elimination Chamber match from No Way Out. TNA also hasn't had much of a stellar year in top match quality, and I have seen nothing from the 2008 ROH DVDs yet, only the PPVs and their respective great main events. With the best match I'd probably seen this year (up until last weekend) being Doi & Yoshino vs. Shingo & BxB Hulk from Dragon Gate, I would guess by default that would put the Lockdown main event near the top of the MotY list.

The match was pretty great. I'm not sold on the necessity of mashing MMA and pro-wrestling together but this was about as good as it could be done, although as I'd feared the beginning was quite dull. The pace picked up for me around the time of the figure four and I was pretty into it from then on. I especially appreciated that they didn't overdo the submission reversals and re-reversals, as big Kurt Angle matches tend to, since it kept a nice consistency to the realism they were trying to create. By the end, I guess I had become very invested in seeing Joe win and so I was happy with the payoff. So on the list of best matches of the year, most likely, actually being match of the year, probably not for me.

Score: 1 for 3
—SWITCH~!—
4. So far the Batista vs. HBK feud is off to a great start.
Jake Chambers : FICTION. Some of the exchanges have been nice, but it's a tad melodramatic. These contrived in-ring meetings to discuss who is the most noble and trustworthy is all too much 'In Treatment' and not enough 'The Soprano's' for me. After a week and a half I'm already burned out by the 'grrr' faces, 'gotcha' smirks and the dramatic use of sunglasses. I think Shawn Michaels is riding way too high on "I'm sorry, I love you" and is seriously overacting. Batista on the other hand, is coming across subtle and likable, in my opinion, but that could just be because of the gentlemen's gray he's showing in his hair.
This week's Smackdown confrontation tried too hard to add another layer to the feud too quickly, with Batista admitting that he did not like or trust Shawn anymore. But then, when had he ever been in the position to trust Shawn before? They are supposed to be on separate brands, so really, why would he be concerned about HBK's integrity?
I also don't like the blurring of the backstage line, with Batista accusing Shawn of stabbing too many people in the back. Is he referring to Marty Jannetty and Jim Neidhart, or is this more ethereal backstage HBK mythos that we have to vaguely be informed of through official WWE historians and fourth-hand (or more) online gossip? Batista's accusation that Shawn should have "laid down" for Flair also feels a bit too inside for me. Here we are supposed to be feeling some real emotion from the confrontation, yet that involves having to admit that the matches can be faked. I understand that Batista is not trying to break the fourth wall with this argument, but it bothers me nonetheless as a statement open to this kind of interpretation.
And to finish on a seriously nit-picky note, I hate watching Shawn try to be intense in that stupid cowboy hat. It doesn't match his clothes, it's all bent on the sides in that lame looking way, and it conveniently covers his thinning hair and newfound weird eye problem. Shave that head and proudly Perry Saturn those wandering-eyes HBK!
WS Thomason : FACT. Using the Flair-retirement storyline to further a post-Mania angle is brilliant. The rivalry will need something big to happen at Backlash, though, as the Flair situation will only carry them so far.
Score: 1 for 4
5. You do not expect Joe's title run to last past June's Slammiversary PPV.
Jake Chambers : FACT. TNA has historically shown absolutely no faith in 'babyface' world champions. With the King of the Mountain match most likely main eventing Slammiversary, I would say that would be TNA's perfect 'out' for the Samoa Joe title reign.
WS Thomason : FICTION. As fictional as a three year WWE Title reign for Bastion Booger. TNA has made some questionable decisions over the years, but they generally have not made too many mistakes when it comes to World Title reigns. Taking the belt off of Joe within two months will kill his momentum yet again and make it more difficult for TNA to re-establish him as champion later on. Here's how I see it: Joe will get by Steiner next month and then get his much-deserved win in the King of the Mountain at Slammiversary. Joe goes through Tomko while Angle gets some much-needed rest for a late summer return match that will even them up at 3-3. Joe beats Sting at Bound for Glory in what probably will be his last match. Joe then prepares for his seventh bout with Angle.
Score: 1 for 5
6. With the 2008 Royal Rumble and No Way Out PPV's doing much better buy rates than their 2007 versions, you expect WrestleMania to break last year's record of 1.2-million PPV buys.
Jake Chambers : FACT. I guess, but who cares? These buy rate fluctuations are the kind of nonsense the new publicly traded, corporate WWE wants people to be concerned about instead of the actual quality of the wrestling. Wrestlemania XXIV was a good show, but had it turned out terribly the WWE still would have found a way to make their financial numbers the focus. Last year's Wrestlemania was great, but did it really feel like the biggest Wrestlemania of all time? Why should I remember Wrestlemania 23 for having a huge buy rate rather than one of the greatest main events ever? Wrestlemania 3 is often remembered for the fan attendance record, but really the quality of the show and the memorable moments/matches are what make it a timeless classic. No matter what the buy rate number WWE finally announces for this year's Wrestlemania, I doubt that the show will be as memorable in quality as Wrestlemania 3, or 23 for that matter, and in the end, that's what I care about the most.
WS Thomason : FACT. I say this sadly because inevitably the increased buys will be attributed exclusively to Floyd Mayweather. The Rumble and No Way Out buys show an increased interest in the product before Mayweather's involvement – which logically would translate into more buys for the big pay-off – but the executives are going to see what they want to see. And what they want to see is that the $20 million they shelled out to Mayweather was worth it. The show was great without Mayweather, but the end result will be that the celebrities and not workers get the credit. Who knows who we'll see next year.
Score: 2 for 6
These two finish 2 for 6! Come on back next week for more of 411 Fact or Fiction: Wrestling Edition!
NULL