411's Countdown to Wrestlemania 25: Ari's Favorite Wrestlemania Moments
March 25, 2009 | Posted by

Thanks to John Meehan for creating this year's logo…
When it came time to think about what I was going to write for this year's "Countdown" feature here at 411Mania.com, I confess I had a bit of a writer's block. Previously, I had written about the title changes at Wrestlemania and about Ric Flair's importance in participating in the granddaddy of them all. This time around… I had nothing. I just didn't really have a good "hook" or angle to write about this time around. I thought about doing a feature on "Stone Cold" Steve Austin, similar to the one I wrote for Flair last year, but that is already being covered later in this series (SPOILERS!).
However, the suggestion came up that 411Mania continue the tradition of writing about their "favorite" Wrestlemania moments, as had been done the past few years. Larry Csonka started it off, and last year Randy Harrison contributed with his list. I thought and thought…and really, really thought some more about taking that spot this year. Finally, I said to myself, "ah, what the hell" and decided to jump in and do it.
After all, Wrestlemania has been a huge part of my wrestling fandom, right from the very beginning. Besides, regardless of how great or how horrible the show looks like on paper, I can't help but get psyched up for the show around this time every year. When I was just a kid, I would actively look forward to the "Wrestlemania Report" style newsbriefs that Gene Okerlund, Sean Mooney and others would host every week on the WWF shows. I would eat up with a spoon whatever little update to show there was on Superstars or Wrestling Challenge whether it be an addition to the undercard or the announcement of a celebrity-guest appearance. I was just excited about seeing Mania, the biggest wrestling show of the year. I thought If I went back to that feeling and focused on my past experiences with Wrestlemania, I could come up with a hell of a list of personal favorites and nostalgic moments. So here they are:
My first Wrestlemania on PPV: Wrestlemania V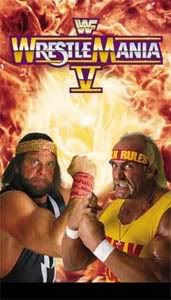 Cablevision finally had a wider availability in Brooklyn, New York around 1987. My family received cable in 1988 and I was able to catch WWF on a regular basis, Prime Time Wrestling in addition to Saturday Night's Main Event on NBC (and later FOX), Superstars and Wrestling Challenge on the weekends. However, my first Pay Per View wasn't until 1989 and I actually viewed at my friends' house down the block instead of my own. I visibly remember watching the show in two different rooms of my friend's apartment. I distinctly remember what it felt like to watch such matches as Mr. Perfect vs. The Blue Blazer and Rockers vs. Twin Towers and thinking this was just some really cool action. I remember being horrified to see Rick Martel turn on Tito Santana in the match against The Brainbusters and shocked speechless when Rick Rude won the Intercontinental Title by cheating with that damned weasel Bobby Heenan putting the foot on the ropes. Of course what made me want to watch that year's show live was the big rivalry between Hulk Hogan and Randy Savage. I was a huge Hulkamaniac, but also had some immense respect for Savage at that time…that is until he walked out on Hogan during the tag match against the Twin Towers and then brutally attacked Hogan backstage at Saturday Night's Main Event. Savage's jealousy regarding Elizabeth was just hideously villainous and I remember wanting to see Hogan get revenge and get back the title that year. That's exactly what happened and I left that night with a measure satisfaction, not knowing the years to come would be filled with more drama and villainy thanks to Savage transforming into "The Macho King".
How I watched Wrestlemania's I-IV:
I can't remember which of the first four Wrestlemania shows was my actual "first" watch. My memory of the first five years of my life used to be better (unbelievably almost crystal clear at times) but the years have gotten to me. However, I do remember going to the local video store and spending countless minutes looking at the match rundowns on the back of the VHS packages to each of the first four Wrestlemanias. I thought those match rundowns were the coolest thing ever and because those first ones had so many matches I thought they were truly "supercard" events. I managed to catch up with Wrestlemania through the magic of home video, with my favorite being Wrestlemania III. I loved watching the event unfold, taking in the grandeur of the massive crowd and how cool it was that it was taking place outdoors. Funnily enough, I remember being very bored with the main event of Wrestlemania II (Hogan vs. Bundy in the cage), but loving Hogan vs. Andre even though in hindsight it wasn't much of a "good" match. It was a hell of a memorable moment though, and the body slam and leg drop finish was etched in my mind for the many years to come.
Favorite Wrestlemania Performer: Shawn Michaels
2. Steve Austin 3. Bret Hart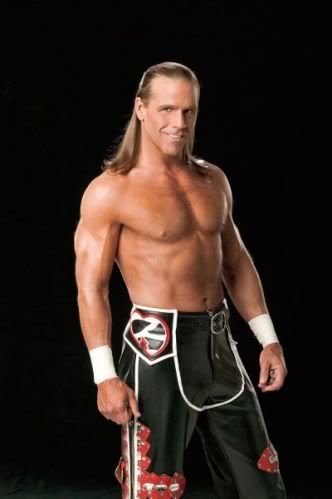 There is a reason why he is called "Mr. Wrestlemania" and Shawn Michaels proves it just about every year. This is a man who had a real good match against Vince McMahon during Wrestlemania time! I love that Shawn has kicked it up a notch every year since his return bout at 'Mania 19. I think he takes it as a matter of personal pride that he can go out there and wrestle to the best of his ability on that day. He was always one of WWE's best ring technicians, but he marries that with storytelling ability and the drama of that big stage, resulting in all of these fantastic performances. He captured the moment with his zip line drop at 'Mania XII, gutted through the torch changing match against Steve Austin (although that may or may not have been with some extra prodding from The Undertaker, depending on how much you believe in internet lore), then had a career renaissance in bouts against Chris Jericho, the triple threat at Mania XX (despite wanting to have Benoit vs. Triple H one-on-one I think it actually worked out for the best with Michaels involved) all the way to providing an exciting main event against Cena (XXIII) and being the man to retire Ric Flair with a flare of the dramatic. Michaels is my favorite Wrestlemania performer in a top three that is packed with awesome wrestlers. There is just absolute enthusiasm in knowing that Shawn Michaels is on the card and that he will deliver, no questions asked.
Favorite Wrestlemania Match: Kurt Angle vs. Shawn Michaels (Wrestlemania 21)
2. Hulk Hogan vs. Randy Savage (V) 3. Bret Hart vs. Roddy Piper (VIII) 4. Bret Hart vs. Owen Hart (X) 5. Ladder Match: Shawn Michaels vs. Razor Ramon (X)
Angle vs. Michaels is the epitome of what an excellent wrestling match should be: back and forth action, the tempo increasing with each minute and the air of unpredictability in the match. Who would come out on top? Who would get the right counters and who would make that one wrong move that cost them the match? This one was filled with plenty of those kinds of questions being answered. Perhaps Michaels holding on and fighting through the ultimate leg grapevine during the closing moments of the match for almost two minutes (far longer than anyone else previous to that point) was a bit hyperbolic, but it was symbolic of the drama of such a moment that mattered the most.
I will take credit in my own mind for one thing, that being the spot where the superkick was countered and maneuvered directly into the anklelock. I thought to myself during the lead up to the match and believe even spoke it to my friends about how Angle should block the kick by grabbing Michaels' leg and instantly turning it into the ankle lock…and lo and behold that very same spot happened! Needless to say I was marking out for that and about a million other moments that happened during this match.
Favorite Wrestlemania Moment: Randy Savage and Miss Elizabeth are reunited (Wrestlemania VII)
2. Hulk Hogan and Ultimate Warrior embrace in the ring (VI) 3. Ric Flair's final walk to and out of the Citrus Bowl (XXIV) 4. All the babyfaces congratulate Bret Hart on winning the title and Owen hart stands outside the ring in disbelief (X) 5. Rey Mysterio wins the World Heavyweight Championship (22)
An emotional moment that was a long time in coming saw Miss Elizabeth finally reunited with Randy Savage. It was unexpected in that the two had been involved in a very high profile on-camera splintering and had been apart for many years. Savage became the villainous Macho King with Queen Sensational Sherri by his side, and Miss Elizabeth had almost disappeared off the map. She made an appearance at Wrestlemania VI the year before, accompanying Dusty Rhodes and Sapphire to the ring, but her heart was not in it. The next year, when Savage lost his retirement match to Warrior and Sherri kicked the Macho Man while he was down, Elizabeth was once again in attendance, and finally she had enough. She sprung to action, pulled Sherri away from Savage and then…the magic of the moment happened. Savage realized what Elizabeth had done and why, and then both embraced in the ring, happily reunited.
This saga remains one of the greatest wrestling love stories ever told despite the unfortunate death of Miss Elizabeth many years later as well as what we have heard about Savage and Elizabeth's off and on relationship backstage. To this day I have no idea if this was just how the fates aligned or if it was all planned that Savage and Elizabeth's relationship would be torn asunder at a Wrestlemania and then reformed two years later at another Wrestlemania. It's perfect full circle booking that I don't think we'll see the likes of ever again.
Favorite Wrestlemania Ever: Wrestlemania X
2. XX 3. X-7
I think some fans who weren't around at the time look back at this show and think its overrated, but this and Mania XIV were the seminal shows of my generation. This Wrestlemania could be otherwise known as the Bret Hart / Shawn Michaels show due to both of them stealing the show that year. As a huge Bret Hart fan at the time I was anxiously awaiting this night because it was an opportunity for Bret to get payback both against his brother Owen and a chance to win the WWF Heavyweight Title once again, avenging his loss the previous year to Yokozuna. I don't quite remember the circumstances surrounding it, but I can remember one of my close friends Leor coming over to watch this show and both of us really pulling for Bret. We were shocked when Owen scored the upset in what has become known as one of the best opening matches in Mania history, but we were ultimately satisfied to see Bret regain the title at the end of the show. Along the way, HBK and Razor Ramon surprised the hell out of us with what was then and still is now the landmark ladder match. Michaels and Razor did things with the ladder that no one could have predicted. The rest of this 'Mania card isn't too shabby. While there was a measure of the silly, cartoonesque WWF characters of the time (Doink, Men on a Mission, Adam Bomb and a President Clinton impersonator), it was also filled with some very special and memorable moments. There was Randy Savage in his last bit of glory in winning a Falls Count Anywhere match against Crush (and his fun celebration with the crowd at the Paramount Theatre). There was the infamous and unintentionally hilarious Owen Hart "I kicked the leg out of your leg" promo, the unveiling of two special guest referees (Mr. Perfect and Roddy Piper, both mark out moments with great ties to previous Wrestlemania history and the wrestlers involved in the two title matches) and of course the final moment of Bret Hart celebrating with the rest of the babyfaces as Owen looked on in jealousy. It's hard to beat a 'Mania that took place right smack in the middle of my formative years and featured some of my favorite wrestlers taking center stage in the first year without any Hulk Hogan involvement whatsoever.
Wrestlemania XX was the first live WWE Pay Per View I attended, and it was an really good one to choose. I knew that I had to be there for Mania as soon as the twentieth edition was announced for Madison Square Garden. I was too young and didn't have the resources to attend X, but I ten years later was a different story. The atmosphere for the show was tremendous, although of course looking back on the event in hindsight is bittersweet considering all the tragedy that was to come afterwards for Eddie Guerrero and Chris Benoit. A funny story is that my cousins Jason and Beth travelled downstate to the city from Albany to attend the show, but we were all the way across the arena from each other. Therefore we were in constant communications on our cells and at several times throughout the show (mostly the downtimes like the Ventura segment and the women's match) I would hustle up the steps to the roundabouts through several long sections of the Garden with a hefty book bag in tow just to hang with my cousins for a bit of time. Meanwhile, Wrestlemania X-7 remains one of the best Manias of all time, a quintessential 'Mania show with a top-to-bottom card and of course and unforgettable main event of "Stone Cold" Steve Austin vs. The Rock.
Favorite Wrestlemania Undertaker Match: vs. Batista (Wrestlemania XXIII)
2. vs. Orton (21) 3. vs. Edge (XXIV)
It's amazing to think that it took the last several years for Undertaker to have his best matches at Mania. Before that, it was very slim pickings. Although I do find it funny in a way that some of his better matches at Mania have been against all four men who once were a part of Evolution (HHH in X-7, Flair in X-8, Orton at 21 and Batista at XXIII). I think I like the Batista match the most because it kind of snuck up on me, and likely on a lot of people. Batista wasn't providing the best in-ring matches around this time and I think he and Undertaker were very motivated to prove to people that they could go out there and deliver when it counted. They promised a Ricky Steamboat vs. Randy Savage like moment and many including myself scoffed at that thought. They proved me and many others wrong and came damned close to hitting that kind of mark of excellence, especially considering they were two large men having a go at it. The results were a very physical and very enjoyable one-on-one title bout. Undertaker's entrance that year also stands out with the backlit doorway and flames from around the entire stage really providing a picture-perfect visual of that moment. 'Taker can get too over the top sometimes with his characterizations, but the grandeur of an Undertaker entrance at Wrestlemania is undeniable.
Least Favorite Wrestlemania Undertaker Match: vs. Giant Gonzalez (Wrestlemania IX)
2. vs. Big Show & A-Train (XIX) 3. vs. Big Boss Man (XV)
Just because I wanted to throw one "least favorite" in this column and this is what hit my mind first. I watched Wrestlemania IX from a tape I borrowed from a friend several months after the event took place. After watching that tape, I seriously reconsidered whether or not he was truly my friend for letting me borrow it. Just kidding. All I can say is thank goodness I saw it on tape, because even on fast forward Undertaker vs. Giant Gonzalez was excruciating. You might be able to come up with a list of painful things that are better to suffer through than this match—a visit to the dentist, getting gored by a bull, watching an episode of TNA iMPACT…well, just barely on that last one. Watching this match could have been a new cure for insomnia…or maybe I could have borrowed the ether rag from Paul Bearer. The other two matches I've listed aren't that much better either and I can't bring myself to write about them.
Favorite Wrestlemania Money in the Bank match: Wrestlemania XXIV (CM Punk wins the match)
Yes, yes, CM Punk mark, me, guilty as charged. Still, among all four previous Money in the Bank matches, all of them being pretty impressive as far as spotfests and crash matches go, this one ranks highest on my list just because CM Punk was given the rub. He made his in-ring Wrestlemania debut the year previous and came within seconds of winning the match. At Wrestlemania XXIV, he came through with the big win by climbing over Chris Jericho, who was caught in the rung of a ladder. The match itself was a lot of fun, with John Morrison in particular stealing the show with several big moves involving the ladder, including using it as an barricade while he moonsaulted off the ropes. Shelton Benjamin did one of those out of nowhere spots he always does during these matches that still managed to leave you breathless. I can't say I wanted to see Punk one more time in the MITB match though; I'd rather have seen Punk defend the Intercontinental Title in a one-on-one match. I think Punk has plenty of time left in WWE, but for sure I'd like to see him get an epic singles match at Wrestlemania on his career resume.
Favorite Wrestlemania Sketch / Skit: Wrestlemania DANCE PARTY! (XXIII)
Completely unexpected and entirely delightful, the WWE legends and some of the current era undercard combined to form one hell of a dance party backstage during Mania. The vignette was all mirth and done with a very lighthearted spirit and that's part of what made the segment so entertaining and memorable. If you're going to go for something as silly and over the top as this, you've got to go all the way and go balls to the wall with it. I loved the cameos of Slick, Ricky Steamboat and I.R.S. in particular (and of all people to be getting down and funky, I.R.S. did not come to mind immediately and that's why it was so great). There's a difference between a skit that's too cartoony and unbelievable and a skit that is just fun and jubilant and this skit fell into the latter category. It made sense—it's Wrestlemania, it's a celebration and all of these wrestlers are there to party!
Favorite Wrestlemania Promo:Mr. Perfect, Ric Flair, Bobby Heenan and Randy Savage at (Wrestlemania VIII):
The awesomeness of these back-to-back promos cannot be contained. The terrific part about Flair, Heenan and Perfect complaining about Savage pulling the tights was that Flair had been cheating all match, and this was a little bit of "what goes around comes around." So of course they complain all they can about it! Heenan going apoplectic, Flair, Perfect and Savage going apoplectic, EVERYONE was going apoplectic! It just made for a hell of an intense five minutes that made you feel while you were given something great that night, there would be more to come in the future between Savage and Flair.
Second place goes to Edge–crushing children's dreams (Wrestlemania XXIV)
Edge nailed the essence of a heel promo at Wrestlemania, making us want to see him lose later in the show. Crushing the spirit and innocence of children all around the world? That is cold. It's like saying there is no Santa Claus or Easter Bunn…whoooops! Sorry kids… um, um…the wheels on the bus go round and round, round and round, round and round…
Favorite Wrestlemania Video Package: "My Way" (Austin vs. Rock)—Wrestlemania X-7
What else can I say but perhaps the best fitting song—perfect for the feud between Austin and The Rock, perfect for the attitude and atmosphere of that era in WWE, just a perfect encapsulation of what the main event of a Wrestlemania was all about. It's one of the few WWE video recaps I can recall perfectly from beginning to end, and one of the few I continually go back to just to relive the feelings I had at the time. I admit I still get goose bumps watching it. I have to give kudos to the WWE production department for some excellence of execution on the video, timing the eye-to-eye contact just right to fit with the lyrics and the breaks in the song. Limp Bizkit may not have aged well in the music industry, but if anything I have to give them credit for creating that song, which led to helping the creation of this awesome video package.
Favorite Wrestlemania Opening Match: Bret Hart vs. Owen Hart (Wrestlemania X)
2. Money in the Bank III (XXIII) 3. The Rockers vs. Haku & Barbarian (VII) 4. Chris Jericho vs. William Regal (X-7) 5. Eddie Guerrero vs. Rey Mysterio (21)
Bret vs. Owen, brother vs. brother. A technical wrestling clinic but at the same time as heated a grudge match as you'd ever see. I don't think when both men walked to the ring that night that fans expected to be treated to such a great opening match, or that Owen would pick up the upset win. The leg injury was a great story telling move that carried over to the main event. Bret had the second title shot of the night against the winner of Lex Luger vs. Yokozuna, but after wrestling and losing a match and being injured, things looked bleak. Owen had Bret on the defense for most of this match, forcing Bret to counter wrestle and look for the right opportunities to hit the sharpshooter. However, it was the reversal to the victory roll (which Bret had notably used to win the King of the Ring tournament a few months previous) that secured Owen the upset win and left Hart heartbroken, in disbelief that he had lost to his own brother. It also left me in disbelief that I had just seen a match that awesome, and it was only the first match on the show!
Favorite Wrestlemania Squash: Hart Foundation vs. The Bolsheviks (Wrestlemania VI)
2. King Kong Bundy vs. SD Jones (II) 3. Legion of Doom vs. Power & Glory (VII)
The Mania squash match is just as much a tradition as the main events and the now annual Money in the Bank match. It seems that once a year, someone is going down for the count, and quickly at that. There was the original standard bearer of the "record" time of the Bundy vs. SD Jones match, the brief squash (in the figurative AND literal sense of the word) or Earthquake vs. Adam Bomb at Mania X all the way down to last year's Wrestlemania XXIV quickie between Kane and Chavo Guerrero. Yet my favorite remains the Foundation vs. Bolsheviks if just for the simple reason that poor Nikolai Volkoff and Boris Zukoff only wanted to sing the Soviet Anthem and their hopes were dashed quickly and unmercifully. Not only did celebrity entertainer Steve Allen blockade their attempts to practice the song ( a backstage segment that was filmed in the bathroom of all places, weird), but Bret Hart and Jim Neidhart only further put the ixnay on their endearing vocal melodies. A Hart Attack close line and pin seconds into the match gave the home country Hart Foundation a commanding win.
Favorite Wrestlemania Return: Ultimate Warrior (Wrestlemania VIII)
2. Roddy Piper (XIX) 3. Mr. Perfect (X) 4. Legion of Doom (XIV) 5. Hulk Hogan (21)
The Warrior ran out of Summerslam 1991 chasing off General Mustafa (Iron Sheik) and Col. Adnan (Sheik Adnan-al Kaisee) and never looked back. Maybe he was pulling a "Forrest Gump", I don't know. However, he re-entered WWF at Wrestlemania VIII, going 60 miles per hour down the long-ass ramp to save his long standing ally Hulk Hogan. The two cleared out Sid Justice (nee Sid Vicious nee Sid) and Papa Shango (too many alter egos to explain) and celebrated like the New York Jets had finally won another Super Bowl. Hogan vs. Sid wasn't a good match, but this was a very cool moment to end the show, because it was a simultaneous farewell to Hogan and a welcoming back for Warrior. Meanwhile, Roddy Piper's shocking run in during the Hogan vs. McMahon match was perhaps the second-most unexpected return in 'Mania history and everyone buzzed as to who he was going to go after with the pipe. Mr. Perfect returned to guest referee the Lex Luger vs. Yokozuna world title match, and it was a mark out moment for me given that Perfect was one of my favorites at the time and I was hoping he'd make a comeback at some point in time after being out for almost a year with his back injury. Donny Wahlburg actually was useful in his role as guest announcer, because he made Perfect's return seem like the coolest thing ever with the way he made the announcement.
Favorite Wrestlemania Moment involving the classic ring carts: Andre the Giant tosses Bobby Heenan out and rides out on his own (Wrestlemania VI)
You don't really want to mess with Andre the Giant, and Bobby Heenan more than anyone should have understood that. However, Heenan was apoplectic after the Colossal Connection lost the WWF Tag Team Titles to Demolition, and placed all of the blame on Andre. Bobby slapped Andre and well…WRONG MOVE BOBBY! Andre choked the life out of him. Heenan crawled and dragged his body to the ring cart looking for a getaway, but Andre caught up with him, casually threw him out of the ring cart and commandeered it for himself. He was able to get a good long "farewell" and standing ovation from the crowd as a result, thus showing once again that Mania can be full of very touching and emotional moments.
Favorite Wrestlemania Referee Moment: Charles Robinson runs down the length of the Citrus Bowl (Wrestlemania XXIV)
Credit: RatedRKazuo
Credit: mjaj84 (although there are several versions of this out there)
As awesome as watching Warrior run down the length of a football field was at Mania VIII, Charles Robinson may have outdone even him with his 100 yard dash at the Citrus Bowl last year. With the official referee down in the Edge vs. Undertaker main event title match, it was up to "Lil "Naitch" to save the day with his count of a pinfall. He ran down, got in position, banged his arms down for one…two…and a kick out. Awesome, funny and entertaining referee moment and you don't get too many of those in pro grappling, so you have to treasure the few you do have.
That is going to cover it for some of my favorite Wrestlemania moments, matches, wrestlers and more. I have some genuine enthusiasm every year for 'Mania, and the past twenty four iterations of the event for the most part have given me cause to feel that way. Please feel free to share some of your own favorites in the comments section below and don't forget to enjoy Wrestlemania in just two weeks! Thanks for reading!
–Ari–
NULL