411's TNA Impact Report 4.28.15
April 24, 2015 | Posted by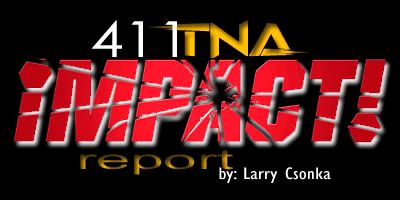 411's TNA IMPACT WRESTLING REPORT 4.28.15
* Kurt Angle makes his way out to the ring. Angle says he is supposed to defend the TNA Title against Eric Young tonight, and calls him out. EY comes out, and Angle reminds us about his speech from last week, wanting the old EY back. Angle says we saw a glimpse of the old EY last week, and now wants to now which EY he fights tonight. EY says he has been called crazy, and they are probably right. His crazy took a wild turn and he became the world champion. It was taken away from him; people got into his ear and things started to go out of control. Angle stopped the slide for him, he helped Angle last week and even stopped himself from attacking Angle with a chair, and did the right thing. EY says tonight, he will be the best one, the real EY and tells Angle that he wants the best man to win. Austin Aries then came out to the ring, and says that the real EY is the man that turned on Bobby Roode and cost him the title. The real EY is a ticking time bomb, so do not trust him. Aries reminds them that he has his briefcase and a title shot. Tonight, Aries wants to cash in tonight and tells EY that he'll have to wait his turn. Aries says he will cash in, they will have an epic match and then he will walk out the new champion. Aries leaves and EY is not pleased.
* Taryn cuts a backstage promo, and says she has prepared for Kong and will do anything she has to in order to keep the title.
* As Brooke makes her way to the ring, Rayne attacks her and Love attacks Kim. They all brawl as we head to a commercial.
Number One Contender's Match: Angelina Love vs. Gail Kim vs. Madison Rayne vs. Brooke: JIP as Brooke and Rayne battle center ring. Love over to help, they send her to the apron but she stun guns them. Kim over to attack and Brooke is sent to the floor. Kim with the corner clothesline on Rayne, but then Love attacks and pummels her in the middle of the ring. Rayne then recovers and connects with a short-armed clothesline. They try to double-team her, Brooke back in to help and then she gets sent back to the floor. Rayne hits a northern lights suplex on Kim for 2. She and Love double-team Kim again, and then Rayne attacks Love with kicks. Rayne to the second rope, but then misses a missile dropkick as Kim sidesteps her. Kim gains control, but as she charges Rayne Brooke spears her and then hits an X-Factor on Rayne, and the cover gets 2 as Love makes the save. Clotheslines by Brooke to Love, hits a flapjack and ten Rayne cuts her off. Kim is back and gets a head scissors on Rayne. Love then gets a full nelson with the legs on Kim at the same time, and then Brooke gets a choke on Love. Rayne escape and lays in some boots to Brooke, but Brooke gets a neck breaker. Brooke heads up top, so does Kim and Brooke hits the elbow drop as Kim hits a missile dropkick on Love. Kim and Brooke then cross body each other and everyone is down. Love up and hits a flatliner on Brooke. Kim hits eat defeat on Love and then Rayne hits the Barbie crusher on Kim. Brooke then hits her faceplant on Rayne and that is all.
OFFICIAL RESULT: Brooke @ 6:45 via pin
* We get a video package from The Rising. They hype tonight's match with a member of the BDC.
* Eric Young is asked about losing his chance at the title tonight. He's pissed.
* The BDC (King, Ki and MVP) make their way to the ring. The Rising (Drake, Galloway and Mica) are out next. MVP cuts a promo and says the Rising is right; there is something to be said about the honor of pro wrestling. He promises a no nonsense, one on one match. MVP teases that he is the man that will represent the BDC, but King attacks Mica and we're underway.
Mica vs. Kenny King: King has the advantage due to the early attack and lays the boots to Mica. Galloway trips up King, and that leads to the ref kicking out the rest of the Rising. King back on the attack, but Mica battles back with rights and then lays the boots to King in the corner. King crotches him on the ropes and then hits a spin kick and sends him to the floor. King distracts the ref as the BDC attacks Mica on the floor. King follows and lays in chops to Mica, who fires up and lays in rights to King. He then slams King to the apron and back into the ring they go as King takes control back. He slams Mica to the mat, and then works a chinlock. Mica fights out with a belly to back suplex, avoids the spin kick and then hits the corner splash. Mica with the big ending to King, and then MVP distracts the ref. Mica up top and Ki grabs his leg, allowing King to land a kick. Mica falls to the mat, and then King covers for 2. King snatches up Mica, who counters and then King connects with the kick to the back of the head. King heads up top, springboard caught into the Samoan drop and Mica covers for the win.
OFFICIAL RESULT: Mica @ 5:01 via pin
* The BDC attacks and then the Rising returns and they brawl. Homicide is out with a weapon and attacks so that the BDC can take the advantage. They isolate Galloway and MVP gets a pipe. He gives the pipe to Ki, and lays into Galloway with a shot to the gut. The BDC stands tall.
* The Rising is backstage, helping Galloway walk as he was just taken out. He vows to get revenge, next week is Hardcore Justice, and challenges Ki to a pipe on a pole match.
* We get a Dollhouse promo. As they come to the ring, Belle yells at Christy Hemme to properly say the name Dollhouse.
Jade w/Marti Belle vs. Laura Dennis: Jade is better known as Mia Yim, while Dennis is better known as Cherry Bomb. Lock up to begin, and Jade with an arm drag. Arm drags by Dennis, off the ropes and a basement dropkick connects. Crucifix follows for a near two for Dennis. Jade backs off, and converses with Marti. Dennis now attacks with forearms, but Jade connects with the knee and then the suplex and celebrates, she then gets mounted rights to Dennis. Jade yells at the ref and then covers for 2. Jade then hits a running kick and then another. Jade connects with the sack of shit slam, Marti is pleased. Jade then connects with a dropkick and lays in the rights on Dennis in the corner. Mounted rights follow and then backs off to celebrate. Dennis fights back, hits a clothesline and then a back elbow. Marti trips up Dennis, and the ref tosses her to the back. Jade then beats down Dennis, and as Marti looks to leave, she changes her mind and sends the referee to the post for the DQ.
OFFICIAL RESULT: Laura Dennis @ 3:50 via DQ
* The Dollhouse then just beats down Dennis, and then get pissed when Hemme announces the DQ. They threaten her and then attack and slam her to the steps. Marti sets up Hemme and Jade then dropkicks her into the steps. They then shove what looked like a superball or jawbreaker in her mouth.
* Angle meets with Young backstage. He says that he doesn't really know what to say. He knows Young is the #1 contender, and had no clue that Aries would cash in. Young is pissed because history keeps repeating itself and he gets title shots taken from him. Angle tried to promise him a title shot, but Young left and said he didn't even know if he wanted to be here.
* Magnus is in the ring, and says that the last few months have been very intense and appreciates the support of the fans. But tonight is not about him, it is about Mickie James addressing her future in wrestling. Mickie makes her way out and thanks the crowd for all of their support. She says things have been crazy as of late, and she came back to help Magnus deal with his issues with Bram. She appreciates being welcomed back by the fans, and says that she got to share the ring with some greats and she felt a purpose when she was the champion. But now her life has a new purpose, her son Donovan. She couldn't have asked for a better career or fans, and she is grateful. But as of tonight, she's going home to be the greatest mom she can be. She thanks the fans and hopes they can appreciate everything she did. And here comes James Storm. Storm says there is no crying in wrestling, and then says this is a family moment and needed to say something. They have known each other for a long time, he loves cold beer, sexy women and fast cars; and he sees her like a female version of himself. She stands up for what she believes in and when she hears her music and comes out in front of the crowd, she loves it. He says he doesn't want to see her go and the fans don't want to see it. Magnus says they appreciate is words and his recent help, but this has been a difficult decision for them. Storm says if the decision was difficult, maybe it shouldn't be made. Storm puts Mickie over as an all time great performer, but she asks him not to make this harder because she made her decision, she wants to be a full time mom. Storm says the people love James, and he knows she loves Magnus and her son; he says not to walk away forever, just one more time and gets the crowd to chant one more match. She gets excited and says one more time, and it appears that she will have one more match. Magnus is not pleased.
* Back from commercial, Magnus and Mickie have a conversation. She just wants the one more match, he understands and will support her. Davey Richards arrives, and tells Magnus that Storm is the devil and he is out to deceive him.
Manik vs. Davey Richards: Lock up, they battle for position and exchange counters. Off the ropes, lots of quick counters and reversals her and then an arm drag by Richards takes Manik to the floor. Richards to the apron and kicks his face off. Richards then rolls Manik back in and delivers head butts. To the corner, counter by Manik and he then rolls into a slick looking arm bar as Richards tries to block. Manik gets the hold, but Richards gets to the ropes for the break. To the apron they go, and Manik uses an arm wringer to slam Richards down onto the apron. Storm talks to the rest of the Revolution backstage as Manik tosses Richards into the ring. Basement dropkick follows, and then Manik goes back to work on the arm. Manik hits a series of suplexes, and then gets the cover for 2. Manik back to work on the arm, Richards escapes but then Manik gets a hanging arm bar in the ropes. He then springboards in but eats a kick from Richards. More kicks by Richards now, to the corner and Richards eats a boot on the way in. Richards with a German suplex and the gets 2. Richards up top now, misses the double stomp, rolls through but Manik counters and as he goes for a suplex, Richards with the roll up gets 2. Richards hits creeping death and that is all.
(FYI, if you enjoy the work of these guys, and want to see them in some more extended action, they have had some very good matches on the recent Evolve events.)
OFFICIAL RESULT: Davey Richards @ 5:43 via pin
* Post match Abyss and Khoya attack Richards. Abyss chokeslams him onto the apron and then as he looks to attack again, the Hardys are here to make the save. They post Abyss and then toss Khoya to the steps. Twist of fate to Manik and then they hit a double team version to stand tall.
* EC3 is with Tyrus and they are both dressed up, he has a campaign to launch to night, EC32015. Tonight is a nigh he announces something very special.
* EC3 and Tyrus make their way to the ring and there is a podium set up. He is more than a man, he is an idea and today will live in infamy. He will join the opposed, and has an important announcement. He declares himself the next TNA World Champion. EC32015, this is the year; he will be the man that makes the title. He is qualified; unpinned and unsubmitted for 20-months, he has been baptized by blood and has defeated every TNA hall of fame to date. He is the man to take the company into the future for the next eight years. He promises that unemployment and unmotivated millenials will both go down, and he will unite the country in gold. One star to represent 50. He will take the title world wide and even in space, TAKE NOTICE MARTIANS! He is EC3, your next champion, God bless TNA wrestling and God bless EC3. Mr. Anderson is now out. EC3 says he is not invited and asks him to depart. Anderson says he has a hell of a future, but didn't say anything about the world title. He says EC3 should run for president with the amount of BS he spews. He then makes Anthony Weiner jokes and knocks over the podium, and says you don't win titles by using politics, you win by blood, sweat and tears. Anderson say he broke his body to win his world titles. They brawl, Anderson fights off Tyrus and then EC3 escapes the mic check.
* We get a Taryn Terrell video package.
* Before the match, Terrell says they should give the fans the match that they want and make this a NO DQ match. Kong agrees.
Knockouts Championship NO DQ Match: Champion Taryn Terrell vs. Awesome Kong: Terrell attacks at the bell and Kong tosses her away. She tries again and the same result. Terrell is tossed to the floor and tries to attack Kong as she follows, but gets knocked down and then Kong swings her into the barricade. Kong has kendo sticks and attacks with them. She looks for the powerbomb, but Terrell fights her off and stomps Kong to the steps and stands on her hair. Kong escapes, and back to the ring we go. Kong misses a running splash, which only angers her. Terrell with clotheslines, and then a dropkick and Kong gets sent to the corner, Terrell up top and gets the high cross for 2. Basement dropkick follows for Terrell, and she goes to the floor and gets a table. She looks to slide it into the ring and then goes to the apron. Rights to Kong and then gets the kendo stick. She charges Kong and now the Dollhouse appears. Terrell sets up the table and looks for a cutter through the table but Kong counters. Kong looks for a Vader bomb but the Dollhouse attacks with kendo sticks. They then triple powerbomb Kong through the table and Terrell covers for the win.
OFFICIAL RESULT: Taryn Terrell @ 5:13 via pin
* Terrell gets the mic and says that everyone thought she couldn't beat Kong, well she did. Everyone is now on notice, and if you mess with her, you mess with her friends. This is their house, the Dollhouse…
* Aries walks and says he is cashing in tonight because he sets the bar, and has to beat Angle without any bullshit to prove that. He then runs into EY, they have a stare down and Aries says he is sorry and promises EY a title shot when he wins. EY has his bag and appears to be leaving.
* Backstage Magnus asks some camera guys to follow Mickie to keep an eye on her.
* Aries makes his way to the ring for the main event, but Young arrives and attacks and then piledrives him on the floor! Young beats down security as they try to make the save, and then piledrives Aries on the steps! Angle finally arrives to make the save and Young backs off. Young then attacks Angle, and repeatedly slams him to the steps. Young removes Angle's knee brace and then attacks the knee. He applies the figure four to Angle, on the floor as a bloody Angle fights to escape.
* End scene.
* Thanks for reading.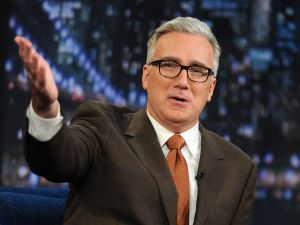 "Byyyyyyyyyyyyyyyyyyyyyye Felicia!"