411's Wrestler of the Week 1.21.14: Year Nine, Week 41
January 21, 2014 | Posted by
Welcome to YEAR NINE, WEEK 41 of 411's Wrestler of the Week. A quick overview of the rules to kick things off for us as a reminder…
Each writer chooses FIVE wrestlers (although ties and tag teams are allowed) from any promotion and each wrestler gets a point total attached to that ranking. It looks a little like this…
1st – 5
2nd – 4
3rd – 3
4th – 2
5th – 1
Then we tally up the votes and the official 411 Wrestler of the Week is crowned. But wait, there's more! Each week the top SIX vote getters get a points value for their ranking which looks something like this…
1st – 15
2nd – 12
3rd – 9
4th – 6
5th – 3
6th – 1
…and they go towards the 411 Wrestler of the Year award to be announced each year around WrestleMania. This will be posted every Tuesday (the voting week runs Monday through Sunday). Let's see who wins this week…
---
Larry Csonka
1) Johnny Gargano
On January 18th, Johnny Gargano defeated Adam Cole to win the first Race For The Ring tournament. This was a tournament that ran for a year, and Gargano was the man that got the nod to be the first winner. This continues a great run for Gargano (which doesn't get enough love) as he is also the Open the Freedom Gate Champion for 800 days now.
2) The New Age Outlaws: Oh you didn't know? It appeared as if The New Age Outlaws were taking a break from their backstage duties for a one off appearance on Old School Raw. That transformed into a SD appearance, and then last week's Raw when they wisely turned on CM Punk. Add in a victory over the tag team champions and they mean more than they have in years. I don't want them around full time, but for a short time to add a little interest? Sure, why not!
3) Madison Rayne: Defeated Gil Kim and the Queen B is now your NEW TNA Knockouts Champion.
4) The Usos
5) EC3
JUSTIN WATRY
1) Daniel Bryan
Should be an easy choice. While we all expected him to break away from The Wyatt Family at some point, this still made for a great moment. Closing WWE Raw on top of the cage with fans going wild was just one of those perfect moments in wrestling. Next to Batista, you have to believe he is the favorite to win the Royal Rumble next Sunday.
2) Alberto Del Rio: Strange pick? Maybe. Regardless, he is going to be fed to Batista. That is not the ideal spot, but it is very high profile and a good role for the heel. After two matches with Rey Mysterio, he is ready to confront Batista. Obviously he will get his head ripped off, but it is going to get a lot of attention and screen time.
3) Roman Reigns: Continues down the right path. He will not win the Rumble, but I suspect a great performance. Even after The Shield beat CM Punk on Raw and left him laying on Smackdown, all is not well with the group. An implosion is coming, and Reigns may benefit the most.
4) Kofi Kingston
5) Bray Wyatt
Daniel Wilcox
1) The Usos
Daniel Bryan may be the obvious choice but I don't his career gained any more momentum than it already in the bigger picture, and the concussion issue hampers the chances of Monday's closing segment meaning anything in the long run. As far as the Usos are concerned, they had a big week. They were featured in the opening and closing segments of Raw Monday night, picking up victories over the Wyatt Family even if they're not the focus of the angle. they then went to defeat The Real Americans on SmackDown. Add in the fact that one of them got married later in the week, all in all this was a big week for the uncrowned tag team champions.
2) New Age Outlaws: It's been a good week for Road Dogg and Billy Gunn. The two men turned on CM Punk on Raw, aligning themselves with the Authority and earning themselves a regular spot on television, so it seems. On top of that they pinned the tag team champions on SmackDown, putting them into the title hunt for the first time in fourteen years.
3) Daniel Bryan: Concussion or not, that crowd was electric Monday night as Bryan took apart Bray Wyatt inside a Steel Cage.
4) Kofi Kingston
5) Bray Wyatt
Ryan Byers
1) Daniel Bryan
I usually tend not to vote for established main eventers for doing things that you would expect established main eventers to do, but, damn, I find it very difficult to not acknowledge the monstrous pop that D-Bry received as a result of his turn on the Wyatt Family. People were afraid that the temporary heel turn brought on by joining the cult would squelch the man's popularity but, if the crowd reaction this past Monday is to be believed, then he's bigger than ever.
2) The Uso Twins: I really liked how the Usos were booked as part of the Bryan/Wyatt storyline. The story had to be advanced by having the Wyatts lose, and the Usos were picked to be the ones who beat them. However, the wins weren't booked as total flukes, so they helped the Usos get over a bit while simultaneously advancing the larger story.
3) The New Age Outlaws: I thought that Mr. Dogg and Mr. Ass were just back for Old School Raw last week, but now they've been on several shows and have beaten the tag champs in non-title action, so presumably they're back on the roster for at least a short run. Billy Gunn is 50, by the way.
4) Kota Ibushi
5) Masa Takanashi
Paul Lapointe
1) Daniel Bryan
Simply stated the wrestling moment that transpired at the end of last weeks RAW was just surreal. Concussion or not DBry may have just set himself up as legit, FINALLY, to Vince and company.
2) The Uso's: The Uso's have been booked hella strong lately and I think now its safe to say they have arrived. After bring on the roster as long as they have been its refreshing to finally see them be taken not just seriously but as an actual threat in the tag team division, a division that now actually exists within the WWE.
3) NAO: Your next HHH approved Tag Team Champions? I mean damn Billy Gunn is freakin' 50! Good show.
4) EC3
5) Madison Rayne
James Wright
1) Daniel Bryan
Sometimes wins and losses are not important in wrestling, sometimes it is about the reaction you get, and this week Daniel Bryan got the biggest reaction of anyone by far.
Bryan's turn on the Wyatt's came a lot sooner than most people would have expected and hopefully it will all work out for the best. We'll just have to wait and see how things pan out with his concussion and the Rumble match, either way though things just seem to get better and better for ol' goat face.
2) Ethan Carter III: He managed to beat the Icon Sting on the first Genesis edition of Impact. Despite whatever help he received this is still a big deal for the relative rookie and keeps his undefeated streak intact.
3) The Usos: While they might not have been the main story of the week they did play a part in its unfolding. In doing so they also won several tag matches this week, including a cage match in the main event of Raw, which is pretty cool for them.
4) Madison Rayne
5) Bully Ray
Jack McGee
1) Ethan Carter III
In some ways it wasn't special, but Ethan Carter III defeated Sting on this past week's edition on Impact Wrestling. Like it or not, Sting has always been positioned as TNA's resident legend, so the fact that "EC3" got the win speaks volumes for his future, as well as Sting's (since he has been doing so many jobs).
2) Madison Rayne: Defeated Gail Kim to win the Knockouts Title. Rayne's comeback has been fun, and I hope she is around for a ling time to come.
3) The Wolves: Richards and Edwards made their debuts with TNA, and it appears that they will be a part of a new big angle for the company.
4) The New Age Outlaws
5) Daniel Bryan
Mike Hammerlock
1) The Usos
The just won the main event matches on both Raw and Smackdown. That's a runaway WOTY win for the Fatu boys. They've got to be lining up a championship match at Wrestlemania. Plus, Jimmy/Jon got married to Naomi on top of that. Daniel Bryan? Big kayfabe moment for him and amazing crowd reaction, but my standards for him extend beyond sitting on a cage and pointing his fingers.
2) Kofi Kingston: The shock victory vs. Randy Orton was a welcome shake up. Yet it was his match against Curtis Axel, which I tuned into Main Event specifically to see, that bumped him up to #2 here. Really good match … yes, against Curtis Axel.
3) The Old Age Outlaws: Did Billy Gunn get better? Can't be 100% sure, but he's got some snap on his moves that we haven't seen from him in a very long time. Nice to see him and Road Dogg return for more than a cameo.
4) Damien Sandow
5) Alberto Del Rio
---
THE WINNERS~!
Special Mention…Kofi Kingston – 8 Votes
Fifth Place…Madison Rayne – 10 Votes
Fourth Place…Ethan Carter III – 12 Votes
Third Place…The New Age Outlaws – 19 Votes

Turned on CM Punk and then defeated the reigning tag team champions on Smackdown!
Second Place…The Usos – 23 Votes

Had a great showing in two separate matches with Daniel Bryan and Bray Wyatt on Raw, and then defeated the Real Americans on Smackdown!
And 411's Wrestler of the Week is…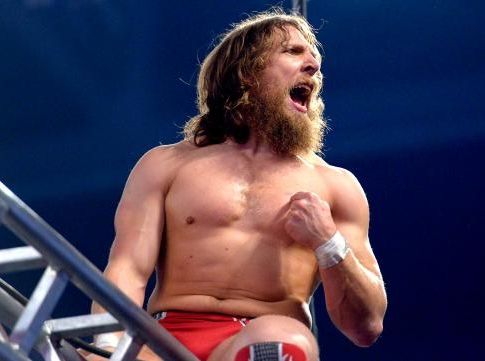 Daniel Bryan – 24 Votes
YES! YES! YES! YES!
Year-End Standings~!
And here are the standings after week 41…
1. Daniel Bryan – 217pts.
2. Randy Orton – 129pts
3. Roman Reigns – 117pts
4. AJ Styles – 90pts.
5. Seth Rollins – 78pts
6. John Cena – 73pts.
6. Cody Rhodes – 73pts.
8. Dean Ambrose – 68pts.
9. CM Punk – 65pts.
10. Brock Lesnar – 51pts
Kazuchika Okada – 45pts.
Magnus – 44pts
Goldust – 43pts
Big E. Langston – 42pts.
Bray Wyatt – 42pts.
Christian – 39pts.
Chris Sabin – 39pts.
Prince Devitt – 33pts
Curtis Axel – 33pts.
Bobby Roode – 34pts
Ryback – 30pts
Hiroshi Tanahashi- 28pts.
Kurt Angle – 28pts.
Mark Henry – 27pts.
Austin Aries – 25pts.
Jimmy Uso – 24pts.
Jey Uso – 24pts.
Bully Ray – 24pts.
Matt Jackson – 21pts.
Nick Jackson – 21pts.
Manik – 21pts.
Luke Harper – 20pts.
Tetsuya Naito – 18pts.
Erick Rowan – 17pts.
AJ Lee – 17pts.
Alberto Del Rio – 17pts.
Kofi Kingston – 16pts.
Damien Sandow – 16pts.
Adam Cole – 16pts.
Big Show – 15pts.
Dolph Ziggler – 15pts.
Kenta Kobashi – 15pts.
Ricochet – 15pts
KENTA – 15pts.
Karl Anderson- 12pts.
Sin Cara II – 12pts.
Jake Roberts – 12pts.
Masato Yoshino – 12pts.
Jeff Hardy – 12pts.
Michael Elgin – 12pts.
Kyle O'Reilly – 12pts.
Billy Gunn – 9pts.
Road Dogg – 9pts.
James Raideen – 10pts
Johnny Gargano – 10pts.
Rob Conway – 9pts.
Rampage Jackson – 9pts.
Mr. Anderson – 9pts.
Abyss – 9pts.
Wade Barrett – 9pts.
The Undertaker – 9pts
YAMATO – 9pts.
Jun Akiyama – 9pts.
Tamohiro Ishii – 9pts.
EITA- 9pts.
T-Hawk – 9pts.
Harlem Bravado – 9pts.
Lancelot Bravado – 9pts.
Shingo Takagi – 9pts.
Doc Gallows – 7pts.
Ethan Carter III – 7pt
Mikey Nicholls- 7pt
Shane Haste – 7pt
Rob Van Dam – 7pts.
La Sombra – 7 pts.
Akebono – 6pts.
BxB Hulk – 6pts.
Sami Zayne – 6pts.
Fandango – 6pts.
Yoshihiro Takayama – 6pts.
Shelton Benjamin – 6pts.
Jigsaw – 6pts.
The Shard – 6pts.
Robbie E – 6pts
Jessie Godderz – 6pts
Drew Gulak – 4pts.
Jushin Liger – 4pts.
Mickie James – 4pts.
Madison Rayne – 3pts.
Akira Tozawa – 3pts.
Suwama – 3pts.
John Morrison – 3pts.
Dusty Rhodes – 3pts.
Jack Swagger – 3pts.
Tito Ortiz – 3pts.
Sting – 3pts.
Hernandez – 3pts.
Chavo Guerrero – 3pts.
Seita Sanada – 3pts.
Tomasso Ciampa – 3pts.
Kota Ibushi – 2pts
Paul Heyman – 2pts
Samoa Joe – 1pt
ODB – 1pt
Tiger Mask IV – 1pt
CIMA – 1pt
Katsuhiko Nakajima – 1pt
Alex Shelley – 1pt
Candice LaRae – 1pt
Ethan Page – 1pt
Eddie Kingston – 1pt
El Hijo del Perro Aguayo – 1 pt
Voting began 4.16.13
Year-End Rankings Key:

WWE Contracted Wrestlers are represented in BLUE.

TNA Contracted Wrestlers are represented in GREEN.

ROH Contracted Wrestlers are represented in RED.

US Independent Wrestlers are represented in MAROON.

Japanese Contracted Wrestlers are represented in BLACK.

Mexican Contracted Wrestlers are represented in MAGENTA.

Other International Wrestlers are represented in INDIGO.
---
**PREVIOUS WINNERS**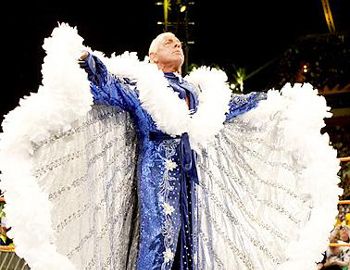 Year One Winner: Ric Flair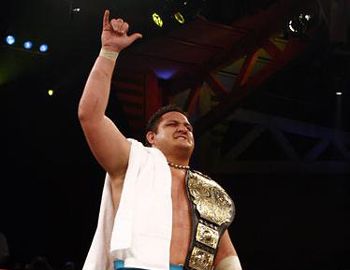 Year Two Winner: Samoa Joe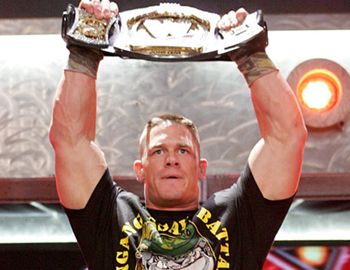 Year Three Winner: John Cena

Year Four Winner: Chris Jericho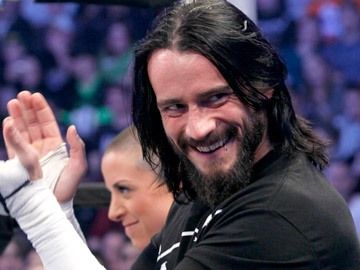 Year Five Winner: CM Punk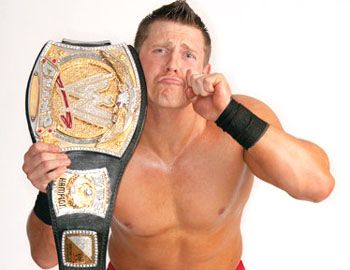 Year Six Winner: The Miz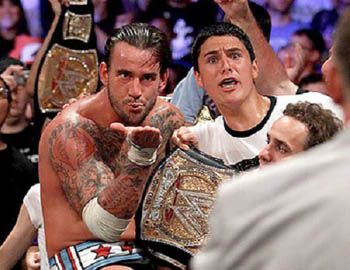 Year Seven Winner: CM Punk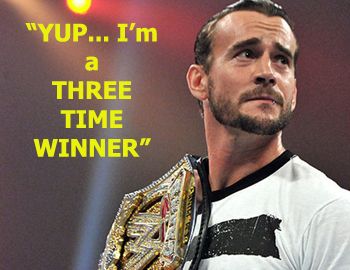 Year Eight Winner: CM Punk