411's WWE Saturday Morning Slam Report 9.22.12
September 22, 2012 | Posted by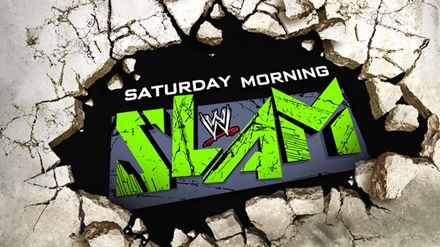 WWE Saturday Morning Slam 9.22.12 (Episode 5)
-Scott Stamford welcomes us to the show for a run down of what we'll see today.
-Today we will look at the WWE IC Title, and the current champion, the Miz. The IC Title has been held by most of the top superstars in the WWE in the 30-year history. We do a "fave five" on the IC Title:
* In 1979, Pat Patterson won a tournament in Rio de Janeiro to become the first champion.
* Chris Jericho has won the title 9 times.
* The Ultimate Warrior was the first to win the WWE Title while being the IC Champion.
* Honky Tonk Man was the longest reigning champion, holding it for 1 year, 2 months, and 27 days.
* Randy Savage rounds out the five, because he had an awesome match with Steamboat at WM 3.
-CM Punk hosts this week's Pop Quiz. Who did Randy Savage beat to become the WWE Champion. Was it Hulk Hogan, Andre the Giant, or Ted DiBiase.
-Josh Mathews and Santino Marella are the announcers.
William Regal vs. Zack Ryder
Ryder looks for a fist bump to begin, but Regal wants none of that. They take turns playing to the crowd, and much to Regal's dismay, the fans are not behind him. Lock up, Regal with the counter and immediate takedown, now working the arm. Regal then argues with Santino, who is on commentary, which allows Ryder to roll him up for 2. Lock up and Regal back to the arm. Reversal, and Ryder now working the wristlock. Some back and forth, and Regal kips up looking for a reversal, but Ryder takes him right back down with a hammerlock. Regal makes the ropes, they break and Ryder with the dropkick and Regal backs off to the corner. He then bails to the floor, avoiding a Broski boot…
~commercial break~
We're back from commercial with Regal backing off, only to trip up Ryder and go for a cover. Ryder keeps fighting out, knuckle lock here into the test of strength. Ryder has the advantage, Regal bridges, Ryder covers for 2. Regal back to his feet, and goes back after the arm of Ryder. Ryder fights back, Regal rolls through and trips up Ryder and into a reverse arm bar. Regal makes this shit look effortless. Regal transitions to a hammerlock to keep Ryder grounded. Ryder escapes, they lock up again and Ryder with a monkey flip. Dropkick follows and then a cross body for 2. Ryder then hits the rough Ryder for the win.
OFFICIAL RESULT: Zack Ryder @ 11:00 via pin
RATING: **½ (That was a fun little grappling bout, always great to see Regal on TV)
-We get a video package about the Make A Wish Foundation work by the WWE superstars.
-CK Punk is here to answer the quiz for us, Randy Savage defeated Ted Dibiase at WM 4 to win the vacant WWE Title.
-Next week, we will celebrate Family Health and Fitness Day; and John Cena will be featured on the show.
-The Miz now teaches us how to be awesome:
* Dress the part, you need to look like a champion.
* When you walk into a room, pretend there is a string attached to your head and pull it up.
* Listen to Naysayers. If someone says that you cannot do something, prove them wrong.
* Talk like you are a star. If you are not heard, no one is listening.
* Finally, you can be good, you can be bad, but there is nothing better than to be awesome.
-End scene.
TWITTER
Your heart is free. Have the courage to follow it…TO CSONKA'S TWITTER!
http://www.twitter.com/411wrestling
http://www.twitter.com/411moviestv
http://www.twitter.com/411music
http://www.twitter.com/411games
http://www.twitter.com/411mma