Csonka's Lucha Underground Review 10.29.14
October 29, 2014 | Posted by
Csonka's Lucha Underground Review 10.29.14
Introduction
As a reminder, this will not be another traditional recap, but instead it will be a mash up of the Rs, Instant Analysis and my usual Twitter ramblings I would do during the shows; completely uncensored and as the ideas flow unfiltered to the old keyboard. Remember, this is a review; and I am here to review the show. As always, I encourage discussion and even disagreement, just do so in a respectful manner. I will be doing the review for Raw and most PPVs and iPPVs going forward.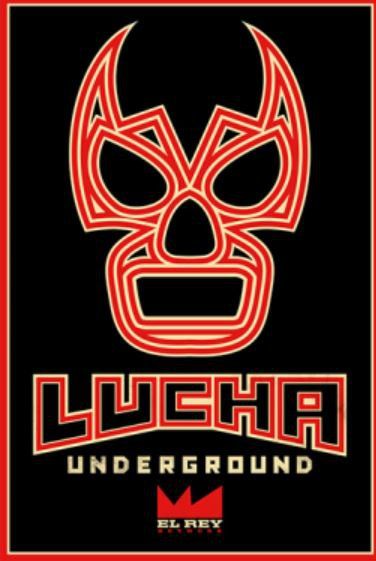 Lucha Underground 10.29.14
OFFICIAL RESULTS
~ Blue Demon Jr defeated Chavo Guerrero @ 5:00 via submission [
*
]
~ Son of Havoc defeated Sexy Star @ 2:30 via pin [
NR
Under Three Minutes
]
~ Johnny Mundo defeated Prince Puma @ 13:00 via pin [
***½
]
---
* So here we go with a look at a new wrestling product, the El Rey Network's Lucha Underground. It will be interesting to see what happens with the show, as the early episodes were reportedly not liked by many due to "lack of Lucha and lack of Lucha stars," one was due to the booking and one due to VISA issues. Later episodes were reportedly received better, due to the addition of Lucha stars and a change in the writing. Lets see what happens in tonight's debut.
* The show's opening video features a wacky Lucha street fight, Aztec Warriors and the history of Lucha Libre. Owner Dario Cueto is opening the doors of his temple and is allowing all Luchadores to fight for his money. We then go into a more traditional opening video with the wrestlers we'll be seeing.
* We're at the Temple, Matt Striker and Vampiro are the announce team. The Temple also has their own live brand.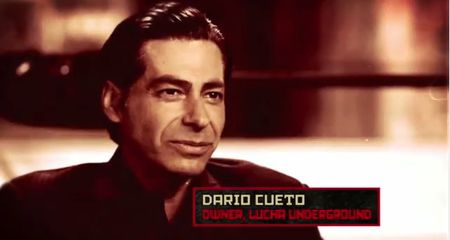 Meet The Host, Promotion and Owner of Lucha Underground: Dario Cueto: Vampiro says that Cueto is Spanish and not Mexican, which is why he is not liked. Cueto says that this is his temple, filled with courage and violence. The luchadore that impresses him the most will receive a $100,000 signing bonus tonight. "It's your chance to get rich or to try dying". Cueto seems perfectly fine portraying his character, but I really wish that they would have not started the debut show with the authority figure that has been a cancer on mainstream wrestling for so long now. They need to feel different to attract the eyes that are looking for an alternative.
Blue Demon Jr. vs. Chavo Guerrero: Blue Demon Jr. is 48 years old and has been wrestling since 1985. He's the adopted son of Blue Demon, is a former NWA Champion and has reportedly defended his mask in 19 Lucha de Apuesta matches. Chavo Guerrero is Eddie Guerrero's nephew, working WCW, WWE and TNA. PWG's Rick Knox is the referee. They did some odd jump cuts to crowd shots, which traditionally is a tool to cover up botched spots. Vampiro buries Chavo on commentary, saying that like most of the family, he isn't liked and that the only Guerrero that was really liked was Eddie. Ouch. The match was not good, too much obvious cuts with the camera work to cover up sloppy work. The cuts were very bad and very obvious, and became very distracting. Not a good start for the in ring product.
* Konnan meets with Dario Cueto. Konnan doesn't want to work for Cueto, but he wants some of that money and has brought the best fighter to the Temple. Cueto says that he has signed Johnny Mundo, a big free agent, but he wants to make an example of Mundo because he doesn't respect the Temple. He tells Konnan if his guy can take him out tonight, they can have the $100,000.
* We see Johnny Mundo (John Morrison) preparing backstage. Vampiro says Konnan doesn't invest in anyone that doesn't have true potential.
* We get a promo for Konnan, introducing Prince Puma (Ricochet). Puma is a descendant of the original Azrtec Luchadores.
* We get a video package for Sexy Star. She had a horrible life and almost killed herself (seriously) but the mask saved her life.
Son of Havoc vs. Sexy Star: Havoc is one time Tough Enough competitor and veteran independent worker Matt Cross. He looks like he bought his gimmick at an Aces and Eights yard sale. Sexy Star is a regular performer for AAA. I have no issue with intergender wrestling, when done right (Sara Del Rey in CHIKARA, Candace LaRae in PWG) it is easily believable. The size difference here isn't huge, which is a key to matches like this working. Havoc did not want to face a woman and told her to leave his ring to get counted out. She teased leaving but returned to attack and the match was on. Havoc had control for about a minute, Star got to hit some flashy offense and then Havoc won with a side back breaker and supposedly pulling the tights. He was supposed to, commentary said he did, but he really only grabbed at her thigh. The work was fine, the finish was poor and I felt that they missed the boat on introducing a new audience to the intergender wrestling they want to do here.
* Chavo Guerrero is a sad panda because he lost his first match. Dario Cueto shows up and mocks him for losing, tapping out and disrespecting the Guerrero name. Cueto says no $100,000 for Chavo. Cueto also says he will bring someone new next week, and "1000 deaths may be coming for us all," teasing the debut of Mil Muertes (the former Judas Mesias/Ricky Banderas).
Johnny Mundo vs. Prince Puma: Johnny Mundo is the former John Morrison, who left WWE and has been doing workout website, the Asylum version of Hercules and the occasional wrestling appearance. He looks exactly the same. Prince Puma is independent worker Ricochet, who is making a legit case for Wrestler of the Year after winning the NJPW Best of the Super Juniors, DGUSA's Open the Freedom Gate Championship and Dragon Gate's Open the Dream Gate Championship (first ganjin to do so) and finally won Pro Wrestling Guerrilla's battle of Los Angeles Tournament. They worked a fun match, with a much quicker pace than anything else on the show. This was designed to allow both guys to show off their best skills. Puma, if you're familiar with his work, is really good and I thought got to shine pretty well on show one. Mundo, for a guy that hasn't been working what I'd call a regular schedule, also did well. I do want to add that after all of the hype that Puma received and the pairing with Konnan, I felt having him lose on night one was highly questionable. Mundo hit the C4 and then the starship pain for the win. They needed that as the previous wrestling on this show wasn't very good.
* Post match, after Mundo showed respect to Puma, Dario Cueto appeared with his $100,000. he said that Johnny "deserved this" and then teased giving him the money. The Crenshaw Crew (Ezekiel Jackson, Ricky Reyes and 'Lil Cholo) then hit the ring and beat down the main event competitors. Cueto said that he has scouted the best fighters in the world, and these guys work for him. He then awarded his guys the $100,000.
* End scene.
* Thanks for reading.
6.5
The final score: review Average
The 411
And that was the debut of Lucha Underground. Since it's the debut episode, I do want to discuss a few things, they are as follows…

Camera Work: The camera work has a bit of a different feel to it, almost cinematic at times, which comes across as odd, but I appreciate something new being done with wrestling. You always hear that you can't do certain aspects of wrestling in a new way, but they are trying. Not sure how much I like it because it feels they are using it to mask a lot of errors in the work, but we'll see how it goes in future shows.

Video Packages: The video packages are slick and well done overall. They need to be in order to introduce the new talent to the audience. I really like them so far.

Commentary: I was really hoping that Lucha Underground could provide a change to the wrestling landscape as far as commentary goes, because as far as the mainstream goes, commentary is horrible. They did fine for the first episode, not great overall, but they did help with some backgrounds on the guys, which is needed. Vampiro doesn't add too much as a color guy, Striker had his moments as a play-by-play man.

Wrestling: The first two matches weren't very good, with the BDJ vs. Chavo match being heavily edited due to mistakes. I also felt that the Havoc vs. Star match was a poor way to introduce intergender wrestling t a wide audience. It should have been done better and Star should have been made to look stronger. Thankfully the main event was really good, and made up for a lot of the lacking in ring early on.

I am not a fan of the "evil authority figure" at all. I know it's he debut episode, and they had to introduce things, so for week one I can let it slide but I hope that these overdone wrestling crutches.

Overall we'll call the debut effort an average show, with room to improve. Hopefully guys like Puma and Mundo will get chances to shine on the regular because that main event was a lot of fun.
legend