Csonka's WWN Supershow – Mercury Rising Review 3.28.15
March 28, 2015 | Posted by
Csonka's WWN Supershow – Mercury Rising Review 3.28.15
Introduction
As a reminder, this will not be another traditional recap, but instead it will be a mash up of the Rs, Instant Analysis and my usual Twitter ramblings I would do during the shows; completely uncensored and as the ideas flow unfiltered to the old keyboard. Remember, this is a review; and I am here to review the show. As always, I encourage discussion and even disagreement, just do so in a respectful manner. I will be doing the review for Raw and most PPVs and iPPVs going forward.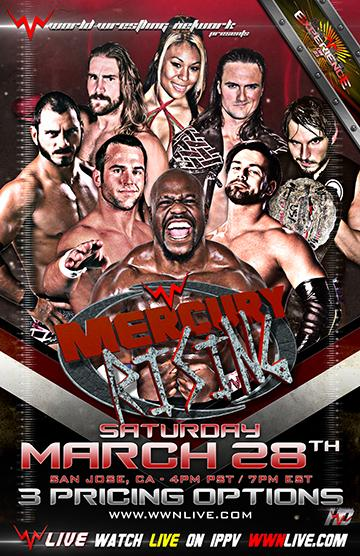 WWN Supershow – Mercury Rising Review 3.28.15
OFFICIAL RESULTS
~ Ethan Page defeated Kaleb Konley @ 12:00 via pin [**]
~ Mia Yim, Kimber Lee & Cherry Bomb defeated Andrea, Nicole Matthews & Portia Perez @ 13:00 via pin [**]
~ Evolve Champion Drew Galloway defeated DGUSA Champion Johnny Gargano @ 22:00 via pin [***]
~ TJ Perkins defeated Drew Gulak, Biff Busick and Tommy End @ 12:00 via submission [***¾]
~ PJ Black defeated AR Fox @ 11:00 via pin [***½]
~ Timothy Thatcher defeated Chris Hero @ 22:00 via submission [****½]
~ Austin Aries & Roderick Strong defeated Ricochet & Uhaa Nation @ 17:00 via pin [***¾]
* You can order Evolve on iPPV at this link.
* Rich Swann discusses being off the show due to injury, and the bullshit end to the match last night where Konley tapped and then they announced that Swann and Gargano lost because Swann was injured. He challenged the Premiere Athlete Brand to defend the titles against Ronin in April. Premiere Athlete Brand came out and Val said that they would give him a shot now and attacked. Ethan Page and Gargano made the save, leading to the opener.
Caleb Konley w/Cage, So Cal Val vs. Ethan Page & Andrea: Page was endorsed by Gargano, but is 0-2 so far this week. They have the definition of an extremely basic, extremely average opener. Page has been hit or miss as far as connecting with the audience, and Konley I find better as a tag team guy. It was fine, but not exactly a high-energy opener that got the crowd rocking. Val distracted the ref late; Cage got involved and accidentally clotheslined Konley. Page then scored a roll up and grabbed the tights for the win. Page turns to desperation to score the win, playing into the heel turn we've discussed already. Post match Athena gave Cage a low blow and then Konley laid him out with a belt shot. Konley got pinned night one and three, and tapped last night even though the screwy finish gave his team the win. I find this to be highly questionable booking for one half of the tag team champions. With Trent gone, and Cage and Perkins only in for the short term and already gone, the Premiere Athlete Brand is down to Nese and Konley.
Mia Yim, Kimber Lee & Cherry Bomb vs. Andrea, Nicole Matthews & Portia Perez : Before the match, So Cal Val sent Andrea out to attack Nikki Storm. She did just that, and now Andrea is part of the match. So let me get this straight, we're losing the talented and full of charisma Nikki Storm for Chyna-lite 2k15? I mean, unless Storm got injured during today's SHIMMER show, I don't get this. The ladies are taking the spot that was formerly for the Dragon Gate six-man, which later just became the cool Mania weekend six-man. Yim won with a rollup on Perez. No injury, Storm retuned post match to attack Andrea and then challenged her to a match at Friday's SHINE event. I get that they wanted to set something up for Friday, but to take out Storm for the Andrea was a poor move as she added nothing to the match at all. This was a real chance for them to showcase the SHIMMER/SHINE stars, which would have been the real advertisement for the show on Friday, along with the SHINE champions winning. Instead, we got a match with a heat segment that went too long, Andrea slowing things down and Yim trying really hard to make an impression. It wasn't bad, but I'd call it below average.
* Evolve Champion Drew Galloway heads to the ring. He (in real life) has a flight to catch and they are doing the big main event now. Ok then, but that's poor planning by someone. Maybe we could have done this match last night and shuffled things around since something this big and hyped should be the main event.
Champion vs. Champion: Evolve Champion Drew Galloway vs. DGUSA Champion Johnny Gargano: They are saying that this is not a "unification" match, but that the winner will hold both titles. Page is at ringside, keep an eye on that shifty bastard. They did a basic open, spilled to the floor and then brawled into the crowd. About 13-minutes in, Gargano went for a dive and we had a REF BUMP… really? In theory you're running one of the biggest matches in WWN history and you're going the bullshit route. During this time, Page tried to give Gargano a rope to use ala the match two years ago with Shingo and last year with Ricochet. Gargano refused, Galloway kicked him in the knee and hit the future shock DDT for a near fall as we got a new ref. We then got ANOTHER ref bump, Gargano got the Gargano escape and the old ref returned and Galloway escaped. Galloway escaped the submission again and hit a cradle tombstone for another near fall. Galloway climbed the ropes for a second rope emerald frosion, but Gargano countered into a tornado DDT for a close 2. Gargano then hit four superkicks, Galloway kept fighting to his feet and flipped the bird at Gargano. He then hit the future shock DDT, rolled through into a second and that got a great near fall. I mean, they had a really good last 10 minutes, and they could have gotten there without all of the bullshit and shenanigans. The ref bump and such were not needed. Did I appreciate Page prompting Gargano to cheat with an established callback to past Mania weekend matches? Sure. Did I need two ref bumps to get there though? Absolutely not. That shit took me completely out of the match, and that's a shame because they did some great work after all of that shit. The booking should be there to help a match, not to hurt it. Don't try to get too damn cute with things guys, keep it simple because this could have and should have been great.
* Galloway post match promo, this is his WrestleMania moment, he's proud to hold the titles and Gargano is the man. We got the big handshake, and then Gargano got the mic. But Page, as predicted, turned on him and laid him out and laid the boots to him. He threatened to end his career. We've known Page for three days, we've known that Gargano endorsed him and that they are apparently friends, and then the turn. I saw it coming (said so at Evolve 39) but it feels rushed.
* In many ways, the first portion of this show feels like a mess.
Biff Busick vs. Drew Gulak vs. TJ Perkins vs. Tommy End: In many ways the multi-person match doesn't lend itself to the style that a lot of these guys work, all of the grappling and such, but I feel that they did an really nice job of working around the format without abandoning what they have been working to establish. Tommy End got a big shine spot, where he was straight up murdering folks with his strikes and it was awesome. Perkins scored the win with the arm bar. That was a lot of fun, and they finally got on track without any form of bullshit. They put four talented guys out there, they gave them some time and let them do their thing and it was really good.
PJ Black vs. AR Fox: I really expected this to be a very spotty, video game style match; and the crowd could have used something to go really wild for. Those matches have their place on the card. They actually worked a more conservative style and then went into their trademark stuff, which I won't complain about because it is nice to see Fox wrestle a bit instead of doing a ton of over-choreographed spots. Black and Fox were fighting on top, Black then scored with a DVD onto the apron. He rolled Fox in and hit the 450 for the win. I appreciated that this came off a bit differently than I thought, and I felt that they worked good together. Back to back matches that I enjoyed and didn't have any bullshit involved.
Chris Hero vs. Timothy Thatcher: Both men were involved outstanding matches last night, and I am really looking forward to this. And so is the crowd as they are on fire with a big dueling chant before they even begin. As expected they worked a methodical, counter wrestling style early in the match. It was very back an forth for while until hero refused to break clean at one point, and then focused on the head and neck area of Thatcher to set up the elbow, which Thatcher had been able to counter and avoid thus far. Thatcher kept trying for arm bars on the right arm of Hero, trying to stop the potential elbow strikes and also setting up for the finishing submission. Thatcher survived a cradle piledriver, multiple kicks and multiple elbows and ended up scoring with the arm bar, causing Hero to tap. Post match they slapped the shit out of each other, and then they shook hands. RESPECT. They built this up to be a great match and a huge victory for Thatcher, and that's exactly what we got. Thatcher and hero both have had good weekend, and on the last show were in the two best matches. Tonight they came together and put on the best match of the weekend so far. This was so great, and such good work from both men with a great crowd that really added to the match.
Austin Aries & Roderick Strong vs. Ricochet & Uhaa Nation: Aries and Strong rock it old school, coming out with Generation Next shirts on. Ricochet & Uhaa Nation are awesome and always fin to watch, Strong is extremely consistent and works well with just about everyone and Aries of course can flat out go. It's cool seeing, for lack of a better comparison, "Gabe's guys" from back in the day vs. his next generation of guys. They worked a strong tag match, and then really got going with a really good series of near falls and finisher teases. Strong got the win with the toss up gut buster. This was an overall good main event to close out a very good second half of the show. They would have had to have the booking from the first three matches for this not to be good.
* Strong thanked the crowd and also said that it was an honor to wrestle Uhaa. He also started to praise Aries and their reunion, and then attacked them both and laid them out. He then promised to go after Galloway and take his titles. Thatcher then came out from the back and ran him off. Thatcher said the road to the Evolve title goes through him. He then thanked the crowd for coming this weekend.
* End scene.
* Thanks for reading.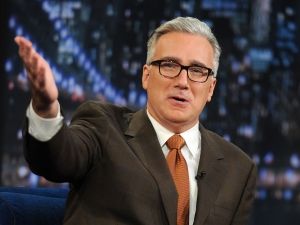 "Byyyyyyyyyyyyyyyyyyyyyye Felicia!"
7.5
The final score: review Good
The 411
This was a tale of two shows. It really felt as if one person booked the first three matches and then someone completely different booked the rest. The booking of the first three matches was all over the place, and became quite frustrating. Not only did it hurt the matches put out, I felt that it ended up devaluing their big title vs. title match. Thankfully the tide changed, and the final four matches came off really well and showed off what the promotion is truly capable of. Timothy Thatcher vs. Chris Hero is something you should go out of your way to see, as it is the best match of the weekend so far. The early booking was frustrating and held the show back, but the good news was not only did they rebound, but also they have really made a star with Thatcher. While the show did have issues, the second half really made me optimistic for the next set of shows.
legend