Tremendous Tirades 4.04.14: DGUSA – Open the Ultimate Gate 2014
April 5, 2014 | Posted by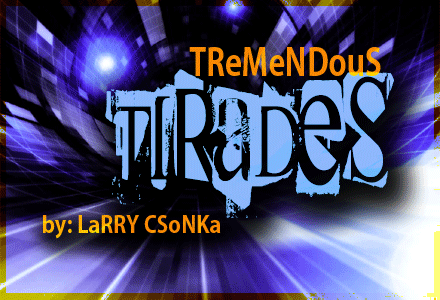 Introduction
As a reminder, this will not be another traditional recap, but instead it will be a mash up of the Rs, Instant Analysis and my usual Twitter ramblings I would do during the shows; completely uncensored and as the ideas flow unfiltered to the old keyboard. Remember, this is a review; and I am here to review the show. As always, I encourage discussion and even disagreement, just do so in a respectful manner. I will be doing the review for Raw and most PPVs and iPPVs going forward.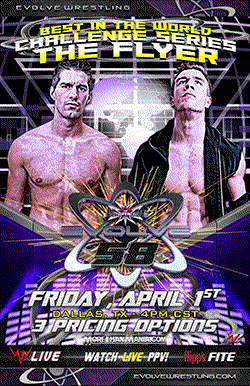 DGUSA – Open the Ultimate Gate 2014
Last night's EVOLVE 28 review.
Today's 2014 – A Wrestling Odyssey review.
You'll be shocked to know that the show started 18–minutes late.

Open The United Gate Championship Match: Champions The Bravado Brothers w/Moose defend vs. The Premier Athlete Brand of Anthony Nese & Caleb Konley w/Su Yung & Mr. A: This is a heel vs. heel match, but the crowd prefers the Bravado Brothers. Colt Cabana is sitting in on commentary. Turn down the commentary audio track and turn up the crowd please, that shit is hurting my ears. The booking of the Bravado Brothers has annoyed me as of late; they were booked with too much gimmick and bullshit, and at today's Odyssey show they looked like goofs. This felt like a Bravados match from before they won the titles; they were talented champions, the challengers were talented, they had a contest for the titles and it was great. Some great double team moves, and a few near falls that the crowd really bought. Mr. A tried to get involved, Moose made the save, and the Gentlemen's Agreement connected to keep the titles for the Bravados. I could have done without the shenanigans, but at least it was mainly just the seconds interacting. This was the best Bravados match in a while, and another good performance for Konely this weekend.
Match Rating: ***¼
Nese ran down Mr. A after the match, noting that he keeps costing them matches. Yung then started yelling at him on the mic, but it was nearly impossible to hear what she had to say.

AR Fox vs. Mr. A: Fox and the Premier Athlete Brand have had issues in the past, so this works. So I was liking this match, they were working a good big vs. little guy formula with Fox doing his flashy stuff and Mr. A being a powerhouse. This was the second match on the show, and the second with interference. Su Yung got involved, and Ivelisse (who has helped Fox in the past) came out to counter her attack. Ok, I got that. But then, Larry Dallas came out and brought Teddy Hart and his cat with him. This happened. Teddy attacked Fox and then moonsaulted Mr. A. Dallas, Hart and the cat celebrated. Get this, the match then continued after all of that bullshit. Fox eventually won with the Lo Mien Pain, but I had stopped caring long ago. This was some TNA level booking here. Trust me I love to joke about Teddy and his cat, but I was actually enjoying that match and the mid-match shenanigans ruined it for me. If TNA had done this, they would have been crucified. Seriously, that match was going really well; remember, the booking should enhance, not take away from the match. And how did Teddy Hart and his cat get a VISA and the Dragon Gate guys didn't?
Match Rating: *

Rich Swann vs. Biff Busick: This is certainly a clash of styles. Busick is more your Finlay/Cesaro style worker, while Swann is a charismatic lightweight worker. Both are very good at what they do, but matches like this historically are hit or miss. I really liked how they worked the match, because it worked to the strengths of each man. Neither guy was asked to something that was out of their depth, and Busick's style works as a great counter to what Swann does out there. This was the best thing on the card so far, the finish saw several counters of pining combos with Swann finally getting the pin out of that. I do personally hate that Biff Busick continues to lose, as he is very good and should be used much better than he has been. But this was good stuff.
Match Rating: ***½

The Gentleman's Club of Chuck Taylor & Drew Gulak vs. The Colony of Fire Ant & Green Ant: DGUSA and EVOLVE really need to work on their tag team division and create viable contenders. I have said it before and will say it again; I am all for the CHIKARA guys getting more run in the WWNLive companies. Also I am a big fan of the Colony, and am glad to see them back. One thing I noticed and appreciated was that Gulak was selling the arm from his afternoon match with Thatcher. Gulak also did this sweet counter and double figure four on the Colony, which was new to me. This was a really fun tag match, with a crazy pace and good action. Green Ant scored the victory with the CHIKARA special, which unfortunately continues the bad luck for the Gentleman's Club. It almost went a bit too long, but then ended before they lost the crowd. Following Orange Cassidy walking out last night, Gulak was pissed and attacked Taylor post match. Gulak cut a promo, which you really couldn't make out, calling the end of the Gentleman's Club.
Match Rating: ***
Intermission time was 31-minutes.
We're welcomed back to static filled audio. Teddy Hart's cat found the audio cables.

Low Ki vs. Trent Baretta: Low Ki was brought in as a make good, due to the Dragon Gate performers from Japan not being on the shows. Low Ki is a polarizing character, he has burned bridges with pretty much every major wrestling company, and many were not thrilled with him coming in. I ended up really enjoying this match, and thought it was the best thing on the show so far. In many ways it was a Low Ki match, which some hate, but his super serial attitude, mixed with the asshole heel vibe of Baretta it all worked. I liked the pace, and the fact that this had that "we're going to beat the shit out of each other" portion that felt different than the rest of the matches. Trent got the CLEAN WIN with the charging knee (ala Daniel Bryan) and that was that. It ALMOST went too long, but ended before it wore out its welcome. Trent Baretta winning was ABSOLUTELY the right call. Trent is a regular with the WWNLive companies, and the FIP Champion. He should have won clean, and he did. Also, Trent is a tremendous asshole heel, and the fact that he beat Low Ki will allow him to brag for a very long time.
Match Rating: ***¾
The sound issues are back. I blame Teddy Hart's cat.

Non-Title Match: EVOLVE Champion Chris Hero vs. Masato Tanaka: Masato Tanaka was brought in as a make good, due to the Dragon Gate performers from Japan not being on the shows. Unlike Low Ki, everyone was excited that Tanaka was coming in. While in his 40s, he had some standout matches last year for New Japan and has really gotten better with age due to becoming a smart worker. Basically he doesn't take 45 chair shots to the head anymore. This one started out as a technical grappling bout, and it was fun while it lasted. They it got into "we're going to beat the shit out of each other," but at a higher level than Ki vs. Trent. I love when Tanaka fires up and demands that someone hit him. Thankfully, the sound issues were fixed part way into the match. Oh, and this was awesome. It may not be for everyone, it had a New Japan feel to it, which I personally love. Simply put a hard fought match between two great competitors that went balls to the wall and left it al in there. Hero losing doesn't both me, he already wrestled today and won that match and last night. It was non-title and Tanaka did the company a solid by working for them, due to the Dragon Gate situation. Plus the fans loved every minute of it. This shit makes me love wrestling. Gargano and Ricochet now have to follow that.
Match Rating: ****¼

Open The Freedom Gate Championship Match: Champion Johnny Gargano defends vs. Open The Dream Gate Champion Ricochet : These two men were part of three of the best matches of the 2013 WrestleMania weekend…

Dragon Gate USA Mercury Rising iPPV – CIMA, EITA & Tomahawk TT vs. Johnny Gargano, Rich Swann & Ricochet [****¼]
Dragon Gate USA Open The Ultimate Gate iPPV – Akira Tozowa vs. Ricochet [****½]
Dragon Gate USA Open The Ultimate Gate iPPV – Johnny Gargano vs. Shingo [****½]

Ricochet, as the winner of the fall in the six-man, was entitled to a future title shot of his choice. This match was essentially started being set up at this point last year. Ricochet holds the Open The Dream Gate Title, which is the main title in Dragon Gate proper in Japan, and he is the first gaijin to ever win that title. Gargano has been doing everything to avoid the match, and retaining the title through shenanigans, but now has to face Ricochet.

So much fun stuff in the match, the slick counters, the kick exchanges, Ricochet catching a Gargano suicide dive into a DVD on the floor; and it all worked. They did some insane near falls, including the Gargano escape, and then the 630 by Ricochet. The crowd bit big time on that. But then, THEN THEY DID A REF BUMP for the second night in a row. Ricochet got the visual pin, but with the ref out it didn't matter. Ricochet survived the belt shot, kicking out to the shock of Gargano. Gargano went to old reliable, the tape and choked out Ricochet, and then locked in the Gargano escape. Ricochet escaped, hit the Benadryller and won the match and the title. Gargano's 870+ day reign of terror has ended.

I hated the ref bump. I fully recognize that it played into Gargano getting to use more of the tricks that allowed him to keep the title, but I am just sick and tired of that tired booking crutch. Can we not just have a kick ass 30-minute match where the good guy wins with out the bullshit?

Anyway, I will say that I was really worried about them having to follow Hero vs. Tanaka, but they more than delivered the goods. The match had a year long build, they played off of their history and first meeting at EVOLVE 10, Gargano's old tricks finally failed and the crowd got exactly what they wanted, an awesome match with Ricochet finally winning the title. With his win, Ricochet becomes the first man to hold every title in Dragon Gate and Dragon Gate USA.

Match Rating: ****½
Baby faces come out to celebrate with Ricochet, as he shakes babies and kisses hands. He cuts a promo about his time in EVOLVE and DGUSA, and his journey to the title.
End scene.
Thanks for reading.

The Tirade


I need to note that the lighting and audio are still problematic, just like starting late is an issue. Again, I do not need or expect WWE level production, but the show needs to be clean.

Outside of the extra curricular activity in the opener, and the complete shenanigans of the second match (AR Fox vs. Mr. A/Teddy Hart cameo), this was a strong start to the show. Lots of fun action, and while not perfect, it felt way more entertaining than EVOLVE 28. The Bravados scored a good win, Konely looked good again, and the Colony picked up a win that could get them a tag title shot. The Gentlemen's Club ending is likely for the best as I never felt that were booked all that well, and also think that Gulak being away from that silliness will be way better for him in the long run. Good first half.

While the first half was good, the second half was tremendous. It honestly felt like a New Japan show, the good first half and then the final three matches delivering big time. Ki was motivated and his match with Baretta was very good, Tanaka vs. Hero was tremendous and Ricochet vs. Gargano was a MOTY candidate. After a rough start with EVOLVE 28, WWNLive delivered with DGUSA: Open the Ultimate Gate 2014. Big time thumbs up for this show.

Show Rating: 8.5

As a reminder, I will be going by the 411 scale…

0 – 0.9: Torture
1 – 1.9: Extremely Horrendous
2 – 2.9: Very Bad
3 – 3.9: Bad
4 – 4.9: Poor
5 – 5.9: Not So Good
6 – 6.9: Average
7 – 7.9: Good
8 – 8.9:Very Good
9 – 9.9: Amazing
10: Virtually Perfect

As a reminder, this is not a basic "how good was the show" number like a TV show, as I have always felt that a PPV is very different from a regular show. I have always judged PPV on how they built to a match, the match quality, crowd reactions to matches and angles, the overall booking, how the PPV leads into the future, PPV price and so on and so forth. I have added this in here for an explanation since so many have asked, and I have previously discussed it on podcasts. I understand that this may seem different, but that is how I grade. Obviously your criteria may be different.
Have you checked out the Csonka Podcasting Network? If you haven't, you should We run anywhere from 15-20 shows a month, discussing pro wrestling, the world of MMA, the NBA, general sports, popular TV series of the past, bad movies, battle rap, interviews, MMA & Wrestling conference calls and more! Around 10 different personalities take part in the various shows, which all have a different feel; so you'll likely find something you like. All of the broadcasts are free, so go ahead and give a show a try and share the link with your friends on the Twitter Machine and other social media outlets! Running since May of 2011, there are currently over 500 shows in the archive for you to listen to.

Larry Csonka is a Pisces and enjoys rolling at jiu jitsu class with Hotty McBrownbelt, cooking, long walks on the beach, Slingo and the occasional trip to Jack in the Box. He is married to a soulless ginger and has two beautiful daughters who are thankfully not soulless gingers; and is legally allowed to marry people in 35 states. He has been a wrestling fan since 1982 and has been writing for 411 since May 24th, 2004; contributing over 3,000 columns, TV reports and video reviews to the site.

Your heart is free. Have the courage to follow it…TO CSONKA'S TWITTER!

http://www.twitter.com/411wrestling
http://www.twitter.com/411moviestv
http://www.twitter.com/411music
http://www.twitter.com/411games
http://www.twitter.com/411mma