Tremendous Tirades 4.05.13: EVOLVE 19 iPPV
April 5, 2013 | Posted by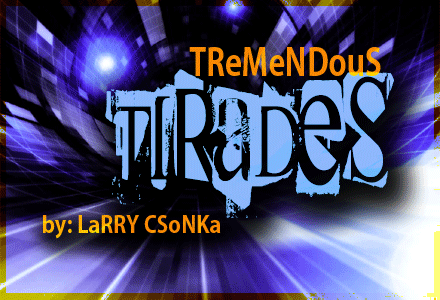 Introduction
It's the road to WrestleMania, and with that being the case, I have dusted off the old Tremendous Tirades name for new alternate recap to the main shows that will air each week (Raw, Impact and Smackdown). This will not be another traditional recap, but instead it will be a mash up of the Rs, Instant Analysis and my usual Twitter ramblings I would do during the shows; completely uncensored and as the ideas flow unfiltered to the old keyboard.
Today we shall look at the EVOLVE 19 iPPV, which will feature the one-day tournament to crown the first ever EVOLVE Champion. Ricochet and AR Fox seem to be the favorites to win the title, but who knows what will happen. Also, the Young Bucks will pay their mortgages with all of the Superkicks they throw tonight.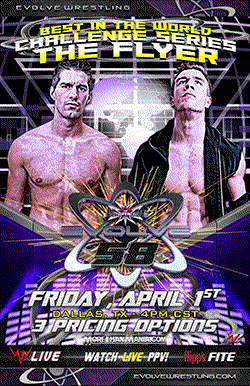 The event takes place from the Meadowlands Expo Center in Secaucus, NJ
The iPPV started late, 4:33PM ET with the first match already in progress.

EVOLVE Title Tournament Quarterfinal Match: Rich Swann vs. Samuray Del Sol vs. Sami Callihan vs. Jigsaw: We missed the opening portion of the match, due to the iPPV issues. Not what you want during the biggest weekend of the year, on what is supposed to be the company's biggest show of all time, since they are crowing their first ever champion. After a little bit of action, the match froze and went to black screen. This is completely unacceptable. You should have the Internet at the building tested and retested before the PPV even gets close to airing. They had to know that the show would get more interest than usual, and this came off as completely minor league. At 4:41 PM ET I got the feed back, missing many minutes of the match. Sami Callihan caught Del Sol off the ropes, and locked in the stretch muffler for the submission victory. I cannot comment on match quality, unfortunately.

Match Rating: n/a
Anthony Nese was announced as the latest wrestler to be signed by WWNLive. He cut a promo about ability not being what matters anymore. It is all about branding and who you align yourself with. Starting this weekend, he will build a support group that will allow him to get to the top of DGUSA and EVOVLE. He is the premiere athlete, so get used to it.

EVOLVE Title Tournament Quarterfinal Match: AR Fox vs. Jon Davis: Fox ran wild early, using counters and his speed to take advantage of Davis. He hit a trio of dives to the floor and slowly started to get the crowd into things. Davis then took control, and the crowd went mild again. For whatever reason, and people have differing theories, people just don't care about Jon Davis; even after the big push he had. Sick spot where Davis hip tosses Fox onto the apron from the floor, and it bent him in half. It had to suck. Davis controlled for a while, working his methodical, power-based offense. The crowd just doesn't seem to care much, something I have unfortunately said many times for EVOLVE shows. Following a brief comeback by Fox, Davis hit three seconds around the world for a near fall. He then set up a table on the floor, and tried to powerbomb Fox onto the floor, but the ref stopped that. This led to Davis accidentally clotheslineing the ref for the biggest pop of the match. This led to Davis being DQ'd, and some more freezing of the stream. Davis then cut a promo, and was told if he hurt the ref again he would be suspended for the weekend. He bailed, promising to make others suffer for this. This was a so-so match, with a completely anti-climatic ending.

Match Rating: **

Johnny Gargano and Brian Kendrick vs. Orange Cassidy and Drew Gulak w/The Swamp Monster: Dear God, I hope Brian Kendrick doesn't try and smoke the Swamp Monster and Cassidy's sleepy-drunken haze gimmick. They did some comedy at the beginning, using the Swamp Monster and such. Kendrick got on the mic and told them to stop wacking off and actually fight. And then the stream froze again. When we got back, the heels had the heat on Gargano. He eventually got the hot tag to Kendrick, who looked pretty good, better than his TNA work for sure, and cleaned house. Cassidy did a huge top rope dive to the floor at one point and hit the railing, in what could have been ankle breaking bad shit. Thankfully he was all right. Overall the crowd wasn't as into this match as you'd imagine, not as bad as the second match, they did react to stuff, but they just didn't seem into the show. The match completely broke down, not in a good way really, as they just did stuff and there were no tags or any real feel of flow. Too much comedy for my taste, especially with Gargano involved. I don't think you're main guy should be in a mid-card comedy bout, but that's just me. Kendrick got the win for his team with Sliced bread. It was fine, but between lack of reaction, stream issues and nothing special in the ring, I am just not feeling the show.

Match Rating: **¼
WWNlive announced make goods for the iPPV issues. Free VOD if you only paid for the free stream, free VOD of any extra event if you paid for the Live + VOD version. They handled it well, but it was still frustrating.

EVOLVE Title Tournament Semifinal Match: Chuck Taylor vs. Sami Callihan: When Callihan did his usual spring into the ring entrance, he "tweaked" his knee, and was being attended to by the referee. They teased that Callihan wouldn't be able to go, but he told the ref to ring the bell and Taylor immediately attacked the knee. Taylor did all of the classic attacks on the knee, including the spinning toehold and figure four. Callihan found his fighting spirit and started suplexing Taylor all over the ring until Taylor went back to work on the knee. Callihan again fought back, hit a sitout powerbomb and then the stretch muffler for the submission victory. It looks as if they are trying to tell the big underdog story with Callihan, winning the four way and then fighting through injury to defeat the #1 seed and go onto the finals. But I do have to say, Callihan looks like a complete idiot getting "injured" on his ring entrance. I mean, we couldn't do the injury in the opener and then do the same story? The match was solid stuff, good story, but not anything great.

Match Rating: **½

EVOLVE Title Tournament Semifinal Match: Ricochet vs. AR Fox: This may be just what this show needs. The crowd is responding much better to these guys, and they are working a great style to keep them interactive. They did a hot, fast paced open, with a ton of counters and cool visual stuff that made it stand out as opposed to anything else on the show. Ricochet slowed thing down, working some cool submissions and being an asshole heel while punishing Fox. He started to celebrate, and went to the corner, and Fox tossed him off, sending him over the barricade and to the floor. Fox then ran corner to corner, and dove over the corner post into the crowd onto Ricochet. Rather bad ass. They continued the good work with more counters, and fun stuff including Ricochet hitting a dead lift Regal-plex. Fox looked to have the match won as he went for Lo Mien Pain, but Ricochet countered and hit a release Regal-plex off of the second rope. Ricochet then missed the 630, and Fox rolled him up for the victory. This was easily the best thing on the show, and by a good margin.

Match Rating: ***¾

No DQ Match: Arik Cannon vs. Scott Reed : The Scene made their way to the ring, oh boy. They started off having a really solid single match, but of course with the stipulation, Caleb Konley got involved and made it a handicap match for a while. Cannon made the big comeback, and Trina distracted Cannon with her tits, allowing Dallas to get involved. Uhaa Nation then came to the ring and made the save beating down the Scene. This broke down further as Marti Belle hit the ring and beat down Trina, Uhaa killed more people Cannon finally scored the win with a brainbuster. Crowd loved Uhaa's involvement, and Cannon wanted to share a beer after the match. Uhaa had none of that ad suplexed him to the floor. Ok stuff wrestling wise, but again, nothing special and too much of a cluster to really mean anything. Uhaa killing guys is fun, but this crowd pops one minute and then seemingly has to rest for minutes on end before making another sound.

Match Rating: **

The Young Bucks vs. The Super Smash Brothers: I talked about Ricochet being a great asshole when he's a heel, and the Young Bucks also fall into that category. It's all of the fun little things they do to piss people off and it works oh so well. They worked a real basic tag match much of the way, the Bucks got the heat on Player Dos, worked him over for a while but Player Uno eventually got the hot tag. They then really picked up the pace, and I was starting to dig the match, and then we got a TON of the feed freezing. Fantastic, it's not like this was one of the matches I was most looking forward too or anything. Super Smash Brothers won with the Fatality.

Match Rating: n/a

EVOLVE Title Tournament Finals: Sami Callihan vs. AR Fox: Callihan cut a promo about not being 100%, and the crowd sucking and not caring about anyone. Well, he was telling the truth, but not the best way to get them to start caring. Fox came out and cut his short promo about also not being 100%. They worked a really slow and methodical approach to things, selling and working on their existing injuries. I appreciate that, but with the crowd already having connection issues (and that wasn't an iPPV joke) you would have thought a different approach was in order. They worked a spot where Fox "caught his foot" on a dive, and went hard to the floor. This allowed Callihan to deliver suplexes on him into the barricades and played into the established neck injury. Callihan just brutalized Fox, working the neck and completely abandoning the selling of his previously injured knee. Crowd is dying hard, clapping sporadically for stuff but never really into the match in my opinion. Fox, after being murdered for like 10-minutes, hit a Death Valley Driver and then popped up top and hit a 450 like he was fresh as a daisy. They did an awesome sequence where Callihan countered Lo Mien Pain with a release German, powerbomb and into the stretch muffler, but Fox survived. Moments later, Fox was finally able to hit Lo Mien Pain and got the win to a mild reaction. Callihan grabbed the title and handed it to Fox and they hugged. They worked hard, but this just didn't click as the big time main event they wanted. It was "good" overall, they worked hard and did a lot of good stuff at times, but it lacked in overall execution and crowd reaction.

Match Rating: ***
After the match they put over Fox's performance as gutsy, and Fox dedicated the victory to the #2 high flyer, Ricochet. The Young Bucks appeared and shook hands with Fox. They hyped their match with CIMA and Fox tomorrow night.

The Tirade


I will have to go back on the VOD and watch the whole show without all of the issues to give a final score, because I cannot award a score to a show I couldn't see all of. Sorry about that, but it isn't my fault. But I will say a few things of note:
Again, I have to repeat that the technical issues were unforgivable, and they should have better tested their technology.
The crowd for the show wasn't into a lot of it and like a lot of EVOLVE shows, it hurts the overall product.
The overall feel of the show was off to me. EVOVLE and DGUSA usually have a feel to them, and you know what you're going to get. The odd booking choices (DQ for Davis, bad injury angle with Sami, Gargano in a comedy prelim with no heat) and general lack of good wrestling early on hurt the show.
Fix your audio, I couldn't understand 90% of the promos.
The company needed to put their best foot forward this weekend, and unfortunately their big night was a big old bag of fail with all of the technology issues. Their iPPV chat room was filled with pissed off viewers and while they did announce make goods, they did themselves no favors here tonight.

Show Rating: n/a

As a reminder, I will be going by the 411 scale…

0 – 0.9: Torture
1 – 1.9: Extremely Horrendous
2 – 2.9: Very Bad
3 – 3.9: Bad
4 – 4.9: Poor
5 – 5.9: Not So Good
6 – 6.9: Average
7 – 7.9: Good
8 – 8.9:Very Good
9 – 9.9: Amazing
10: Virtually Perfect

As a reminder, this is not a basic "how good was the show" number like a TV show, as I have always felt that a PPV is very different from a regular show. I have always judged PPV on how they built to a match, the match quality, crowd reactions to matches and angles, the overall booking, how the PPV leads into the future, PPV price and so on and so forth. I have added this in here for an explanation since so many have asked, and I have previously discussed it on podcasts. I understand that this may seem different, but that is how I grade. Obviously your criteria may be different.
---
BONUS COVERAGE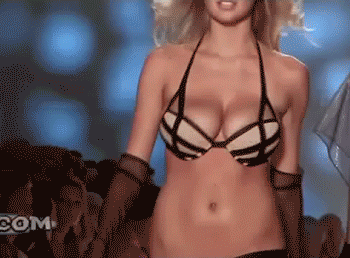 Your heart is free. Have the courage to follow it…TO CSONKA'S TWITTER!
http://www.twitter.com/411wrestling
http://www.twitter.com/411moviestv
http://www.twitter.com/411music
http://www.twitter.com/411games
http://www.twitter.com/411mma
Have you checked out the Csonka Podcasting Network? If you haven't, you should We run anywhere from 15-20 shows a month, discussing pro wrestling, the world of MMA, the NBA, general sports, popular TV series of the past, bad movies, battle rap, interviews, MMA & Wrestling conference calls and more! Around 10 different personalities take part in the various shows, which all have a different feel; so you'll likely find something you like. All of the broadcasts are free, so go ahead and give a show a try and share the link with your friends on the Twitter Machine and other social media outlets! Running since May of 2011, there are currently over 280 shows in the archive for you to listen to.
Larry Csonka is a Pisces and enjoys rolling at jiu jitsu class with Hotty McBrownbelt, cooking, long walks on the beach, Slingo and the occasional trip to Jack in the Box. He is married to a soulless ginger and has two beautiful daughters who are thankfully not soulless gingers; and is legally allowed to marry people in 35 states. He has been a wrestling fan since 1982 and has been writing for 411 since May 24th, 2004; contributing over 3,000 columns, TV reports and video reviews to the site.
NULL