411's TNA IMPACT Wrestling Report 4.26.12
April 26, 2012 | Posted by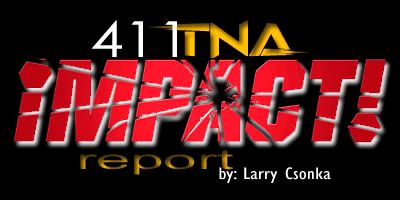 Championship Roll Call:
TNA WORLD CHAMPIONSHIP: Bobby Roode
TNA X-DIVISION CHAMPIONSHIP: Austin Aries
TNA TAG TEAM CHAMPIONSHIP: Samoa Joe and Magnus
TNA KNOCKOUTS CHAMPIONSHIP: Gail Kim
TNA KNOCKOUTS TAG TEAM CHAMPIONSHIP: Eric Young and ODB
TNA TELEVISION CHAMPIONSHIP: Devon
---
411's IMPACT WRESTLING REPORT 4.26.12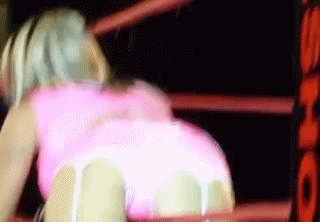 Let the Pigeons Loose…
–Reminder, I do not rate matches that are under three minutes long…
-Hogan welcomes the champions to the show. He says tonight, they may have to fight. Roode and Gail are not impressed. Hogan says he has an issue as to what champion will step up tonight. He then says that Roode and Gail think they are the best, says Aires is in a league of his own, and as for the tag team champion, they will be champions for a long time. So he has decided that Joe and Magnus will put up or shut up. Hogan says that they have a lot of challengers, and will listen to a lot of whining and complaining from people wanting their spot. It could be the Machine Guns, Anderson and hardy, or maybe even ODB and Young. Kaz and Daniel smell blood, maybe it will be them. He'll let them know before bell time, or maybe not. Let the fighting begin, brother.
-Opening video package.
-Taz and Tenay welcome us to the show.
-Devon comes to the ring, and said that everyone with a title would have to defend it once a month, and there is no exception for the TV title, only that it has to be defended each and every week. So he is willing to give that chance to one person tonight, the one person the fans want to see their ass beat, and that they cannot stand. His sorry excuse for a brother, BUBBA, GET YO ASS DOWN HERE!
-Ray is in the back with the others, and asks Flair if he actually called him out.
-Ray says to shut off the music and asks if Devin is serious. He then says he is stupid for calling him out. He was in the ring with Devon for 15-years and it made him sick, and for all that time he carried him and made him. he wouldn't be TV champion if it wasn't for him. He doesn't want to make Devon a star, and he knows that the people want to see it, but Ray says he will not get the chance, go to hell.
TV Title Match: Devon © vs. Bully Ray
Devon chases Ray up the ramp, and the match has started. They brawl around the ring, and into it. Ray immediately begs off, but Devon attacks. Thesz press and mounted rights follow. Devon on fire, heads up top, but Ray crotches him. We head to commercial @ 2:00.
Back from commercial @ 6:00 with Ray in control. Ray is busted open over his left eye. We see some action from during the break, and back to action as Ray slams Devon down. Big splash off the ropes and a cover for 2. Vulcan nerve pinch by Ray, but Devon fights back and gets a spear. Both men are down, they get to their feet and trade rights. Off the ropes and a back spinning elbow by Devon. Neck breaker follows, and then the boot by Ray. A clothesline follows and a cover for 2. Bubba bomb countered, but Ray gets a cutter and covers for 2. Ray is pissed, and runs into the spinebuster and Devon gets the win.
OFFICIAL RESULT: Devon @ 10:00 via pin
RATING: *½
-Devon celebrates with the title.
-In the back, Austin Aries makes fun of Ray for losing. Aries is not impressed, and says fight night is not over, and maybe they will have a match.
-Flair discusses his party for Eric. He says he has been partying for 60-straight years, and tonight, they will rock Orlando because Eric made TNA what it is today.
-Angle is in the back, and Kaz and Daniels arrive. They discuss AJ losing last week, and Angle says he did not ask for help last week because he does not need it. If they ever get involved in his matches again, they will regret it. They call him ungrateful, and Angle gets even more pissed.
-Jeremy Borash is out, and they show the locker room laughing at him. Since it is open fight night, and he thanks Hogan for coming up with the concept. He is an announcer, but he does want to call out an employee. He has been here longer than anyone, and says that it is universally known that there has not been a bigger prick to come along since Eric Bischoff. And if this is his last night, and this is open fight night, instead of getting drunk and going on Facebook, he wants to call out Bischoff. He tells Bischoff to put down his Blackberry and get his ass out here.
-Bischoff is out, and they are no longer censoring his name. Bischoff claps for JB as the crowd chants, "hey, hey, goodbye." JB like shearing that, especially when it comes to Bischoff. He says they should install a breathalyzer on his phone before he drunk tweets again. JB calls him insecure, and Bischoff says he hope she enjoys the 15-seconds of fame, because he will enjoy this. Bischoff then says he has a iPhone. Bully Ray comes out and low blows JB, and Bischoff continues to run him down, gives Ray the phone and calls for a ref, and covers JB for a pin. Yup.
-Anderson talks about Bischoff, who brought him into TNA. They politically agree on many levels, but Bischoff is anti-government and screws people over. Anderson may be an asshole, but Bischoff is a douchebag.
-Mexican America come to the ring, and they are tires of being disrespected. They should be in the tag title match tonight because no one can beat them, no one can beat them. They can beat anyone and ask if anyone will step up, and Kurt Angle answers the challenge. Anarquia asks if Angle wants to fight, and says Hernandez will fight him. he tells the girls to bail, and they then attack and Anarquia takes the match.
Kurt Angle vs. Anarquia
Anarquia sends Angle to the corner and celebrates. Angle quickly battles back, Angle slam and the straps are down. Ankle lock and Anarquia taps like a BITCH.
OFFICIAL RESULT: Kurt Angle @ 1:00 via submission
RATING: NR
-We meet Alex Silvia, who will participate in the Gut Check Challenge. He is from OVW.
-Al Snow leads him out to the ring for his match. Snow introduces Silvia, and explains the Gut Check challenge, which is the chance to earn a contact with TNA Wrestling. Snow will be a judge.
Gut Check Challenge: Robbie E w/Robbie T vs. Alex Silvia
Snow is on commentary. They slap each other, and Silvia firs up. Rights follow, to the corner and a clothesline and cover for Silvia gets 1. Clothesline and kicks by Robbie. Robbie pie faces him in the corner, talks smack and then off the ropes and aback elbow by Robbie. Slam by Robbie, picks him up and then slams him down again. Robbie to the corner, 2nd rope and MISSES the fist drop. Back elbows by Silvia. Off the ropes, powerslam connects for 2. Boot by Robbie, cut to the crowd to cover a both I presume and Robbie gets a DDT for the win.
OFFICIAL RESULT: Robbie E @ 3:00 via pin
RATING: NR
-Dixie Carter discusses what she will miss about Eric Bischoff, which is filled with sarcastic remarks.
-Hogan welcomes the tag team challengers to his office. He was wondering who to choose, and figured he would hear them out. Daniels steals the show, as he discusses "hangin and bangin with Hogan at Venice beach BROTHER!" he also runs down all the teams in spectacular fashion. The Guns make a case because they have been champions everywhere. Anderson kisses Jeff on the cheek and says they can get along for tonight. He goes to ODB and EY. EY says he is exhausted due to their honeymoon, but says they are undefeated and are the only married couple. EY then says ODB would spend a night with Hulk. Hulk says he cannot afford her. Hogan says he eliminated the Guns. Open Fight Night brothers!
-Tessmacher hits the ring and says that everyone is talking about beating Gail Kim last week. Some say it is a fluke, and guess what? She is here to prove them wrong. She is a threat to the title, and is just not a nice pair of assets. She challenges Kim to a non-title match…
Non-Title Match: Gail Kim © vs. Brooke Tessmacher
And here we go as Kim attacks Tessmacher before the bell. Kim slams her to the corner, and then lays the boots to her. She slams her down, and then lands a clothesline and covers, put picks up Tessmacher. Always a bad move. Kim slams Tessmacher to the corner, gets a corner clothesline. To the other corner, misses this time and forearms by Tessmacher. To the corner, and Kim levels Tessmacher with a clothesline. Kim works her over, and then slams her to the mat. She walks around and blows kisses to the crowd, Tessmacher battles back and lands a clothesline. Kim fights back and takes control again, grabs the title and mocks Tessmacher with it. Kim calls her a piece of shit, and then connects with the corner charge. Kim up top, MISSES the missile dropkick and Tessmacher with the faceplant and covers for 3.
OFFICIAL RESULT: Brooke Tessmacher @ 4:00 via pin
RATING: *
-Kaz and Daniels say that they will fight for the tag titles tonight. They then say if AJ doesn't show up next week they let the secret out of the bag.
-RVD discusses winning the #1 contender's match last week. Roode also comments, stating that he doesn't care, because he knows RVD. He is a former champion and he hopes RVD knows what he can do, because Roode is a new man.
-Al Snow talks with Silvia, and says they will bring him back next week to know what his fate is. Bobby Roode interrupts. Roode talks down to him and says that he had a chance tonight, and it took Roode a long time to get a look from TNA. He doesn't appreciate the chance that Silvia got, but says to be on your toes and gives him a cup check.
-Hogan in the back and says that EY and ODB are out tonight. Go back to the hotel and celebrate, but don't reproduce. Hogan says that Daniels, Kaz, Anderson and Hardy need to head to the ring.
-Garett Bischoff discusses his father's last night. He may still be his dad, but Impact will be a better place without him.
-Joseph Park meets with Bully Ray. Ray asks what he wants, and Park says that people say that Ray knows where Abyss is. Ray says he has no answers, and wouldn't give them even if he did. Park gives him his card. Ray says to shove it.
-Joe and Magnus make their way to the ring. Kaz-Daniels and Hardy-Anderson make their way to the ring. Hogan then makes his way out, and says that fight night has been crazy and the excitement has been over the top. But so far, the decision for the teams has been tough. He then says that Kaz-Daniels said they were legit, but there are two talented guy also wanting to challenge. Hogan eliminates Kaz-Daniels, and says Anderson and Hardy get the title shot.
Tag Team Title Match: Samoa Joe and Magnus © vs. Mr. Anderson and Jeff Hardy
Anderson and Joe to begin. Lock up, to the corner and jabs by Joe. He beats v down, but Anderson battles back with rights of his own. Back elbow connects and a cover gets 1. Tag to Jeff, nope Anderson hesitates and Joe fights back. Anderson then slaps Jeff in the chest for a tag. Magnus in as well, kicks away at Jeff and lays the boots to him in the corner. Head scissors by Jeff, and then the mule kick and a cover for 2. Jeff works the arm, tags in Anderson. They try a double team, Magnus fights out and tags in Joe. Anderson bitches at Jeff because he called a backdrop, tag team partners that do not get along, we head to a commercial @ 2:00.
Back from a commercial @ 7:00, with Anderson working over Magnus. Tag to Jeff, atomic drop and then the leg drop to the balls. Magnus rolls to the floor, Jeff follows. Joe then levels Jeff as Magnus rolls back into the ring, and Magnus covers for 2. Tag to Joe, off the ropes and atomic drop, and a then a big boot and back splash all connect on Jeff for 2. Jeff fights back with the whisper in the wind, and both men are down. Tags to Magnus and Anderson. Anderson is the old house of fire, neck breaker connects and a cover for 2. Joe in, eats a clothesline. Magnus sends Anderson to the floor, Jeff in, and a snap slam by Joe gets 2. Joe fires up, picks up Jeff, but eats a jaw breaker. Twist of fate by Jeff, and Anderson is sent to the steps by Magnus. Jeff up top, nope, dives onto Magnus on the floor. Anderson roll sin the ring, and Joe counters the roll up into the rear naked choke. Magnus holds Jeff on the floor and Anderson has to tap.
OFFICIAL RESULT: Joe and Magnus @ 11:00 via submission
RATING: **½
-Anderson and Jeff argue following the loss. Kaz and Daniels attack the champions following the match and lay them out on the ramp.
ERIC BISCHOFF: GOODEBYE, FAREWELL AND AMEN
We have a throne and portrait of Bischoff in the ring for this farewell party. Flair, Bully Ray, Gunner, Kaz and Daniels all make their way to the ring. Flair says they are here to celebrate the career of Eric Bischoff, and no one alive knows how to celebrate like him. He says if you know anything about wrestling, you know that Bischoff has been a major impact player. The fans sing "hey, hey goodbye" again, and Flair says it is a wonder why he hates wrestling fans. He brings out Eric Bischoff.
Flair tells Bischoff to take the throne, as he apologizes for the rudeness of the fans. Flair says he is better off when he is telling the world what he has meant to him, the men in the ring, and hundreds of others who have had the honor of working with him. Dixie should be on her knees thanking Bischoff for the day he came to TNA. He may not like Hogan, but Bischoff is the reason he is here. And the reason Flair is here, and he thanks him for that. Flair thanks him, and he hopes that the people of Impact know what Bischoff has done for TNA.
Gunner says this is a sad day for them all, but he thanks him for being like a father to him and for all of the chances he gave him.
Flair has a gift, from all of them. A Rolex. Ray says he has never said this to another man, but he is the wind beneath his wings.
Garett, JB, the Guns, RVD and Aries are all out now. JB apparently had an idea for his farewell, they wanted to get him a gift. They got together to get him something more symbolic of Eric Bischoff. Tonight they induct him as the first person into the TNA's "shed of shame," which is a port-a-potty. We have a big brawl now, and Garett attacks Bischoff as JB leads the way. They toss Bischoff into the shitter and lock him in. They knock it over, and fluids start to run out. Bischoff emerges from the shitter covered in…well, shit.
-End scene.
WHAT DID YOU THINK ABOUT TONIGHT's SHOW?
TWITTER
Your heart is free. Have the courage to follow it…TO CSONKA'S TWITTER!
http://www.twitter.com/411wrestling
http://www.twitter.com/411moviestv
http://www.twitter.com/411music
http://www.twitter.com/411games
http://www.twitter.com/411mma