411's WWE Hall of Fame 2009 Induction Ceremony Report 04.04.09
April 4, 2009 | Posted by
-Live from Toyota Center in Houston, TX
-WWE.com portion Hosted by Todd Grisham
-Todd Grisham welcomes the crowd, and introduces the WWE superstars in attendance to the live crowd.
Terry Funk & Dory Funk, Jr.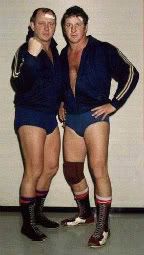 -A video package highlights the career of the Funk Brothers
-Dusty Rhodes handles the induction for the Funks, and comes to the stage getting funky like a monkey with Kelly Kelly. Dusty mentions Dory holding the NWA World Title for four years, second only to Lou Thesz. Dusty has kind words for Dory, but can't say the same for Terry. Dusty says Terry always brought the fight to you. Dusty says Terry was extreme even before ECW. Dusty mentions that they were legendary all over the world even getting statues in their honor in Japan. Dusty mentions their wars, and how they both always called him an "egg sucking dog." Dusty talks about the respect they have for each other and the fans. Dusty calls Dory a "shootist" and calls Terry "the last surviving outlaw in captivity." And with that he introduces the Funks.
-Terry says after an intro like that he'll never call Dusty an overbearing, obnoxious, egg sucking dog again. Dory thanks his father Dory, Sr. for training him, and tells about his father telling him after he won the World Title he had now accomplished the best a man can do. Dory says he has driven over 2 million miles, and flown over 3 million. Dory says he wrestled over 330 matches per year for several years. He says if he had the chance he absolutely would do it again, and that he loves pro wrestling. Dory says he loves working with love talent, and helping them accomplish their goals. Dory thanks the promoters, his peers, his family, his doctors, his attorneys, and both of his wives. He specifically thanks The Guerrero Family, The Hart Family, and Gene Kiniski who put him over the World Title. Dory thanks his children, and grandchildren. He brings up the six wrestlers who are wrestling in Wrestlemania who he trained Edge, Matt & Jeff Hardy, Christian, Mark Henry, and Mickie James. He thanks the Briscos, Keiji Muto, and to the WWE who had the sense to hold Wrestlemania in Texas. He says Texas is the only place to hold an event of this magnitude. Terry thanks his family, his wife, his children, and in-laws, and then thanks his grandkids. He says the grandkids want to be WWE superstars, but they have to get an education first because there is no room for dummies in the WWE. Terry thanks his mentors and peers, and then specifically ECW. He says he and his brother wrestled thousands of guys in front of large crowds and small crowds. Terry says he wants to go to heaven in a wrestling ring where he can have a battle royal that lasts for eternity. He's gonna invite all of his wrestling friends, and all the wrestling fans because in heaven all the seats are front row ringside, but its BYOB. Terry thanks the fans, and tells them he loves them.
Koko B. Ware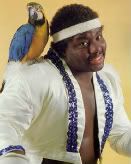 -Video Package highlights the career of "The Birdman"
-The Honky Tonk Man handles the induction, and naturally shows up in the Elvis suit rather than a tux. Honky says he met Koko 30 years ago in a barn when he strolled in and saw a young athletic person having a person by himself. Koko asked Honky if he was here to work out, and asked him to get in the ring. Koko beat the heck out of Honky for the next nine months. Honky talks about Koko sending him to a horse trough to get a drink, and it was the same trough that the animals drank out of. Honky says Koko had the key elements of a superstar. Desire, dedication, and work ethic. Honky talks about JBL's clothesline from hell, but Honky lets JBL know that Koko had a dropkick from hell. Honky says Koko taught him to take it, but he didn't ever get taught how to give it. Honky says he thought he had it rough carrying a guitar around, but then he saw Koko with a bird. Honky tells a story about a promoter who didn't want Frankie to appear. Koko told Honky he would never do another show without Frankie, because the fans didn't care about him only the bird. Honky says tonight isn't about the bird, but its about him and brings out Koko.
-Koko comes out with Frankie in hand and his trademark sunglasses. Koko says it's good to be back in the WWE one more time. He thanks Honky for the kind words, and then thanks God. Koko says it's so good to be walking on the ground rather than the ground walking on him. Koko says he was born in a small town of Union City, TN and how much it has grown. He played baseball and football, but was a big wrestling fan. Koko says he went to the wrestling matches every Thursday night in Union City. He says it was what he always wanted to do. He met Plyboy Frazier (Uncle Elmer), and he told Jerry Lawler about him. He met Lawler at a Friday Night event and that started his career. He was in Memphis for five years before moving out of the territory. He then got a call from the WWE, and it was Howard Finkel. He says he didn't believe it, but Howard told him Vince McMahon wanted to talk to him about being in the WWE. He accepted the invitation, and Vince asked if he wanted to add anything to his name. He showed Vince a picture of him and a bird, and that's when he became the Birdman. He thanks his wife and kids. He thanks the wrestlers, managers, and promoters who helped him during his career. He thanks all of his friends and family in Tennessee, and finally thanks the WWE for giving him the opportunity to share his wrestling talent with all of the fans. It should be mentioned the real star of this speech was Franky who squaked the whole time and actually walked right over Koko's speech papers. Funny stuff.
The Von Erich Family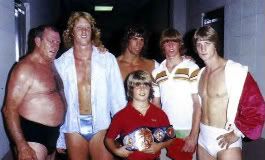 -Video Package highlights The Von Erichs
-Famous Von Erich family rival Michael "P.S." Hayes handles the induction, and his ridiculous cowboy hat must be noted. Hayes says with all due respect to the iconic and legendary families of Texas, the Guerreros and The Funks, that no family had more of an impact in the transition from wrestling to sports entertainment than the Von Erichs. Hayes talks about the transformation from Jack Adkisson to Fritz Von Erich. He talks about the boys athletic accomplishments in school, but they weren't satisfied with that. They wanted to follow in their father's footsteps, and become stars in wrestling. Hayes talks about the evolution of WCCW, and how Fritz got heat for featuring his sons. He says that all changed Christmas Night in '82 when the Freebirds turned on Kerry which set up "the greatest tag team rivalry in wrestling history." Hayes's words not mine. He says the Von Erich's were loved by fans all over the world, and they loved the fans right back just as much. Hayes then brings out Kevin Von Erich.
-Kevin says "God Bless Texas" and then thanks Michael Hayes. Kevin says if it looked fun to do that's because it was. He says wrestling provided some of the finest memories of his life. Kevin talks about making $35 a night wrestling in Houston. Kevin talks about wrestling being the best form of entertainment in the world, and says he is in amazement at how much the business has grown. Kevin says he wishes his brothers and father was here, but don't think he's alone. His fellow wrestlers are like his family. Kevin talks about his final wrestling tour in Africa and how he didn't want to do it as it was right after Kerry's death. The wrestlers treated him family and helped him through that time. He talks about Buddy Roberts and Terry Gordy, and how beating on someone every night brings you closer. Kevin says a lot of people say "poor Kev" but they should say lucky Kev because of the fantastic memories he has. He says the Von Erich's live through his sons, and also thanks his daughters. He also thanks his wife of 31 years Pam. Kevin says he wishes he had more time, but he can't name names because he'd leave someone off. Kevin says he's proud to be apart of the WWE, and tomorrow we'll see a show like no other.
Howard Finkel

-Howard gets a hilarious highlight package.
-Mean Gene Okerlund is out to handle the induction. Gene says he wants to talk about a man who made his career holding a mic, and is adored by fans worldwide. But enough about him. Oh that Okerlund. Gene talks about Fink being the longest tenured WWE employee, and how he came up with the phrase "Wrestlemania." Okerlund says Fink is a walking encyclopedia, and how he uses his knowledge to contribute to wwe.com. That brings out Finkel.
-Howard starts out of with a big "GOOD EVENING HOUSTON!" Fink says this is the highlight of his career. He says he never thought he would take his voice, and combining it with his love of the business to become a ring announcer. Fink says he can't count all of the matches he's done, but he treated them all as if they were the main event. Howard talks about his first appearance in 1977, and how that evolved into a fan telling him in the early 80's that a fan told him the world was soon going to know what they already do. That he was the best in the world at what he does. Finkel talks about how he never thought he was the star of the show, but rather just a cog of the wheel. Fink says there is no better group of athletes and entertainers in the world than the WWE superstars. Fink says he was a Bushwacker, an APA member, Jericho's lackey, and Harvey Whippleman's opponent. He calls it his greatest match, and then remembers it was only his one. Finally he says it has been the time of his life, and how he's announced some of the greatest of all time as New World Champion. Howard then gives himself that same thrill, by announcing that he is the NEW inductee into the WWE Hall of Fame.
"Cowboy" Bill Watts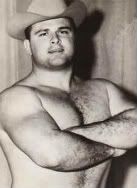 -Highlights of the career of Watts as both a wrestler and promoter.
-Jim Ross handles the induction of his fellow Oklahoman. Ross says it's always good to hear "Boomer Sooner" in Texas. He says it's always an honor to induct a boyhood hero and mentor into the hall of fame. JR talks about Watts' career at OU, and his NFL career with the Vikings and Oilers. Wahoo McDaniel talked Watts into trying wrestling, and three years later he was main eventing MSG for Vince, Sr. JR talks about the different territories that Watts worked for. He talks about a Navy SEAL that Watts got into a fight with in California, and how the SEAL lost his eye and Watts ATE IT!?! Ross moves on to Watts's career as a booker with Mid South, and then later on the owner. He brings up Watts' fines, and how he was famous for them. He says a rule was no breaking up fights in the locker room, and talked about how if you went to the bar and lost a fight to a civilian you were fired. Ross says every day he worked for Bill he demanded perfection. He had to give 100% to the business and to the fans. Being okay or average was not acceptable. He says his first six months in the business he thinks Watts gave him a wrestling name of Dumb Ass. Ross says he's a better man for having worked for Bill Watts. He says Watts was Vince Lombardi or Bill Parcells-like in his approach. That brings out Watts.
-Watts says he hired Jim out of college, and he started at rock bottom putting up the ring and refereeing. He says he's very proud of JR, and how hard he worked to earn his position. Watts says he'll be 70 on May 5th and this is a great birthday present. Watts introduces his daughter, and her children. Then he introduces son Erik Watts and his children. Watts talks about how WWE is becoming the historian of wrestling history, and how happy he is to be involved. He asks what took them so long to get him here. Watts says wrestling is in great hands with the current group of WWE superstars and the company itself. He talks about being Sooner born, and how OU and Texas is the greatest rivalry in the business. He talks about Danny Hodge, and his amateur accomplishments. He talks about the Brisco Brothers. He talks about how his first partner Wild Red Berry confused him for Dick Hutton, and how he called him "Big Dick Watts" on national TV. Watts says Berry went back to Vince, Sr. and told him he was going to be a star. He says since he was from Oklahoma he had to be a cowboy and all he needed was a hat. Watts talks about wrestling Kowalski and Sammartino. Watts says Sammartino was the strongest man in wrestling at the time, and says that his bench press was 585 at the time and he didn't even know what a steroid was. Watts goes on to talk about several more WWWF wrestlers he worked with, and how he met Ernie Ladd. He talks about Ladd being one of his closest friends, and how he cried for four days when he died. He goes in to his promoting career, and talks about Simmons winning the World Title being one of the proudest moments of his career. He talks about JYD, and how he never realized how much he loved him until he was dead. He mentions several more African American stars that he worked with. He talks about the men who he worked with as a promoter. Gordon Solie, Dusty Rhodes, Paul Boesch, Eddie Graham, Steve Austin, Shawn Michaels, Dick Murdoch, and Jim Duggan. He tells a story about Duggan having blood poisioning from a bump into the ringpost, but still making his bookings because Watts insisted until Hacksaw's wife intervened. He mentions Andre who he thinks is having a drinking contest with Dick Murdoch somewhere. He says anyone can do it if they do it their way. Watts says this is the highlight of his career, and thanks the fans who he calls the real hall of famers. He says this will remain the highlight until he dies, and he gets to meet his hero Jesus Christ. He closes by telling the fans to watch out for flying chairs.
-USA Network Segment Hosted by Jerry "The King" Lawler
Ricky "The Dragon" Steamboat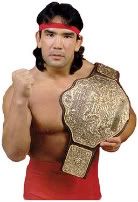 -Lawler brings out Ric Flair to handle the induction of Ricky Steamboat. Flair shows off his rolex, so I guess Jericho didn't break it after all. Flair talks about what an honor it was to be inducted last year, and calls tonight a great honor as well. He calls Steamboat his greatest opponent of all time.
-Video Package for Steamboat
-Flair says over his 36 year career he stepped inside the ring with the greatest stars in wrestling, but his greatest opponent was Ricky Steamboat. Flair calls him a fans wrestler, and says he embodied what a true good guy should be. He says Steamboat always signed autographs for fans, and looked great. He says the girls loved Steamboat, and that he was a great performer in the ring. Flair says guys like Steamboat are what made him a legend, and they wrestled close to 2000 times without a bad match. Flair says the 1989 matches were good, but the 70's matches were even better. Sadly with no cameras those matches are confined to the fans in the arena. He says Steamboat was an unbelievable performer. He says they shared blood, sweat, and tears and loved every minute of it. Both men settled down in Charlotte and raised their families. Both men now have sons who are training to be wrestlers and continue the great Flair-Steamboat rivalry. Flair again calls Steamboat the purest good guy who ever walked the aisle, and brings out Steamboat.
-Steamboat hugs Flair, and then they lock up one more time to the delight of the crowd. He fights back tears as he begins his speech. He says he's humbled with what he's been blessed with. He talks about a young man who he spoke with on a plan who was about 6-3 or 6-4 and very respectful of him. He always checked on him to ensure that Steamboat was comfortable. He talked to Ricky about a variety of things and impressed him to the point where he knew the kid had it. Steamboat says he had it then, and he has it more so now, and points out that the kid was Triple H. He says his rewards are not measured in wins and losses, but in the performance. He says every time he worked with Flair he was pushed to the limit because there was no other way. Flair took him to school every night. He brings up Greg Valentine, Blackjack Mulligan, The Briscoes, Sgt. Slaughter, Don Muraco, Jake Roberts, Jimmy Snuka, and Roddy Piper. He pauses to call out Jericho and says Piper, Snuka, and himself will take Jericho to school tomorrow. He goes back to the thank you's to Bret Hart, Randy Savage, Harley Race, Arn Anderson, and the guy who he had his final match with Steve Austin. Steamboat says he pushed those guys, but they all pushed back. Steamboat thanks Jim Ross for the commentary on his match. He says a carpenter is only as good as the tools he has to work with, and he had some great guys to work with. Steamboat thanks all of the superstars who he worked with over the years. He calls out to Mickey Rourke in the audience and says tonight is his Oscar. He says he is proud and humbled to be a hall of famer, and gives one final thank you to the fans.
-Lawler calls out Shawn Michaels, and then we get a video preview of tomorrow night's Undertaker-HBK match courtesy of the "Legends of Wrestlemania" video game. Lawler then brings out Mean Gene Okerlund introduces a recap of the previous inductees we saw on wwe.com.
"Stone Cold" Steve Austin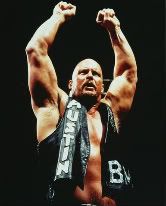 -Lawler says our final inductor needs no introduction, but if he doesn't give him one he'll get fired. He then hilariously pulls a piece of paper out of his jacket, and introduces Vince as the "Best boss anyone could ever work for." Vince says Austin and he have a strange relationship. It's a love-hate relationship. Vince loves Austin, and Austin hates Vince. Vince goes through all of the different things that Austin has done to him over the years. Vince calls Austin the greatest WWE superstar of all time. Take THAT Hogan!
-Video package highlighting the career of Austin
-Vince busts out the old announcer Vince voice and brings out Austin. They even share a handshake on the stage. He should have stunned him. Long standing ovation for Austin and it was most likely edited down for the TV broadcast like Flair's last year. Austin says he doesn't like to get dressed up, and he got his suit from The Men's Warehouse in Los Angeles. He says the commercials say "you'll like the way you look," but he had a button pop off so now he's going into the hall of fame in front of all these people and his button popped off because of the Men's Warehouse. Austin says its very easy for him to go into an arena and cut a promo, and the business has been a big part of his life. He says he watched the intro video at least 50 times trying to find the words to express how he feels. He wants everyone to know if he fails in conveying those feelings that to every person who came to see Steve Austin thank you for sticking with him. He says as high as he went, or he'd get an injury, or a divorce, or take his ball and go home the fans always took him back. He says its been a pleasure and a privilege to make a living in the squared circle. Crowd chants "one more match" and Austin casually says "I dunno about that." He brings up his family, and what they did when he was growing up. He always wondered what he'd be, and when he took his aptitude test in high school his test told him he'd make a real swell Park Ranger. Austin says that wasn't going to work for him so he became a wrestler. He says he's met some of the greatest people he's ever met in wrestling, and by that token he's met some bad ones too. Austin says he wants to close the door on his wrestling career, but he doesn't want to close the door on his fans. He says as he moves on to the movie industry he wants the fans to be able to support him, and he'll do whatever he can to entertain the fans as best he can. He says he could talk for another hour, but he needs to wrap it up so the superstars and divas can get a good night's rest or get started on a cold drink. He thanks the fans one last time and tells them he loves them. And that's the bottom line 'cause Stone Cold said so. Austin then downs a couple cold ones on stage, and then possibly symbolically tosses one to John Cena as confetti flies and we're out. Any doubt on if Austin is ever wrestling again should have been settled in that speech.

NULL