Csonka's ROH 16th Anniversary PPV Preview
March 9, 2018 | Posted by
WELCOME back to column time with Larry! Today, I am going to discuss and preview the main matches for the ROH 16th Anniversary PPV. This is the latest ROH PPV, and the final big show ahead of the WrestleMania weekend Supercard of Honor show. The build to the anniversary show has been lackluster, with only six matches set for the PPV proper, and two late announced pre-show matches (making sure to keep the women off of PPV, because that's what Lizard man does). So today, I will break down and preview the show. Thanks for reading! It's wrestling, we love it and will disagree. The only rules are "have a take, be respectful, and don't be a dick."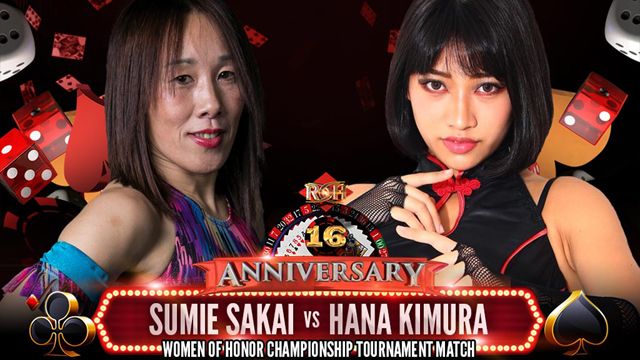 Pre-Show – Women of Honor Tournament Match: Sumie Sakai vs. Hana Kimura: With all due respect to Sumie Sakai, who's 46 and the veteran leader of the ROH women's division, on paper this is the old and busted vs. the new hotness. Sakai works hard and always has solid matches, but really shouldn't be winning over the STARDOM guest right now. I mean, if you're taking the time to fly in Hana Kimura, she should really go over, that and she's better than Sakai at this stage. WINNER: Hana Kimura
Pre-Show – Women of Honor Tournament Match: Tenille Dashwood vs. Brandi Rhodes: Brandi Rhodes defeating Karen Q was absolutely horrible booking, not only because it made no sense, but also because it robbed us of Karen vs. Dashwood here. These two are friends, so I can see Dashwood working hard & giving Brandi a lot here, but Dashwood is the star they brought in, and smartly so, when she loses, she needs to lose to someone better than her or someone with star potential, and that's not Brandi. WINNER: Tenille Dashwood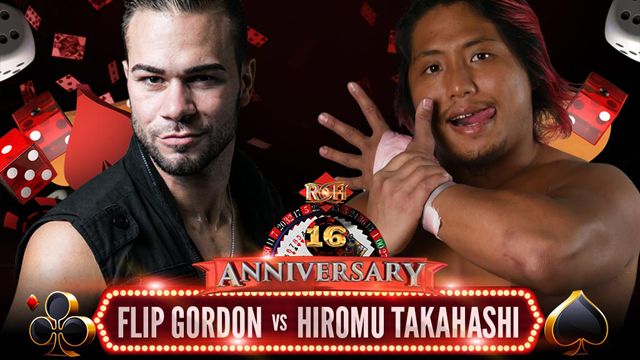 Flip Gordon vs. Hiromu Takahashi: When the early spoilers for the PPV came out, word was that Gordon was "facing someone from New Japan." Most quickly assumed it would be Liger, which in all honesty, I would have been fine with. Liger is still a fun performer, is still wildly over, loves working with younger talents, and has no issues putting people over. But for as much as I love Liger, bringing in Hiromu Takahashi is even better. First of all, they recently worked each other at the Honor Rising events. On night one in a triple threat with KUSHIDA & in a tag on night two with Taguchi against Takahashi & BUSHI, winning the triple threat and dropping the tag match. Those performances were Gordon's audition for more NJPW work and possibly the BOTSJ tournament. Gordon has been a strong performer for ROH, is getting over, but is in desperate need of a big win on ROH PPV. He should pick up the win here, in what should be a very good and fun match. WINNER: Flip Gordon
Cody Rhodes vs. Matt Taven: Cody is the former ROH champion, now in control of Bullet Club, and looking to work his way back to the gold. Matt Taven is the leader of the Kingdom and is also looking to work his way to an ROH Title show in order to become an ROH Grand Slam champion. Outside of the Manhattan Mayhem match with Flip Gordon, Cody has been on a roll since WrestleKingdom 12, doing the best work of his post-WWE run. The match with Gordon was a ton of stalling and heel shtick, which played well with the crowd but added nothing to the actual match. This feud is all about getting to the ROH Title, Taven feels Cody is entitled and has been handed everything due to his name, while also believing that there is a conspiracy from ROH management against the Kingdom. They have worked some solid segments on TV to build this, with Cody winning the first one on one match. But unfortunately for him, the Kingdom attacked, beat him down, allowing Taven to steal Cody's ring of honor. They can easily go with either guy here to set up a top contender; if Cody wins, either Castle or Lethal makes perfect booking sense, since Cody lost the title to Castle and feuded early on in his ROH run with Lethal, which they have teased going back to. Taven is the fresh face in terms of challenging for the title, and his quest for the grand slam could be an interesting story, but it doesn't quite feel like the right time for him in my opinion. WINNER: Cody Rhodes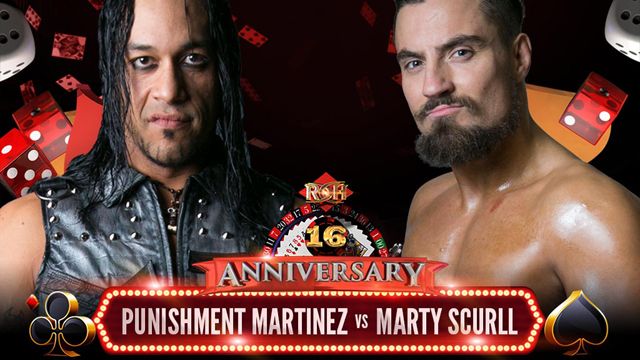 Marty Scurll vs. Punishment Martinez: Punishment Martinez recently challenged for the world title, failing to defeat Dalton Castle, while Scurll has been campaigning for a world title shot, since he's never received one. This is an interesting match, due to the clash of styles and the size difference, which could cause issues unless they have a well laid out gameplan and strong match layout. Marty is really great, and has proven that he can be smart worker, and Martinez has shown that he can work up to better opponents. The match really feels like one that could be just ok, or if things go right, it could be great. There are a lot of variables at play here. Hopefully, they have the right gameplan and both guys are working to impress. They have been laying the groundwork for a possible Scurll title shot for weeks, so I see him using his villain skills to pick up the win. WINNER: Marty Scurll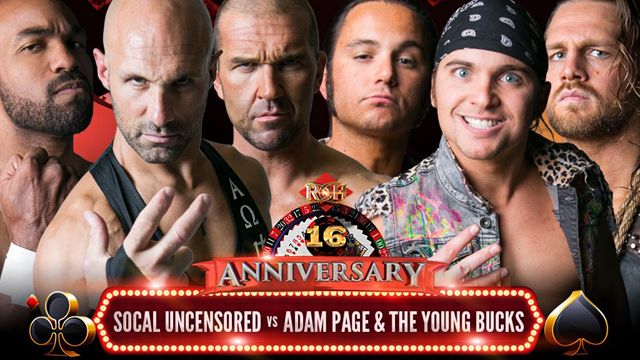 Six-Man Tag Team Title Vegas Street Fight: Champions The Young Bucks & Adam Page vs. SoCal Uncensored (Daniels, Kazarian, Scorpio Sky): At Final Battle 2017, The Young Bucks & Adam Page defeated Flip Gordon, Dragon Lee, & Titan to successfully retain the trios titles. But post-match, Scorpio Sky aligned with The Addiction, attacking the champions and kicking off the feud. The Bucks & Page have been fun champions, putting on quality matches, and giving stability and name recognition to the titles. Recently on ROH TV, COO Joe Koff had enough of Daniels & Kazarian's actions, noting that their contracts end at Final Battle 2018 and that he cannot wait to get rid of them. Daniels & Kazarian are on a quest for gold, feeling that if they hold championships that ROH simply can't get rid of them. They have had a lot of interaction on ROH TV, with the champions largely dominating. It feels like time for the titles to change to plan into the Daniels & Kazarian angle. This has the chance to be a great match, especially with the smoke and mirrors the stipulation provides. At last year's anniversary PPV, The Broken Hardys defeated The Young Bucks and Roppongi Vice in a similar style match in what was one of ROH's best matches of 2017. I hope for more of the same here. WINNERS: New Champions SoCal Uncensored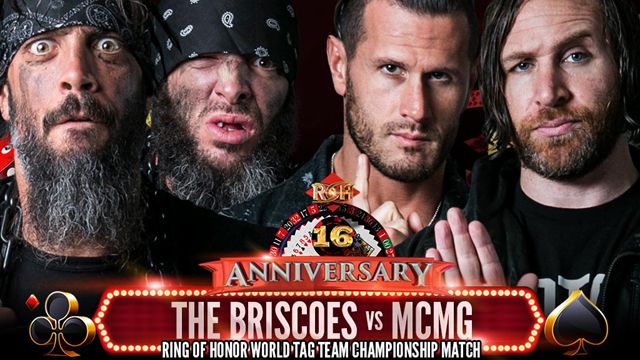 Tag Team Title Match: Champions The Motor City Machine Guns vs. The Briscoes: The Briscoes took out Bully Ray & Tommy Dreamer at Final Battle 2017, completing their heel turn and signaling a new direction for the brothers. In the build to the battle with Bully & Dreamer, Jay had wanted Mark to get back in line with him so that they could dominate once again as "the best damn tag team on the planet." Mark was now in line with the plan, and the target was simple, the Motor City Machine Guns. The MCMG won the titles back in September at ROH Death Before Dishonor, defeating the Young Bucks in a very good match. In a way, the victory came off as a lifetime achievement award for the Guns, who had success all over the world and won tag titles in TNA & NJPW. For as much as I love the Guns, their tag title run has been really flat, as they have never felt featured or as important as the Bucks due to the booking. Even looking back through their matches, there is nothing memorable about the title run, only that they finally won them. ROH really dropped the ball with what could have been a special title run. On the other hand, the new unhinged heel Briscoes feel like a breath of fresh air, which isn't easy to do with an act the fans tend to love and have been with the company so long. It feels like the time to pull the title change, but I do worry that the Briscoes "win" through nefarious means, and that enforcer Bully Ray arrives and Dusty finishes the match to get revenge and extend the feud between the teams. WINNERS: New Champions The Briscoes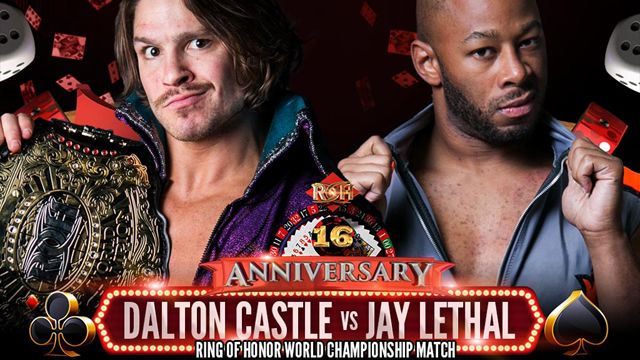 World Title Match: Champion Dalton Castle vs. Jay Lethal: Dalton Castle defeated Cody Rhodes at Final Battle to win the title, and has had a rock solid run so far, picking up clean wins and having good matches. Jay Lethal is a former ROH champion, looking to get back to glory and win the title for the 2nd time. It feels too soon to take the title off of Castle, but at the same time, you can make an argument for Lethal winning the title and finally going full circle, back to Cody, who he had a really good feud with. He could also revisit his feud with Scurll, especially if Scull wins on this show. Lethal also feel like he's in a really odd place right now, and if he doesn't win the title, I really have no clue what they will do with him going forward. But I guess that's the good thing about this match, because it really feels either man can walk out as champion, which will hopefully translate to the match and not only give us quality work, but an invested crowd that is also questioning the outcome. Lethal has been ROH's best full time, in ring performer for more than the last year, and always delivers on the big shows. Castle is good, but I really feel that he's lacking that big time, breakout, singles match and with Lethal, he'll get the chance to have it here.
WINNER: Dalton Castle
JOIN 411 TONIGHT AT 8PM ET FOR LIVE COVERAGE OF THE SHOW
– End scene.
– Thanks for reading.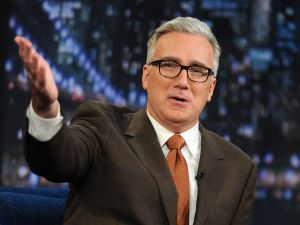 "Byyyyyyyyyyyyyye Felicia."