Csonka's WWE Crown Jewel 2018 Preview
November 1, 2018 | Posted by
WELCOME back to column time with Larry! Today, I am going to discuss and preview the WWE Sweet Saudi Money II: Blood Money event. The event takes place at the King Saud University Stadium in Riyadh, Saudi Arabia parts unknown. WWE and the Saudi General Sports Authority announced the event, which is the second as part of a 10-year strategic multi-platform partnership between WWE and the Saudi General Sports Authority that will make WWE hundreds of millions no matter how many moral compasses they break…
My friend @realchaseowens is the only Crown Jewel that deserves your attention or support.#GoodOlVirginiaBoys pic.twitter.com/7YTPLFObPX

— HANGMAN PAGE (@theAdamPage) October 25, 2018
As always, I'll be breaking the show down mach by match, and try to predict the full WWE World Cup to Determine The Best on The World (which I expect to get horribly wrong). Feel free to make your picks in the comment section. Thanks for reading! It's wrestling, we love it and will disagree. The only rules are "have a take, be respectful, and don't be a dick."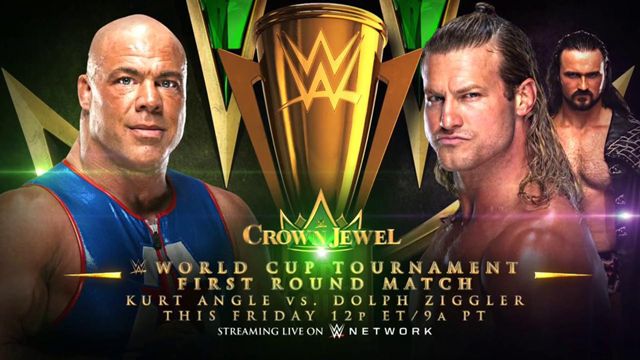 WWE World Cup to Determine The Best on The World Tournament Match: Kurt Angle vs. Dolph Ziggler: Over the past few weeks, they've been setting this up as one last run at glory for Kurt Angle, and a special event like this isn't a bad place to do it. They have also continued to play up Ziggler as a completely overconfident bag of douche that thinks he's way better than he is. I think that the pairing is smart; they can play off of their amateur wrestling backgrounds, and while Angle is limited, Ziggler can provide the major moving parts and bump like a maniac for Angle. I think this will be Angle's one last run at singles glory, and he advances. WINNER: Kurt Angle
WWE World Cup to Determine The Best on The World Tournament Match: Seth Rollins vs. Lashley: This one is a toss up, if Angle is advancing, working with a newly heel Lashley makes sense as an opponent, plus they've worked well together in the past. But it's also a very physically taxing match on Angle to work at this stage. If Ziggler wins, he and Rollins are a great pairing that have delivered in the past, but I'm also sick of seeing it. I think Lashley is the likely winner, but feel if the Angle feel good run is the play, that Rollins would give him the best match. It's unclear if guys like Ambrose or Corbin will make the trip, so it's hard to predict interference in the matches. It's a coin flip for me, but I'll go with Rollins here.WINNER: Seth Rollins
WWE World Cup to Determine The Best on The World Tournament Match: Jeff Hardy vs. The Miz: The Miz has been downgraded following his loss to Daniel Bryan and it feels like time to heat him up again. Jeff can afford a loss, and they've worked well together in the past. This will likely be fun, and is see Miz taking this one and going far. WINNER: The Miz
WWE World Cup to Determine The Best on The World Tournament Match: Randy Orton vs. Rey Mysterio: These two have history working together, and that gives me hope for a good and fun match. Orton has been getting a push as of late, but I can see Rey getting the win here, to likely kickoff a program between the two and to allow Rey to advance, although Orton likely gets post match revenge, hurting Rey's of advancing. WINNER: Rey Mysterio
WWE World Cup to Determine The Best on The World Tournament Semifinal Match: Kurt Angle vs. Seth Rollins: Now if things go to plan and we get this match, it will be interesting to see what Angle can bring to the match after already working one match prior to this. Rollins has had a great 2018,and if anyone can get something of quality out of Angle it's him. If Angle makes it his far, the miracle run continues. WINNER: Kurt Angle
WWE World Cup to Determine The Best on The World Tournament Semifinal Match: Rey Mysterio vs. The Miz: Rey Mysterio recently beat The Miz on Smackdown, so it feels like a natural rematch for Miz to get his win back as WWE loves 50/50 booking. While Rey moving onto face Angle could be fun, I'd rather they face off when both are fresh. I see the Miz using heel shenanigans to get his win back and move on. WINNER: The Miz
WWE World Cup to Determine The Best on The World Tournament Final Match: Kurt Angle vs. The Miz: And this is where the Angle miracle run ends. If all goes to plan, Angle struggles, scratches, and claws his way to an unlikely finals appearance and pays off the video packages and gets one final run at glory. But by the time he gets here, age, injury, and the grind of the tournament will have beaten him down. That should lead to the Miz using all of the tricks in his book to overcome the Olympic hero, winning the WWE World Cup to Determine The Best on The World and giving him something new to brag about. WINNER: The Miz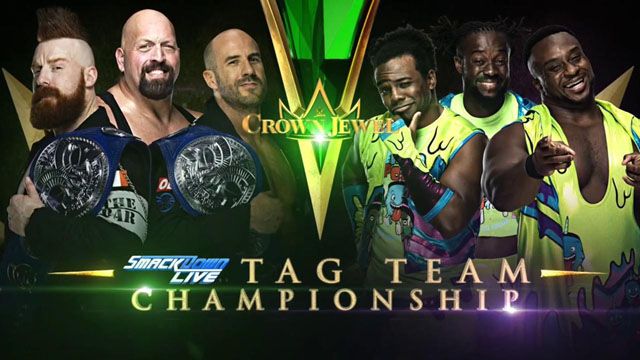 Smackdown Tag Team Title Match: Champions The Bar vs. The New Day: Back at Smackdown 1000, The Bar became super-sized when the Big Show joined them, and helped them defeat The New Day. These two teams have historically worked well together, delivering good and fun matches. While I wouldn't rule out a title change in order to make our propaganda show feel even more important. But it would be a completely stupid and shortsighted move. The Bar should leave with the titles, it could be via DQ due to Show, but really they should win and move onto someone new like the newly heated up Usos. WINNERS: Champions The Bar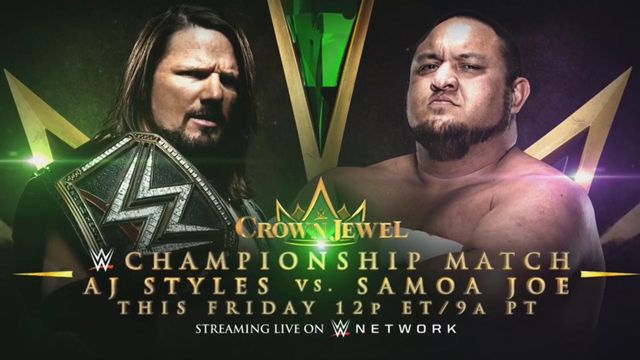 WWE Title Match: Champion AJ Styles vs. Samoa Joe: This, of course, was supposed to be Champion AJ Styles vs. Daniel Bryan. But then news came out that Bryan didn't want to work the blood money show in Saudi Arabia, and plans changed. Styles vs. Bryan was moved to Smackdown and Styles retained in a great match, but the celebration was shirt-lived as Samoa Joe returned and kicked the shit out of Styles. This enraged Styles, who demanded to face Joe at this show since his Bryan match already happened. They did a good job of transitioning from the planned match to the new one, and while it is admittedly a "been there and done" that match, the matches they had were great. The thing is that the Joe & Styles dynamic always works, they always deliver, and we needed a new match and it works. Now the thing is that in my opinion, Joe needs to win here. It's not that I think Styles should lose the title, but Joe has been so close with the WWE & Universal tiles so many times and failed that another loss would kill his credibility. Now Joe's a great promo and carries himself like a bad ass, and had a habit of salvaging himself to a degree, but at age 39, it feels like it's now or never with him, even if it's a short, transitional run with the belt. WINNER… and NEW Champion, Samoa Joe
Vacant Universal Title Match: Brock Lesnar vs. Braun Strowman: This match was originally a triple threat with Roman Reigns defending the championship until he made the heart breaking announcement that he's battling leukemia, which pulled him from the match and put him on the shelf for an undetermined amount of time to battle the disease. That leaves us with the returning former champion Brock Lesnar facing Braun Strowman for the championship. So now we have to dig into this. Is Brock's latest UFC tease just that, a tease for another sweet contract renewal. And will WWE feel pressured to put the title on him with reigns gone for an undetermined amount of time. I would understand the move if they did, but it also doesn't interest me at all and feels like a step back after finally taking the title off of him. And then you have Braun Strowman, the monster that was wildly over and had a ton of momentum, but could only come close but not close enough. He's 35, and as a former strongman and a large individual I think they are running the risk of missing their chance with him before his body inevitably breaks down (unless he's really lucky). I expect the match to be the usual Heyman booked Brock special, filled with chaos, big moves, and everything that comes with a Brock match. I personally feel that with reigns out that now more than ever the company needs to work on building and solidifying stars and not looking back. Strowman should win (and work a program with McIntyre), but I think that Vince will go back to Brock here so that he can be completely overpaid and under-deliver while bouncing around as Paul talks for him. WINNER: Brock Lesnar
The Brothers of Destruction vs. DX: Shawn Michaels lost to the Undertaker at WrestleMania 26 in a spectacular match, arguably one of the best in WrestleMania history; but along with that loss came his retirement due to match stipulations. Now, most assumed that he would be back in the ring sooner rather than later, due to wrestling retirements largely being complete jokes. But for the past eight-years, Shawn stayed away from an in ring return. Sure he'd visit from time to time, thrown an occasional superkick, but there were never big teases of a return until the rise of Daniel Bryan. The two got physical during it, WWE played up the student vs. teacher relationship, but Shawn didn't come back despite having it offered and fans wanting it. Shawn's big thing was that he didn't want to come back, look old, and ruin the retirement stipulation… but noted at times that he would be consider a tag match with other older stars. And then the rumors started, and they kept coming. And as the build to the Triple H vs. Undertaker WWE Super Show-Down clash took shape, we knew it was coming. Shawn was in Triple H's corner, and after a horrendous 28-minutes, Shawn helped his pal win the match, but took a post match ass beating for it, setting the stage for this tag match. But that Sweet Saudi money came and Shawn couldn't turn down millions of dollars, and at age 53, I can't blame him as this offer may never come around again. So what should we expect? Well, Triple H vs. Undertaker was the drizzling shots and one of the very worst things I've watched this year, and after reviewing over 670 shows and watching over 3000 matches this year, that's saying something. Kane can be OK at times, but is extremely limited, is coming off of an injury from the summer and is now a 51-year-old mayor. Shawn hasn't been in the ring in terms of a full on wrestling match since 2010. He's in great cosmetic shape, has been working at the WWE Performance Center as a coach and has likely been working out in preparation for this match. He'll likely get the benefit of the doubt from the live crowd, and will easily get by playing the hits for a lot of the match. There will be smoke and mirrors, likely no rules in hopes of giving them a lot of advantages to work with. So who wins? Does Undertaker get revenge and pin Triple H (very viable) or do DX, and specifically Shawn win, leading to one last Undertaker vs. Shawn match? I think if you're bringing Shawn Michaels out of retirement after eight-years that you don't have him lose his first match back, even if it's Triple H taking the fall. WINNERS: DX and the wallets of all involved.
JOIN 411 AT 11 AMET ON FRIDAY MORNING FOR OUR LIVE COVERAGE OF THE SHOW
– End Scene.
– Thanks for reading.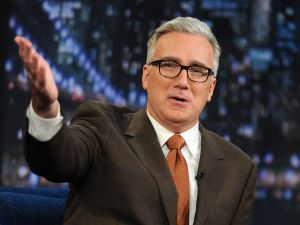 "Byyyyyyyyyyyyyyyyyyyyyye Felicia!"