Csonka's WWE Evolution 2018 Preview
October 28, 2018 | Posted by
WELCOME back to column time with Larry! Today, I am going to discuss and preview the WWE Evolution 2018 event; the card is headlined by Raw Women's Champion Ronda Rousey vs. Nikki Bella, and no doubt history er… HERSTORY will be made. On a personal note, I'd like to thank Stephanie McMahon for creating the stars, sun, moon, and all things women so that we can have this event. But for real, I do think that the show has been solidly (but not great) built and has potential and there are matches I am looking forward to here as well as seeing some of my favorite performers. Today, I will give my predictions, and break down the show match by match. Feel free to make your picks in the comment section. Thanks for reading! It's wrestling, we love it and will disagree. The only rules are to "have a take, be respectful, and don't be a dick." Thanks for reading.
Battle Royal For a Title Shot: It was announced on the October 15th edition of WWE Raw that a battle royal was being added to WWE Evolution, with women from all the brands allegedly competing for a title shot of their choosing. Immediately, Torrie Wilson, Asuka, Mandy Rose, Sonya Deville, Lana, Carmella, Naomi, Billie Kay, Peyton Royce, Ember Moon, Nia Jax, Dana Brooke, Alicia Fox, Zelina Vega & Tamina were confirmed for the match. I'd also expect NXT, NXT UK, and possibly more older stars filling out the rest. Michelle McCool, Ivory, Molly Holly, Madusa, Maria, & Kelly Kelly are also announced for the match. Naomi won the WrestleMania battle royal, which led to nothing, while Asuka won the Royal Rumble and failed to win the title. If Becky remains champion, she'll need babyface challengers since WWE tells me Becky's a heel, and Asuka and Naomi fit the bill since they have nothing to do right now; but that all feels a bit too simple. Seeing someone like Ember Moon winning would be really cool for her, but that just makes her the expendable challenger of the month for Ronda. It would be awesome as a surprise for someone from NXT like Nikki Cross, who's ready to be called up, gets the win as their introduction to the main roster. She'd be a completely different challenger to either champion. I don't see an NXT or NXT UK woman winning, as that doesn't feel like a Vince move. Nia Jax is another strong possibility, WWE loves her and they've downgraded her for a while, which they often do before a new push. It almost feels like someone from the past may win here, likely to give Becky someone new to beat. I think that maybe the play here… WINNER: Michelle McCool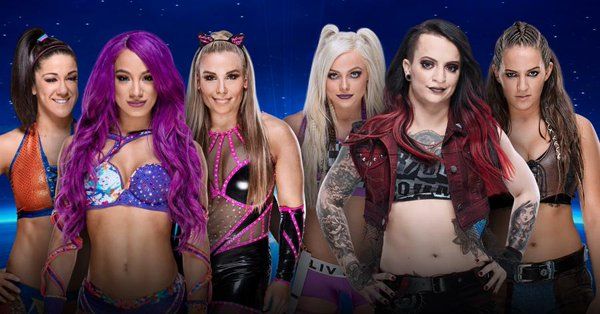 The Riott Squad vs. Natalya, Sasha Banks, & Bayley: I really wish that WWE could have told a coherent story with Sasha Banks & Bayley so that they could have had a singles match on this show. They really deserve it and it would have been a quality edition to the card. Instead, we get this trios match, which does have some history besides the past few weeks. The Riott Squad have had issues with Banks & Bayley on and off for some time, and also attacked Natalya and dragged her carcass to the ring to interrupt an open challenge Ronda Rousey. The match will likely be fine and most things point to a babyface win, but the Riott Squad is in desperate need of a win as a unit on a big show following recent losses to the Bellas & Rousey. They aren't much of a squad if they keep losing so much WINNERS: The Riott Squad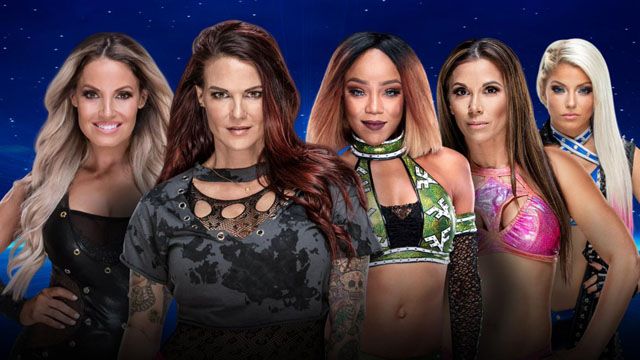 Trish Stratus & Lita vs. Alicia Fox & Mickie James w/Alexa Bliss: This was originally announce as Lita vs. Mickie & Trish vs. Alexa, but on October 8th was changed to a tag match. According to reports, the plan was reportedly always for it to be a tag team match, and that WWE only announced the Stratus vs. Bliss match to boost ticket sales early on, since they didn't want to announce the Ronda Rousey vs. Nikki Bella match until they shot the angle for it. Who knows if it's true or not, but it sounds like something WWE would do. There are also reports that Trish Stratus & Lita didn't want singles matches, and wanted to team on the show. Again, who knows the real story, but I have to say that I think the change to a tag match is a smart call and welcomed change. It allows Lita & Trish to play the hits, for both of them to renew rivalries with Mickie, and for Trish & Alexa to still have their face off and interactions. I see Lita & Trish taking this one to give the fans a feel good moment, likely pinning Mickie to set up more rumored tags with Lita & Trish on big shows. <WINNERS: Trish Stratus & Lita… EDIT: And of course since I had this all complete, it has been changed to Trish Stratus & Lita vs. Alicia Fox & Mickie James w/Alexa Bliss, which was the speculation following the angle on Monday's Raw. Trish & Lita should still win, but Foxy gets to be pinned.
2018 Mae Young Classic Finals: Toni Storm vs. Io Shirai: The 2018 Mae Young Classic comes to a close as Toni Storm battles Io Shirai in what has the makings of one hell of a final. Both are signed to WWE, and are probably the best choice for the finals. Io Shirai is one of if not the best women in the world, while Toni Storm is an absolute rock star and if WWE fails to make her a big star, I would consider it a great failure. I'm putting the Csonka banger alert on this one, they are both great, have faced off before in both singles and tag matches, and on top of that, they both have historically stepped up in big matches, and this is a huge match for both. I don't think that WWE goes with back-to-back Japanese winners, and Toni Storm looks like the one that WWE sees as the star in the making (and I don't disagree), so I'll go with her here. WINNER: Toni Storm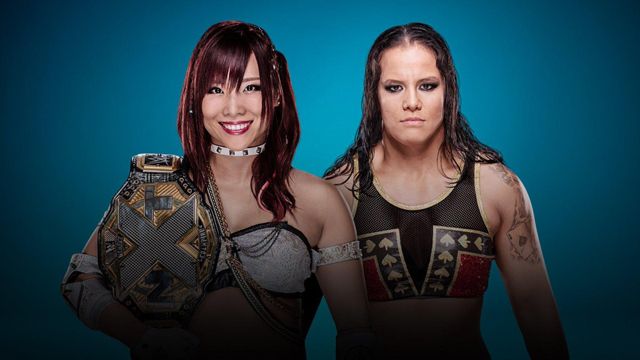 NXT Women's Title Match: Kairi Sane vs. Shayna Baszler: Kairi Sane defeated Shayna Baszler to win the inaugural Mae Young Classic, which was just the start of their feud. They both arrived in NXT, but it was Baszler who found success first, winning the NXT Women's Championship from Ember Moon. Baszler slowly but surely turned into a tremendous bully heel, running through the roster, and even getting revenge on Sane with a win on NXT TV. Sane would climb back up the ranks, and earn a title shot at Baszler at NXT Takeover: Brooklyn 4. Oddly enough it was Baszler's badgering of Sane, claiming that she had evolved while Sane lacked the killer instinct to beat the new Baszler. But after 133 days, it was Sane who overcame in a great match to win her first NXT Championship. They now face off again, this time with Sane defending, and looking for a third win to finally put this feud behind her and so that she can move on a new challenge, likely the 2018 Mae Young Classic winner as Baszler is potentially main roster bound (unless they have Jessamyn Duke and Marina Shafir get involved). This has the potential to be one of the best matches on the card if they can recreate the magic from their last match. WINNER: Kairi Sane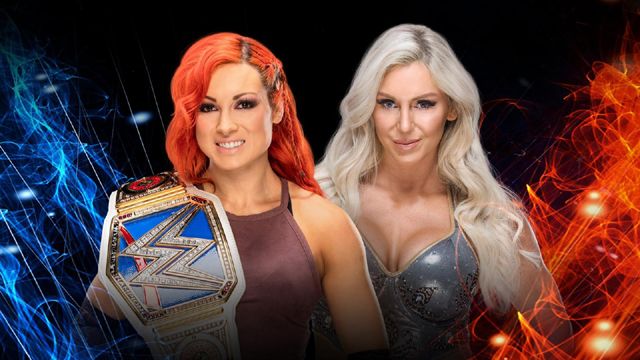 Last Woman Standing Title Match: Champion Becky Lynch vs. Charlotte: In all of the hoopla to claim "herstorical" events, WWE conveniently forgot/ignored their own history, calling this the "first ever" last woman standing match, I must have imagined that great Nikki Cross vs. Asuka match last year. All joking aside, I've really enjoyed the Charlotte vs. Becky feud. While Charlotte isn't getting the big babyface reactions the company wanted, I think that she's played her role well and worked hard to help get her friend over. Becky has been spectacular, delivering in the ring and on the mic, and really feeling like the star she is. I know some haven't been a fan of how they are running another match; I feel they got here smartly. Becky won the title clean, used a DQ finish to retain, and then they did then non-finish on Smackdown to build to the big stipulation match. But like any "Last Man/Woman Standing" match, I do have concerns. While the two know each other well and have had some very good matches so far, you have to work the gimmick just right here, because with the lack of near falls, these matches, if not laid out properly, become tedious with too many knockdown and counting spots that feel like they don't matter. The crowds have been into the feud and matches, especially rooting for Becky, so if the layout is smart and they continue to work well together, this should be good. On one hand, I really feel that the title goes back to Charlotte here, which I only feel would be done to add to the number of titles she's held and isn't needed at this time. There's a lot more on the bone for Becky as champion, and a match like this can see Charlotte lose without pin or submission, and won't hurt her at all, especially if Becky resorts to nefarious means to do so. Plus, I feel downgrading Charlotte for now will play into the rumors that she's winning the Rumble and will move onto challenge Rousey at Mania, which has also been rumored for a while. I fear that Charlotte will win as she's WWE's chosen one, but I think Becky winning is the right call. WINNER: Becky Lynch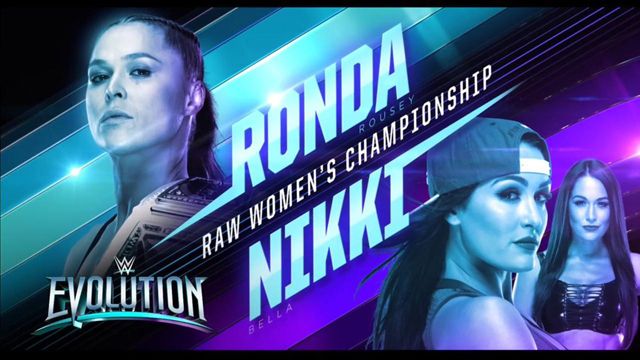 Champion Ronda Rousey vs. Nikki Bella: This is a match that had been rumored for some time and one that many weren't looking forward too, due to Nikki Bella being involved. Many see Nikki as a throwback to the era they'd like to forget, and someone who gets her chances due to the fact that she's part of Total Bellas & Total Divas, which are shows hardcore fans despise. Plus, outside of the attack on Rousey and WWE declaring her a "legend," she comes off as undeserving to most. And that's a fair point. WWE has booked the match due to the popularity of both women, Rousey's still the new toy who they want to feature as much as possible and between Twitter, Instagram, and Youtube, the Bellas have something like over 16 million followers. Also, once the match was confirmed, there was a bump in ticket sales, so it does interest some people. Now I'm not going to sit here and lie to you and tell you that this match interests me in any way, it doesn't. I fear that it will go too long, commentary will be all over the narrative that Nikki is some legit legend, and that it may not be very good. Rousey has been really great, way beyond expectations so far. Also in regards to Nikki, while I do not think she's horrible, she also isn't the kind of experienced veteran (in my opinion) to lead a major PPV match. But it's not her I have a complete lack of faith in; it's the higher ups who will lay this thing out. I'd love for this to be a complete destruction by Rousey, but if positioned as the main event as rumored, I highly doubt that. Rousey should win, but it will likely take way longer than it should and involve shenanigans from Brie & possibly Natalya if she's not busy taking cat selfies. WINNER: Champion Ronda Rousey
Join 411 SUNDAY at 6PM ET for our live coverage of the show!
– End Scene.
– Thanks for reading.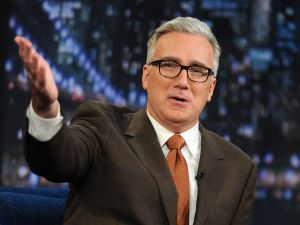 "Byyyyyyyyyyyyyyyyyyyyyye Felicia!"