Csonka's WWE Raw Review 4.04.16
April 4, 2016 | Posted by
Csonka's WWE Raw Review 4.04.16
MONDAY NIGHT RAW 4.04.16
OFFICIAL RESULTS
– WWE Tag Team Title Match: Champion New Day defeated the League of Booty @ 9:10 via pin [**½]
– Sasha Banks defeated Summer Rae @ 1:45 via submission [NR]
– Apollo Crews defeated Tyler Breeze @ 1:54 via pin [NR]
– Baron Corbin vs. Dolph Ziggler went to a double countout @ 8:23 [*½]
– IC Title Match: The Miz defeated Champion Zack Ryder @ 10:27 via pin to become the new champion [**½]
– Tables Match: The Dudleyz defeated The Usos @ 8:50 [**]
– #1 Contender's Match: AJ Styles defeated Chris Jericho, Cesaro and Kevin Owens @ 16:50 via pin [****]
---
Vince is Here: On commentary, they basically prepped the TV audience for the wacky crowd tonight. Can't wait for the "bizzarro world" references. Vince quickly mentioned that he took care of the lock box issue (hey, there's that useless plot device) with Shane, and then explained how he enjoyed watching Shane destroyed. Vince addressed the crazy audience, and said that this would be a Raw we never forget. But we weren't done as Shane slowly made his way out to the ramp, he thanked the fans and then said since he was the only man in the family he came to shake Vince's hand. The crowd loved Shane as he offered his thanks and a goodbye. Vince they said that he wanted to prove a point, he said Shane could run Raw tonight. Soooooo the whole angle and match at Mania basically means nothing because Shane gets a chance to run Raw and possibly find a way to take it over?
– New Day came out and the crowd treated them like Gods. Woods had a piccolo trombone, Francesca Jr? They had the final piece of BootyO's cereal and then went all Lion King circle of life in celebration. They are great men.
Champions New Day w/Woods vs. The League of Booty (Sheamus and Barrett) w/Rusev and Del Rio: WrestleMania rematch #1. They did some back and forth, Kofi hit a dive and the crowd loved New Day. The League sent Kofi to the floor and worked him over a bit and took the heat. They worked through the break, and when we came back the crowd was doing the wave because no one likes the League. Kofi finally made the tag, Big E got to run wild and the crowd was back to caring because of their love of New Day. New Day then hit their double team finish and pinned Barrett. The right team won, Barrett losing makes sense because he's leaving soon. The match was rock solid.
– Post match Sheamus said that they should be destroying everyone, but something is wrong. This led to them beating down Barrett and kicking him to the floor. Good luck in the G1 Stu. The Wyatt's gimmick hit, and they then appeared in the ring and attacked the League. The Wyatts laid out the League and stood tall. Hopefully we get some sort of explanation, because this feels very random at this point. I'd say it felt like a face turn for the Wyatts, but it's too hard to tell with the crowd after Mania being an odd beast compared to the regular weekly crowds. We'll see what happens here, hopefully some interesting tag stuff.
– Vince is leaving; he's not confident in Shane running Raw and knows that it will be a disaster.
– Summer Rae is out and says if she was in charge, her team wouldn't have lost at Mania. She then mocked Sasha for losing at Mania, and here comes the boss.
Summer Rae vs. Sasha Banks: Summer ran, got a quick heat by stunning Banks off the ropes and right away worked a chinlock and yelled a lot. Banks made a comeback, Summer avoided the back stabber, but Sasha got the Banks Statement anyway for the quick win Solid rehab win for Sasha here.
– Whoa, Apollo Crews is debuting next. He has a chant with Shane backstage; they're going to give Shane on screen credit for the NXT talent invasion, aren't they?
– WWE made sure to show clippings from all of their co-opted media, praising Mania.
Apollo Crews vs. Tyler Breeze: Breeze is a familiar opponent for Crews, smart choice for his Raw debut. Crews got to show of some power and speed, Breeze got a short heat, Crews fought back and hit the press into the moonsault and then the powerbomb to score the win. Breeze got a short heat, nothing much, but they did a good job of basically letting Crews get his shit in to show off the highlights he's capable of. Side note, watching the praise and kind words for Crews from the guys he worked with prior to WWE was really cool.
Roman Reigns is Here to Talk: JBL trying to cover the boos by saying that the crowd is wacky and such, nice try dude, these people hate him. Reigns then did the "jolly gee guys" Cena shtick at first, and then changed tone noting he's not a good guy or a bad guy, but the guy. He told Shane that if anyone wants this, bring it out here now. These people hate him. Chris Jericho, clearly wearing the pants of one of the ladies on a dare, made his way to the ring. The crowd really didn't care. Jericho ran down Reigns and the crowd, and said that "The Internet favorite AJ Styles couldn't beat him" and he wants to do the same to Reigns. This led to Styles making his way to the ring, and noting that he wanted a shot. Kevin Owens then arrived, because why not (and I am not complaining). And Zayn follows him, you get a title shot and you get a title shot and YOU get a title shot! Styles and Owens and then Styles and Jericho paired off, Reigns seemed entertained at this and then laid out Jericho with the spear. I am guessing a four-way match for a shot at Reigns, either tonight or next week likely tonight to play off of the crowd. Jericho is likely winning, to play off of beating AJ last night and because Zayn and Owens will pair off. They smartly limited Reigns' talking as well, it would have been a bad idea for him to do more tonight. Also, I am really over Jericho, he feels completely played out at this point.
– Shane runs into Roman and announced the four-way between Zayn, Jericho, Styles and Owens.
Baron Corbin vs. Dolph Ziggler: Corbin cut a short and ok promo, and then Dolph Ziggler arrived. They did some rough back and forth, Corbin took control and sent Ziggler to the floor and they took a break. Post break, the crowd had been throwing a beach ball and they did not care about this match at all. Corbin worked the heat, posted himself and Ziggler made a comeback. Ziggler was selling the leg from last night, and Corbin hit deep six for a near fall. They brawled to the floor, into the crowd and we got a double countout. It was a rough match that did Corbin no favors, and the booking was worse. So they have the guy debut, with no notice in the battle royal, and win. Ok, I can roll with that. But then they have him work a longish TV match with Ziggler, basically go 50-50, and then do a double countout? Ziggler is a guy that they will beat like a fucking drum on a weekly basis when need be, but they protect him here? Was Sandow or one of 10 other guys that have no direction too busy to put over the new guy that won at Mania? It's not like I think Corbin is even that good, but if you're going to have him win at Mania and try to make it a big deal, this was a piss poor follow up.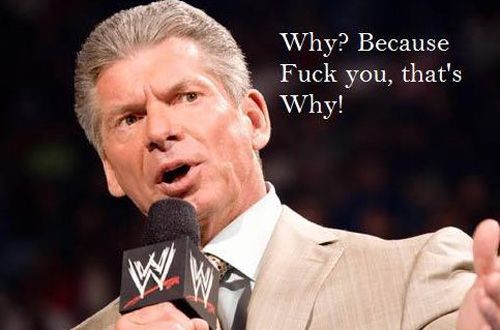 Right, got it.
– New IC Champion Zack Ryder made his way to the ring, and got "you deserve it" chants. Ryder told his Scott Hall story, about holding the IC Title as a kid and Hall holding his title last night. His dreams came true; he had his WrestleMania moment and then thanked his dad. The Miz interrupted and called Ryder a one hit wonder, who ruined his moment last night. Miz then challenged him to put the title on the line, and Marty McFly'd him calling him a chicken and Ryder accepted.
IC Champion Zack Ryder vs. The Miz: Ryder controlled right away, worked over Miz and we went to a commercial at about a minute in. Post break, Ryder missed a high cross and fell to the floor. Miz worked a short heat, Ryder made the comeback but Miz caught him with a DDT for a near fall. Miz then countered the rough Ryder, but Ryder countered a suplex into a neck breaker for a near fall. The crowd is not all that into this, some sporadic chants for Ryder, who hit the el-bro drop and that got another near fall. They went to the floor and Miz slammed Ryder into the apron and then the barricade in front of Ryder's father. Miz talked shit to Papa Ryder, and got shoved down. Ryder then tossed Miz into the ring, and Maryse then came from the crowd to confront Papa Ryder and slap him. This distracted Zack, and Miz hit the skull-crushing finale to win the title. Did you guys enjoy your moment last night? Good, because it's over, fuck off. Maryse looks to be back as part of the act, I wonder if this will lead to Emma getting involved on Ryder's side? This was an overall average match; with Ryder getting Miz'd on the win at Mania lose the next day title run. You have to wonder why they do this the very next day and kill the cool moment Ryder had at Mania.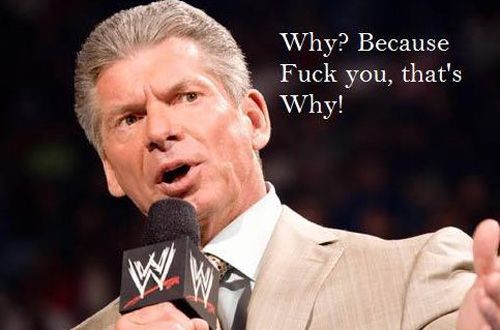 Right, got it.
– The Vaudevillains debut on Smackdown this week.
Women's Title Presentation: Lita and the roster of women are in the ring. Lita put the ladies over for their efforts at Mania, and brought out Charlotte. Sasha and Becky were NOT amused by this presentation at all judging by their look. Charlotte tried to talk, but the crowd chanted for Bayley. She thanked the fans, who kept cheering for Bayley. The crowd completely jarred her and kept her off her planned speech, the crowd was even chanting for women's wrestling and not trying to be rude, but it rocker her off her planned speech. After being polite, Charlotte heeled it up a bit and thanked Ric for all he's done for her. She then mocked the roster for being around so long and the fact that she's been here for less than a year and accomplished all she had. The ladies then all started to leave, because Charlotte was being a bitch. Natalya stayed and said that she gave Charlotte lots of tough matches, and she wanted a title shot. Hey briefly brawled, Natalya got the sharpshooter and Ric pulled Charlotte to the floor to make the save. Charlotte was had issues early on keeping her flow, but to her credit she was able to wait through the crowd and finished strongly. I assume that Natalya is just a buffer feud, but it's hart to get excited for it when Sasha still has unfinished business (she didn't lose at Mania) and also because Charlotte has owned Natalya on TV and recently on Roadblock. It should at least be good, but doesn't make all that much sense to me.
– Outside of a few new names, Shane's Raw feels exactly like the Authority's Raw. Also, he's barely been on the damn show to make it worth anything. I really hope that they have something great planned for later.
– We get a promo for the Colons, who are no longer Los Matadores. You have to admire Epico and Primo for staying employed for so long.
Tables Match: The Usos vs. The Dudleyz: WrestleMania rematch #2. They brawled right away, with one paring on the floor and another ring the ring. The Dudleyz looked to take control, but the Usos hit dives to take us to the break. Following the break, the crowd was chanting for Gabel and Jordan as the Dudleyz worked a bland heat segment with no quality table teases. The Usos fought back and hit dives off of the barricade. They then MISSED splashed and put themselves through the tables. They rang the bell early, so they tossed an Uso through a table. It didn't end last night, and it likely won't end here. This was as bland and paint by numbers as last night's match. Not bad, but it was just there.
– So we're just trading wins from last night huh?
– Zayn cut a promo backstage, and Owens attacked him and laid him out with a powerbomb through the table. Well no Sami for the main event, does this bring Cena back?
– After the break, the Dudleyz were still at ringside and then ENZO AND CAS arrived! No Carmella. The crowd did sing along with the guys, Enzo's hair was amazing and the run down of the Dudleyz was great. Cas then challenged the Dudleyz to come back to the ring and prove themselves, they teased it but then walked off. Cas then of course called them SAWFT. That was wildly entertaining, and brought some much needed energy to the show. Enzo's promo was what was needed in every way and came at a time when the crowd was really out of the show, and if he can keep that going as they move forward (even at 50%) he will be a great asset in regards to engaging with the live crowds.
– Zack Ryder gets a rematch for the IC Title on Smackdown.
– Dr. Phil hosts Raw next week… this is not a joke.
– CESARO IS BACK AND HAS A TEAR AWAY SUIT! THHE MOST MONEY MAKING MAN!
#1 Contender's Match: Kevin Owens vs. Chris Jericho vs. AJ Styles vs. Cesaro: Jericho and Owens were tossed early, and we got some AJ vs. Cesaro and then went to the break. Post break the crowd was into things, as they took turns pairing off and Cesaro got to wreck some fools with uppercuts. We got a tower of doom spot, with Cesaro sending everyone to the mat. This crowd was so happy to see him back. We then got the signature move buffet, resulting in Cesaro destroying AJ with a toss up uppercut for a near fall. Owens would hit the side package slam for a near fall on Jericho as Cesaro and AJ had been sent to the floor. Jericho ate knees on the lionsalt, and then AJ hit him with the springboard 450 for the near fall. Owens was of course pissed off at everyone, because that's his nature. Jericho took a powder, and then Cesaro hit the running uppercuts on AJ and Owens. Jericho tried to cut him off, so he got a serving as all and then Cesaro started to light all three of them up with more uppercuts. Goddamn this man has been missed. Big swing on Jericho, but Owens cut that off with the superkick and then crotched AJ on the springboard attempt and hit the pop up powerbomb for a near fall. Code breaker by Jericho on Owens, but Cesaro made the save. Jericho eventually got the walls on Cesaro, who then countered into the sharp shooter. AJ broke it up with the springboard forearm, PELE to Owens and he then ate a code breaker but he kicked out! Jericho then got pissed off, but AJ fired up and hit the clash for the win! They needed this main event match. That was a great match with good pacing, strong performances by all and the big win for AJ. You have to wonder why he had to lose at Mania, but this was cool.
– End scene.
– Thanks for reading.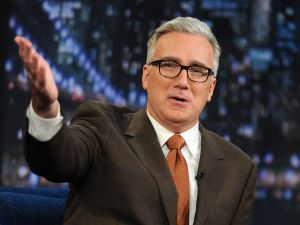 "Byyyyyyyyyyyyyyyyyyyyyye Felicia!"
6.5
The final score: review Average
The 411
That was an overall odd show. They did some interesting things and brought in new faces, and advertised others for Smackdown. The Cesaro return was cool and added to an awesome main event. It was interesting to see no Cena, Ambrose, Brock or Triple H; that's not bad that they weren't there, but interesting. Some of the booking felt nonsensical or counter productive, I mean, why would Vince let Shane run Raw after getting his way, it felt like the Shane vs. Taker match ended up meaning nothing. I am willing to see where we're going here, overall not a bad show, just decidedly average due to some uneven booking and the fact that it lacked the energy of a lot of post Mania shows. It felt as if they know a change needs to be made, but aren't quite sure how to do it.
legend