Tremendous Tirades 5.17.14: ROH-NJPW War of the Worlds iPPV
May 18, 2014 | Posted by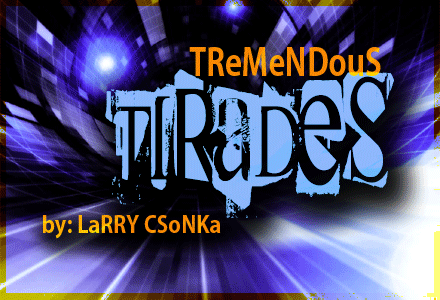 Introduction
As a reminder, this will not be another traditional recap, but instead it will be a mash up of the Rs, Instant Analysis and my usual Twitter ramblings I would do during the shows; completely uncensored and as the ideas flow unfiltered to the old keyboard. Remember, this is a review; and I am here to review the show. As always, I encourage discussion and even disagreement, just do so in a respectful manner. I will be doing the review for Raw and most PPVs and iPPVs going forward.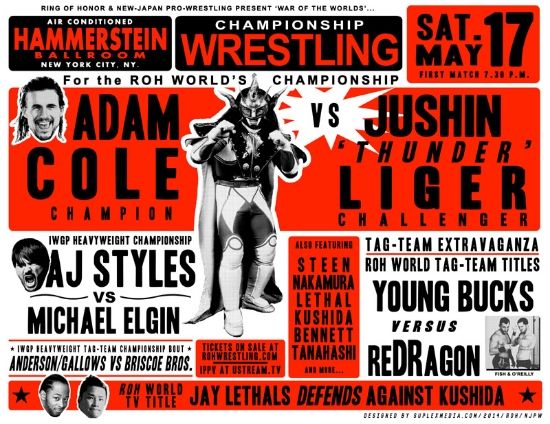 ROH-NJPW War of the Worlds iPPV
From the air conditioned Hammerstein Ballroom and New York, New York.
They did an angle to kick off the show, where as many predicted, Kazuchika Okada was added to the IWGP Title match. So it is Champion AJ Styles vs. Michael Elgin vs. Kazuchika Okada in tonight's main event. AJ, Anderson, Gallows and the Bucks all enjoyed the "Fuck TNA" chants. TNA got rid of all of them (minus Anderson), and now they all hold gold in New Japan.

ACH, Matt Taven and Tomasso Chimpa defeated Alex Koslov, Rocky Romero and Takaaki Watanabe via pin (9:00): This was a solid opener, but far from the hot match I thought it could be. I expected more from ACH, Romero and Koslov; instead we got a basic, but solid match to kick things off. It wasn't bad, but I feel that the opener is an important match. The opener needs to be a match with an established feud, a match with popular acts that get a great reaction or a match with guys that will blow the doors off the building. I just didn't feel that it got to any of those levels, but nothing bad at all.
Match Rating: **½

Roderick Strong and BJ Whitmer defeated Gedo and Jado via pin (8:00): This was better than the opener, the Decade (Strong and Whitmer) got the win, and were probably stoked to work Gedo and Jado. Maybe this should have been the opener, but what can you do. Good action, good pace, some really good near falls down the final stretch and I will not lie; I am a huge mark for Gedo and Jado (as a team and as the NJPW bookers).
Match Rating: ***
Post match Cedric Alexander, still taped up due to his shoulder injury from last week, hit the ring to brawl with Strong and Whitmer until they got broken up. I am interested to see where they go with Alexander.

Champion Jay Lethal defeated KUSHIDA to retain the ROH TV Title (11:30): This was a good match. The crowd was really rough early on, but both guys worked really hard and were able to get them into the match. Truth Martini got involved, and then got the boot to the back, so things were even. I loved KUSHIDA trying to steal some of Lethal's moves; it was a fun part of the match. I thought that these guys worked well together, and won over a rough crowd, so much credit to them both. Many people see KUSHIDA as just a tag guy, but he showed here that he has the good to go in singles. Also, I realty think people undervalue Jay Lethal and how good the guy has become. I'd love to see a rematch with these guys, as I think in a second match with some familiarity they could do even better.
Match Rating: ***¾

Champion Doc Gallows and Karl Anderson defeated The Briscoe Brothers to retain the IWGP Tag Team Titles (10:30): The crowd was rough again here, they were into it very early with some dueling chants, but then got quiet for a while, which was not good. They worked hard, the work was good, but it just felt as if they couldn't get the crowd into what they were doing, which unfortunately reflects badly on what they tried to present. Some felt this was short, but with the way the crowd was reacting, going any longer would have been ill advised.
Match Rating: **½

Shinsuke Nakamura defeated Kevin Steen via multiple Boma Ye knee strikes (12:00): Nakamura and Steen hit the ring, and decided to try and turn the show around, and they did a good job of doing so. This was a really good match, more of a Nakamura style match than the typical Steen match, but it flowed really well. Sometimes when you get two talented guys in the ring together, good things happen with ease, and this seemed to be the case here. The only issues were that the crowd didn't know a lot of Nakamura's signature stuff (it seemed to me) so they weren't as into his offense as they could have been. Nakamura escaped the package piledriver, and had to use three Boma Ye knee strikes to finish off Steen. Nakamura looked great in victory, Steen looked like a valiant face fighting off the big Boma Ye knees until the third finally took him out. This was quality, and what I expected from this match.
Match Rating: ****
They did an angle where Steen teased going home, but led to Silas Young coming out, some shit talk and a brawl. I would assume that they are building to them facing at the June 22nd Best in the World PPV. The promo sounded like a guy that's about to exit the company. I can't say if he's WWE bound, but it sounds like a guy on the way out when his contract ends.
ROH champion Adam Cole vs. Michael Elgin will headline the Best in the World PPV on June 22nd.

Hiroshi Tanahashi defeated Mike Bennett via pin (13:30): Hiroshi Tanahashi defeated Mike Bennett in a match that I will freely admit that I was not excited for. That being said, I have seen good Bennett matches and a ton of tremendous Tanahashi matches, so I was interested to see what happened here. They got the most time for a match on the show to this point, and worked a very American style with the Maria interference and long periods of Bennett controlling with rest holds. Tanahashi appeared to be completely off his game, and Bennett didn't up his game to rise to the occasion, and it was a match. This was very disappointing overall; Tanahashi vowed to steal the show and Bennett vowed to prove himself and we got neither.
Match Rating: **½

reDragon w/Filthy Tom Lawler defeated Champions The Young Bucks to win the ROH Tag Team Titles via submission (12:30): This was fan-fucking-tastic. First of all, this was the match that most thought if there was a title change this would be the match to do it. Of course the trick is to work the match to make you think that the Bucks are retaining. Well they did that here, as much as I liked last week's match with the Bucks, Hooligans and Time Splitters; I loved this even more. Much like that match, this was 12-minutes of balls to the wall juniors action but it was much cleaner, due to it only being two teams. This was fast paced, clean and innovative at times. reDragon are a damn fine team, but The Young Bucks are on another level right now and just keep the hits coming. This was an absolute blast to watch. Filthy Tom Lawler was awesome in his supporting role, this man needs to get into wrestling.
Match Rating: ****½

Champion Adam Cole defeated Jushin Liger via submission to retain the ROH World Title (13:00): I felt that this match was exactly what it was supposed to be, in a good way. Liger is a legend, but it is 2014 and he can only do so much. He worked really hard here, the crowd responded to everything the guy did, and Cole did an excellent job of respecting Liger with the match they worked, but not making it look ridiculous or unbelievable. He was also a great heel, especially working on unmasking Liger. This match has such a great atmosphere, Liger did enough Liger that everyone was happy, and at the end of things he put over the ROH Champion clean. This is how you treat and book a legend, while still allowing your champion to look strong.
Match Rating: ***¼

Champion AJ Styles defeated Michael Elgin (pinned) and Kazuchika Okada to retain the IWGP Heavyweight Title (17:00): There had been some really good wrestling on the show, so the main event needed to deliver big time. There is nothing worse than the main event underachieving on a show that is going very well. Styles and Okada had a good match in their first encounter, and Styles and Elgin have worked well together, but would that translate into a triple threat? The good news was that it did. Elgin looked damn impressive in there (not a surprise) but it felt as if the crowd was really more into Styles and Okada. They worked a really good match, it was effortless and felt easy to watch, and then down the stretch hit the next gear and it just got better. The finishing sequence was really good, Elgin had hit the buckle bomb on Okada, who recovered for the dropkick and RAINMAKAAAAAAAAAAAA to destroy Elgin. Styles then hit the Superman forearm on Okada, and then hit the clash on Elgin and retained the title. This was a great main event and a great way to end the show. Breaking news; AJ Styles is really good. Michael Elgin is really good. Kazuchika Okada is really good.
Match Rating: ****¼
Adam Cole hates everyone; so he rushed out and hit Okada, Styles and Elgin with belt shots.
End scene.
Thanks for reading.
The Tirade


Much like the event last weekend, the show was laid out well and had a good pace. Also, they kept things mostly clean, and we didn't have a ton of clusterfuck finishes. Nothing from the Bullet Club either, which is their usual way of doing business. Overall this was a tremendous show, one of the very best of the year, and that was with a few matches under achieving. I felt that they followed up from the first show well and there was nothing bad at all on this show, at worst a couple matches were average. They delivered a good mix with the talents from both companies, and early on I have to say that the ROH-NJPW relationship is off to a very good start.

Also, it has to be mentioned that ROH's return to iPPV has been a complete success. That is excellent news for the company, especially if they want to get back into the iPPV game. Moving to UStream was a great move, as I have never had an issue with them when I watch NJPW or Dragon Gate. ROH hasn't had much buzz at all in a long while, and when they did have buzz, it always seemed be negative (iPPV issues, management's reaction to the criticism, Jay Briscoe's comments on homosexuals). But now, now they have positive buzz and that is coming at the right time as they head to traditional PPV. They did some stuff to set up that PPV, with Elgin cashing in his shot at the ROH Title, Steen and Young looks to be a lock and they did the tease for Bad Influence.

I personally feel that if you like ROH and or NJPW, that you NEED to watch the show. I personally feel that if you like pro wrestling, that you NEED to watch the show. If your just wanting to know what is must see on the show, you need to watch Lethal vs. KUSHIDA, The Bucks vs. reDragon, Steen vs. Namkamura and Styles vs. Elgin vs. Okada; they are all well worth the time and money.

Simply put, tremendous show and a steal for $15.00.

Show Rating: 8.9

As a reminder, I will be going by the 411 scale…

0 – 0.9: Torture
1 – 1.9: Extremely Horrendous
2 – 2.9: Very Bad
3 – 3.9: Bad
4 – 4.9: Poor
5 – 5.9: Not So Good
6 – 6.9: Average
7 – 7.9: Good
8 – 8.9:Very Good
9 – 9.9: Amazing
10: Virtually Perfect

As a reminder, this is not a basic "how good was the show" number like a TV show, as I have always felt that a PPV is very different from a regular show. I have always judged PPV on how they built to a match, the match quality, crowd reactions to matches and angles, the overall booking, how the PPV leads into the future, PPV price and so on and so forth. I have added this in here for an explanation since so many have asked, and I have previously discussed it on podcasts. I understand that this may seem different, but that is how I grade. Obviously your criteria may be different.
Have you checked out the Csonka Podcasting Network? If you haven't, you should We run anywhere from 15-20 shows a month, discussing pro wrestling, the world of MMA, the NBA, general sports, popular TV series of the past, bad movies, battle rap, interviews, MMA & Wrestling conference calls and more! Around 10 different personalities take part in the various shows, which all have a different feel; so you'll likely find something you like. All of the broadcasts are free, so go ahead and give a show a try and share the link with your friends on the Twitter Machine and other social media outlets! Running since May of 2011, there are currently over 500 shows in the archive for you to listen to.

Larry Csonka is a Pisces and enjoys rolling at jiu jitsu class with Hotty McBrownbelt, cooking, long walks on the beach, Slingo and the occasional trip to Jack in the Box. He is married to a soulless ginger and has two beautiful daughters who are thankfully not soulless gingers; and is legally allowed to marry people in 35 states. He has been a wrestling fan since 1982 and has been writing for 411 since May 24th, 2004; contributing over 3,000 columns, TV reports and video reviews to the site.

Your heart is free. Have the courage to follow it…TO CSONKA'S TWITTER!

http://www.twitter.com/411wrestling
http://www.twitter.com/411moviestv
http://www.twitter.com/411music
http://www.twitter.com/411games
http://www.twitter.com/411mma