Csonka's WWE Smackdown Review 10.02.18
October 2, 2018 | Posted by
Csonka's WWE Smackdown Review 10.02.18
Csonka's WWE Smackdown Review 10.02.18
OFFICIAL RESULTS
– Carmella and R-Truth defeated Andrade "Cien" Almas and Zelina Vega @ 9:55 via submission [**]
– Randy Orton vs. Tye Dillinger never officially started
– Shelton Benjamin defeated Daniel Bryan @ 9:05 via pin [***]
– Asuka defeated Peyton Royce @ 3:35 via submission [*½]
---
– Follow all of my reviews at this link.
– I did a column, "Where Are They Now, The Cruiserweight Classic Finals Performers" which you can check out at this link.
– You can check out my top 51 matches of AUGUST list at this link.
Annoyed Smackdown Mom Paige Kicks Off The Show: So did Shane die? Paige is upset about Joe's actions last week, where he skipped the contract signing to threaten a B&E on the Styles home. Paige says Joe didn't enter the house and the authorities were called, and Joe got nabbed for trespassing. She wanted to fire Joe and called AJ to discuss things, and AJ dropped the charges and begged her not to fire Joe, because good is dumb. AJ asked to hand out the punishment to Joe, and Saturday's match is still on. We get a video from AJ, apologizing for not being at the show tonight. He felt he needed to be at home and didn't feel like he could perform. He also didn't want to do something he regretted, and won't leave until he knows Joe is on his way to Australia. His family needs him right now, because for the past week, Annie has been having nightmares of uncle Joe. AJ says this will end it needs to end, and Joe won't becoming back from Australia, because he'll bury him alive. I think the Joe & AJ promos have been well done, but I also think that they've lost the plot a bit and that the match doesn't feel like it's about the title at all. I appreciate them making it personal, but they just aren't talking about the title at all or making it important.
Carmella and R-Truth vs. Andrade "Cien" Almas and Zelina Vega: The ladies begin, they lock up and Vega grounds things and mocks Carmella. Carmella fires back with a dropkick but Vega cuts her off and works a submission in the ropes and then covers for 2. Carmella hits a jawbreaker, Truth & Almas tag in with Truth hitting a RANA. Almas cuts him off and traquilo time. Truth & Carmella do splits and then clear the ring. DANCE BREAK. Truth chases Almas, but back in gets cut off. Almas misses a running knee and crashes to the floor. We go screen and screen as Truth rolls Almas back in and takes control until Almas stuns him off the ropes. The back elbow follows and he grounds the action. Truth fights to his feet, but Almas stops that and starts working the arm. Back to full screen and Truth is to his feet, and hits the leg lariat. Wholesale changes to the ladies, Carmella runs wild and hits a RANA. The broncobuster follows and the flatliner gets 2 as Almas breaks it up. Truth in and oatcakes Almas and dumps him. The plancha follows, and Carmella locks on the code of silence for the win. Carmella and R-Truth defeated Andrade "Cien" Almas and Zelina Vega @ 9:55 via submission [**] This was ok overall, but Truth & Carmella continue to be a lot of fun.
– Tye Dillinger meets with Paige and wants a match with Orton tonight, and Paige agrees.
New Day Talks Pancakes: They have a big table with a griddle, and are making pancakes. Big E will allegedly reveal how he makes his famous pancakes. Big E makes an ICOPRO joke and they then hype Saturday's Super Show-Down match. They admit that the Bar has had their number recently and introduce Mr. Bootyworth, who cooks all of their pancakes. Bootyworth will now tell us the secret, but The Bar arrives and interrupts. They make fun of New Day for being a bunch of children and playing with food. Woods says they are ruining this, while Cesaro already says it sucks. Cesaro then claims they all call him chef at home. They flip the table and brawl. Sheamus blinds Kofi with flour and then beat down New Day. The double team white noise follows on Big E. They then dump batter into Bootyworth's hat and make him wear it. They then dump it all on him. So the big go home for the tag title match was based around pancakes…
Randy Orton vs. Tye Dillinger: Tye gets the already in the ring treatment. Tye attacks before the bell and takes control with strikes before dumping Orton to the floor. He follows and Orton cuts him off, slamming him to the announce table but Tye counters and suplexes Orton onto the table and lays in ground and pound. Orton quickly cuts that off and hits the draping DDT on the floor. Orton now exposes the buckle screw and puts Tye's fingers in it and "breaks" his finger. This is apparently not a DQ. Refs are out to end the match, and Orton walks off. Randy Orton vs. Tye Dillinger never officially started Well, Orton continues to torture people, so that's good as he continues his path of destruction. Asshole Randy Orton is the best Randy Orton.
– Miz meets with Shelton and takes credit for getting him his match tonight. He wants Shelton to hurt Bryan and Shelton says Bryan is just an unfortunate victim; he's fired up since he has been stuck on the bench. Miz will be on commentary for the match.
Aiden English Presents: One Night In Milwaukee: Rusev & Lana arrive. Rusev discusses English turning on him and ending their friendship. He then took it further, accusing Lana of something in Milwaukee. Rusev wants to see the bogus evidence. English arrives and stalls. Lana tells him to drop the act, but English says that Milwaukee has history and culture. Many things were filmed there, including "BaseketBall." But tonight we see the most anticipated premiere, one night Milwaukee. It starts with English practicing his singing in the bathroom, mocking Milwaukee. Lana arrives in his room and she tells him she has been thinking about something for a long time. She says "I want you," and the video ends. He wants to show the rest, but he can't due to legal obligations and is entertaining offers from TMZ and wouldn't want to cheat on them. Lana and Rusev argue and Rusev then chases English away as sad Lana is sad in the ring. It was a solid angle and cliffhanger at best, but we need to see how they follow up on it. It didn't really feel like it clicked all that well though.
– They hype WWE Super Show-Down.
Streaming LIVE this Saturday on @WWENetwork, @TripleH (w/ @ShawnMichaels) vs. The #Undertaker (w/ @KaneWWE) for ONE LAST TIME! #WWESSD #LastTimeEver #SDLive pic.twitter.com/a4a5yvmnMJ

— WWE (@WWE) October 3, 2018
– Rusev searches backstage for "that bastard" Aiden. Lana arrives and Rusev refuses to talk with her.
Shelton Benjamin vs. Daniel Bryan: Miz is out on commentary. Shelton attacks at the bell and runs wild on Bryan with knee strikes and a pop up gut buster. Bryan fights back with kicks, but Shelton cuts him off and grounds the action. Bryan counters into a YES lock, but Shelton makes the ropes. They work to the floor and Shelton repeatedly slams Bryan to the barricade and apron. We go screen in screen, and it's all Shelton as he follows with rights. They work back into the ring and Bryan dumps Shelton and follows with an apron knee strike. Back to full screen as Bryan misses/grazes Shelton on the top rope head butt. Shelton now works a bear hug as he is back to focusing on the ribs. Bryan escapes, hits uppercuts but Shelton hits a German for 2. Bryan quickly counters back, hits the corner dropkick but Shelton hits a running knee strike and German for 2. They work up top and Bryan lays in elbows, and the RANA follows. Bryan follows with yes kicks, hits an enziguri and Miz distracts Bryan, allowing Shelton to hit pay dirt for the win. Shelton Benjamin defeated Daniel Bryan @ 9:05 via pin [***] This was a good match, with a finish designed for Miz to screw Bryan once again. I'm not a big fan of Bryan losing ahead of the PPV, but it fit the angle. It was nice to see Shelton get a TV match and deliver.
– Post match, Miz attacks and targets the ribs of Bryan that Shelton had worked over. Miz then lays him out with the skull-crushing finale.
– They hype WWE Super Show-Down.
#TheShield is going to have to bring EVERYTHING they have when they unite to take on @BraunStrowman @HEELZiggler & @DMcIntyreWWE this Saturday at #WWESSD, streaming LIVE on @WWENetwork! #SDLive pic.twitter.com/SslidkFTtp

— WWE (@WWE) October 3, 2018
– Naomi is out for tonight's Susan G. Komen segment.
We couldn't have said it any better, @NaomiWWE:

"Breast cancer is #unacceptable, and it takes a team to beat it!"#SDLive @SusanGKomen pic.twitter.com/cXFoVsjPFC

— WWE (@WWE) October 3, 2018
Asuka vs. Peyton Royce: Naomi & Kay are at ringside. JIP with Royce in control. Asuka cuts her off and cradles her for 2. Royce then hits a variation on the widow's peak and that gets 2. Royce maintains control, grounding the action. Royce now follows with a clothesline for 1. Royce again grounds things, Asuka fights to her feet and hits a missile dropkick for 2. Asuka now rolls into a knee bar and Royce makes the ropes. The Asuka lock follows and that's that. Asuka defeated Peyton Royce @ 3:35 via submission [*½] They simply weren't put in a position to succeed, joining the match in progress and not giving them much time at all to work with. It was extremely rushed, which also didn't help things.
Hmmmmm…. what could the surprise be? #SDLive @BeckyLynchWWE pic.twitter.com/wOg3nXAMw0

— WWE (@WWE) October 3, 2018
The champ has something to say. #SDLive pic.twitter.com/27se0DGpCm

— Rebecca Quin (@BeckyLynchWWE) October 3, 2018
Becky Has a Surprise: Becky says she took the title 6-weeks ago an became the best thing about Smackdown. She runs the division and made it the most relevant thing in WWE. Being kind & patient gives you nothing. Now she strikes first and strikes often. We get a video package on her various attacks on Charlotte. The crowd loves her. Becky then says that she has proved she owns Charlotte, but she still gets no respect, while Charlotte still gets special treatment. After Saturday, she'll be on all of the magazines and she will be the face of the company. She then shows a new Super Show-Down poster, festering just her. It's not about Taker vs. HHH, it's about her. Charlotte arrives and they brawl. Charlotte hits a spear to boos. She then tort of tosses Becky into he poster and locks on the figure four and hangs from the apron as the crowd cheers for Becky. Charlotte stands tall. Becky was really good here, but it's hilarious that the crowd refuses to play along with what WWE wants. Becky did everything including running down the company, legends, producing an over the top ego-inflating poster and still got cheered. They tried to make Charlotte the valiant babyface getting her revenge and overcoming "the heel" Becky, but the live crowds continue to treat Becky as their hero and Charlotte as their villain. I find it amusing.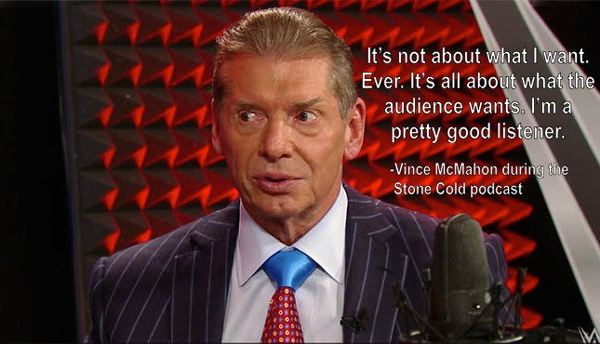 – End Scene.
– Thanks for reading.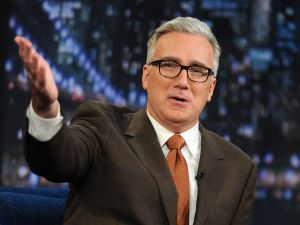 "Byyyyyyyyyyyyyyyyyyyyyye Felicia!"
5.2
The final score: review Not So Good
The 411
This week's episode of WWE Smackdown was a rare miss for the blue brand, as I tend to find the show solid and enjoyable almost every week. It was angle heavy, which is ok if they land, but they really didn't. Joe & Styles are delivering good promos, but the WWE Title feels like such an after thought, The New Day pancake angle sucked, the English/Lana/Rusev angle is still developing but I didn't feel that it landed well. The good was that Truth & Carmella are a ton of fun, Orton continues to be a complete asshole, Miz & Bryan continue to tell their story, and Becky is really great in her role even though she's not getting the heel reactions WWE wants; it was a show that didn't do much of anything to make me want to see Saturday's show.
legend