Tremendous Tirades 5.03.13: One Night Only – TNA Joker's Wild PPV
May 3, 2013 | Posted by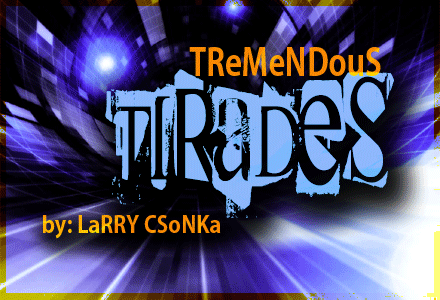 Introduction
The road to WrestleMania is over, but I am back. I will be doing the review for Raw and PPVs going forward. As a reminder, this will not be another traditional recap, but instead it will be a mash up of the Rs, Instant Analysis and my usual Twitter ramblings I would do during the shows; completely uncensored and as the ideas flow unfiltered to the old keyboard. Remember, this is a review; and I am here to review the show. Don't throw that "just have fun and be a fan" junk up in here. That's for you to do.
---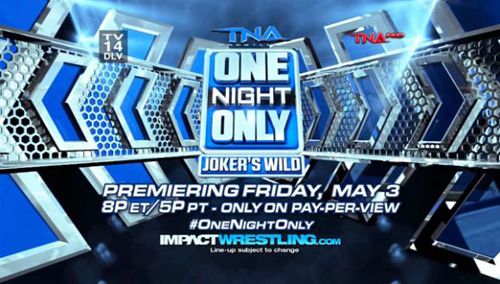 Tonight's TNA PPV was taped at the Impact Zone in Orlando, FL
From TNA: The first round of this special will create some intriguing tag team matches. For one night only, old partners will reunite and bitter enemies must work together in order to advance. Once in the finals, however, any friendships or forged alliances will quickly disappear as the wrestlers will compete in a winner-take-all gauntlet battle royal, where it's every man for himself and the winner will receive $100,000!!!
Borash and Hemme are in the ring to draw the tag teams.

James Storm and Christian York versus Gunner and Crimson: Nice touch of continuity here by Tenay, noting that it was James Storm that ended the undefeated streak of Crimson. Gunner also has, as amazing as it seems, fit even more ink on his back. Overall this was a good way to start off the show. The crowd loved Storm, and he worked very well with York. Shouldn't be surprising as they both have a ton of experience working in tag teams. Gunner and Crimson were perfectly fine foils, and wouldn't be the worst team to bring up for a short run/feud in the lacking tag division. Things were a bit sloppy here and there, but never too bad. James Storm and Christian York won at about 10-minutes via pin, and they move on to the gauntlet.

Match Rating: **¾
James Storm says that $100,000 can buy a lot of beer.

Jessie Godderz and Mr. Anderson versus Douglas Williams and Kid Kash: Interestingly note, Douglas Williams and Kid Kash teamed together on the TNA One Night Only: X-Travaganza PPV. They are a good veteran tag team, and again, with the regular tag division so weak, I do not understand whey they can't come in for a set of tapings to put over the champions and to make it appear that we have more than three teams. The main theme of the match was Jessie constantly wanting in and acting like the big shot when he was in there. This led to Kash and Williams methodically beating on him for the heat. The match was fine, but the crowd didn't know hot to react at times, due to Jessie playing Ricky Morton. I mean, the flaw was building to a hot tag to Anderson, who at this time in TNA storylines (early January) was turning his back and screwing Samoa Joe. Anyway, Anderson and Jessie argued, mic check for Jessie, and then Anderson won at around 10-minutes via rollup. He and Jessie now move onto the gauntlet. This was solidly worked, but in the end unspectacular due to the odd booking.

Match Rating: **½
Bobby Roode cuts a promo about his strategy for tonight. He needs no strategy, because he knows all about tag team wrestling because he was one half of Beer Money. He is a winner, tag champions, world champion; he set records bitch. He likes the sound of winning $100,000, and when he wins, he will prove that it pays to be Roode.
Crimson and Gunner cry backstage about being ignored and losing tonight. They discuss having time to train and become a real team. They claim to be held back, and they are sick of it because they defended this country in the armed forces. They are better than they have been treated.

Christopher Daniels and Samoa Joe versus Chavo Guerrero and Rob Van Dam : Joe's reaction as he came out to see Daniels as his partner was fantastic, "Fuck." The interaction between Joe and Daniels was fun, as Daniels was kissing Joe's ass, asking for hugs and wanting to set up in his "lucky corner." With RVD, Joe and Daniels involved, the crowd was into this match more than the first two with ease. Joe and Daniels controlled most of the bout, and then lost control when Daniels and his ego decided they didn't need Joe. Chavo made the hot tag to RVD, got a good reaction as well, and then things broke down with all four brawling. Joe and Daniels won after Joe stopped the five star frog splash and hit the muscle buster for the pin at right around 15-miniutes. Easily the best thing on the show thus far, and the crowd was also into it and treated it as important.

Match Rating: ***½
Anderson and Jessie argue about their victory, and then Anderson says he'll let Jessie win tonight. Jessie is happy and walks away, and Mr. Anderson, being the asshole he is, tells Val he was lying.
Joseph Park gets on the mic and kisses Roode's ass, and says he and Roode could be Law and order. Roode calls him tons of fun, and says to sit in the corner and be quiet because he needs no help and will win on his own.

Robbie E and Zema Ion versus Bobby Roode and Joseph Park: Robbie E and Joseph Park in the same match, I am pretty sure someone hates me. I couldn't get into the match personally, but the crowd seemed to like it. They did the gimmick where they beat on park forever, he got busted in the mouth and he went insane and beat the shit out of both of his opponents. He snapped out of it, Roode tagged himself in and scored the win at about 11-minutes. It was fine wrestling wise, and again the live crowd loved it because they enjoy paying along with the Park gimmick. Not my cup of tea (just not a fan of the Park character) but it was all solid stuff otherwise.

Match Rating: **
Christopher Daniels celebrates, and says he will take Joe out to dinner when he wins tonight. Joe is not amused, and says one night only, $100,000, and only one person can win. Daniels is no longer happy about his chances.
Devon makes SoCal Val uncomfortable, and then says TNA can never stop Aces and 8s.

Hernandez and Alex Silva versus Devon and DOC: You have the usual "convenient heel stable pairing" that these things tend to allow for, and on commentary they did play on that. Taz even "slipped" on commentary noting that, "in the clubhouse, we discussed not allowing Hernandez to tag in." Taz has been much better on this PPV as far as his commentary, still Aces and 8s focused, but keeping it in the confines of the matches and not sticking out like on the X-travaganza PPV. This match felt as if it lasted forever. They worked over Silva for the first 7–minutes until finally getting the tag to Hernandez. It would have worked better if they had someone playing Ricky Morton that the fans cared about. Instead we got a Gutcheck kid that rarely appears for the company. Hernandez got in, hit his dive, but DOC hit the chokeslam to capture the victory for team Aces and 8s at about 9-minutes. Moving along, nothing to see here work wise. The good is that they placed three men from Aces and 8s into the gauntlet, so the baby face winning will have his work cut out, which I do like.

Match Rating: *½
Joey Ryan and Matt Morgan have prom time backstage. Ryan does his typical shit and no one cares. Morgan says the gauntlet is custom built for a seven-foot giant, and he is the only one there. He plans to take home $100,000 tonight.
Joseph Park cuts a promo about making it to the gauntlet. Daniels runs up to him and says he needs help. Daniels proposes an alliance, and wants to give Park a cut if he helps him win. Park will have no part of this, but wishes Daniels luck anyway. Park then promises to donate the money to the Chicago Youth if he wins, because he does it for the kids.

Robbie T and Matt Morgan versus Joey Ryan and Al Snow: Al Snow and Ryan play a game of grab ass over who will start the match as Morgan and Terry watch on. Morgan then attacks, and lets terry start to beat down Snow. Ryan refuses to tag in and then cheers on Morgan during the match. They had to be really short on talent to trot out Al Snow for this. Watching Matt Morgan and Rob Terry work over Al Snow surely has to be one of the seven circles of hell. I know that they all cannot be winners, but this was some fucked up repugnant shit. Sweet Jesus, Rob Terry and Matt Morgan working over Snow for EIGHT MINUTES. The big spot was Snow finally tagging in the reluctant Ryan, and the crowd went mild. They did a lot of stuff, which was not good, and finally Morgan and Ryan were tagged in and had to face each other. This took years off of my life while Ryan and Morgan argued about laying down for each other. Morgan hit the carbon footprint and his team won after 13-excrutiating minutes. This may have been the worst thing I have seen in 2013, and I have watched a lot of wrestling.

Match Rating: SHIT
Backstage, Al Snow is proud of what he accomplished out there. He obviously has not watched back the tape.
We get replays of the teams that won from earlier in the evening.

$100,000 Gauntlet Match: Competing are: James Storm, Christian York,
Jessie Godderz, Ken Anderson, Christopher Daniels, Samoa Joe, Bobby Roode, Joseph Park, Devon, DOC, Matt Morgan and Robbie T. This match is gauntlet rules (aka Royal Rumble style entry).

James Storm and Bobby Roode will kick off the match. BEER MONEY EXPLODES… AGAIN! As expected, they had a solid open, leading to Devon entering at #3. Roode, showing that personal grudge means more than TNA loyalty, joins with Devon in beating down Storm. Shit got even worse for TNA as DOC hit the ring at #4, and he and Devon proceeded to beat down the former members of Beer Money. The duo fought back, hit the double suplex on DOC and then tossed him for a feel good moment. Jessie in at #5, typical slow part of the battle royal as York hits the ring at #6. They are losing the crowd a bit and here comes Joseph Park at #7. Roode tries to be his friend and sucker punches him, and then Devon gave Park a low blow. Sucks to be him. Nothing happening as #8 hits the ring, and it was Anderson. After Anderson laid in some chops on Jessie, he allowed Park to toss him to the floor. Park tried to toss Devon as Daniels hit the ring at #9. He immediately looks to work with Roode, trying to toss Park as the rest kill time. Samoa Joe enters at #10, and he looks pissed off. Joe hits the ring and runs wild on Daniels, Roode and Devon and tries to get the crowd back into the match. #11 is Rob Terry, who hits the ring and starts clotheslineing fools. He tosses York and Daniels within seconds of each other getting the big man mini-run. Terry then tosses Anderson as Matt Morgan hits the ring at #12. Everyone else is down and they do the big man stand off between Morgan and Terry, but get next to no reaction. Morgan then tosses Park.

We're down to Joe, Morgan, Terry, Devon, Roode and Storm. Morgan sidesteps Joe and tosses him to the floor, down to five. Morgan then eliminated Terry, but Storm was able to escape the carbon footprint and Morgan is eliminated. Knux then snuck out and pulled Roode to the floor, but he didn't go over the top. Storm then tosses Devon. The match finally boiled down to Storm vs. Roode, who originally started things off, and Storm gets the big victory outlasting the other eleven men at 25-minutes. Skin the cat, lung blower and last call superkick made for a very hot finish to a pretty average gauntlet. TNA has done the match better in the past, this one had some dead spots.

Match Rating: **¾
Storm celebrates with beer and the giant fake check.

The Tirade


Outside of the Robbie T and Matt Morgan versus Joey Ryan and Al Snow match, which was very bad, the show was solid, but unspectacular. Christopher Daniels and Samoa Joe versus Chavo Guerrero and Rob Van Dam was the match of the night, but they didn't have much competition and it isn't a match that really stole the show.

The first One Night Only PPV had the Joe vs. Aries main event, and even the Lynn vs. RVD final confrontation as selling points; this just didn't have that. In all honesty, this could have been better used on a set of TV tapings. One week the six tag matches, the next week the gauntlet. As a PPV deal, it just didn't work well for me, and asking regular fans to buy a show when nothing is advertised doesn't work well. That is why WCW got rid of the concept, and why WWE stopped King of the Ring as a PPV; people are reluctant to buy when they do not know what they are paying for and PPV buys showed that.

At the end of the day it was all right, even fun at times, but I can't recommend spending $15 on a PPV with the wrestling quality that you see easily on weekly TV.

Show Rating: 5.5

As a reminder, I will be going by the 411 scale…

0 – 0.9: Torture
1 – 1.9: Extremely Horrendous
2 – 2.9: Very Bad
3 – 3.9: Bad
4 – 4.9: Poor
5 – 5.9: Not So Good
6 – 6.9: Average
7 – 7.9: Good
8 – 8.9:Very Good
9 – 9.9: Amazing
10: Virtually Perfect
---
Have you checked out the Csonka Podcasting Network? If you haven't, you should We run anywhere from 15-20 shows a month, discussing pro wrestling, the world of MMA, the NBA, general sports, popular TV series of the past, bad movies, battle rap, interviews, MMA & Wrestling conference calls and more! Around 10 different personalities take part in the various shows, which all have a different feel; so you'll likely find something you like. All of the broadcasts are free, so go ahead and give a show a try and share the link with your friends on the Twitter Machine and other social media outlets! Running since May of 2011, there are currently over 300 shows in the archive for you to listen to.

Your heart is free. Have the courage to follow it…TO CSONKA'S TWITTER!

http://www.twitter.com/411wrestling
http://www.twitter.com/411moviestv
http://www.twitter.com/411music
http://www.twitter.com/411games
http://www.twitter.com/411mma

Larry Csonka is a Pisces and enjoys rolling at jiu jitsu class with Hotty McBrownbelt, cooking, long walks on the beach, Slingo and the occasional trip to Jack in the Box. He is married to a soulless ginger and has two beautiful daughters who are thankfully not soulless gingers; and is legally allowed to marry people in 35 states. He has been a wrestling fan since 1982 and has been writing for 411 since May 24th, 2004; contributing over 3,000 columns, TV reports and video reviews to the site.