Csonka: ROH's Castle Crumbles
July 3, 2018 | Posted by
Welcome back to column time with Larry. Today's column is all about Ring of Honor. Ring of Honor is coming off of a successful Best in the World PPV. They set an attendance record for a "Best in the World" show, and I felt that the PPV was pretty great. In my opinion, the show roughly went to plan, with the real surprise being that the injured Dalton Castle retained the ROH Title. But ROH quickly changed that the next night at the TV tapings, and we have a new champion. ROH has already posted the match on Honor Club, so today I will discuss the title change as well as share a review of that match. Thanks for reading! It's wrestling, we love it and will disagree. The only rules are to "have a take, be respectful, and don't be a dick."
The Story Going Into Best in the World: Going into the PPV, I felt that the title needed to change hands. Cody and Marty Scurll were viable challengers and possible champions, as Cody was finally getting his title rematch, and both he and Marty held recent pins over Castle. Cody was seemingly the easy choice, he's the former champion, and love or hate his ring work, he's a star and drew well as the champion for the company. You also have the big All In match with Aldis, which if Cody is champion, would become a title vs. title match. The Best in the World match was booked to heavily tease Cody winning, even including Aldis at ringside and him getting involved near the end. Cody was the obvious and quite frankly the easy call to go with. But then you had Marty Scurll. Scurll is over big time with the ROH audience, is a fresh name as champion, and outside of the overbooked title match with Castle that I really did not like at all, had been having a great 2018 in the ring. Plus him winning causes an interesting dynamic with Cody, as they had argued over who deserved the title shot, which led to issues between them leading into the match. But with Cody booking outside projects over the summer, and ROH not wanting him to lose to the IWGP champion again as ROH champion, him not winning worked.
The Story Coming Out of Best in the World: Castle retained at Best in the World. It was an overall good main event, Cody and Marty worked really hard, but Castle was noticeably limited and they used a lot of circus tricks to try and cover for him and create drama down the stretch. For the most part it worked, the crowd didn't turn on the match, and they got into the theatrics down the stretch, even though the match couldn't hold a candle to the matches that came before it in terms of overall quality.
The Following Four-Way: The competitors in the four-way made complete sense to me. Lethal just finished his journey of avenging all of his losses, which (in story) ROH management told him he had to do to earn another title shot. Taven had a world title match with Castle canceled, due to Castle's injuries, and was owed a shot. He gets boned a bit here due to it not being a singles match as scheduled, but it also allows him to lay claim to a one on one title shot soon. Cody didn't win at Best in the World, but he also wasn't pinned. The match was his contractually obligated rematch which Marty got into due to pinning Castle in a deny or defy match. Cody, like Taven, comes up short in the match, but also Cody can lay claim to his fair one on one title match, which he is still owed. All in all, the booking makes sense going in and coming out of the match. Speaking of the match (on Honor Club at this link) lets look at that…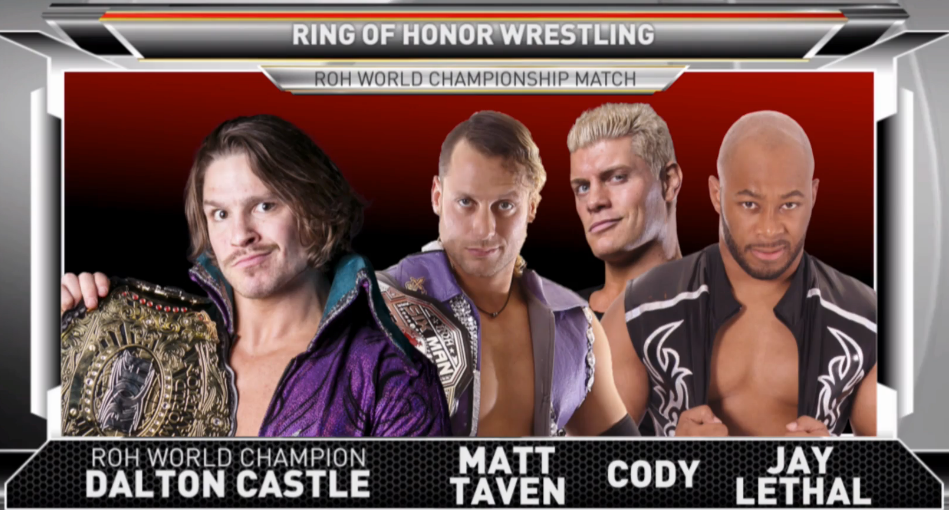 ROH Title Match: Champion Dalton Castle vs. Cody vs. Matt Taven vs. Jay Lethal: Burnard and Brandi are out with Cody, the boys are out with Castle. They brawl at the bell as Taven takes Castle to the floor while Cody & Jay brawl in the ring. Jay takes control, Taven back in and trades strikes with Jay. Taven hits kick of the king and Cody takes him out with the disaster kick but Castle dumps him. Taven then takes Castle to the floor, Jay takes him out and it's suicide dive time for Castle & the boys, and then Taven, and hits the trinity on Cody. Jay is fired up and keeps hitting dives, even taking out Burnard. Back in and he trades chops with Cody, Cody then distracts the ref, low blows Jay and then Taven. He and Castle now trade strikes, and then slams Jay but Cody cuts him off with the American death lock. Taven takes out Jay and hits a frog splash on Cody for 2. Castle powders as Taven takes control, working over both Cody & Jay. Jay dumps him and hits a DDT/flatliner combo on Cody & Castle. Jay heads up top and then drops down into the figure four instead of the elbow drop on Castle. Cody breaks it up, Taven in and jay lays in chops, dropping Taven to the mat. Taven then counters a sunset flip and hits just the tip for 2. Castle looks for bangarang, Taven counters into a cradle but the ref was distracted checking on Jay, and misses the pin. Cody in and hit cross Rhodes and that gets 2 on Taven. It breaks down into brawling, Cody hits s snap salmon Jay and gets 2. Cody hits the disaster kick on Castle and Taven follows with the climax for 2 as Cody makes the save. He and Taven brawl, but Jay hits the lethal injection on both and they roll to the floor. Cutter on Castle and the lethal injection gets 2 as Taven pulls out the ref. Brandi slaps Taven, Cody gets a chair and hits Jay as he went for a suicide dive, Taven hits the tope onto Cody. Back in and Taven gets a table and slides it in. He sets it up, takes Cody up top and follows. Castle back in and we get tower of doom through the table. Jay sneaks in and covers Taven for 2. He and Castle brawl, trading strikes and Jay hits a superkick and Castle counters the injection into bangarang, but Jay counters out and hits lethal injection and we have a new champion. Jay Lethal defeated Champion Dalton Castle, Cody, & Matt Taven @ 16:35 via pin to become the new ROH champion [***½] This was an overall very good match, with Castle going out on his shield (taking the fall) and Lethal paying respect to him following the match. They did a good job of letting everyone shine, we had good drama, good near falls and Castle had more in the tank here that it comes off as an admirable defeat from a wounded champion that was just trying to hold onto what he earned. Overall, I felt that the title change came off well, a mixture of shock and joy from the fans, which is a good sign for the company that this plan ended up working
Why Do It AFTER The PPV?: Going into the PPV, everyone knew that Castle was injured. It was no secret as he had to be pulled from several shows and ROH openly admitted it. They wanted to throw a changeup (making it appear Cody was a lock to win) and there is nothing wrong with that. Also, taking the match from the TV tapings and putting it on Honor Club immediately is a nice way of trying to push people to subscribe, and also announcing it that way, in theory, keeps the post-PPV buzz going. Usually, I'd hate a move like this, many companies have abused it and overused it in the past, but ROH tends not to do things like this and I think in this case it worked as a special circumstance sort of deal.
Taking The Title Off of Castle: The title had to be taken off of Castle, which is a shame. Fans wanted him as champion, but his run was completely ruined due to his injuries piling up. While he did have the excellent match with Lethal, the booking of his title run wasn't all that good, but that's on lizardman. But our man Dalton is 100% certified FUBAR, suffering from a fractured vertebrae in his back leading to nerve damage, hip displacement, a thigh injury, and the fact that he couldn't workout and had to be pulled from numerous events over the last few months. If you watched the Best in the World title match, Castle was a complete shell of himself due to these injuries. He looked out of shape for him, couldn't even do his wacky walk or poses, and almost all of his signature throws and power stuff was completely out the window. Please understand, I am not trying to be critical of Castle, the injuries completely wrecked him, which is why his performance wasn't up to par. He needs a long time off to recover, and I absolutely hate that it ruined his title run.
Why Put The Title on Lethal: I have seen a lot of people puzzled by the title change to Lethal, but if you've been following the product, it makes complete sense. Since losing his excellent world title match against Castle this year, Lethal had been on a quest to defeat everyone he had loses against in recent memory. He has successfully run that gauntlet, getting both revenge and momentum against all but one man, which was KUSHIDA, and he beat him in a great match at Best in the World. On top of that, Lethal has been the most consistent, high-level singles talent in the company for the last 2-3 years; he doesn't disappoint. Also with him as champion, he has natural re-feuds with both Cody & Marty, will have Taven chasing him as he looks for his grand slam, and of course, a feud with castle over the title when he returns if Lethal is still champion. Lethal is a stabilizing force as champion, the Castle has crumbled under the pressure of injuries and carrying the company, Cody seems to have a full summer schedule,and MartyMAYgethis chnce at te August UK shows, but for now, the old king has returned to reign…